Politics
Asian American Senators
Seven individuals of Asian heritage have served in the United States Senate.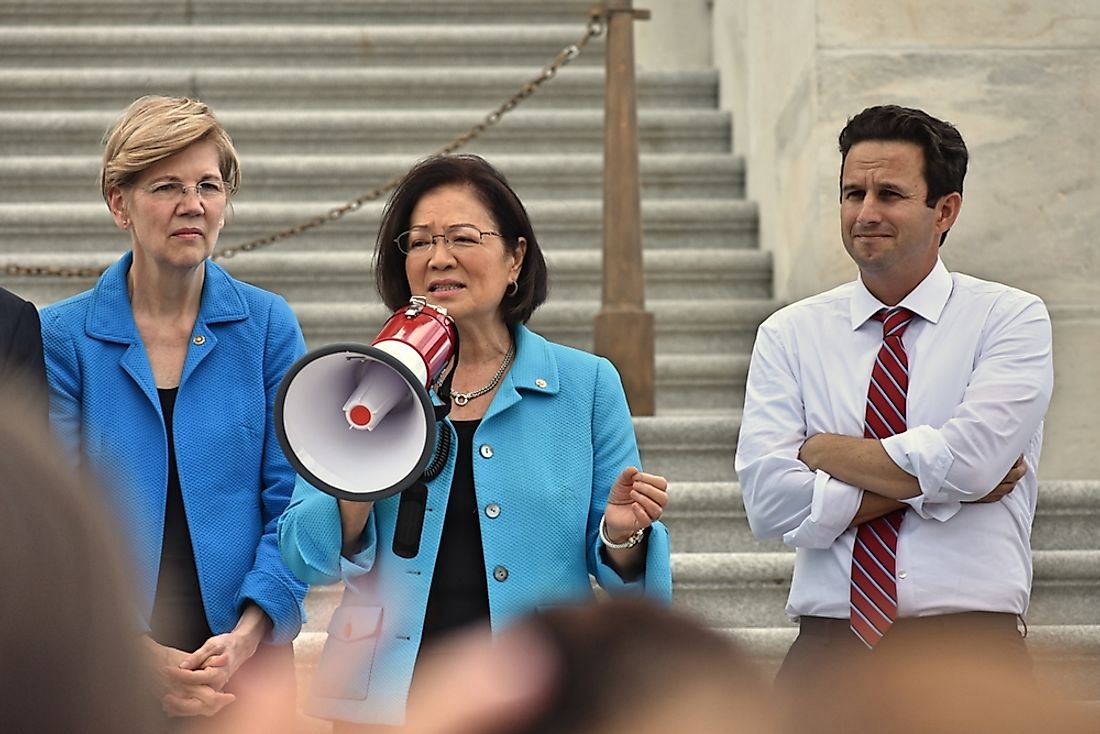 Hawaii was the first to elect an Asian-American senator in 1959 and also the first to send a woman of Asian origin, Mazie Hirono. Some of the Senators of Asian-American origin who served in the Senate include the following:
Hiram Fong, Hawaii
Hiram Fong was the first Chinese-American to be elected as US Senator. He was also the first US Senator with an Asian origin. He was born in Kalihi in 1906 in a family of 13. He graduated in 1924 from McKinley High school and further obtained a degree from the University of Hawaii. He then proceeded to Harvard University where he graduated with a law degree. After graduating from Harvard, he established his law firm in Honolulu before serving as a major in the US army during the 2nd world war. In 1948, Hiram was elected House speaker of the Hawaii Territorial House of Representatives. He served as a speaker till 1954 when the Democrats ended the influence of Republicans in Hawaii. In 1959 he was elected US Senator as a reward for successfully championing the Admission Act of 1959. As a senator, Hiram fought for the legislation for civil rights and also supported Vietnam War. In 1964 he ran for the presidency but lost the party nominations during the convention. He remains the only Republican to represent Hawaii in the Senate.
Daniel Inouye, Hawaii
Daniel was born in Honolulu, Hawaii in 1924. His father Hyotaro was an immigrant from Japan. He was raised up in a Japanese American community of Bingham. He graduated from McKinley High School. He was one of the fighters in World War II where he lost his arm through grenade attack. In 1953 he was elected to the territorial House of Representatives. In 1959 after the Admission Act of 1959 he was elected to the US House of Representative. In 1962, He was elected to the Senate where he served until his death in 2012 without losing any election. As a senator, he chaired the Senate Intelligence Committee, Indian Affairs Committee, Senate Commerce Committee, and Senate appropriation committee.
Samuel Hayakawa, California
Samuel is a Canadian-American politician of Japanese ancestry. He was born in Vancouver in 1906 and attended school in Calgary and Winnipeg. He received his undergraduate degree from the University of Manitoba in 1927. He then ventured into the field of education as a linguist teaching and writing publications. In 1976, Samuel won the Republican nominations and was subsequently elected to the US Senate representing California. He assumed office in 1977 and served for six years retiring in 1983. As a senator, he was instrumental in the approval of Torrijos-Carter Treaty that transferred the control of the area to Panama. He was nicknamed the napping senator by the media.
The Other Asian American Senators
Daniel Inouye, Samuel Hayakawa, and Spark Matsunaga are the only three senators of Japanese origin to have served together in the US Senate. The current Hawaii Senator, Mazie Hirono was also elected to Hawaii House of Representatives. The other two Asian American senators to have served in the US are Daniel Akaka who represented Hawaii from 1990 to 2013 and John Ensign who represented Nevada from 2001 to 2011.
Asian American Senators In U.S. History
| Senator | State |
| --- | --- |
| Hiram Fong | Hawaii |
| Daniel Inouye | Hawaii |
| S.I. Hayakawa | California |
| Spark Matsunaga | Hawaii |
| Daniel Akaka | Hawaii |
| John Ensign | Nevada |
| Mazie Hirono | Hawaii |
| Tammy Duckworth | Illinois |
| Kamala Harris | California |
About the Author
Benjamin Elisha Sawe holds a Bachelor of Arts in Economics and Statistics and an MBA in Strategic Management. He is a frequent World Atlas contributor. 
This page was last updated on March 21, 2019.
Citations
Your MLA Citation
Your APA Citation
Your Chicago Citation
Your Harvard Citation
Remember to italicize the title of this article in your Harvard citation.