Niagara Falls is a wondrous sight to behold. Despite the thunderous roar of the crashing waves, it is easy to be lulled into peace by the billowing clouds of mist and the shimmering rainbow. But in truth, there is death and terror behind its beauty. There are a handful of people who have gone over the falls, some on purpose and some by accident, and while many live to tell the tale, others do not. The following stories belong to those who were not so fortunate.  
The Schooner Michigan
Perhaps the most unconventional story of the seven, the schooner Michigan marks the first promotional attempt to boost tourism within the Niagara region. In 1827, William Forsyth of the Pavilion Hotel and a group of local hotel owners were desperate to increase business and their profits. In an effort to be creative, they settled on a wild publicity stunt. Forsyth purchased an old lake schooner once used as a merchant ship called the Michigan, planned to fill it with animals, and send it over the falls. Under the impression it could survive the journey, they amassed an impressive crowd of over 10,000 tourists. Two bears escaped through the torn hull before going over the edge, but the other animals, a collection of buffalo, raccoons, foxes, and more, were tied or caged and perished in the crash. Only a single goose survived the fall itself.  
Ed Delahanty
Ed Delahanty was one of the Major League Baseball's first celebrities. He holds the record for one of the most impressive all-time batting averages and is considered by many to be the best player of the 19th century. Despite his fame in sports, he met an early end at the age of 35 when traveling via train back to New York from Detroit in 1903. Drunk on whiskey, Delahanty grew unruly, smashing glass and disturbing passengers. Conductor John Cole and his crew forcibly threw him off at Bridgeburg, Ontario. Within sight of Buffalo, Delahanty attempted to cross the bridge spanning Niagara Falls where he supposedly got into a scuffle with a night watchman. Whether he was pushed or tumbled in due to his own drunkenness, Delahanty stumbled over the falls, only to have his body recovered a week later by the captain of the Maid of the Mist. In 1945, he was inducted posthumously into baseball's Hall of Fame.  
Charles Stephens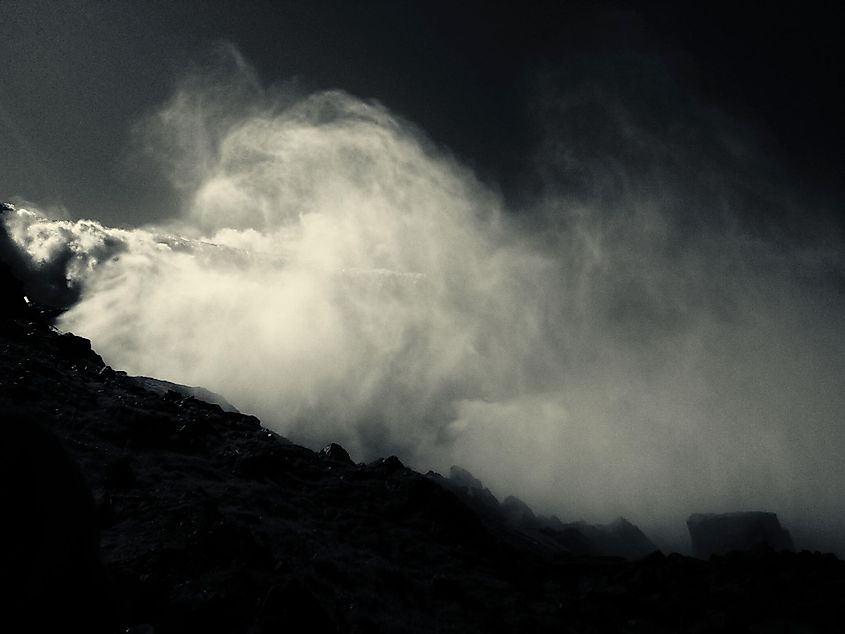 Charles Stephens is known as the first of the barrel daredevils to die conquering Niagara Falls. Originally a barber from England, Stephens began to perform various high dives and parachute jumps, earning himself the title of "Demon Barber of Bristol." In July 1920, at the age of 58, he left his eleven children to come to Canada and perform his greatest feat: tumbling over Niagara Falls in a barrel made from Russian oak. Bobby Leach, fellow English daredevil, attempted to persuade Stephens against the stunt, claiming that the barrel could not withstand such a task. Stephens, however, shrugged this off, thinking the warning was merely a means to prevent him from becoming more successful. The morning of his death, a small crowd gathered to watch. The barrel was strapped to his arms and an anvil to his feet. Stephens went over, but when the barrel hit the base of the falls with such tremendous force, the anvil crashed through the bottom, dragging Stephens's mangled body with it. Leach was not present to witness the violent death. When the barrel was later found, only Stephens's right arm was still attached. The limb is currently buried in a cemetery at Niagara Falls.
George Stathakis
George Stathakis was a Greek immigrant who worked as a chef in Buffalo, but he dreamed of becoming a published writer. At the age of 46, he decided to venture over the falls, hoping to use his newfound attention to get his book published. With the help of friends, he constructed a massive barrel made of wood, but it nearly weighed a ton. He had even been warned it was too heavy. Regardless, in July 1930, alongside his pet turtle, he took the plunge; however, instead of smashing into the water below, his barrel got wedged behind the falls. He would remain there for over twenty hours. When the barrel was found, Stathakis was dead, not because of any crash, but because of the lack of oxygen available in his air-tight contraption. Sonny, his beloved pet turtle, survived the ordeal.   
Hesham Sayegh
In 1981, 28-year-old Dunia Sayegh and her family were visiting the Canadian side of Niagara Falls. Tourists watched helplessly as her two-month-old son, Hesham, suddenly slipped from his mother's arms and tumbled into the churning depths below. Hysterical, Sayegh was taken to Greater Niagara General Hospital where she was sedated. Tourist cruise boats searched the waters, but police remained dubious as to whether the body would ever be recovered. Three days after the incident, Sayegh was arrested and brought to trial under suspicion of intentionally throwing her son to his death. Sayegh claimed to suffer from anxiety and dizzy spells and argued that she accidentally dropped her son over the railing. This claim was supported by friends who brought up that she was even on prescribed medication for her condition. Sayegh loved her son fiercely, they also said, so much so that she barely put him down. The judge eventually dismissed the charge of manslaughter, but no verdict of innocence could bring Sayegh's infant son back.
Jessie Sharp
An expert whitewater kayaker, Jessie Sharp had a strong desire to conquer the watery beast and advance his career as a daredevil. In 1990, he decided to take his kayak and do the deed, but with his friends recording the event, he did not wear a helmet so that his face would be clearly visible in the footage. He also decided not to wear a lifejacket. A victim of self-confidence, he even made a dinner reservation for later that night after his stunt. Sharp went over the falls and tumbled into the turbulent water below, which he believed he could overshoot. His kayak was eventually recovered, ironically in near mint condition, but Sharp's body was never found.      
Ayano Tokumasu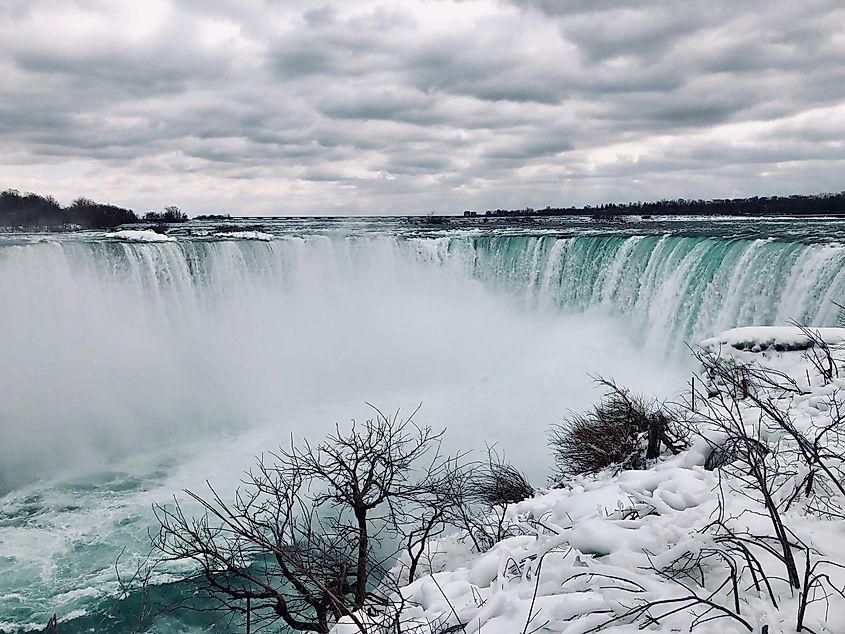 The story of Ayano Tokumasu is another sad case of an accidental death at Niagara Falls. In 2011, the Japanese student climbed onto a railing to capture a great picture of the Canadian side of the falls. Camera in one hand and an umbrella in the other, she straddled the railing precariously. She eventually lost her footing, slipped, and fell into the river. Unable to fight against the pull of the falls, she tragically tumbled over the edge. She would later be described by her friends as adventurous and sometimes even reckless. Tokumasu was never found, but the rescue team did stumble upon a different body, that of an unidentifiable man. Shortly after her death, Niagara Parks Police Chief Doug Kane addressed the public, reminding everyone that climbing the railings was prohibited by the Niagara Parks Act.