Travel
The Most Bizarre Stunts Performed at Niagara Falls
Throughout the late 1800s and early 1900s, many daredevils were drawn to Niagara Falls in search of fame and fortune.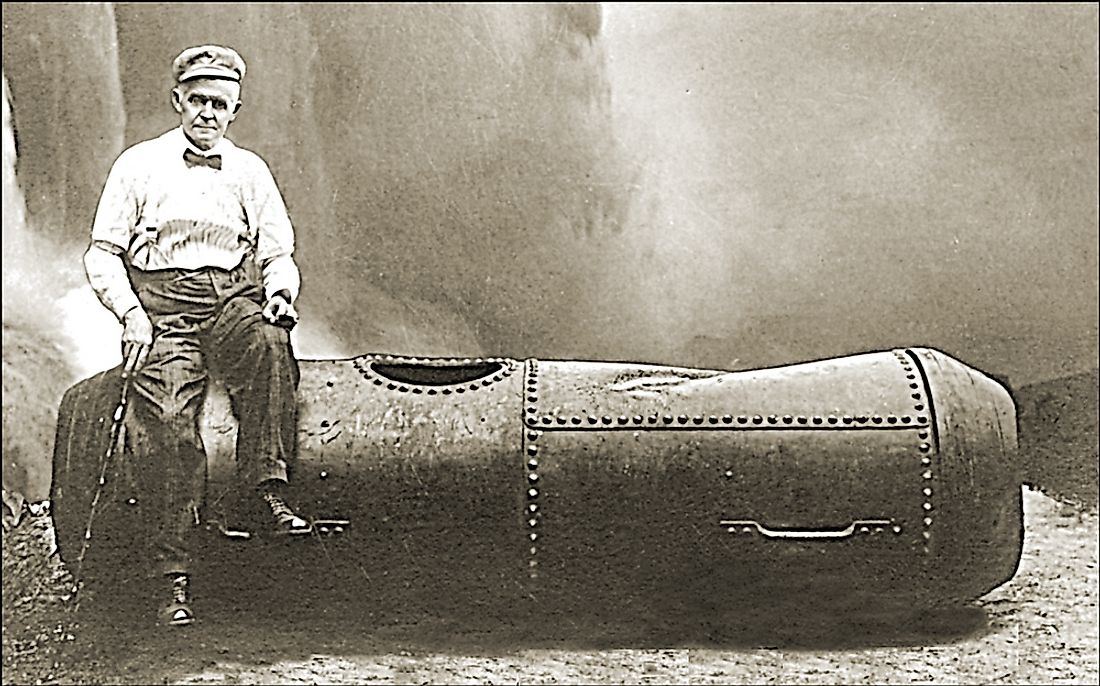 Niagara Falls is a singular name given to what is actually three falls at the border between Ontario, Canada and New York in the United States. Although the Niagara Falls are perhaps best known today for their beauty and immense source of hydropower, throughout the 19th and 20th century the Falls were also the site of a variety of astonishing daredevil stunts, some of which seem beyond ludicrous in today's world. Without the binds of the prohibitive (yet arguably important) safety restrictions of today, these daredevils sought fame and fortune through often bizarre means.
Famous Bizarre Stunts
Jean Francois Gravelet
Jean Francois Gravelet was a French acrobat and a tightrope walker. His astonishing acrobatic stunts gave him the moniker "the Great Blondin", something he was known as on both sides of the Atlantic. His celebrity and fortune came from his crossing of the Niagara Gorge on a tightrope only 3.25 inches in diameter tired over 150 in the air. This stunt alone, however, was not enough for Gravelet, whose other variations of crossing the river on tightrope involved doing so in a sack, on stilts, and while carrying his manager on his back. During one crossing, Gravelet sat down midway and cooked an omelette on a miniature grill.

Maria Spelterina
Maria Spelterini was an Italian tightrope walker who is the only women who have ever crossed the Niagara Falls on a tightrope. Maria crossed the Niagara Gorge on July 8, 1876, as part of promotions for the US centennial celebration. She used 2.27-inch wire to cross the north of the lower suspension of the bridge. Four days later she crossed the gorge again while wearing peach baskets strapped to her feet. On July 19, 1976, she crossed the gorge for the third time, that time blindfolded.
Annie Taylor
Annie Edison Taylor was the first to survive a barrel trip across Niagara Gorge. She desired to financially secure her later years and avoid poverty in her old age. She chose to be the first person to cross over the Niagara Falls using a barrel. Her barrel was custom-made from oak and iron. However, Taylor faced opposition from friends who were against her idea of crossing the falls terming it as a potential suicide. On October 24, 1901, during her 63rd birthday, Taylor set out for her journey across the gorge. However, her barrel was set adrift in the south of Goat Island and was pushed across by the currents over to the Horseshoe Falls. She was rescued shortly after with the trip taking less than twenty minutes.
Matthew Webb
Mathew Web drew international and national praise worldwide for his swimming across the English Channel without assistance. However, all did not end well at Niagara Falls. On July 24, 1883, Matthew Webb jumped into the river near the Niagara Falls Suspension Bridge and completed the first part of the swim but died at the section near the entrance of the whirlpool.
Deaths and Injuries
The Niagara Falls has witnessed bizarre stunts of every kind including tightrope walking, swimming, barrelling over the falls, and boat riding. While most of the stunts have been successful, a few have led to deaths and serious injuries. The Horseshoe falls is famous for the daredevil stunts but also has led to several injuries. Most of the injuries and deaths are caused by awkward landing on water and the currents which sometimes sweep the swimmers away.
The Bizarre Stunts Performed at Niagara Falls
| Rank | Name | Type of Stunt | Year of Stunt |
| --- | --- | --- | --- |
| 1 | Jean Francois Gravelet | Tightrope Over Falls | 1859 |
| 2 | William Leonard Hunt | Tightrope Over Falls | 1860 |
| 3 | Harry Leslie | Tightrope Over Falls | 1860 |
| 4 | Captain Joel E. Robinson | Boating Over Rapids | 1861 |
| 5 | Maria Spelterina | Tightrope Over Falls | 1867 |
| 6 | Captain Matthew Webb | Swim Through Rapids | 1883 |
| 7 | Carlisle D. Graham | Barrel Through Rapids | 1886 |
| 8 | William Kendall | Swim Through Rapids | 1886 |
| 9 | George Potts/William Hazlett | Barrel Over Falls | 1886 |
| 10 | Charles A. Percy | Boating Over Rapids | 1887 |
| 11 | Robert Flack | Boating Over Rapids | 1888 |
| 12 | Annie Taylor | Barrel Over Falls | 1901 |
| 13 | Peter Nissen | Boating Over Rapids | 1901 |
| 14 | Bobby Leach | Barrel Over Falls | 1911 |
| 15 | Charles Stephens | Barrel Over Falls | 1920 |
| 16 | Jean Lussier | Barrel Over Falls | 1928 |
| 17 | George Stathakis | Barrel Over Falls | 1931 |
| 18 | Red Hill Jr. | Barrel Over Falls | 1951 |
About the Author
John Misachi is a seasoned writer with 5+ years of experience. His favorite topics include finance, history, geography, agriculture, legal, and sports. 
This page was last updated on April 25, 2017.
Citations
Your MLA Citation
Your APA Citation
Your Chicago Citation
Your Harvard Citation
Remember to italicize the title of this article in your Harvard citation.