World Facts
15 Countries With The Most Urbanized Area
According to the Center for International Earth Science Information Network, these countries have the largest total areas defined as urban.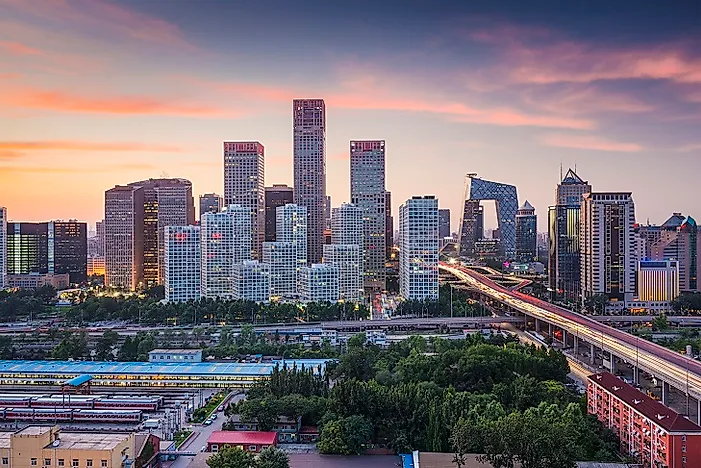 Without precedent for mankind's history, a larger share than ever of the world's populace now lives in urban areas. The ceaseless pattern toward urbanization will cause an amazing increment in city populaces of 2.8 billion between current counts and 2050. The astronomical majority of this magnification will be experienced to this greatest degree in emerging market economy countries.
Urbanization and it's Effects
Asia's Urbanization
Asia's urbanization may have only just begun, despite virtually 200 million people peregrinating to its cities in the first decade of the 21st century, according to the World Bank. The dynamic migration of individuals in droves to East Asia's urban areas was equivalent to the size of the world's 6th largest nation, as per what the Washington-based institution verbalized in a report released on January 26th, 2016. Imperatively for the area's financial potential, the general extent of urban residents rose less sharply, augmenting their figures from 29 percent to 36 percent over the same time frame. This demonstrates the potential for more many years of urban amplification to come. East Asia's aggregate urban populace increased from 579 million in 2000 to 778 million in 2010, more than two times more dominant than second-most gigantically titanic Europe. As per the report, it took over 50 years for the same number of individuals to wind up urbanized in Europe, betokening Asia's fast amplification. The area's urban areas have also turned out to be all the more thickly populated, hoisting from 5,400 to 5,800 individuals for each square kilometer starting 2010, drove by Hong Kong's 32,000 individuals for each square kilometer. Generally, East Asia's populace thickness developed to more than 1.5 times the normal for the world's urban ranges and more than 50 times the normal thickness in the Coalesced States. China represented 66% of the amplification in urban area and more than 80 percent of urban development in the locale, with its 477 million urban tenants in 2010 more notably voluminous than whatever remains of the region combined. Japan had the second-most noteworthy aggregate sum of urban area and the third-largest urban populace, however demonstrated moderate rates of extension in general, aside from the additional 4 million Tokyo-dwellers throughout the decade.
Increased Urbanization: Good or bad?
Numerous individuals leave the rural regions for the more prevalent open doors which are offered by urban areas. This move is not without disservices for both individuals and nature, for there are some disadvantages attached to this move. These days, the issue of urbanization is more every now and again talked about than any other time in recent memory before because of its increasing effects on lives and on the earth. The benefits of urbanization could be better economy and teaching and furthermore less land to be used for rural purposes. Interestingly, this wonder could bring about poor living and working conditions and some negative consequences for the air quality due to pollution. To begin with, numerous individuals trust that in the event that they peregrinate to live in large city they could have higher-salary employments and better education. For instance, Beijing is accepted to be a fairyland to numerous Chinese occupants. This is the place numerous local and peregrine organizations are found, and a large number of individuals from the provincial ranges of the nation have peregrinated to this city to look for occupation. These individuals wish to win some money and send them to their families. Other individuals, be that as it may, need their kids to have the best education they can have, so as to ensure a "secure" future for them. Regularly high-positioned schools or colleges with very much prepared edifiers are in this city. Besides, since the young individuals of the countryside have gone, there are relatively few individuals left to do the horticultural works so there will be less land to be used to induce farming occupations, which will have an impact on the environment and economy. Critics of urbanization contend that as an over the top amount of individuals peregrinate to real urban areas as of late, there is more dominant rivalry for employments. This indicates that just individuals with the best abilities can remain staying in these urban areas. Usually they need to work beyond their capabilities, exerting their bodies and psyche. Large urban communities these days are confronting the problems of overpopulation and the most prominent is the absence of space for individuals to live. Frequently, individuals from poor towns when they peregrinate to a urban region they have no winnow yet to live in the spots which have no power and clean water. Some individuals even need to live under a scaffold or in a recreation center. Also, the development of cities regularly prompts trees must be sliced off for structures to lift. The lessened measure of trees can be easily connected to a quick fall in the nature of air which can astringently harm the strength of numerous individuals. Taking everything into account, in the wake of considering both sides of urbanization, more disastrous outcomes is felt to be come about because of this marvel than great. In that capacity, the quick increasing pattern in the quantity of city life ought to be carefully overseen by stringent strategies.
The Future of Urbanization
Driven by the longing for better living conditions, education, medicinal care and culture, this nascent relocation is a standout among the most considerable movements in human home ever seen. One of the aftereffects of this is a transmutation in the wellsprings of monetary thriving, with 60% of the world's GDP now caused by approximately 600 urban communities. However, this inundation places colossal weights on subsisting urban bases. Organizers, authorities, engineers and manufacturers whom are being forced to reexamine urban life, and adjust. The fastest urban amplification rates are in Africa, the Middle East, Latin America, and Asia. On the off chance that we just analyze metropolitan territories with more than 1 million occupants, by 2020 China is anticipated to have 121 such regions, trailed by India with 58. The sustained amplification of sizable voluminous urban areas is also found in the west. By 2020, the USA will have 46 urban mixtures, filled by an amplification rate that is more than 30% higher than for the nation comprehensively. The pattern is homogeneous in whatever is left of North America and Europe. Productive urban coordinating and framework improvement is pivotal to keeping up a personal satisfaction that maintains and strengthens business, industry and trade, also day by day life. This incorporates overseeing central lodging, for example, water, power, sewage and portability. It moreover incorporates causing supplemental private and business space. Case in point, an expected 250 million beginning lodging units will be required by 2030 over the 12 nations that record for 61% of the ecumenical populace. This soaring lodging require further highlights the benefits of mid-to high-rise structures as spots to live and work. These structures involve less land space while also endorsing for the incorporated and insightful control of vitality. The advancement of early business and private properties introduces a chance to alter the way urban areas are sorted out, as present innovation empowers cleaner, greener and more cost-proficient high-rise structures than any other time in recent memory before. Given the scale and topography of general populace amplification, increase in maturing populace numbers, and the anticipated number of beginning developments, there is a squeezing goal for headway in the innovations of non-vehicular even and vertical portability. The motivator is pellucid: by 2016, the ecumenical interest for these portability arrangements is anticipated to raise more than 5% yearly to 52 billion euros. Most of the planet now lives and works in urban communities. In the event that monetary amplification is combined with better arranged groups and more ecological friendly practices, human success could be re-imagined as the win-win equation without bounds. In this vision, the whole urban space works intuitively with its tenants, organizations and open part to raise the common estimation of their groups. They will be profited by beginning connective innovations and by an adaptable, comprehensive way to deal with urban organizing. With the rapid increasing development of urbanization. there may soon be a day where over 70% of the world will live in urban regions. Still, who knows? Perhaps some unforeseeable event of apocalyptic magnitude will hinder us from achieving such a goal.
15 Countries With The Most Urban Land Area
| Rank | Country | Urban Area in Square Kilometers |
| --- | --- | --- |
| 1 | United States | 802,054 |
| 2 | China | 380,679 |
| 3 | India | 222,688 |
| 4 | Russia | 187,538 |
| 5 | Brazil | 134,981 |
| 6 | Canada | 126,511 |
| 7 | Japan | 108,678 |
| 8 | Mexico | 102,418 |
| 9 | France | 86,463 |
| 10 | Italy | 73,541 |
| 11 | Spain | 69,795 |
| 12 | Iran | 69,243 |
| 13 | Germany | 62,374 |
| 14 | United Kingdom | 58,699 |
| 15 | Argentina | 55,032 |