10 Things You Can Enjoy Only In A Desert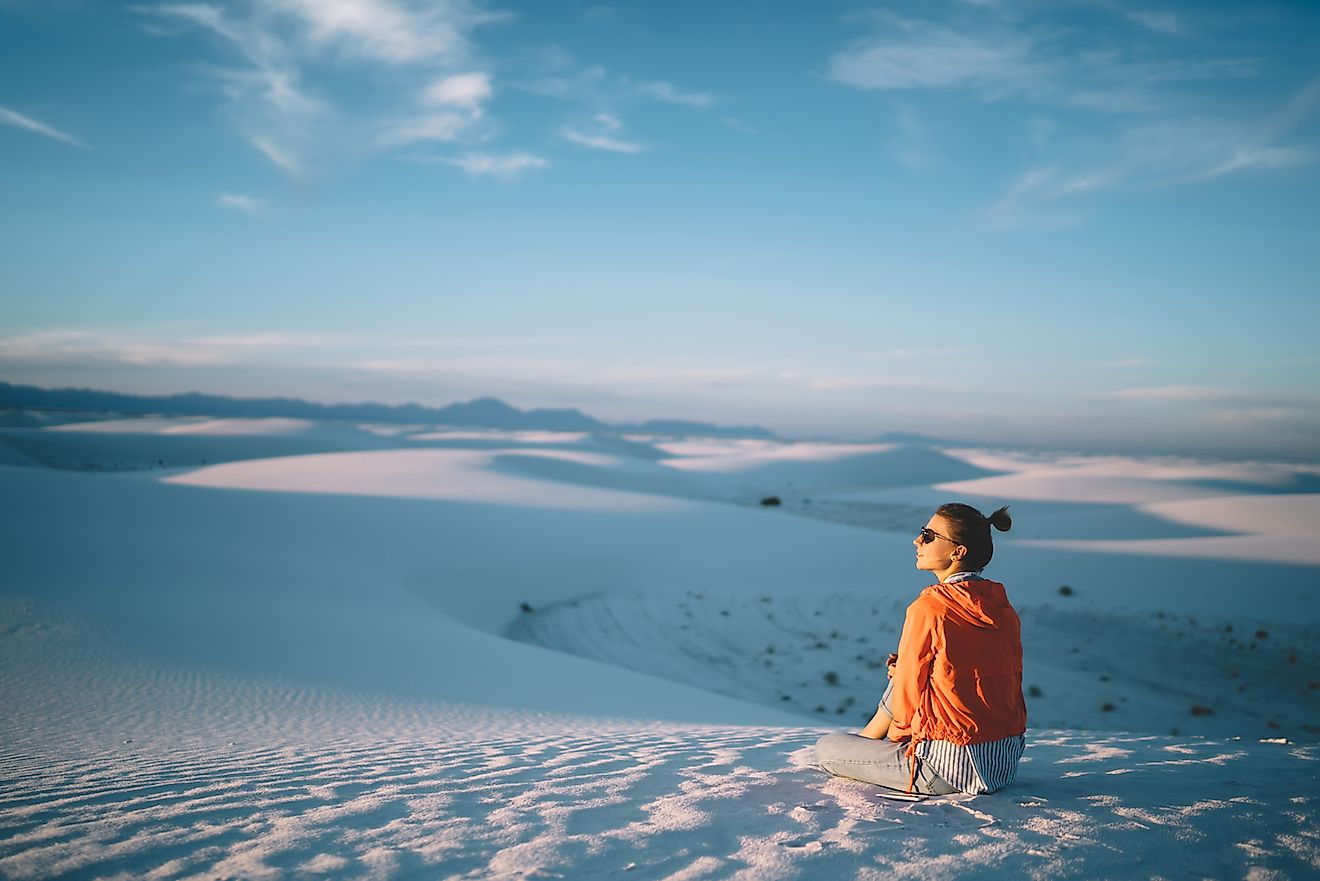 Deserts offer unique experiences that cannot be had elsewhere.
The Sahara is the largest desert in the world, covering most of northern Africa.
The Sonoran Desert in Arizona is a lovely place for a hike.
Desert quad biking is like a sandy roller coaster ride and plenty of fun.
When people think about vacations, they often picture themselves laying on a beach, lounging by a pool, hiking through mountains, or exploring famous cities. A desert setting may not be the first choice for fun and leisure, but deserts offer unique experiences that cannot be had elsewhere. There is more to a desert than the scorching sun and sand; those who are willing to go out of their comfort zones may find that they are pleasantly surprised at what these arid environments offer.
10. Sunrise….Sunset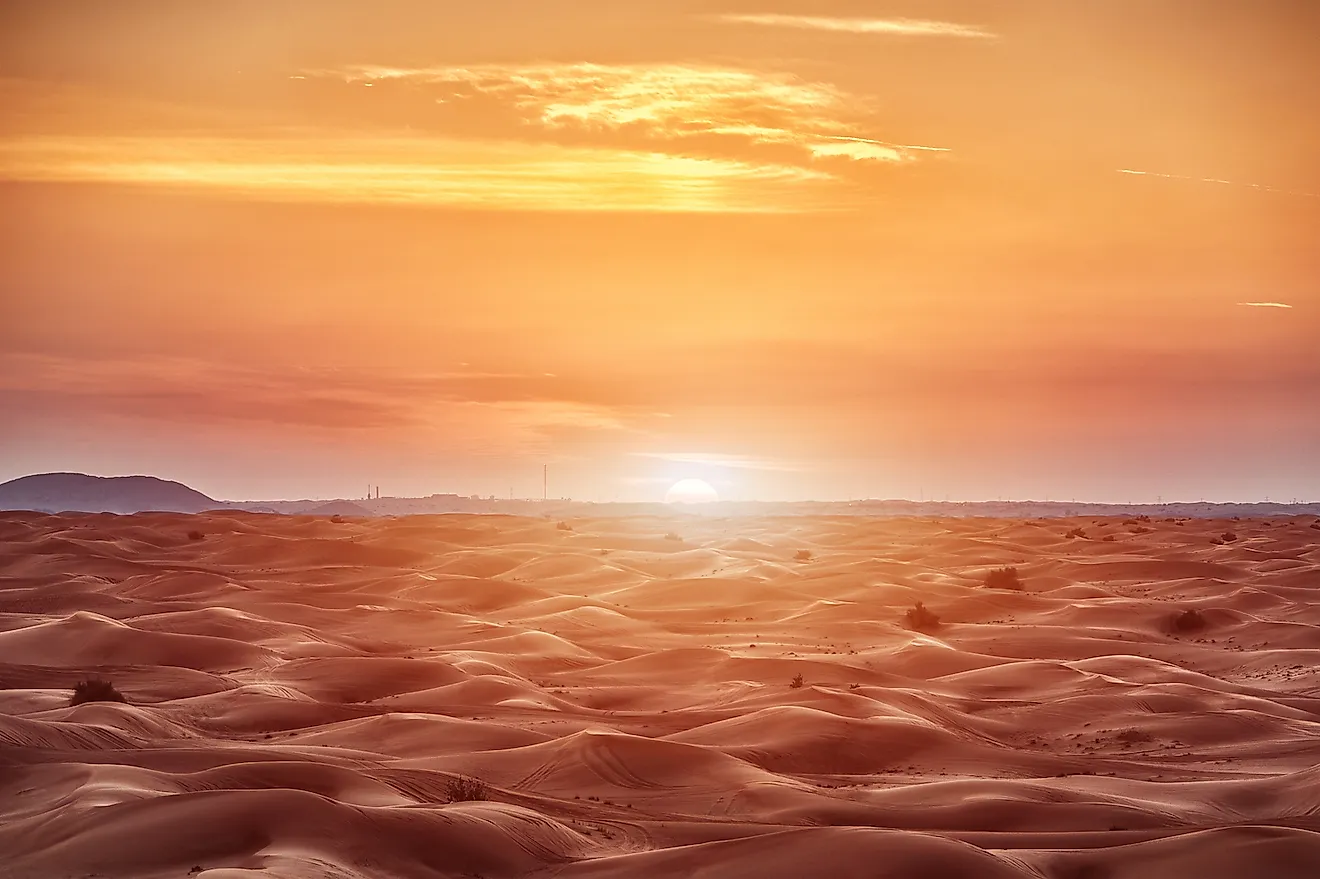 Sunrises and sunsets are supercharged in deserts, especially in the Sahara. This is the largest desert in the world, covering most of northern Africa. The incredible palette of warm colors paints the sand dunes, stretching all around. It is made even more memorable by the complete silence in this part of the world during these times of day.
9. Sand Surfing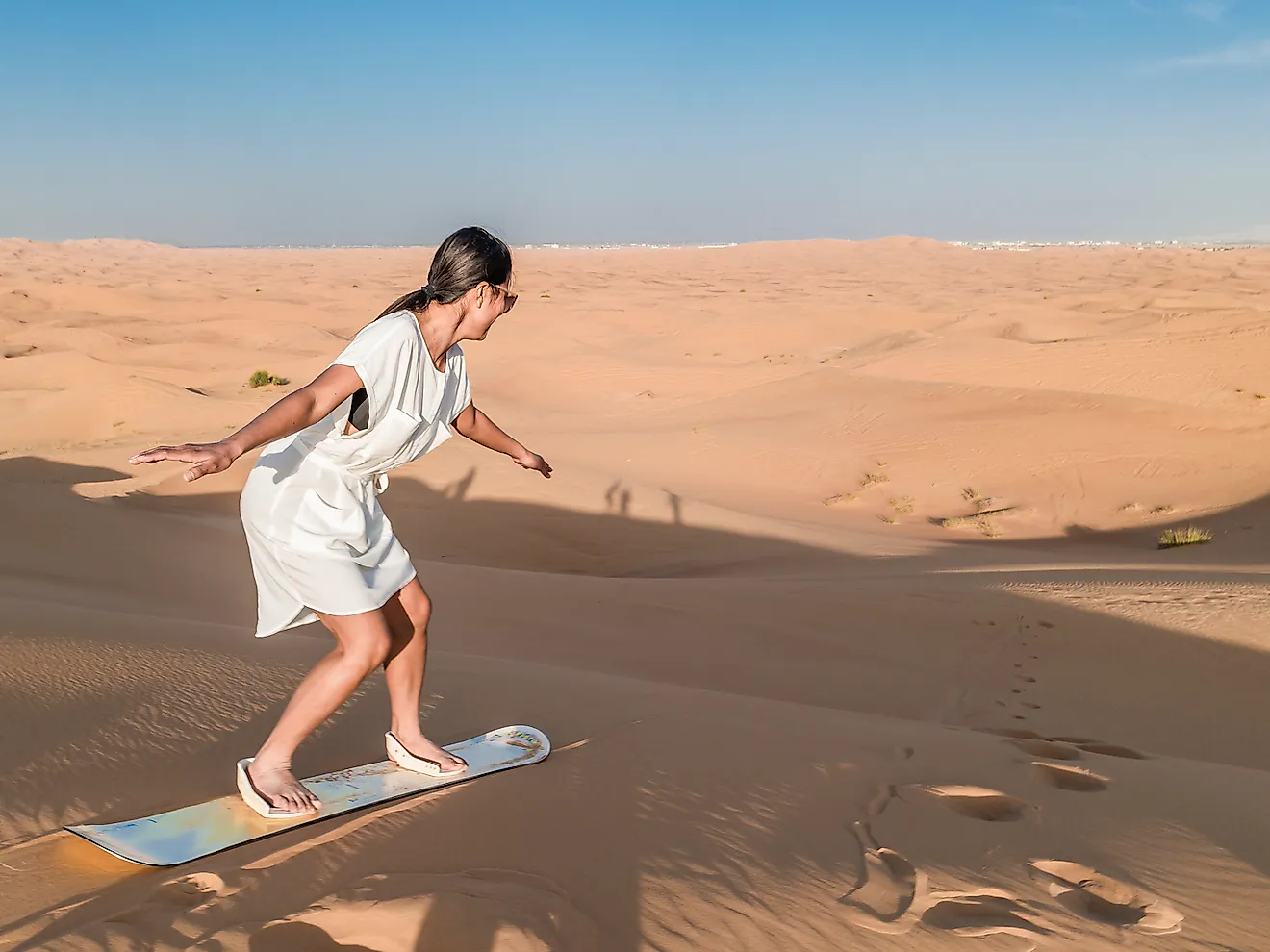 This sport is for surfers who feel they have tried everything, as well as those who want to learn something new and get an adrenalin spike. All you need to get started is a sand board and some sand dunes. There are adventure companies out there that rent boards and teach rookies how to do it; some include sand surfing as an option in desert safari packages. This sport can be tiring though, since once you get to the bottom the only way to get back up to the top is to walk.
8. Desert Hiking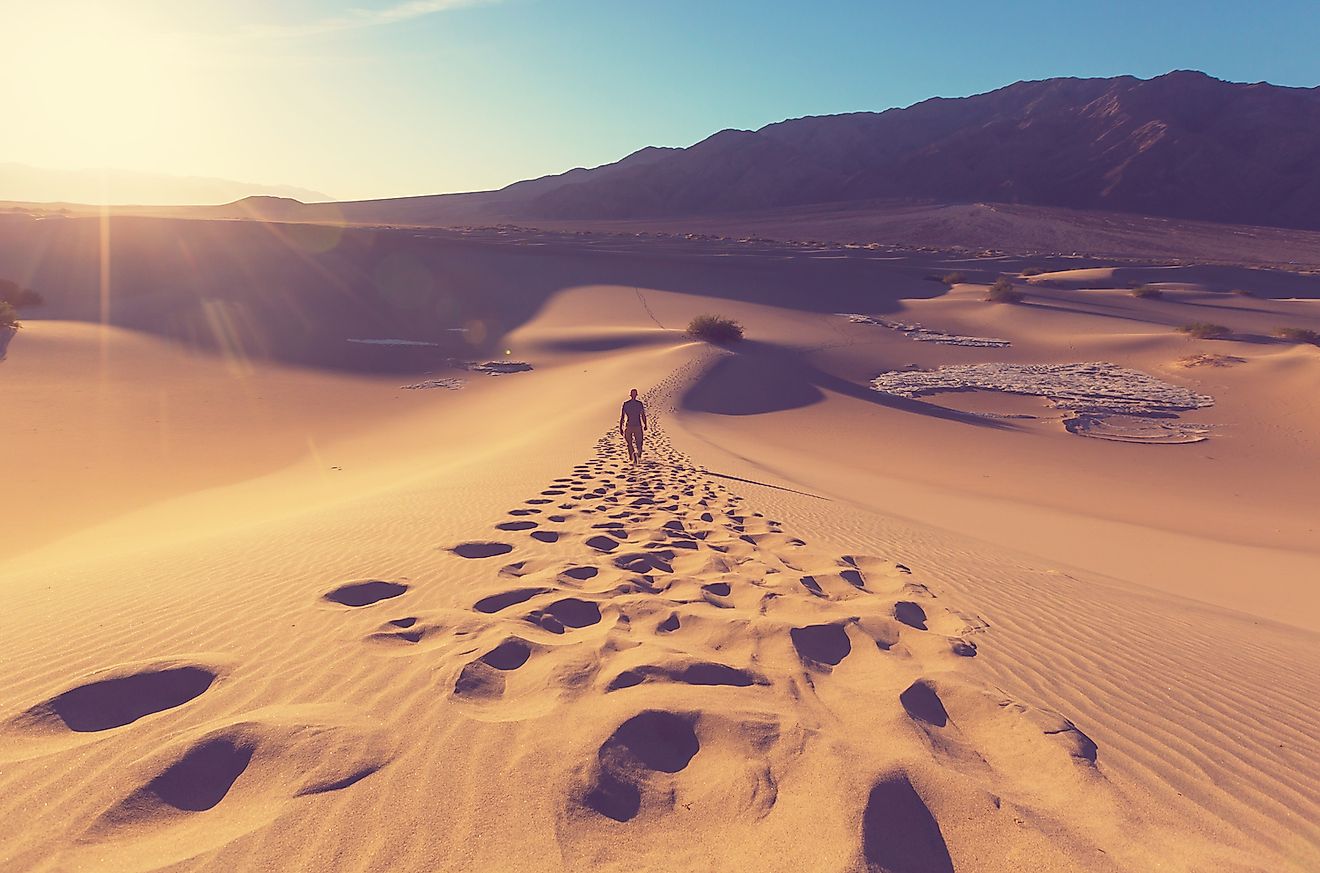 The Sonoran Desert in Arizona is a lovely place for a hike. Known as one of the planet's "most live deserts," its paths take explorers to see awesome desert plants, mountain lions, road runners, coyotes, and zebra-striped lizards. Though some of these hikes are quite challenging, there are some slower-paced ones with different levels to choose from.
Other popular U.S. desert hikes include:
California: Maze Loop Trail, Joshua Tree National Park
California: Telescope Peak Trail, Death Valley National Park
Nevada: Calico Hills Trail, Red Rock Canyon
Utah: The Narrows Trail, Zion National Park
Utah: Chesler Park Loop Trail, Canyonlands National Park
7. Camping in the Desert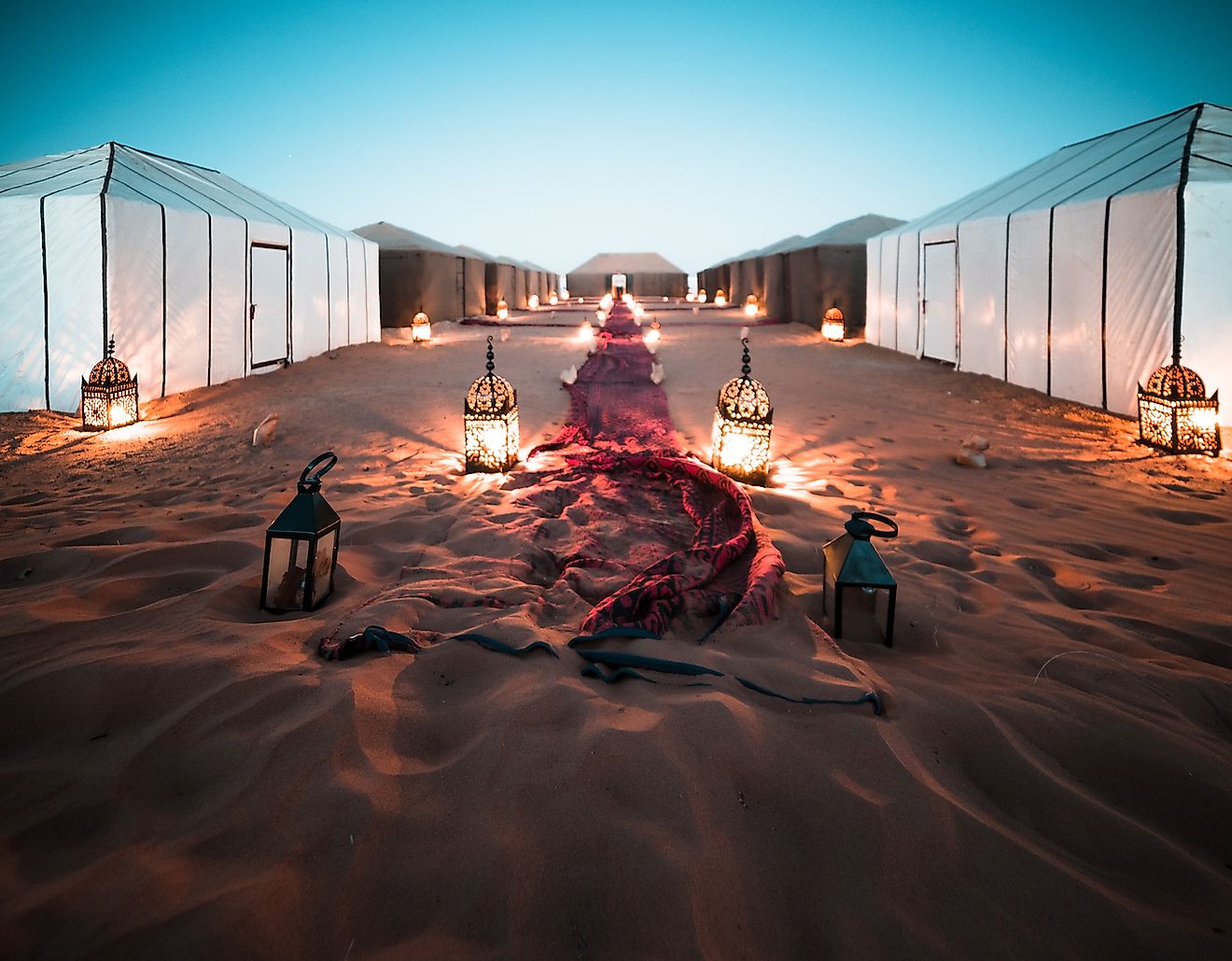 This is a great way to see a variety of wildlife in their own environments, and to pace your other activities as you wish.  Several states have desert campgrounds, including Colorado, New Mexico, Arizona, Utah, and Texas. It is safer to go through a developed campground, and each has their own fees, policies, and facilities. Some of the highest-rated desert camps in the world include:
Sakhir, in the south of Bahrain. This region is especially popular in the wintertime, when the weather is warm here.
The Bedouin Camp, in Dubai. This is "glamping" at its best.
Al Qudra, in Dubai
Death Valley National Park, in Nevada and California
Fossil Rock, in Sharjah
Grand Canyon, Arizona. Camping here involves hiking down into the canyon, and back out. The Grand Canyon is one of the busiest campgrounds in the world.
6. Hang Gliding
Nevada has a popular hang-gliding community, and there are many outlets that provide equipment rentals and lessons. Everything is set up for you, whether you choose to launch yourself off a hillside or fly in tandem with a knowledgeable, experienced hang glider pilot. There are other deserts to go hang-gliding in, and a desert hang-gliding club called the Desert Skywalkers in Las Vegas, Nevada.
5. Desert Safaris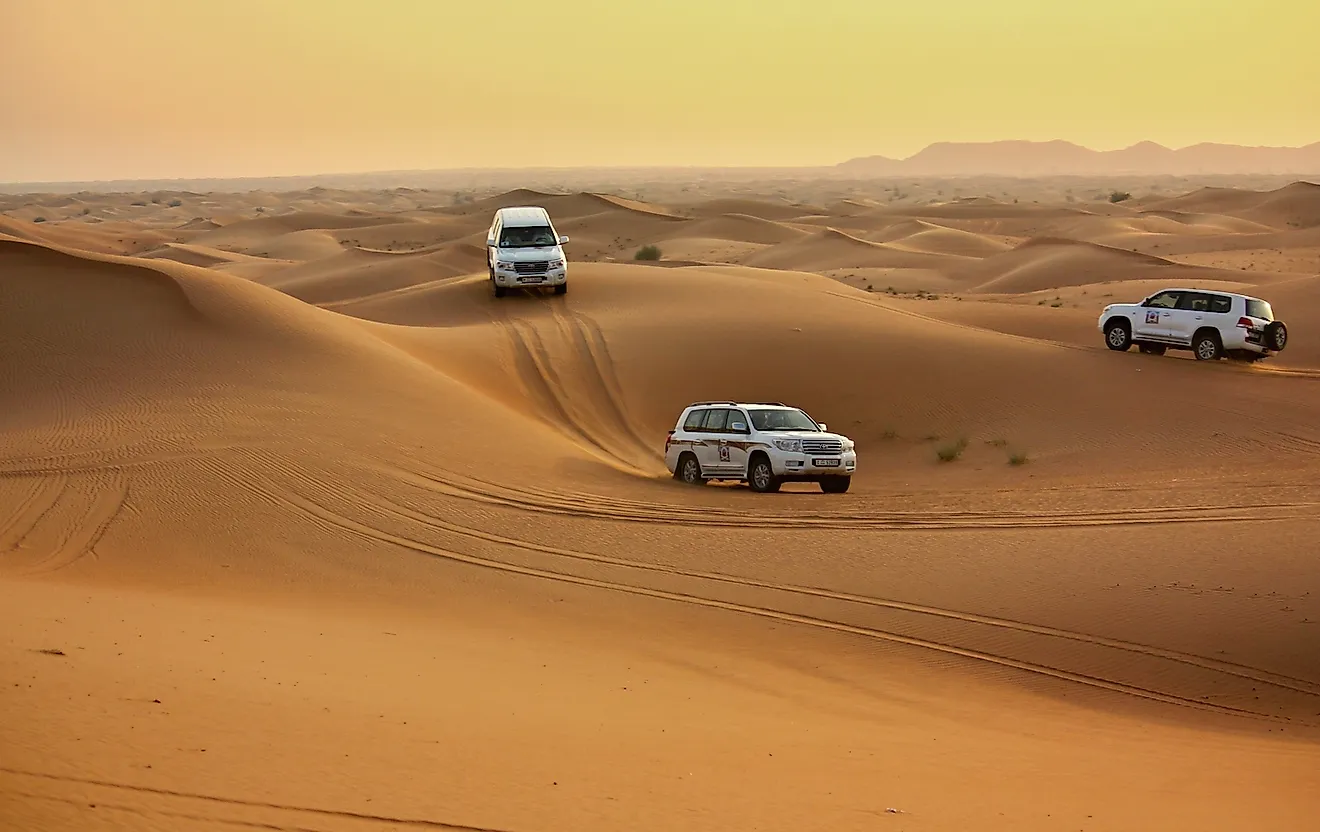 These are big in Dubai, where tour operators offer options for morning and evening excursions. This is more of a luxury adventure, with hired drivers and different options. Visitors can add on dinner, quad biking, dune bashing, camel rides, sand boarding, henna painting, and even a belly dancing show. These are some of the more expensive desert adventures, but when shared amongst several people, they are more affordable.
4. Quad Biking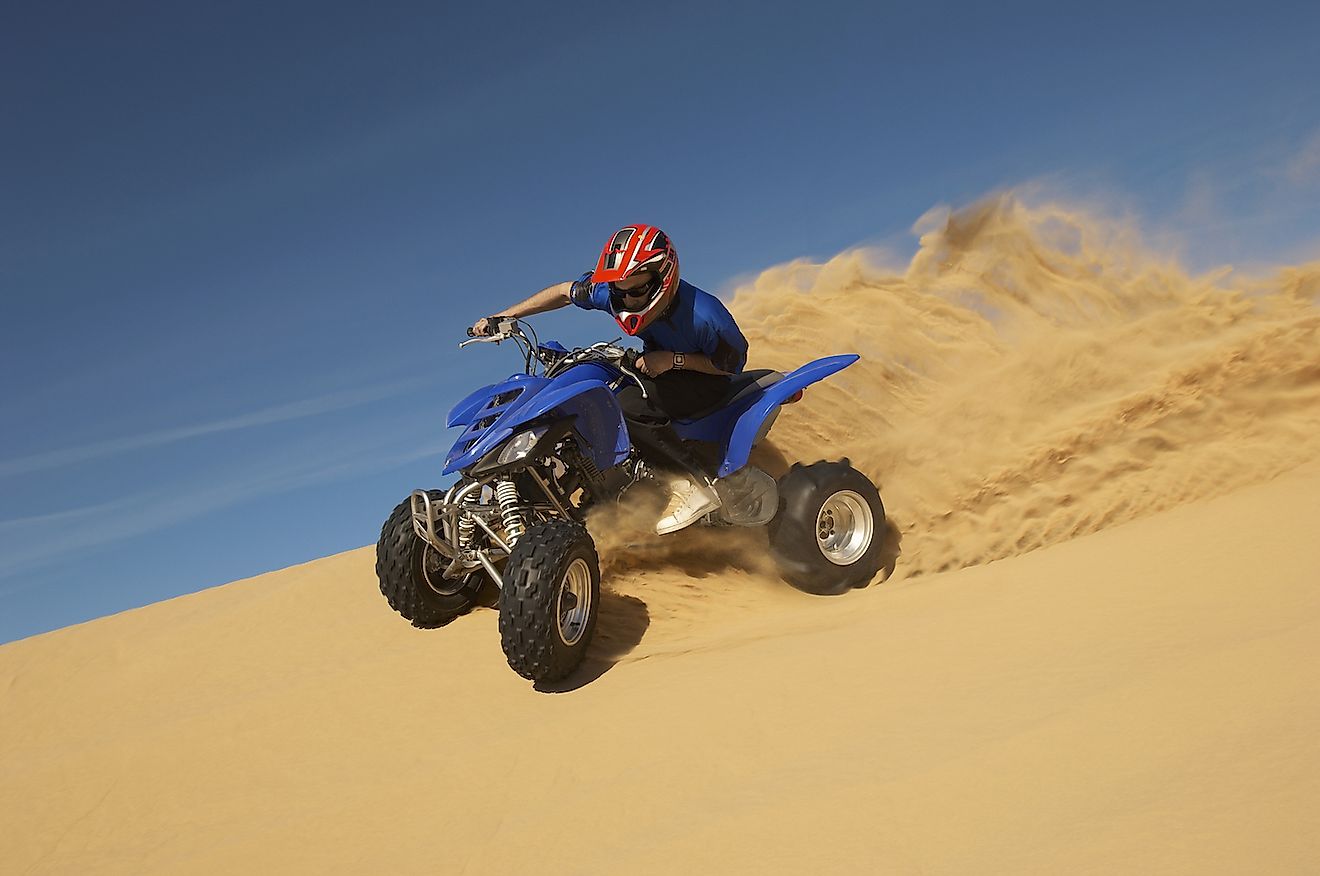 Not for the faint of heart, desert quad biking is like a sandy roller coaster ride and plenty of fun. Quad bikes are actually quite easy to drive, and accommodate one or more passengers. They go up and down dunes, valleys, and open plains, bouncing the riders up, down, and about. Harnesses are built-in, and safety helmets must be worn at all times. There are companies that rent out desert quad bikes in California, Dubai, Marrakech, Namibia, and other parts of the world.
3. Dune Bashing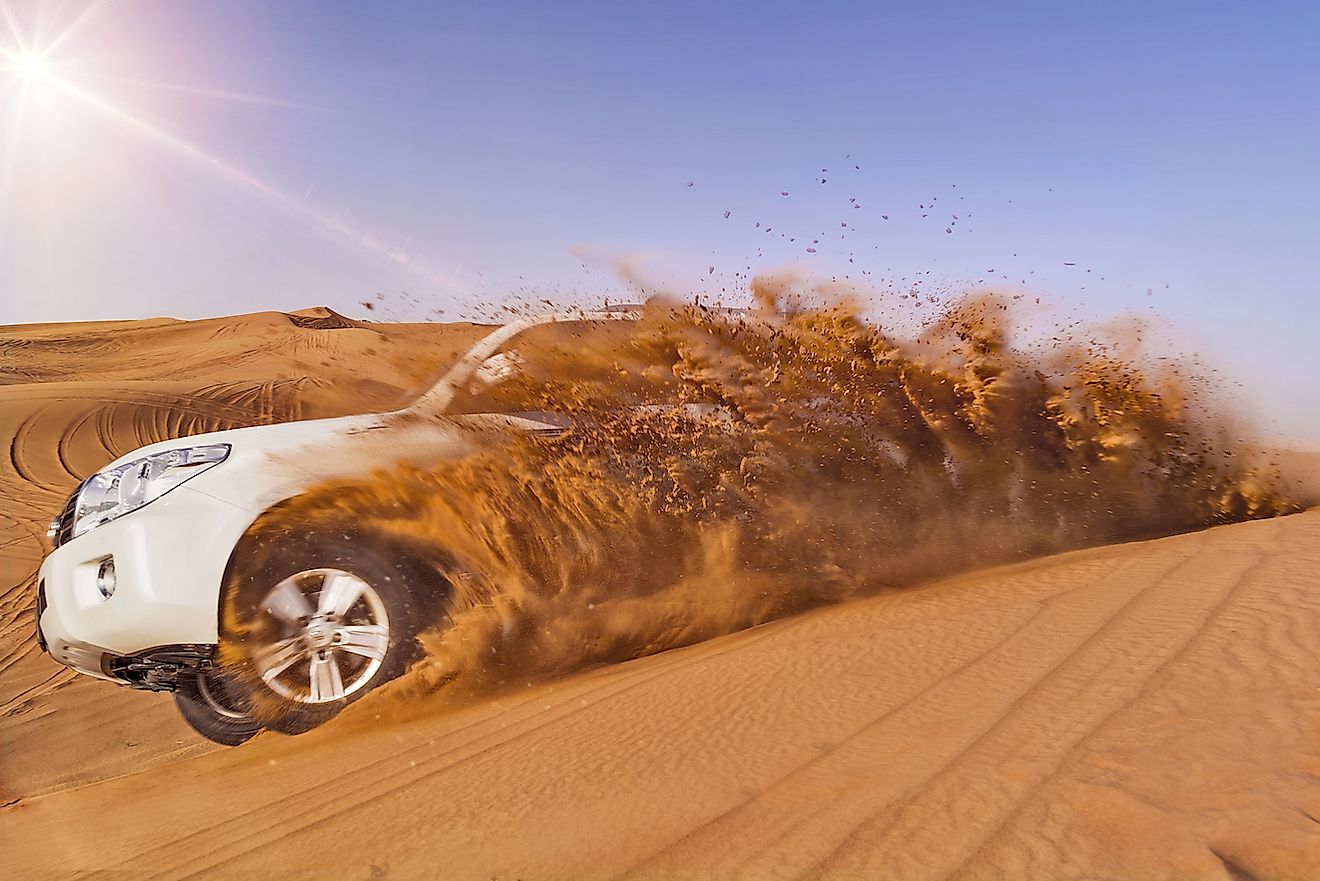 If you are more comfortable in a larger vehicle and want a less heart-racing adventure, there is the option of renting a four-wheel drive dune buggy for some dune bashing. Some people like to do the driving themselves, while others prefer to hire a driver to do the hard work. Harnesses and helmets are also required. Pismo Beach, California is a hub for dune buggies, and they can be seen going up and down the dunes, spraying sand against their windows. One piece of advice for quad biking and dune bashing, though: Avoid doing it on a full stomach of after a long night of drinking!
2. Desert Spa Day
A much more relaxing option can be found in the Sahara Desert: Moroccan sand bath therapy. It has a long history in this region, with tribal groups having had bathed in these sands for hundreds of years. In the village of Merzouga, locals dig holes in the dunes, and guests may lie in them for 30 minutes, with water provided. This therapy is purported to be good for skin diseases, aching limbs, and muscles.
1. Camel Racing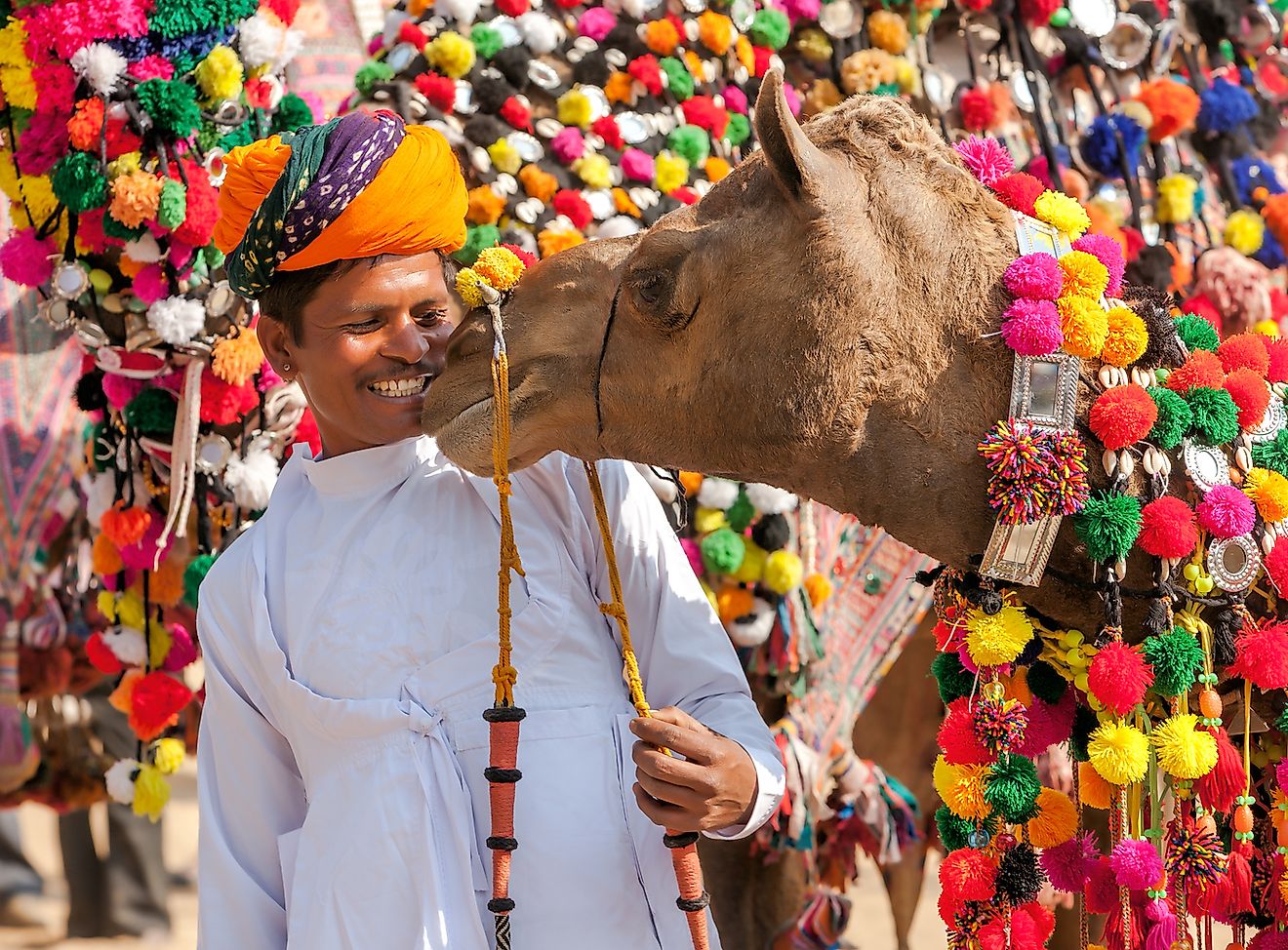 Camels are interesting creatures, known for their endurance, humps, and long eyelashes. They make for excellent desert travelers, and have transported countless humans across deserts. You might be surprised to learn that they are pretty fast, with a top speed of 40 miles per hour in short bursts. Racing events take place in different deserts; one of the best known is the annual Bikaner Camel Festival in northwestern India's Thar Desert. In addition to the races, you can also watch contests for the best-decorated camels!