Utah's Zion National Park is situated in the Southwestern United States, specifically within Utah's Kane, Iron, and Washington counties. Geographically, it can be found on the plateaus of Kolob and Markagunt, near where the intersection of North American geographic regions of the Mojave Desert, the Great Basin, and the Colorado Plateaus all come together. If observers were to find themselves gazing at the 229 square-mile Zion Natural Park from a distance of no more than three miles up, many would say it resembles a geometry student's protractor from above. With the well-known Zion Canyon, which is approximately 15 miles long and almost half a mile deep, and their tan- and deep-red-colored Navajo Sandstone formations beautifully cut through by the North Fork of the Virgin River, Zion is a geology lover's dream. Nights at the Zion Natural Park are often cool and comfortable during Fall, while in Spring, the weather is unpredictably wet and occasionally very warm at times. To dodge the heat, it is best to avoid visiting Zion in Summer, as days at this time can become miserably hot. Even during summer, however, the cool winds of the evenings will certainly make your stay a pleasant one.
Tourism
If you wish to enjoy a calm and cool visit at the Zion National Park, it's best to book a trip during the months between November and April. Keep in mind, however, that the place attracts more than 3 million visitors per year, so the crowd may not be as easy to avoid as the heat. Accessibility will not be a likely problem at Zion, as private shuttle transit services, as well as regular public transport, are available all throughout the year.
Uniqueness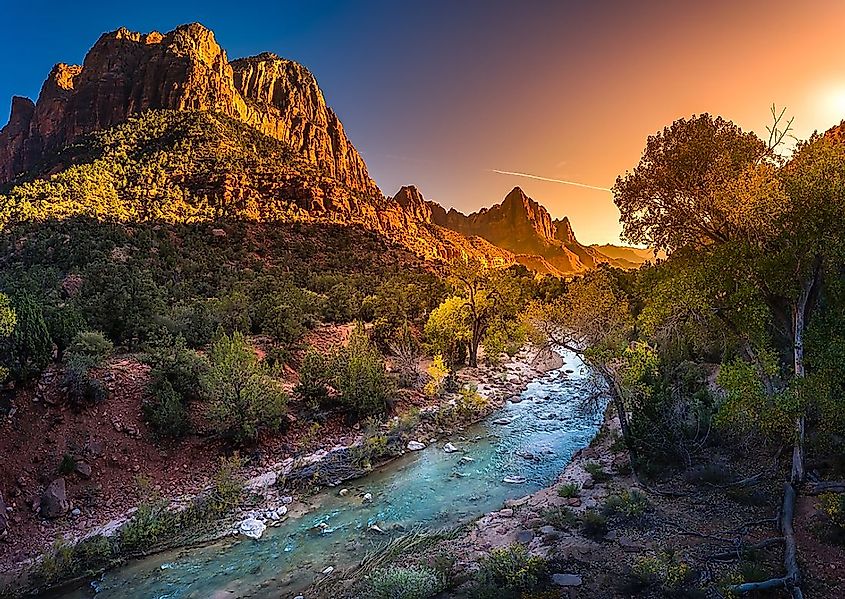 Apart from being the oldest National Park in Utah, Zion is the most visited in the state, with the name Zion meaning "heavenly city". If you love horseback riding, fishing, and nature exploration, the park has numerous programs suitable for you, no matter your age. For the more adventurous crowd, Zion offers rock climbing, mountain biking, hiking, canyoneering, and backpacking activities, as well as popular short walks with unique names, such as "Prodigal Son", "Moonlight Buttress", "Spaceshot", and "Touchstone".
Habitat
If you're looking for one of the oldest, most unique national parks in all of Utah and the American Southwest, then the Zion National Park is definitely a place you should be checking out. It was designated as a national park in the year 1919. To this day, it boasts having some 150-year-old geologic layers, as well as a widely diverse ecosystem for nature lovers to explore. The greatly diverse topography of Zion Natural Park, along with its varied soil types, allows for quite a unique mix of plants and animals that any tourist would admire. At last count, Zion boasts of having 79 species of mammals, 7 of fish, 28 of reptiles, 6 of amphibians, and more than 300 bird species. These animals live in one of the area's four life zones. These include the vast desert, coniferous forest, woodlands, and riparian habitats found within the park. Bank beavers, canyon wrens, water striders, golden eagles, falcons, and swifts can all be observed there, with generous smatterings of the skies with bats and condors and dippers.
Threats
To preserve the parkland, President Barack Obama put into law the Omnibus Public Land Management Act of 2009. Traffic congestion in the narrow Zion Canyon was a major problem through the 1990s but has been largely resolved by utilizing shuttle buses. From time to time, landslides triggered by heavy rains do happen in Zion. This is one reason why the Kolob Canyons Road is closed during the winter, and the Zion-Mount Carmel Highway has limited access at times, especially concerning the use by oversized vehicles.