Environment
10 Most Polluted Cities In The United States
In terms of highest levels of particulate matter air pollution as documented by the World Health Organization, Southern California's cities earn not-so-flattering ranks.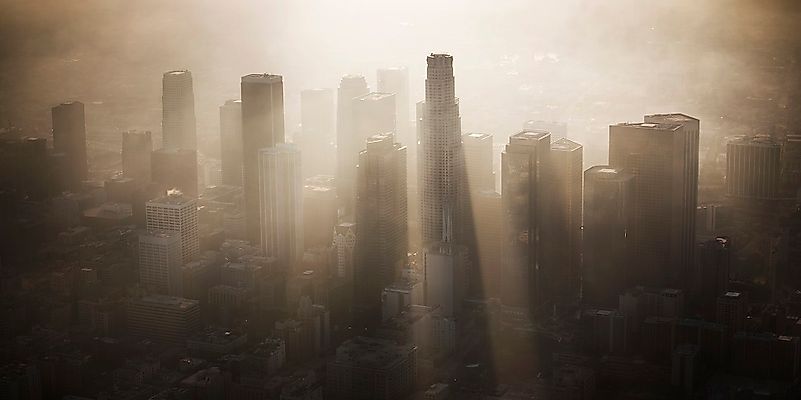 With burgeoning economies and expanding human populations, it may come as no surprise that the Southwest U.S. and Southern California have some of the most polluted cities in the United States. Natural factors such as wind currents and topography also come into play as determinants of air particulate matter concentration, and many of these cities are essentially brewing "perfect storms" for poor air quality. Many of these areas have been plagued with air pollution for generation, although there is hope for the future in the wake of increased monitoring and proactive regulation to combat the smog-filled air.
10. Las Cruces, New Mexico
The city of Las Cruces, New Mexico is home to an estimated population of over 100,000 people. Poor air quality in the southwestern US community is largely due to high concentrations of ozone in the air. Ozone results when carbon dioxide, hydrogen, and nitrogen oxides mix together in hot temperatures. The air pollution problem in Las Cruces is largely the result of factors such as car exhaust, as well as industrial plant emissions. Elevated levels of ozone are a major cause of breathing difficulties among the population. Recently the mayor of Las Cruces, Ken Miyagishima, along with various other local politicians came together in a call for the U.S. Federal government's Environmental Protection Agency to implement policies in order to effectively deal with the dangerous emissions produced by the oil and gas industries.
9. Shreveport, Louisiana
The southern city of Shreveport was founded by the Shreve Town Company in 1836. Situated on a low elevation overlooking the Red River, the port city has long been a hub for land and waterway transportation. Due to its geographical location and humid climate, residents of Shreveport continually face risks associated with natural phenomena such as flooding, hurricanes, and tornadoes, as well as man-made environmental concerns like pollution. Issues such as air quality, waste water management, and recycling are all handled by the Louisiana Department of Environmental Quality. One of the responsibilities of this agency includes programs involving ambient air monitoring in which levels of ozone, sulfur dioxide, nitrogen dioxide, carbon monoxide, and lead are measured throughout the state. Due to this program, residents in cities like Shreveport have access to daily air quality reports.
8. Phoenix, Arizona
Phoenix is the capital of the state of Arizona and home to a population of approximately one and a half million residents. With subtropical arid climate conditions, the city experiences more than its fair share of blisteringly hot temperatures. Nicknamed the "Valley of the Sun", the metropolis of Phoenix experiences many problems in terms of its air quality. Pollution in the local area is largely due to a high incidence of particles such as dust, soot, and aerosols in its air. The Air Quality Division of the Arizona Department of Environmental Quality is charged with responsibilities such as collecting data, providing forecasts, conducting research, investigating complaints, issuing permits, and maintaining routine automobile inspection programs.
7. Madera, California
Nicknamed "The Heart of California" Madera, California was originally known for its lumber industry and takes its name from the Spanish word for wood. Besides environmental problems such as drought, Madera also experiences high levels of air pollution. Madera's poor air quality is exacerbated by the area's dry hot weather conditions along with natural factors which contaminate the air including forest fires and dust storms. Citizens living in areas with dirty air as well as high levels of smog such as Madera are at an increased risk for a number of adverse medical conditions including asthma, cancer, and birth defects, as well as toxicity in a variety of bodily organs including the liver, skin, lungs, brain, kidneys, and reproductive system.
6. Hilo, Hawaii
Encompassing a land area of over 58 square miles, the community of Hilo is located on the island of Hawaii. According to the US Census Bureau, Hilo is classified as being a Census-designated place. Geographically, Hilo overlooks a funnel-shaped bay and lies on two volcanoes. These are Mauna Loa, which is active, and the dormant Mauna Kea. Tourism is an important industry in Hilo, and among the attractions to be found there include the Imiloa Astronomy Center of Hawaii, Mokupāpapa Discovery Center, the Pacific Tsunami Museum, and the Pana'ewa Rainforest Zoo. With a tropical rainforest climate, the community's poor air quality is largely the result of the influence of Mauna Loa, which regularly creates so-called volcanic smog.
5. Philadelphia, Pennsylvania
With a population of over one million, Philadelphia is the largest city in the northeastern U.S. state of Pennsylvania. The area is steeped in history and includes such landmarks as the Liberty Bell and Independence Hall. In recent years, Philadelphia has also become known for its poor air quality which contains high levels of smog and particle pollution. Because of this dirty air local residents already suffering from a variety of preexisting lung related disorders face heightened risks of serious complications. Medical conditions such as bronchitis, asthma, and emphysema are common problems among those living in Philadelphia as well as other cities with high concentrations of air pollution.
4. Fairbanks, Alaska
Fairbanks, Alaska, which is located in the central region of the state, is known by the motto "The Golden Heart City". With its subarctic climate this northern community lies below the Arctic Circle and south of the tree line. The biggest cause of air pollution in the area is largely the due to contamination from wood burning furnaces which release carbon dioxide into the atmosphere. Because wood is cheaper than other alternatives like oil and gas it's a popular source of energy. Organizations such as Clean Air Fairbanks have been formed in order to combat the community's pollution problems by raising awareness about the situation, as well as educating local residents on alternative energy sources and the health dangers of air pollution.
3. Los Angeles, California
The bustling city of Los Angeles is known for many things, most notably its status as a mecca for the American entertainment industry. The so called "City of Angels" boasts of having the second largest population in the US and the third largest in North America, with over 13 million people residing within its metropolitan area. Unfortunately the city also has the unfortunate distinction of having levels of air pollution that rank among the highest in the country in terms of both ozone as well as both short- and long-term particulate matter concentrations. According to USA Today residents of Los Angeles are exposed to an average of 117.7 days of high ozone levels each year. Besides emissions from cars and high incidences of traffic congestion air pollution in Los Angeles also originates from the area's many oil, gas, and electrical plants.
2. San Bernardino, California
As one of the oldest cities in California, San Bernardino occupies an area of approximately 59 square miles in the San Bernardino Valley.The community takes its name from Italian priest, missionary, and Saint, Bernardino of Siena. Like other parts of southern California, San Bernardino suffers from high rates of air pollution and elevated levels of ozone. In a 2015 report by the World Health Organization it was revealed that over 70% of the state's citizens reside in communities which have poor air quality. In San Bernardino, man-made factors such as traffic and industrial emissions combine with natural causes including high temperatures, wildfires, and drought conditions to create an atmosphere of dirty air and harmful breathing conditions.
1. Fresno, California
Located in central California, Fresno lies in the San Joaquin Valley and is home to about one half of a million residents. Traffic and pollution from industrial sources are just two of the many causes of poor air quality in the community. Citizens living in the area commonly suffer from medical conditions like asthma and chronic bronchitis. Because of its rich agricultural industry, the environment of the area surrounding San Bernadino has also suffered from contamination due to the use of toxic pesticides and other related materials. Fresno is known to be a diverse area, with a significant portion of the population coming from the African-American, Latino, and Cambodian communities.