Environment
Largest Wildfires In The World
Typically more devastating for animals and forests, some wildfires have also taken swaths of human lives. These have been the worst in terms of human casualties.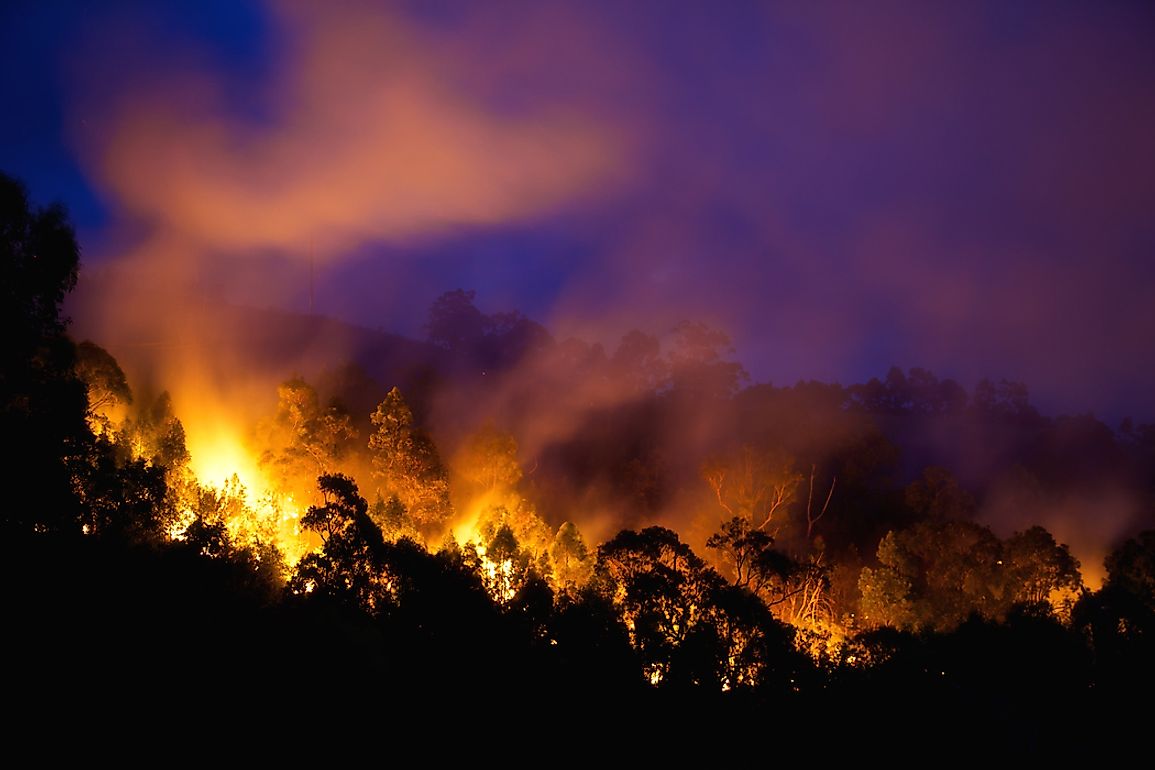 Wildfire Fatalities up to 2015
There's no denying the fact that wildfires can wreak havoc for wildlife, but although some have proven to be extremely deadly, like the one in 1825 which went through Maine and New Brunswick and burnt 3 million acres of forest, most do not directly harm or kill a large number of human beings. Indeed, some fires are actually triggered by forest officials on purpose as a forestry management tool known as "controlled" or "prescribed burn".
Historically, there have also been wildfires that have claimed the lives of many humans. The International Disaster Database (EM-DAT) has presented a list of wildfires across the world as of 2015 that led to the most fatalities. The list includes major forest, brush or wildfires that killed the most people between 1900 and 2015.
The Deadliest Wildfires
According to statistics presented by EM-DAT, the most fatal forest fire was one that began in parts of the United States on the 15th of October, 1918. It is believed that around 1,000 people died in this particular forest fire. Research shows that it struck Minnesota and Wisconsin and killed a thousand people, including 400 residents of a Minnesotan town called Cloquet. In terms of economic losses, nearly 1 million US dollars were lost due to this disaster.
The second deadliest forest fire blazed through Indonesia in September, 1997. This fire is believed to have been one of the most large-scale fires in the country's history and triggered such a dense haze that a cross-border mission was initiated in conjunction with Malaysia's firefighters to assist in putting it out. It is reported that around 240 people died before the final flame was extinguished. Next in line is a wildfire that killed 191 people in China in May of 1987, followed by a bush and brush fire that claimed 190 lives in Australia on the 2nd of February, 2009.
Other Major Wildfire Disasters
Australia in fact has a long-standing problem with fatal wildfires as a result of its climate and topography. Three of the worst wildfires in history occurred there, which includes the fire in 2009 alongside two scrub and grassland fires triggered in 1939 and 1983 and causing 71 and 75 deaths, respectively. Canada's massive forests have also made it a target for deadly forest fires, and it makes the top list due to The Great Porcupine Fire of July 11, 1911, which killed 73 people. A disastrous forest fire in August of 2007 in Greece rounds out the list of worst fires with 65 deaths.
Wildfires can turn horrendous if they are not dealt with on time and by the right means. This is apparent in the statistics presented by EM-DAT as it shows how deadly wildfires can become – they can kill hundreds, even thousands, and wipe out entire forests and lands as they continue to spread.
What Was the Deadliest Wildfire of all Time?
The 2003 Siberian Taiga Fires in Russia measured 47,000,000 acres in size, making it the largest wildfire of all time.
Largest Wildfires In The World
| Rank | Wildfire | Deaths |
| --- | --- | --- |
| 1 | United States, forest fire (October 15, 1918) | 1,000 |
| 2 | Indonesia, forest fire (September 1997) | 240 |
| 3 | China, forest fire (May 1987) | 191 |
| 4 | Australia, bush/brush fire (February 2, 2009) | 180 |
| 5 | United States, forest fire (October 20, 1944) | 121 |
| 6 | France (August 1949) | 80 |
| 7 | Australia, scrub/grassland fire (February 16, 1983) | 75 |
| 8 | Canada, Great Porcupine Fire (July 11, 1911) | 73 |
| 9 | Australia, scrub/grassland fire (1939) | 71 |
| 10 | Greece, forest fire (August 24, 2007) | 65 |
This page was last updated on April 25, 2017.
Citations
Your MLA Citation
Your APA Citation
Your Chicago Citation
Your Harvard Citation
Remember to italicize the title of this article in your Harvard citation.