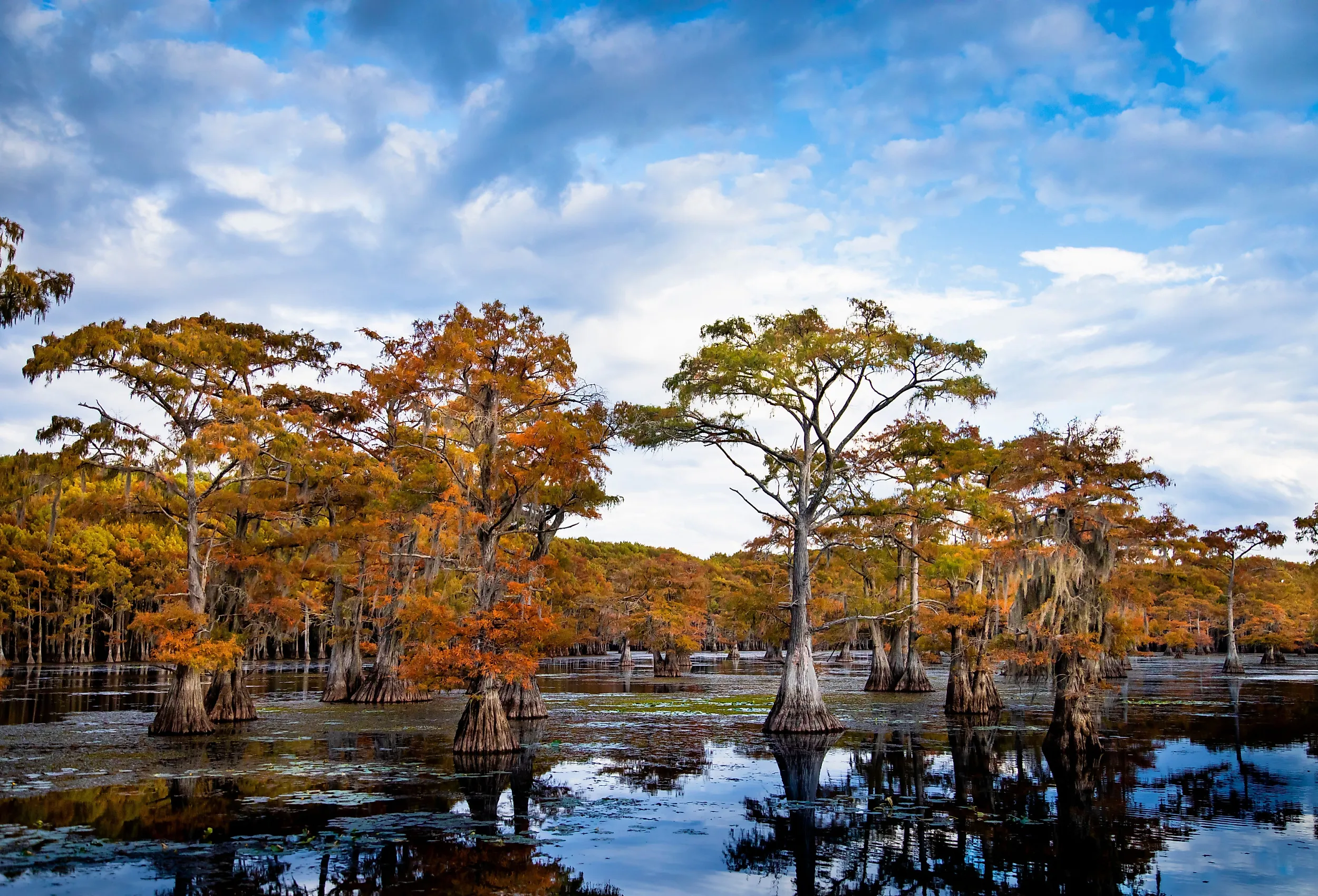 The Most Snake Infested Lakes in Texas
The Lone Star State is known for its cowboy culture, country music, the Alamo, tornadoes, and, as of a few years ago, the fictional character of Sheldon Cooper. Texas also has critters and predators like black widow spiders, alligators, mountain lions, and scorpions. Not to mention everyone's worst nightmare, perhaps: snakes. While several harmless snake species are slithering around, there are also a few poisonous ones to watch out for, especially in Texas' lakes. Some of the most snake-infested lakes in the state include the following.
Caddo Lake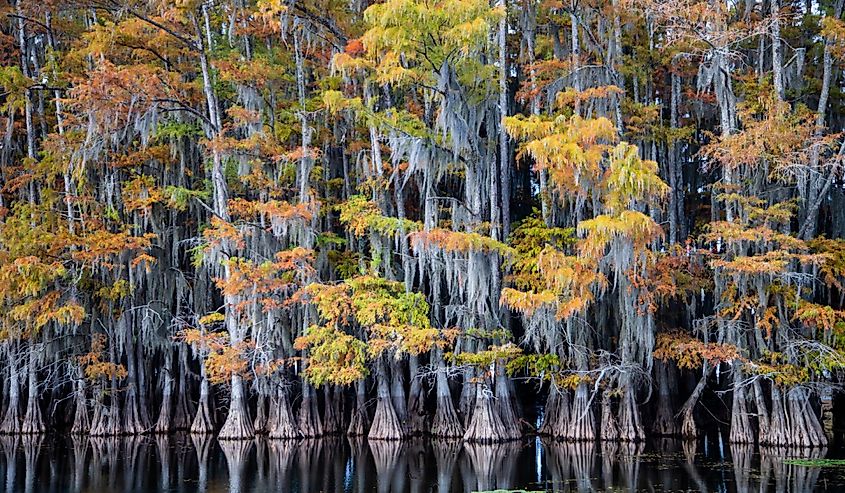 Caddo Lake flows on the border between Texas and Louisiana and is also a 25,400-acre wetland. The lake got its name from the native Caddoans, who called the area surrounding the lake their home until the US expelled them in the 19th century. It is said that the 1811-12 New Madrid earthquakes led to the formation of Caddo Lake. However, geologists believe the Great Raft formed the lake.
In addition to being under threat by Salvinia molesta or Great Salvinia, a weed that kills life just below the water surface, the waters are snake-infested. A study found that visitors may encounter any number of up to 32 snake species that inhabit the lake and surrounds. The most common species include the northern cottonmouth, western rat snake, and the North American racer. Other common snakes include crayfish snakes, timber rattlesnakes, and pygmy rattlesnakes.
Lewisville Lake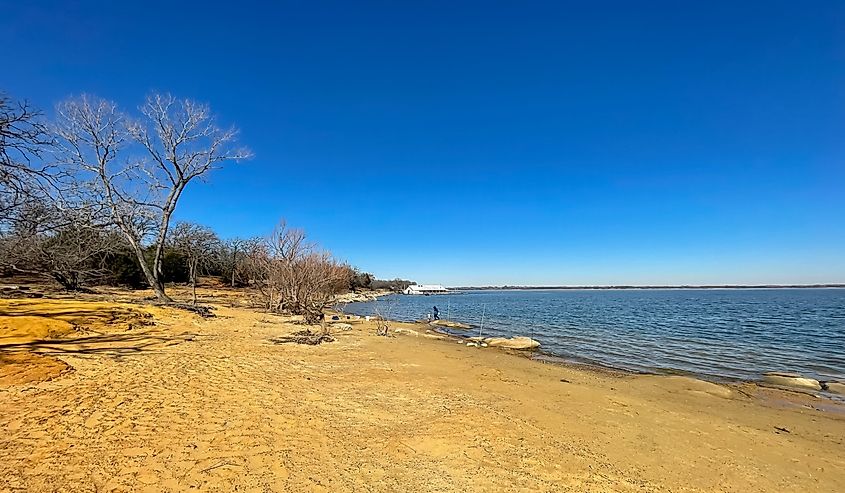 Lewisville Lake was built for flood overflow and is an essential Dallas water source. This reservoir is popular during summer and caters to the crowds with six marinas and three restaurants. People visiting the lake often encounter snakes, including yellow-bellied races, western coachwhips, and speckled kingsnakes.
The lake also provides a habitat for venomous snakes like the western cottonmouth and copperhead. These two species closely resemble each other and are responsible for the most snakebites in the US. Copperheads are particularly aggressive when surprised by visitors. Other snake species in Lewisville Lake include broad-banded watersnakes and diamondback water snakes.
Lake Texoma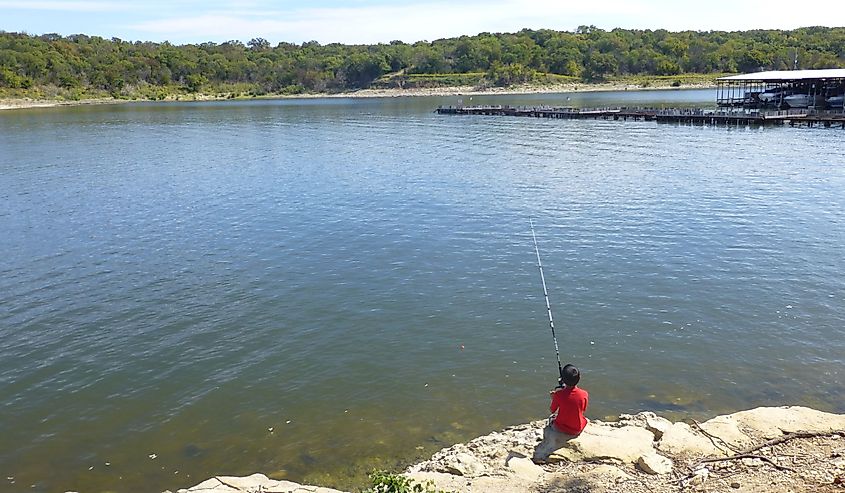 Lake Texoma is one of the largest bodies of water in the US and was formed by Denison Dam on the Red River about 726 miles upstream. This is another hugely popular reservoir and attracts around 6 million visitors each year.
Along with alligators, which are a common sight at Lake Texoma, it is crucial for everyone who visits to keep a watchful eye out for snakes. Here copperheads and western diamondback racers slither all over the place. The much-feared rattlesnake also makes an appearance at the lake. Moreover, other species include glossy snakes, Texas coral snakes, western ribbon snakes, pygmy rattlesnakes, and more. In addition to the venomous copperhead, cottonmouths, western diamondback racers, and rattlesnakes are all poisonous too.
Toledo Bend Reservoir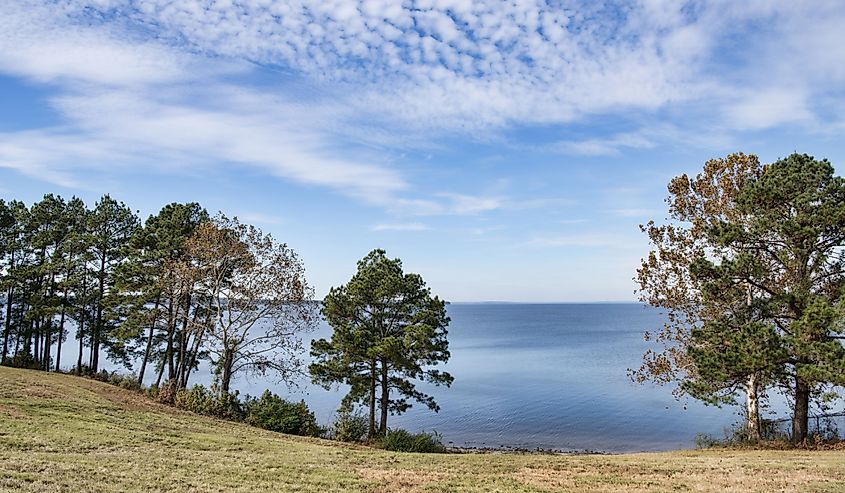 Another Texas reservoir filled with snakes is Toledo Bend. Lying on the Sabine River between Texas and Louisiana, the reservoir is the South's largest artificial body of water. This means snakes can swim and float around in a lot of water. There are at least seven different species in this lake, including prairie kingsnakes, Texas coral snakes, eastern cottonmouths, southern copperheads, and more. Some people have encountered canebrake rattlesnakes and western pygmy rattlesnakes here.
The Toledo Bend Reservoir is also an 186,000-acre fishing haven with largemouth bass populations reaching their peak in the spring.
Lake Sweetwater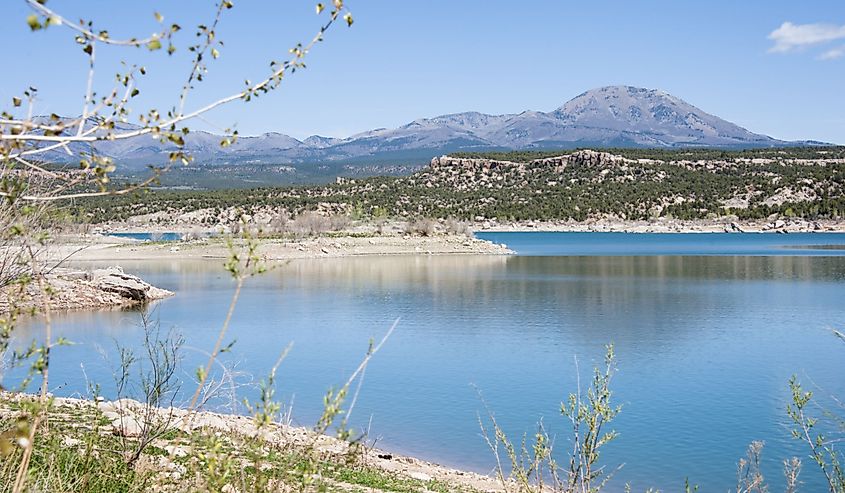 Lake Sweetwater covers 630 square acres and is 45 feet deep (at its deepest point). The surrounding recreation area offers an 18-hole golf course and other activities, which makes it a popular destination for people in Texas and the broader US. Those who want to fish or boat will find this serene lake the perfect place to do it. 
However, as with most other Texas lakes, snakes abound in the area and the water. The location of the World's Largest Rattlesnake Roundup draws around 25,000 visitors to the lake annually in March. This tradition started in 1958 when farmers and ranchers in the area tried to rid it of the booming western diamondback rattlesnake population. Nowadays, those hunting rattlesnakes compete to find the giant snake, after which they take them to the Nolan County Coliseum Complex.  
Wrap-Up
Most lakes in Texas have a thriving snake population. With over 105 different snake species and subspecies, these massive water bodies provide the perfect habitat for venomous and non-venomous snakes. Furthermore, while this may sound intimidating, these snakes contribute to the biodiversity of the state of Texas. It is crucial to respect these creatures and give them a wide berth whenever encountering them in the wild because they form an integral part of the ecological balance of lakes.