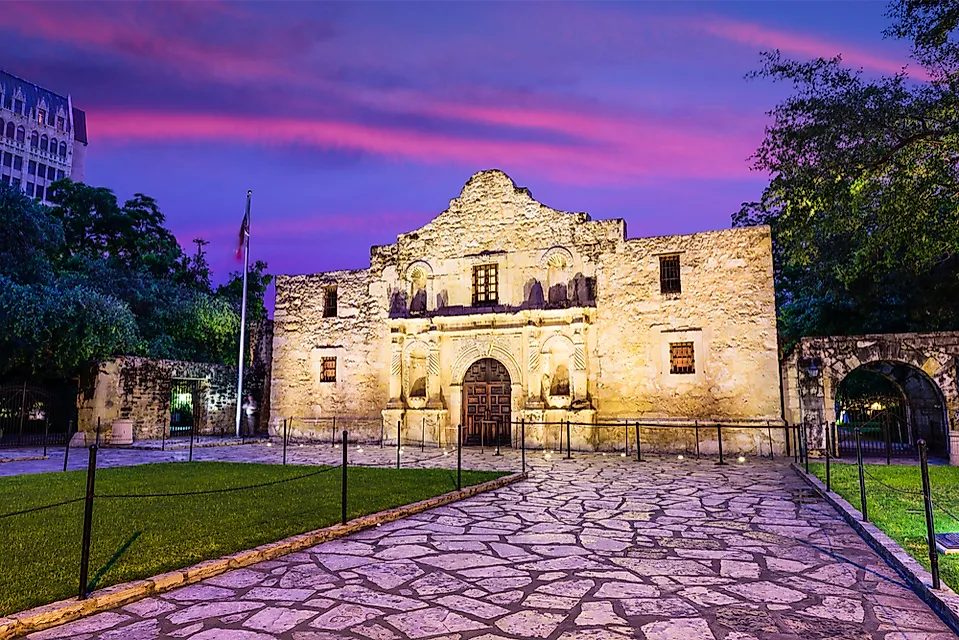 The Alamo Mission in San Antonia, often referred to simply as The Alamo, is a former Spanish mission built in San Antonio, Texas. Built by Spanish missionaries during the eighteenth century, the Alamo was constructed as mission and fortress for converting Native Americans to Christianity. The Alamo is most famous as the site of the Battle of the Alamo in 1836, and was designated as a UNESCO World Heritage Site since 2015.
Battle of the Alamo
The Battle of the Alamo was a critical point in the Texas Revolution, in which American colonialists rebelled against the Mexican government, who held control over the Mexican province of Texas. Texans were considering independence from Mexico, and had driven all Mexican troops out of the province. In 1836, the president of Mexico led troops to attack the Alamo, which had become a fortress of Texan freedom fighters. The mission was largely destroyed and all Texan defenders were killed. This triggered anger and a sense of vengeance in the residents of Texas, and also encouraged American soldiers to join in the battle. Renowned heroes who were killed at the Alamo include James Bowie, William Travis, and Davey Crockett.
Legacy
Today, the Alamo is viewed by the locals and international community as a historic site which is now symbolic of freedom. The Alamo is regarded not only as simply a mission for soldiers, but also a venue that provided health care services, security services and other social services to the people of Texas. Millions of tourists flock the region of Alamo, making it top the list for tourists' attractions in the state of Texas. The incident at the famous mission led to the erection of a monument in Texas in honor for the fallen soldiers who gave their lives for the freedom people enjoy today in Texas. The Battle of the Alamo has also inspired play writers, song writers, and film writers.