Mackinac Bridge Details Photos Maps and Information Page
Mackinac Bridge
Called "Big Mac," or "Mighty Mac," this modern engineering marvel, spanning the Straits of Mackinac, connects the Lower Peninsula of Michigan. to the Upper Peninsula of Michigan.
The Mackinac Bridge is one of the longest suspension bridges on the planet at 26,372 ft., or about 5 miles in total length.
This toll bridge was opened for traffic on November 1, 1957, ending forever the two peninsulas being linked by car ferries or boats.
In fact, before the bridge opened for traffic, getting to the Upper Peninsula from the Lower Peninsula required a 45-minute ferry ride, plus the time spent waiting to be loaded on the ferry - frequently as much as one hour. In summer, trips across could take as much as four hours.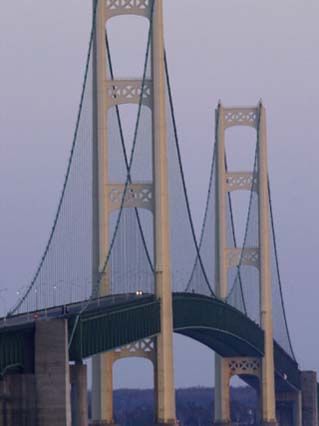 The Mackinac Bridge...
by Bruce Edwards
Buy This at Allposters.com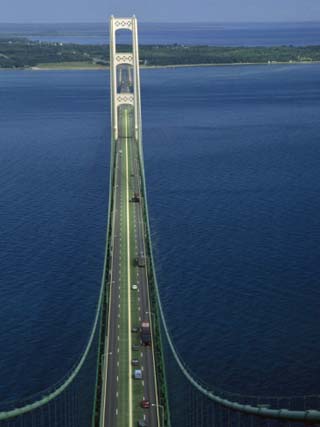 Where Lakes Michigan and Huron meet...
by Phil Schermeister
Buy This at Allposters.com
This page was last updated on September 29, 2015.