Where is Baton Rouge, LA?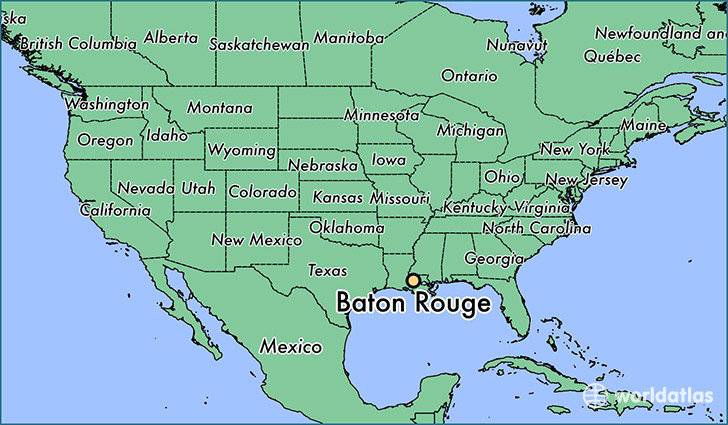 Baton Rouge is a city found in Louisiana, The United States Of America. It is located 30.45 latitude and -91.15 longitude and it is situated at elevation 20 meters above sea level.
Baton Rouge has a population of 229,493 making it the 2nd biggest city in Louisiana. It operates on the CDT time zone, which means that it follows the same time zone as New Orleans.
Quick facts
Description


Founded in 1699, Baton Rouge is the capital city of Louisiana, and a major petrochemical, industrial and port center. Located in the southeast part of the state along the Mississippi River, 75 miles northwest of New Orleans, the city is a blend of Louisiana southern charm, culture and of course, cajun food.

Residents and visitors alike enjoy hot, sultry summers and mild winters. Baton Rouge has a wealth of places to visit and fun things to do. Aside from being home to Louisiana State University (LSU), the city has an expanding visual arts scene, lively festivals and great museums, all forming the basis for the Baton Rouge's motto: "Authentic Louisiana at every turn."
Did you know?
Baton Rouge's biggest industry is 'Big Oil' and the petrochemical products that derive from it. BASF, Standard Oil and Dow Chemical maintain offices in this Louisiana parish.
Baton Rouge was the site of the first bus boycott of the early 1960's U.S. civil rights movements.
The Port of Baton Rouge is the ninth largest in the U.S. in terms of gross tonnage handled yearly
Attractions
Take a look at our Baton Rouge Map to help you spot these amazing things to do in Baton Rouge:
Hollywood Casino Baton Rouge
The riverboat Hollywood Casino is located across from the State Capitol on the banks of the Mississippi River in downtown Baton Rouge.

Hollywood Casino Baton Rouge features three floors with over 1,100 slots to offer its guests, including Blackjack, Double Lucky 7's, Double Diamond and Wheel of Fortune, among many others. Whenever Lady Luck has taken a break, you can always grab some great food at one of the three restaurants on board!

Magnolia Mound Compound
A veritable testimony to vernacular architecture influenced by early settlers from France and the West Indies, the Magnolia Mound Plantation is one of the earliest structures built in Baton Rouge.

A gracious, immaculately kept historical site, the Magnolia Mound has long been a Baton Rouge historical landmark. Famous for its age and quality of preservation, the building also illustrates a wealth of furnishings and decorative arts collections from the antebellum South, and outbuildings on the property, including the open-hearth kitchen and the quarter house.

Louisiana Old State Capital
One of the most distinguished examples of Gothic architecture in the US, the Louisiana Old State Capitol is a magnificent building that has witnessed history unfolding, fire, debate and abandonment. More than 150 years old, the Old Capitol remained in use until 1932, when the new Capitol Building took its place.

Restored in 1990, the Old State Capitol now houses the Museum of Political History and deals with Baton Rouge historic preservation projects, exhibits and tours.
Maps
This page was last updated on October 2, 2015.