New South Wales Flag
New South Wales Flag: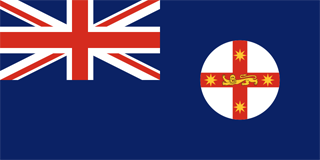 The state flag of New South Wales was adopted in 1876, and is an adaptation of the national flag of Australia.
The flag features a golden lion passant guardant with four eight-pointed golden stars within the cross of St. George, on a white disc.
New South Wales Coat of Arms: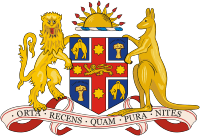 The official coat of arms of New South Wales was granted by a Royal Warrant of King Edward VII on October 11, 1906.

The coat of arms is composed of a lion and kangaroo supporting a shield with a silver cross voided red. The four quadrants outside the cross contain a wheat sheaf in the top left and bottom right, and a golden fleece in the top right and bottom left quarters. The crest of the arms depicts a rising sun, and the state motto is displayed on a ribbon below, "Orta recens quam pura nites" ("Newly risen, how brightly you shine").
States & Territories of Australia
This page was last updated on April 7, 2017.