Utah Geography
Utah is divided into three distinct landform regions, including the Colorado Plateau of the south and southeast, the central Rocky Mountains, and the basin and ridge region of the northwest, which includes the Great Salt Lake and numerous salt beds.
As for the central Rockies, the snow-capped Uinta and Wasatch Mountains are the most significant ranges within the state. The highest point (Kings Peak) in the Uinta Mts., reaches 13,528 ft..
The Colorado Plateau, a series of flat lands, colorful gorges, rugged mountains and valleys, extends across the southern third of Utah. Bryce Canyon, Grand Staircase-Escalante National Monument, Monument Valley and Zion Canyon, are some of the plateau's most interesting areas.
The basin and ridge region - a series of flat depressions, salt beds, lakes and sinks - all scattered between isolated ribbons of mountains, stretches across the western and northwestern parts of the state.
The Great Salt Lake, the largest salt lake in the western hemisphere, is actually what remains of Lake Bonneville, a large prehistoric body of water that today is approximately 75 miles long by 35 miles wide. Because of it's high salt content (salinity) people can easily float in the lake.
Lake Powell, the Flaming Gorge Recreation Area on the Wyoming border, and Utah Lake are the other major bodies of water. Important rivers include the Colorado, Green and White.
For a detailed look at the topography of Utah, view this topographic map.
Utah Photographs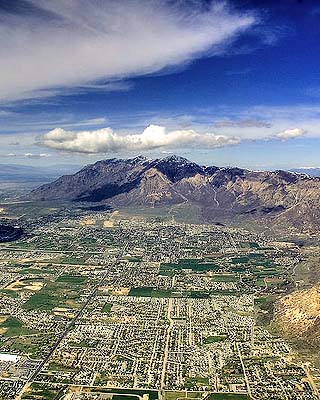 Arial View Of Ogden, Utah
Utah Cities, Counties & Area Codes
This page was last updated on April 7, 2017.