The Highest Peaks In Utah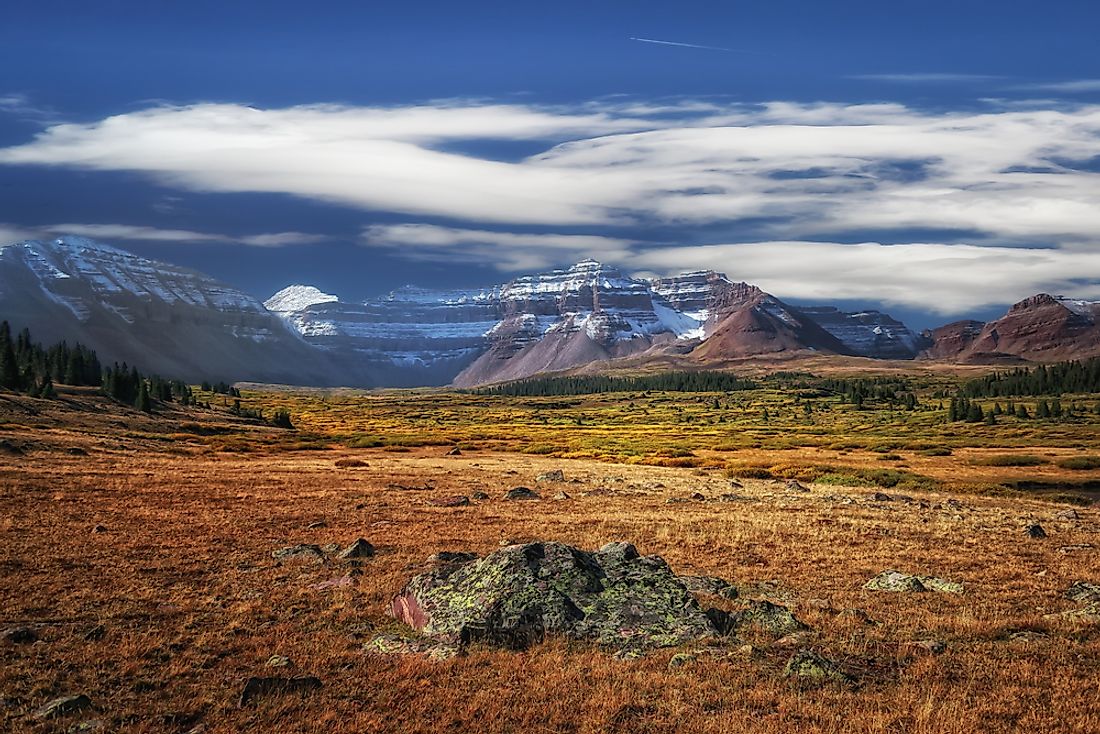 Utah covers an area of 84,916 square miles. It is the 12th largest state in the country by land area. With an elevation of 13,534 feet, Kings Peak is the highest point in Utah. Beaver Dam Wash, located in the southwestern part of the state, is the lowest point in the state lying at 2,350 feet. Topographically, Utah is divided into three regions: the great basin, the Colorado Plateau, and the Rocky Mountains.
Kings Peak, The Highest Peak In Utah
Kings Peak (13,534 feet) is within the Uinta mountain ranges. It is located in the southern part of the ranges, in the Ashley National Forest. The Peak is located about 79 miles to the east of the state capital of Salt Lake City. It is possible to climb to the top of the mountain, and thousands of tourists undertake the journey yearly.
South Kings Peak 
South Kings Peak is the second highest peak in the state of Utah. It stands at 13,512 feet. It is found near the state's border with Wyoming. 
Gilbert peak
Not to be confused with the peak of the same name in Washington State, Gilbert Peak is Utah's third highest mountain top. It is found in the northeastern part of the state. It is 13,442 feet tall. 
Mount Emmons
Mount Emmons is the fourth highest peak in Utah. It is nearby Kings Peak. Like the rest of the mountains on the list, it is also located near the Wyoming border. It stands at an elevation of 13,440 feet. 
Painter Peak
Painter Peak is the fifth tallest peak in Utah. The mountain is sometimes climbed recreationally, although the hike is difficult and can take several days. In fact, very few successful climbs of the mountain have been reported. It is 13,387 feet tall. 
Highest Peaks In Utah
| Rank | Mountain peak | Mountain range | Elevation (Feet) |
| --- | --- | --- | --- |
| 1 | Kings Peak | Central Uinta | 13,528 |
| 2 | South Kings Peak | Central Uinta | 13,512 |
| 3 | Gilbert Peak | Central Uinta | 13,442 |
| 4 | Mount Emmons | Central Uinta | 13,440 |
| 5 | Painter Peak | Central Uinta | 13,387 |