Environment
The Highest Peaks In Utah
One of the more popular hikes in the US state of Utah is the Kings Peak, which is also the highest peak in Utah standing 13,534 feet tall.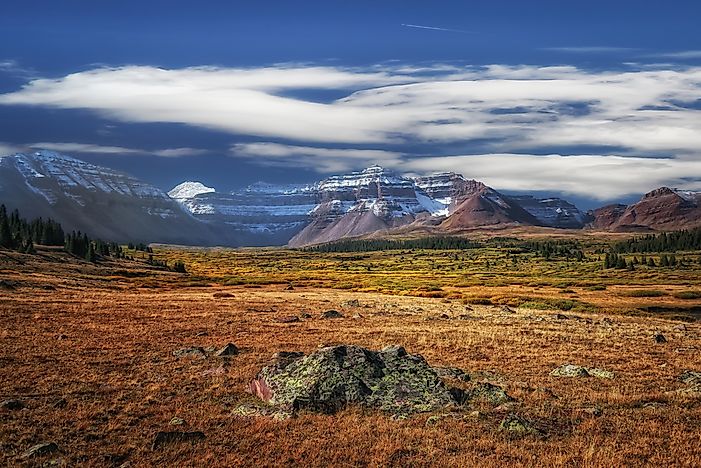 Utah covers an area of 84,916 square miles. It is the 12th largest state in the country by land area.With an elevation of 13,528 feet, Kings Peak is the highest point in Utah. Beaver Dam Wash, located in the southwestern part of the state, is the lowest point in the state lying at 2,350 feet. Topographically, Utah is divided into three regions: the great basin, the Colorado Plateau, and the Rocky Mountains.
Kings Peak, The Highest Peak In Utah
Kings Peak (13,534 feet) is within the Uinta mountain ranges. It is located in the southern part of the ranges, in the Ashley National Forest. The Peak is located about 79 miles to the east of the state capital of Salt Lake City. It is possible to climb to the top of the mountain, and thousands of tourists undertake the journey yearly.
Mount Peale
Mount Peale is the second highest peak in Utah at 12,726 feet.. Mount Peale is within the La Sal Mountains of San Juan County in the southern part of the state. They also form the highest point outside of the Uinta mountain ranges. The peak was named in 1875 after Albert Peale, a mineralogist. It is the highest point in the Las Sal National Forest. Mount Peale peak can be accessed from different directions, and is a major tourist attraction for the hikers and sightseeing enthusiasts.
Mount Waas
Mount Waas is one of the most challenging mountains to climb in any of the La Sal Mountain Peaks as there are no technical routes, and there are numerous large and loose talus and boulders. The peak rises to 12,316 feet
Delano Peak
Ranking fourth among the highest peaks in Utah is Delano Peak. Delano Peak is within the Tushar Mountains and has a height of 12,174 feet. The Tushar mountain range forms the third highest range in the whole state of Utah after the Uinta and La Sal ranges. However, the Delano Peak the 32nd highest peak in the State of Utah. Delano Peak was named after Colombus Delano who was the secretary of the interior, and it is located in the Fishlake National Forest.
Ibapah Peak
Ibapah Peak in within the deep creek mountains in the Great Basin of Toole County. The peak reaches a height of 12,092 feet. Within the range are a source of many streams and a wide variety of flora and fauna. The common trees include the coniferous forest
The state of Utah is mostly mountainous with numerous peaks which include Bald Mountain (11,948 ft), Mount Nebo (11,933 ft), South Mountain (11,822 ft), Mount Timpanogos (11,752 ft) among others.
Highest Peaks In Utah
| Rank | Mountain peak | Mountain range | Elevation |
| --- | --- | --- | --- |
| 1 | Kings Peak | Uinta Mountains | 13,534 ft |
| 2 | Mount Peale | La Sal Mountains | 12,726 ft |
| 3 | Mount Waas | La Sal Mountains | 12,316 ft |
| 4 | Delano Peak | Tushar Mountains | 12,174 ft |
| 5 | Ibapah Peak | Deep Creek Range | 12,092 ft |
| 6 | Bald Mountain | Uinta Range | 11,948 ft |
| 7 | Mount Nebo | Wasatch Range | 11,933 ft |
| 8 | South Mountain | La Sal Mountains | 11,822 ft |
| 9 | Mount Timpanogos | Wasatch Range | 11,752 ft |
| 10 | Fish Lake Hightop | Fish Lake Plateau | 11,639 ft |
| 11 | Mount Marvine | Fish Lake Plateau | 11,604 ft |
| 12 | Mount Hilgard | Fish Lake Plateau | 11,538 ft |
| 13 | Mount Ellen Peak | Henry Mountains | 11,527 ft |
| 14 | Twin Peaks | Wasatch Range | 11,494 ft |
| 15 | Mount Pennell | Henry Mountains | 11,413 ft |
| 16 | Abajo Peak | Abajo Mountains | 11,362 ft |
| 17 | Bluebell Knoll | Aquarius Plateau | 11,346 ft |
| 18 | Circleville Mountain | Tushar Mountains | 11,336 ft |
| 19 | Brian Head | Markagunt Plateau | 11,312 ft |
| 20 | Thousand Lake Mountain | Fish Lake Plateau | 11,300 ft |