Connecticut Geography
The jagged, and rocky Atlantic Ocean coastline of Connecticut is a remnant of the last Ice Age. It's a mixture of bays, inlets, tiny islands, river estuaries, and a few sandy beaches.
From the narrow coastal lowlands the land rises into the central hills and low mountains of the north.
Eastern Connecticut (central and north) is hilly, heavily forested, and crisscrossed by narrow river valleys.
In the west, the Appalachian Mountains stretch north across the state on into western Massachusetts. The Berkshire (hills or mountains) and the narrow Taconic Mountain Range are the dominant landforms. Mt. Frissell, is the state's highest point, at 2,380 ft.
The state is dissected by the Connecticut River and the surrounding central valley. At 407 miles (655 km), it's the longest river in the New England states.
There are dozens of additional rivers within Connecticut. The Housatonic, Farmington and Thames are the most significant.
Numerous small lakes and ponds are found in Connecticut, with the largest being Lake Candlewood, one of the largest man-made lakes in the USA.
For a closer look at the topography of Connecticut, view this map
Connecticut Photographs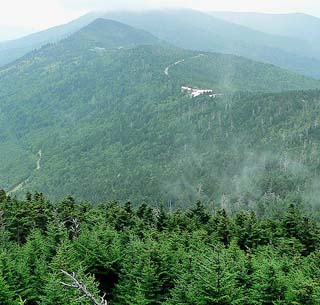 The Appalachian Mountains
Connecticut Cities, Counties & Area Codes
This page was last updated on April 7, 2017.