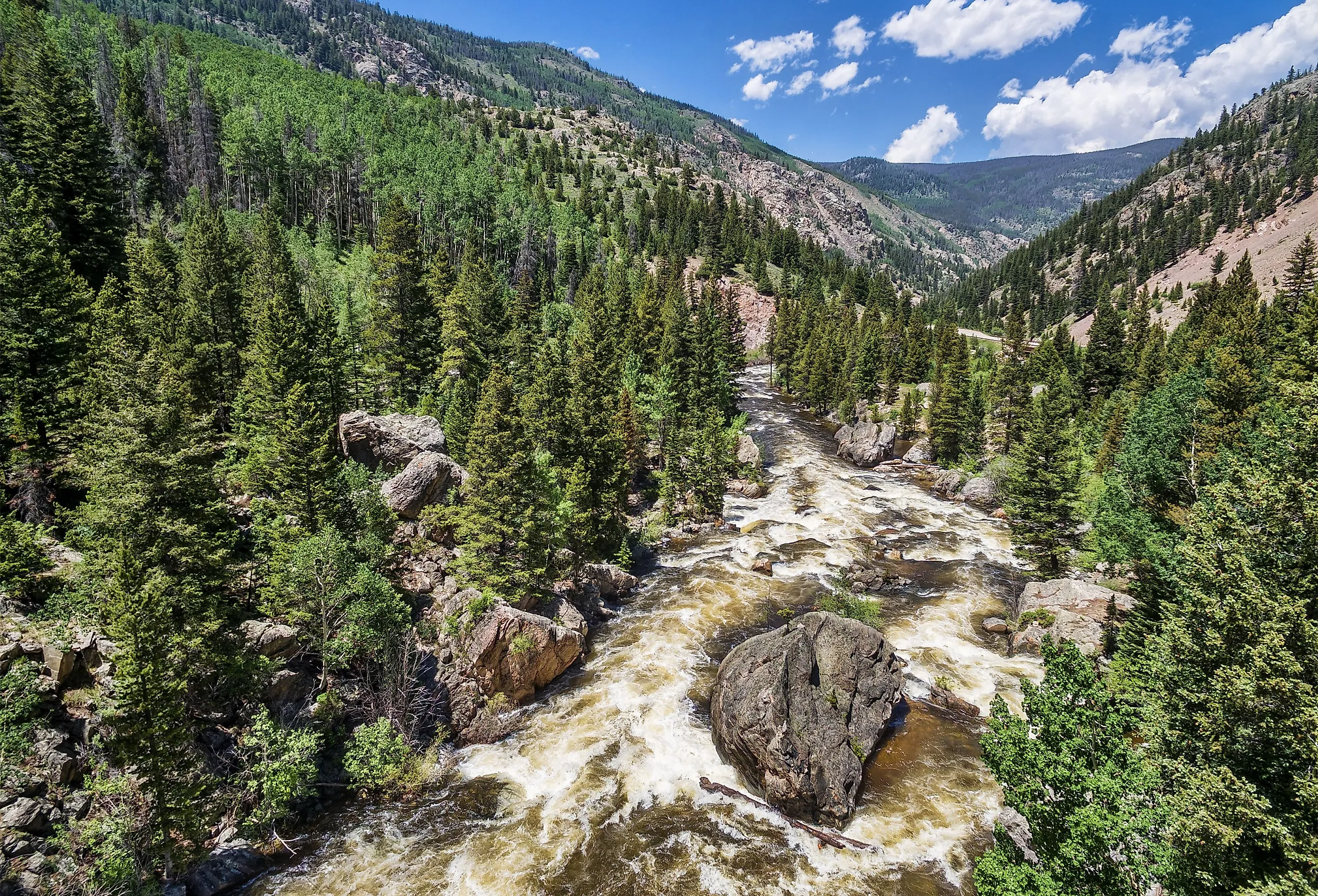 8 Most Beautiful Rivers in Colorado
Colorado offers a wealth of natural beauty and thrilling recreational opportunities, with over 90,000 miles of rivers perfect for exploring. From the tranquil scenery of the Cache La Poudre River to the rushing rapids of Eagle River, there is no shortage of unforgettable experiences here. So whether you seek peaceful days spent fishing or an adrenaline rush on whitewater rafting trips, Colorado's awe-inspiring waterways have something for everyone. So start here to explore why this state remains one of the top destinations for nature lovers year after year.
Cache La Poudre River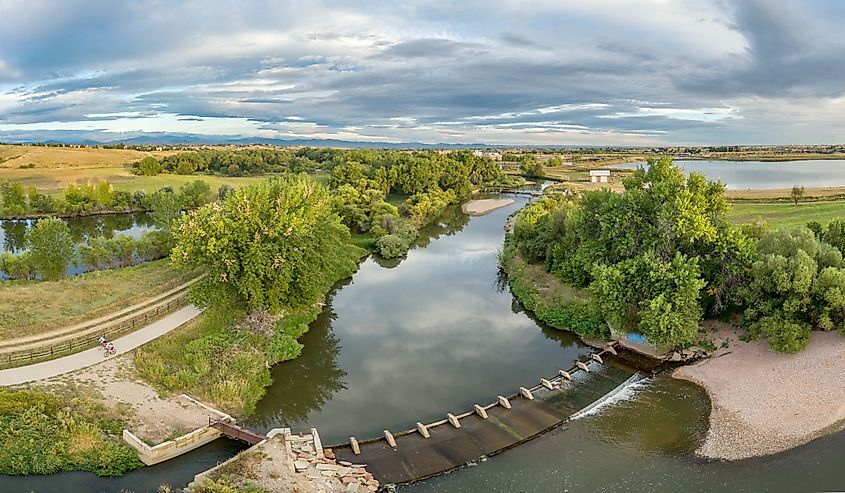 Cache La Poudre River is in the heart of Colorado, flowing from the Rocky Mountains to the South Platte River in Greeley. It has played an essential role in history, first used by Native American tribes as they migrated through Colorado and later explored and mapped by European settlers in the 1800s. Cache La Poudre River remains a beloved destination due to its scenery, which is popular among locals and visitors alike. Now spanning about 126 miles, the river runs through canyons and over rapids, creating a unique atmosphere worth exploring. The plethora of wildlife that inhabits this area also makes it special; people often come here to catch glimpses of bald eagles, Canadian geese, beavers, deer, and foxes.
In addition to its natural beauty, Cache La Poudre River provides recreational opportunities such as fishing, kayaking, and whitewater rafting. Even guided tours allow visitors to experience the river's historical importance firsthand. Cache La Poudre River offers unmatched beauty with its rocky terrain, lush greenery, and exciting rapids, making it one of Colorado's most memorable spots.
Yampa River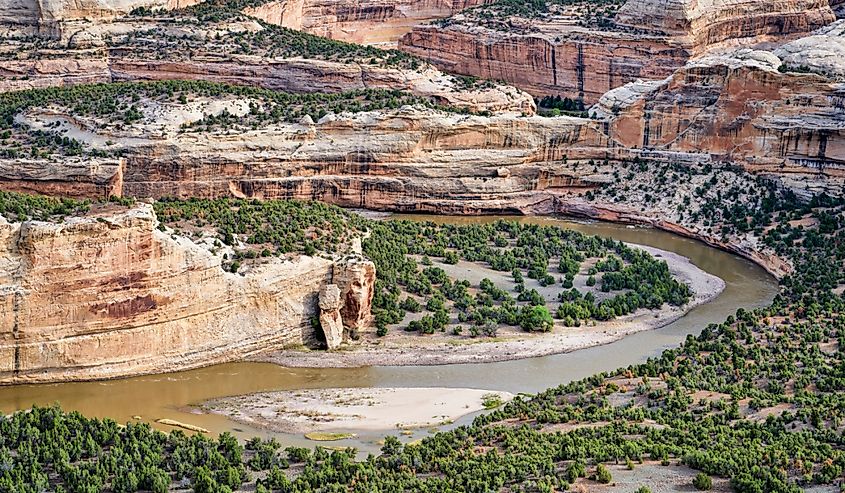 Originating in the Rocky Mountains of Colorado, the Yampa River meanders through picturesque canyons and eventually flows into the Green River in neighboring Utah. Known for its remarkable beauty due to views of rocky terrain paired with lush greenery, this awe-inspiring river spans over 250 miles. Throughout its history, the Yampa River has played an integral role. For centuries, this river served as a vital source for Native American tribes as they traveled and migrated across the continent. Later on, European settlers explored and mapped its path and eventually created settlements along its banks.
Today, Yampa River provides nourishment to those living nearby and offers visitors a picturesque backdrop for exploring the area's abundant wildlife and wilderness—a reminder of both our past and present. Recreational opportunities abound such as fishing, kayaking, and white water rafting. Visitors can also take guided tours to experience its sights up close.
In addition to offering outdoor activities, Yampa River is home to a wide variety of wildlife, making it one of Colorado's most unique natural attractions. As a result, conservation groups have preserved 8,800 acres along a 10-mile stretch of Yampa River, protecting it from traditional land management practices. To achieve this goal, activists have employed many conservation strategies that allow landowners to find more creative ways to preserve their property and ensure its future protection. Yampa River offers scenery fit for postcards and allows visitors to explore local history while creating unforgettable memories amongst its wild inhabitants. The beauty of this area truly makes it one of Colorado's most beloved landmarks.
Uncompahgre River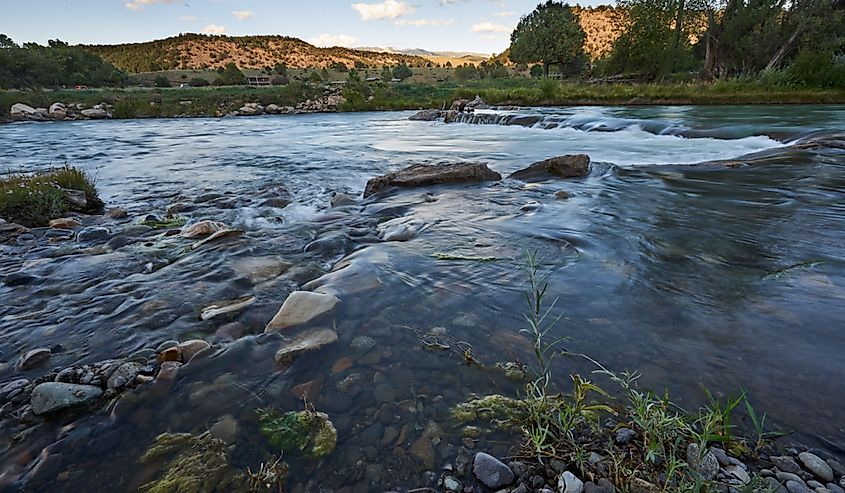 The Uncompahgre River is a vibrant and stunning waterway located in the Colorado region. It begins its journey high up in the San Juan Mountains before winding its way down through canyons of Bureau of Land Management land. It passes through small towns, historic sites, and lush forests along the way, finally emptying into the Gunnison River—a river considered by many to be one of the state's most scenic rivers.
With Class II and III rapids, the Uncompahgre River spans 75 miles and offers some of the best whitewater rafting experiences in the country. The rapids run through fantastic scenery, including magnificent red rock walls that frame the river during portions of the adventure. Experienced rafters also take on more aggressive runs with class IV or V rapids. Anglers also flock to this river for excellent trout fishing opportunities—most notably cutthroat trout, brown trout, rainbow trout, and brook trout. Paddleboarders may also enjoy taking on calmer stretches of this beautiful waterway. Visiting Uncompahgre River is an excellent option for those seeking an escape from their hectic day-to-day lives. Whether you go camping along its banks or participate in one of its thrilling activities, there is something here for everyone to enjoy.
San Juan River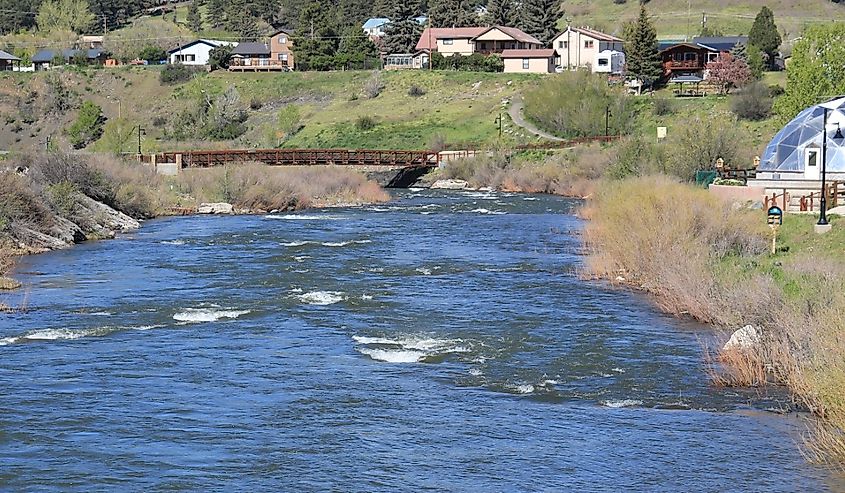 San Juan River is a major tributary of the Colorado River located in southwestern Colorado. It spans 383 miles, beginning at Wolf Creek Pass and eventually merging with the Animas and Dolores rivers before emptying into Colorado. Throughout its journey, the San Juan River passes through breathtaking scenery, home to stunning rock formations, lush valleys, and towering mountain peaks. Native American tribes have long revered the San Juan River for its abundance of trout and other freshwater fish. Today it remains an essential source of sustenance, with numerous fishing opportunities available along its banks. In addition to sustaining local wildlife, the San Juan offers visitors a wealth of recreational activities, including kayaking, rafting, and camping.
San Juan also plays a vital role in preserving history, as it has been integral to ancient civilizations over the centuries. Trappers and explorers frequently used this route in their travels, earning it a respected place among many different cultures. Moreover, its diverse landscape makes it attractive to nature enthusiasts who come here to see the sights or participate in special events such as whitewater festivals or water conservation lessons. San Juan River's outstanding beauty draws travelers from all around who yearn for adventure, relaxation, or to admire its natural wonders. From mouth-watering trout fishing spots to gorgeous views, there is something for everyone in this unique piece of western Colorado.
Arkansas River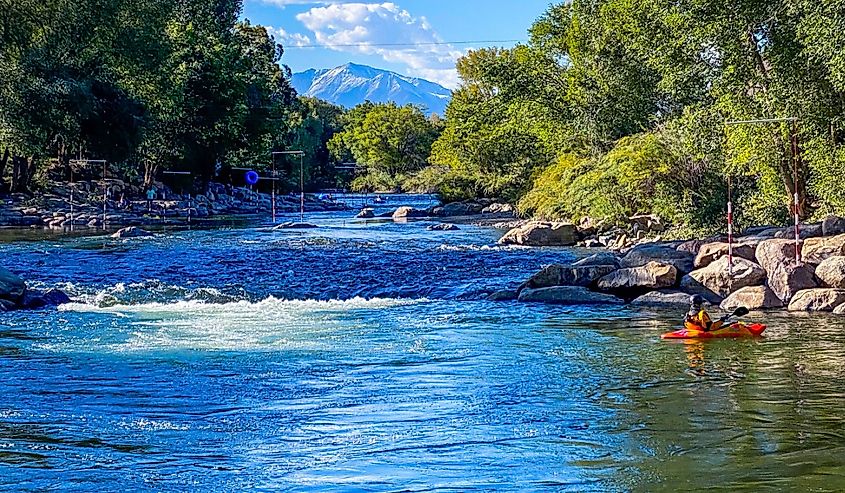 The Arkansas River is an incredible natural wonder in Colorado. It snakes its way across the state, providing a picturesque backdrop and ample opportunity for recreational activity. Rising high in the Sawatch Range of the Rocky Mountains, it flows through four major cities—Canon City, Pueblo, La Junta, and Tulsa—before emptying into the Mississippi Delta in Arkansas. The river's length is 1,469 miles long and is one of the longest rivers in North America. Its wide array of watersports makes it an ideal destination for rafting, kayaking, fishing, and tubing. In addition, Colorado Fish and Wildlife Commission has designated some stretches of the river as "Gold Medal Water" due to the abundance of trout in its waters.
Furthermore, several outfitters offer guided trips along parts or all of the Arkansas River's length, enabling intrepid travelers to explore some of its more remote sections. Meanwhile, inland from the shoreline, there is plenty to explore too. The banks are rich with diverse vegetation that provides habitat for numerous species, making it an excellent spot for birdwatching and wildlife photography. Plus, you can reach much of its watershed by vehicle or train thanks to incredible access points such as Cañon City's Royal Gorge Park and Pueblo Dam. From thrilling rapids to tranquil streams teeming with fish, Colorado's section of the Arkansas River offers activities at every turn, ensuring that everyone can find something they enjoy along its scenic journey.
South Platte River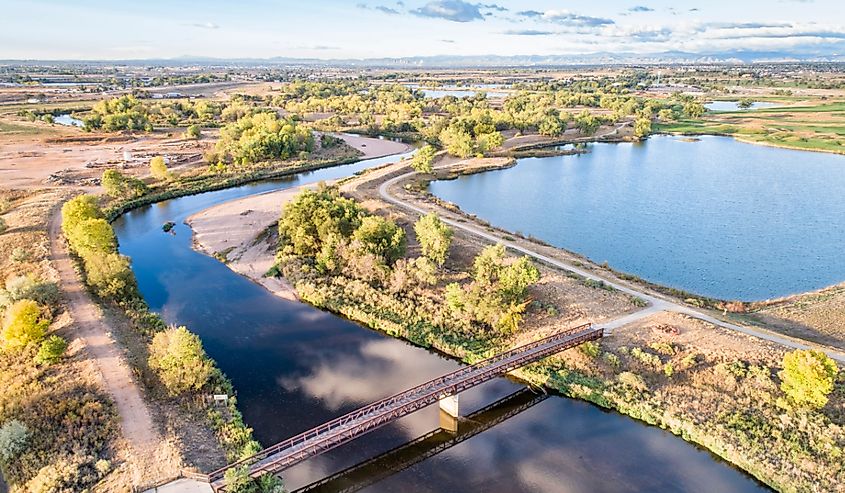 The South Platte River in Colorado is a vibrant and beautiful stretch of water that has provided opportunities for recreation, exploration, and relaxation since ancient times. Its banks have seen the footsteps of Native American tribes, pioneers, and settlers, whose stories remain deeply involved with the river's history. This iconic river is still widely beloved by local communities and visitors from near and far. Spanning some 439 miles across the United States, it stands out for its wildlife; fishermen often come here to catch walleye or northern pike, while hikers take pleasure in spotting deer or bison along its trail. Bird watchers may also have the chance to observe bald eagles soaring overhead.
The South Platte River also makes an ideal place for tubing and kayaking; its steady current ensures a safe ride down its meandering course. In addition, many quiet spots are waiting on its banks where people can relax in a tranquil environment surrounded by nature. Each season brings different activities suited for everyone's tastes under sunny skies and ever-changing landscapes. It inspires those who explore it, leaving lasting memories of adventure and scenic beauty unlike anywhere else.
Colorado River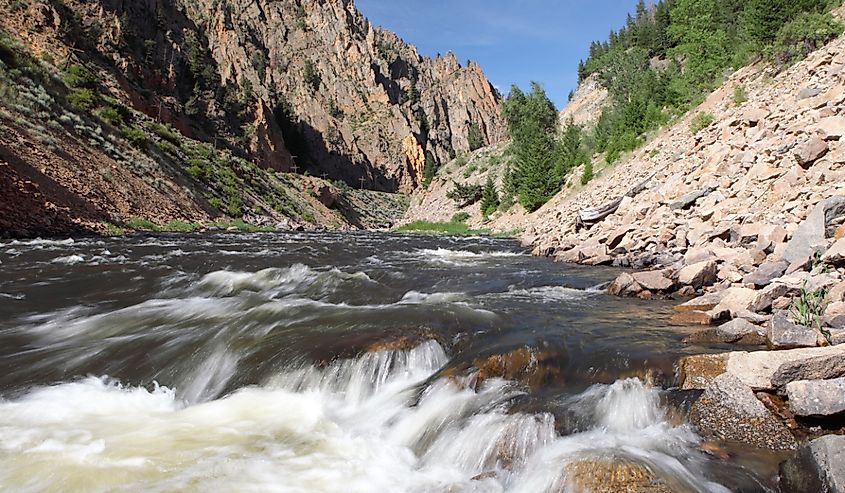 Colorado River is a beloved destination in Colorado that runs through picturesque canyons and across breathtaking rapids. Spanning around 1,450 miles, it starts at La Poudre Pass near the Rocky Mountains and ends in the Gulf of California in Mexico. As one of the major rivers of the American Southwest, the Colorado River has played an integral role in history.
Today, visitors come here to experience the Colorado River's beauty and recreation opportunities, such as camping, fishing, hiking, and boating. Rafting down its exciting rapids is highly popular among thrill seekers looking for a unique adventure. The diverse wildlife inhabiting this area makes it even more remarkable. People often catch glimpses of bighorn sheep, bald eagles, and beavers. In recent years there have been conservation efforts to ensure that this iconic stretch of Colorado remains preserved for future generations. With its world-class scenery and outdoor activities throughout the year, Colorado River provides an unforgettable experience that will appeal to anyone looking for a memorable getaway.
Eagle River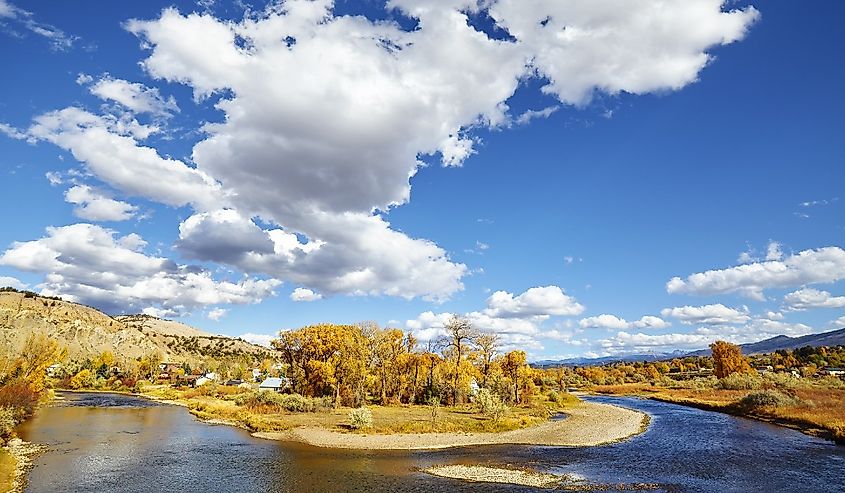 Eagle River is a spectacular tributary of the Colorado River in west-central Colorado. Spanning over 60 miles of breathtaking countryside and wildlife preserves, Eagle River offers serenity and beauty in equal measure. Eagle River provides easy access to the best of Colorado's backcountry with options for fishing, camping, and hiking.
Additionally, with a long stretch of the Eagle River running through small towns such as Eagle Colorado, it is the perfect spot for rafting, kayaking, and other water activities. History enthusiasts will enjoy checking out the Camp Hale National Historic Site, an old US Army Mountain Division training camp perched along the banks. Whether looking for a weekend away or an outdoor adventure with the family, Eagle River has something for all visitors that come this way.
Colorado offers an endless array of natural beauty with countless stunning rivers. From the calm waters of the Cache La Poudre River to the thrilling rapids of Eagle River, there is something for everyone here. So relax, take in the lush forests, crystal-clear waters, and breathtaking views, or get your adrenaline pumping with whitewater rafting trips. Make lasting memories as you explore this natural paradise and discover why Colorado remains one of the top destinations for outdoor adventurers.