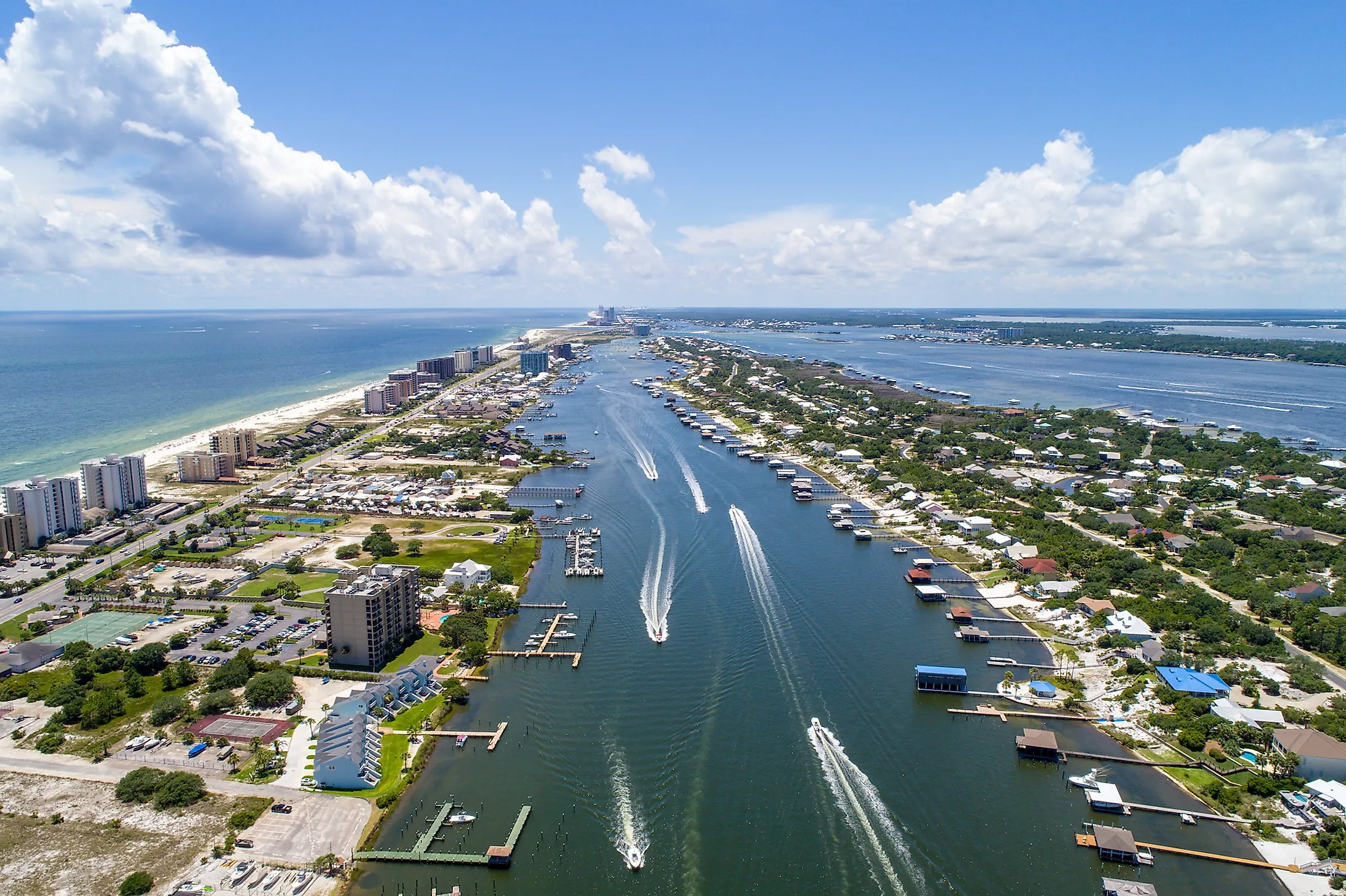 Perdido Key, meaning 'lost' Key, is a small Florida island community between Pensacola, Florida and Orange Beach, Alabama. The island is extremely narrow, has a length of 26 km, and has around 29,000 people. The island is known for its sandy beaches, including a perceived National Seashore, and its variety of local wildlife. Though the island lies predominantly south of Alabama, the state border makes some twists and turns once it reaches the barrier islands. As a result, almost all of Perdido Key belongs to Florida, with only the island's far western tip falling within Alabama's state line. 
Geography Of Perdido Key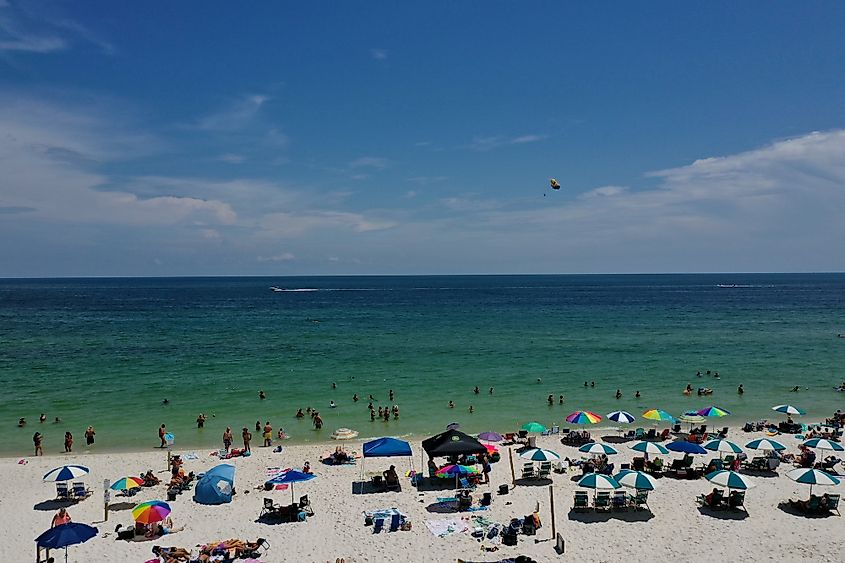 Perdido Key was not always an island but was originally a peninsula located just west of Pensacola. A small ditch existed which could easily be crossed on foot. This ditch was significantly widened in 1933 as part of the expansion of the Intracoastal Waterway, which connected Pensacola to Mobile Bay. 
The island itself is soft, unstable soil and sand due largely to the presence of hundreds of natural springs below the surface. These springs provide freshwater sources to the plants and animals on the island. 
The island is a beachgoer and environmentalist's dream, equally. Large sections of the beaches are protected, including the Key's state park and the eastern section of the island, which is part of the Gulf Islands National Seashore.
Landscape And Flora Of Perdido Key
The island has large sections of white sand beaches and is surrounded by the waters of the Gulf of Mexico. Much of the island is a dune habitat that is predominantly sand. Primary dunes have grassy vegetation such as sea oats, beach grass and bunchgrass, sea oats, salt meadow cordgrass, and railroad vine, beach morning glories, and Florida rosemary.
Secondary dunes can be found further inland and have different vegetation, including saw palmetto, slash and sand pines, turtle grass, salt marsh cordgrass, black needle rush, and scrubby shrubs and oaks. This area can also contain salt-grass, pine trees, purslane, and pennywort. These vegetation types in both dune regions are important as their strong root systems help hold the dunes together and prevent erosion from waves or wind. 
Fauna Of Perdido Key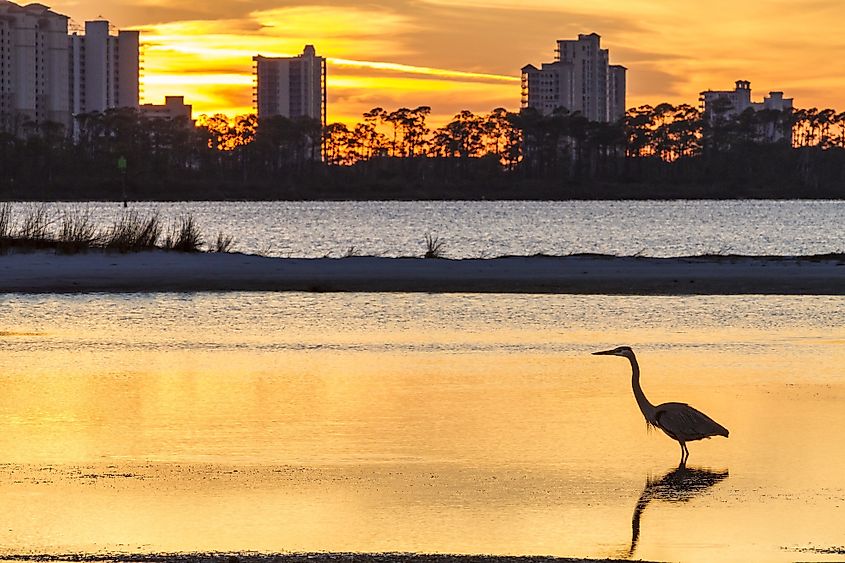 Despite its small size, the island of Perdido Key provides an important habitat for several animal species. One of these species is the Perdido Key beach mouse, an endangered species. It has become endangered due to loss of habitat and loss of food supply - both of which are mainly due to human development. The species eats mostly sea oat seeds and similar grass seeds which grow in beachy areas. Hurricanes also pose a threat to the species, and severe storms have nearly wiped out the entire mice population from the Key in the past. 
Migratory birds also rest or nest along the coast, often in the sandy dunes or tall grasses. Species such as the piping plover are especially common in the area. Similarly, the island is home to various gulls, terns, skimmers, and pelicans, and migrating warblers and cedar waxwings. Other migratory visitors include the monarch butterfly, which travels down to South America and uses the island as a resting stop along the way.
Sea turtles also use the island as a nesting ground, and there are a few different endangered species that visit the Key's beaches to lay their eggs. These include the leatherback turtle, ridley turtle, loggerhead, and the green sea turtle. Unfortunately, development does threaten these animals, as it takes away their beach nesting grounds, and bright lights can confuse both mother and baby sea turtles who use light reflections from the ocean to guide them back to the sea. 
Reserves And Recreation In Perdido Key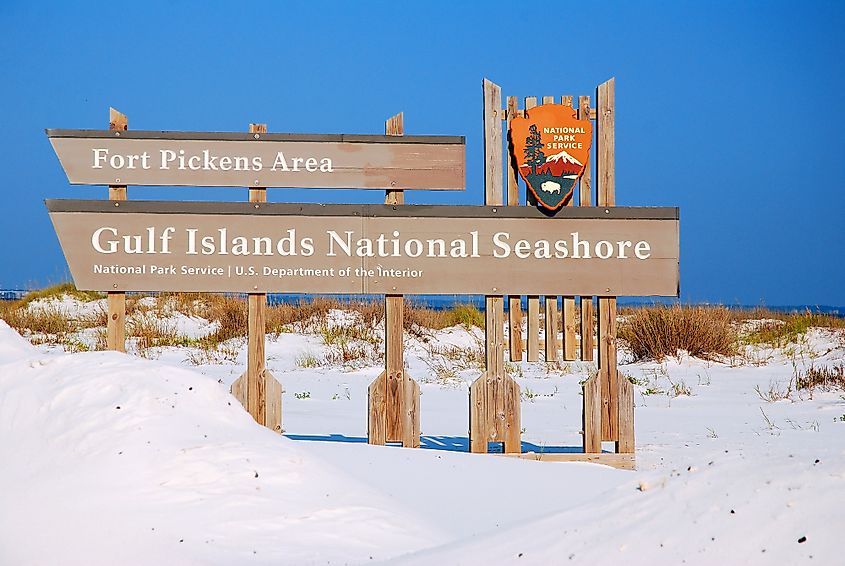 In order to protect the natural landscape of the Key and allow visitors to enjoy it at the same time, reserves and National Parks were created. The Gulf Islands National Seashore is an extensive national park that includes the eastern portion of Perdido Key. It includes historical Fort McRee, public access beaches, and picnic areas. On the south side of the park, walking trails weave through the salt marshes and maritime forests so that visitors can enjoy the natural landscape and wildlife in the area. There are usually a number of birds careful birdwatchers can spot along these trails. 
Also on the Key is the Perdido Key State Park, or State Recreation Area, which is a 1 km2 section of land in roughly the center of the island. It is a popular recreational area for visitors and a sanctuary for a wide variety of wildlife. This park features white sand beaches and grassy sand dunes that make for picturesque views and a relaxing escape. 
Aside from nature parks and wildlife, visitors can enjoy the Perdido Beach Resort, as well as eating and drinking at the Florabama Yacht Club, which sits on the border between Florida and Alabama (an area generally referred to as Flora-Bama). Tourists can also enjoy taking a charter boat out to see for a day of fishing or fun on the water or can book an excursion to meet and play with wild dolphins. Whether beach life or wildlife is your primary focus, Perdido Key has a bit of everything for all visitors to enjoy.