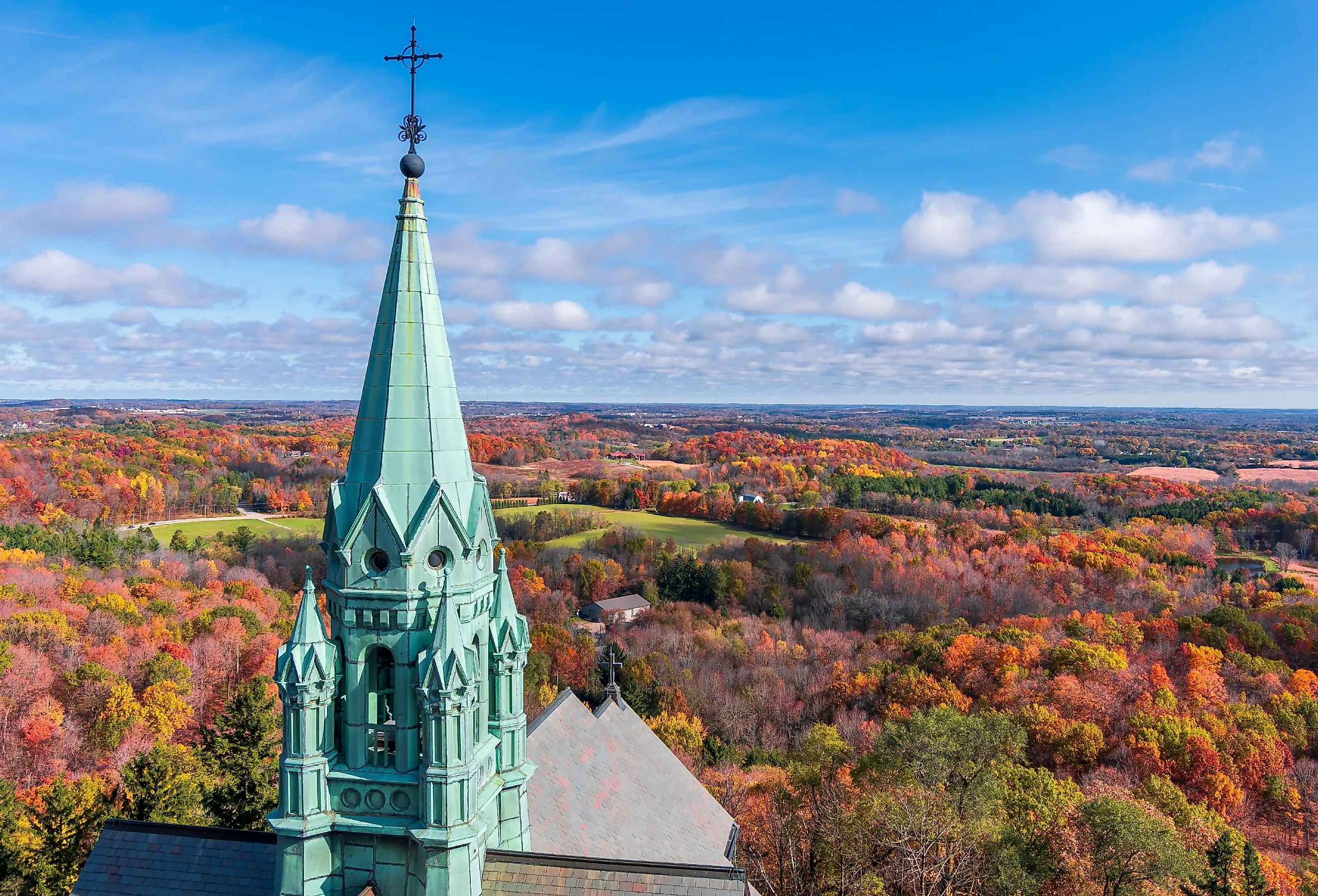 9 Top Places To Visit In Wisconsin In The Fall
As summer casually ends, the wake of fall introduces a drop in temperature, transitioning the colors of leaves to red and orange and teasing everyone's interest to go outside and experience the season's beauty. Wisconsin in the fall is particularly promising, especially in the Northwoods. In addition to peeking at fall foliage, many opt for hiking or biking on the trails or even learning about plants and animals in the state's southern reaches at Blue Mound State Park. Discover the best destinations in Wisconsin, from Devil's Lake State Park to Geneva Lake, to visit in the fall.
Devil's Lake State Park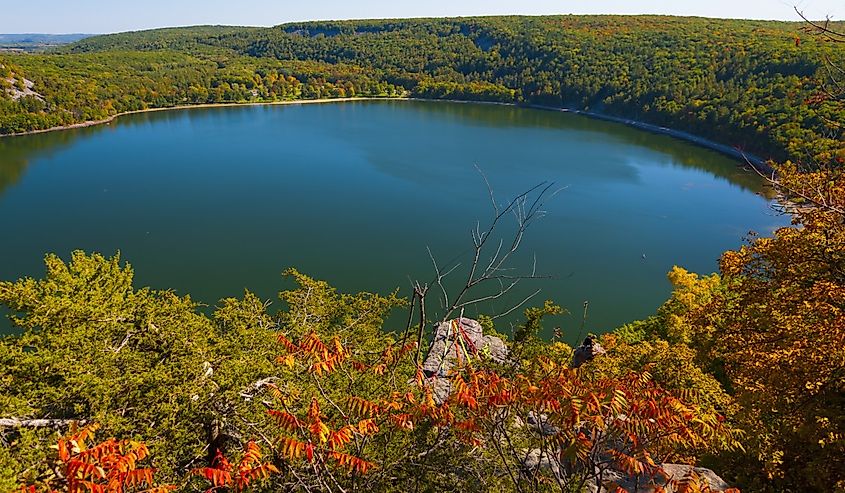 The Devil's Lake, popularly so-called, is in Eastern Sauk County, near Baraboo, Wisconsin, and is one of the state's best-known State parks. The State Park comprises 10,000 acres, and from a 500-foot quartzite bluff, it offers a fantastic view of a 360-acre lake. The park is a fantastic place to experience the beauty of the red transitioned leaves. It is no wonder it has over three million visitors yearly. There are various park activities, such as kayaking and biking, to take part in exploring nature and the area's beauty, over 29 miles of hiking trails, sandy beaches, and mountain biking trails make your fall adventure fun. 
Chequamegon-Nicolet National Forest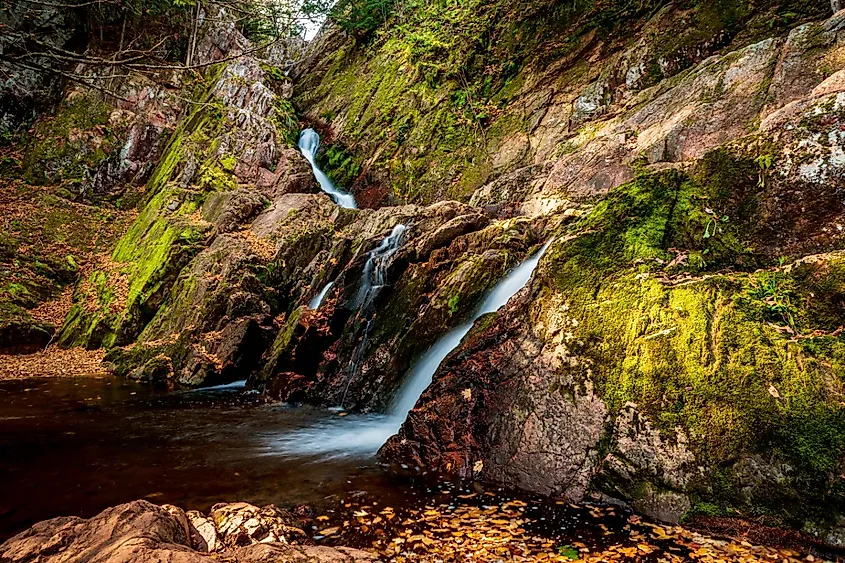 Located in Northern Wisconsin, Chequamegon-Nicolet National Forest comprises over 1.5 million acres of land. The forest features several lakes and attractive flora and is loaded with various activities, such as hiking in the forest's numerous sites and 800 miles of trails. You can check out sites like Anvil Lake Recreation Area in the Eagle River, Black Lake Recreation Area in the Great Divide District, the Ice Age Trail for hiking, and the Chippewa Recreation Area in Medford.
The view of the forest in fall is breathtaking; arguably, it is one of the best in Wisconsin, with the whole area covered in beautiful red leaves and trees. You can rent a cabin or cottage in the Eagle River, at the Lost Lake cabin and Lost Lake Recreation Area, to further savor the forest's aesthetics, tranquility, and aura in fall colors. Also, there is a chance you will come into contact with forest animals, such as chipmunks, foxes, white-tailed deer, and beavers, while you walk the trails.
University of Wisconsin-Madison Arboretum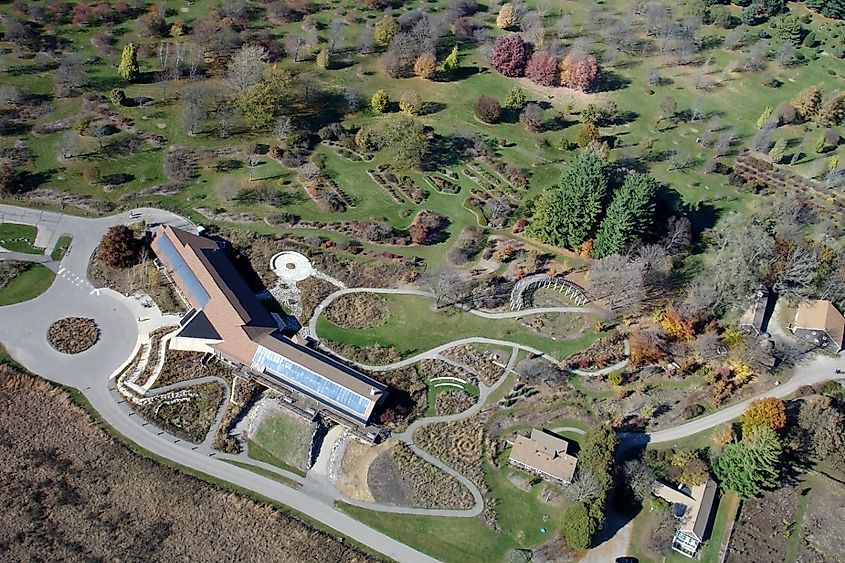 The Arboretum is popularly known for its ecological restoration for research and learning, but its natural areas offer more than just that. It is one of the best places to visit in Wisconsin in the fall because it is surrounded by wetlands, shortgrass prairies, oak savannah, and woodlands that would have adapted to fall colors. The Arboretum harbors some of the most unique and oldest arrays of biotic communities.
While you can wander through the walking trails, peeking at the gorgeousness of the numerous plants, trees, and animals abiding by nature, you can also learn about and discover over 200 varieties and species of plants by using the trail map to identify them. You can also learn about the use of plants for sustainability and beauty through two garden collections: the Longenecker Horticultural Garden and the Wisconsin Native Plant Garden.
Havenwoods State Forest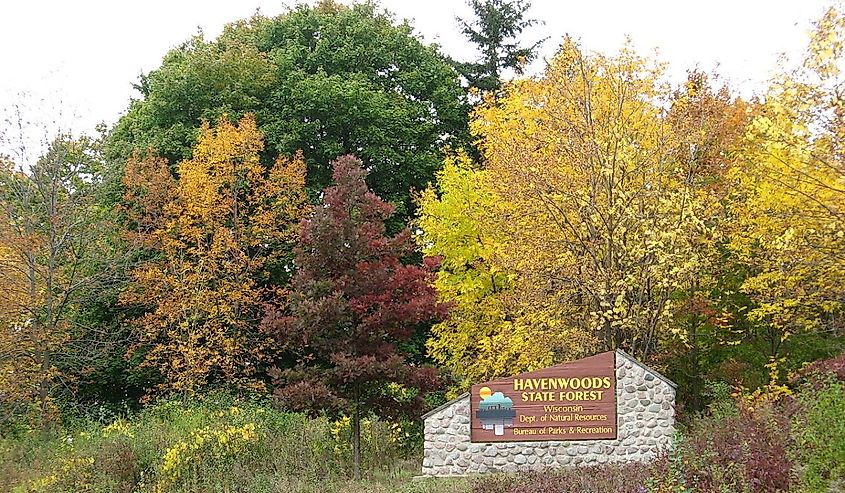 Havenwoods State Forest is a unique destination on the North side of Milwaukee, perfect for a family getaway. Its 237 acres of wetland, grassland, stream banks, ponds, and forest exude a relaxing feeling as you witness the gorgeousness of fall. The State Forest was created as an environmental education center but has also been a lot of things, including a US Army base and the Milwaukee County House of Corrections, before becoming an urban State forest.
You can already tell there is more than just experiencing fall in its fullness here; you can discover stories in the forest's sparse land, some of which you will find in past photos in the nature center. Other popular activities include hiking or biking, observing plants and flowers, watching birds, and participating in this island's Trek Through Time Trail. 
Rib Mountain State Park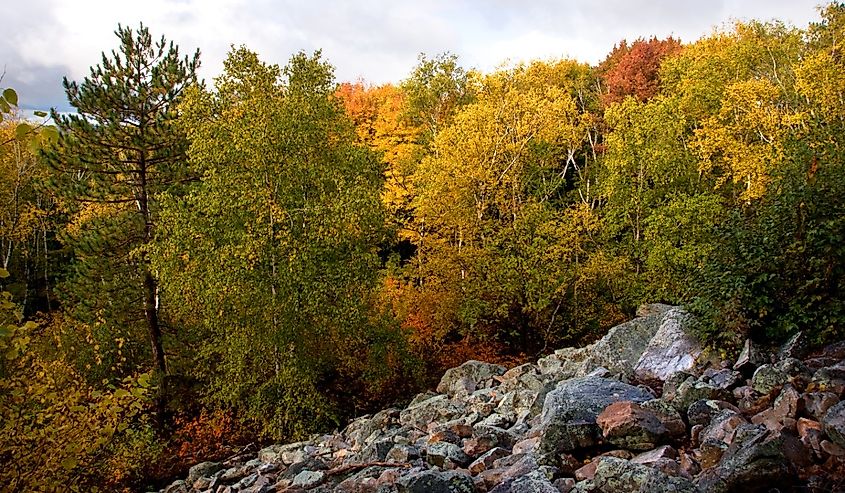 This State park is classified among the oldest geological formations in the world, being over a billion years old, but it has not lost its touch, especially in the fall. The park also has several sections to experience and explore, including a ski resort, a concession stand, picnic areas, an amphitheater, miles of trail, and a former quarry.
Granite Peak Ski, on the North face of the mountain, is a key attraction, as well as a 60-foot observation tower overlooking the Wausau area and Wisconsin River with a fantastic view. You can participate in everything, from hiking and hunting to simply observing the area and experiencing the park's current events, such as "Why do Leaves change colors?," "Ecology Hike," "Raptors on Rib Mountain," and "Discover-The Incredible World of the Bat."
Lapham Peak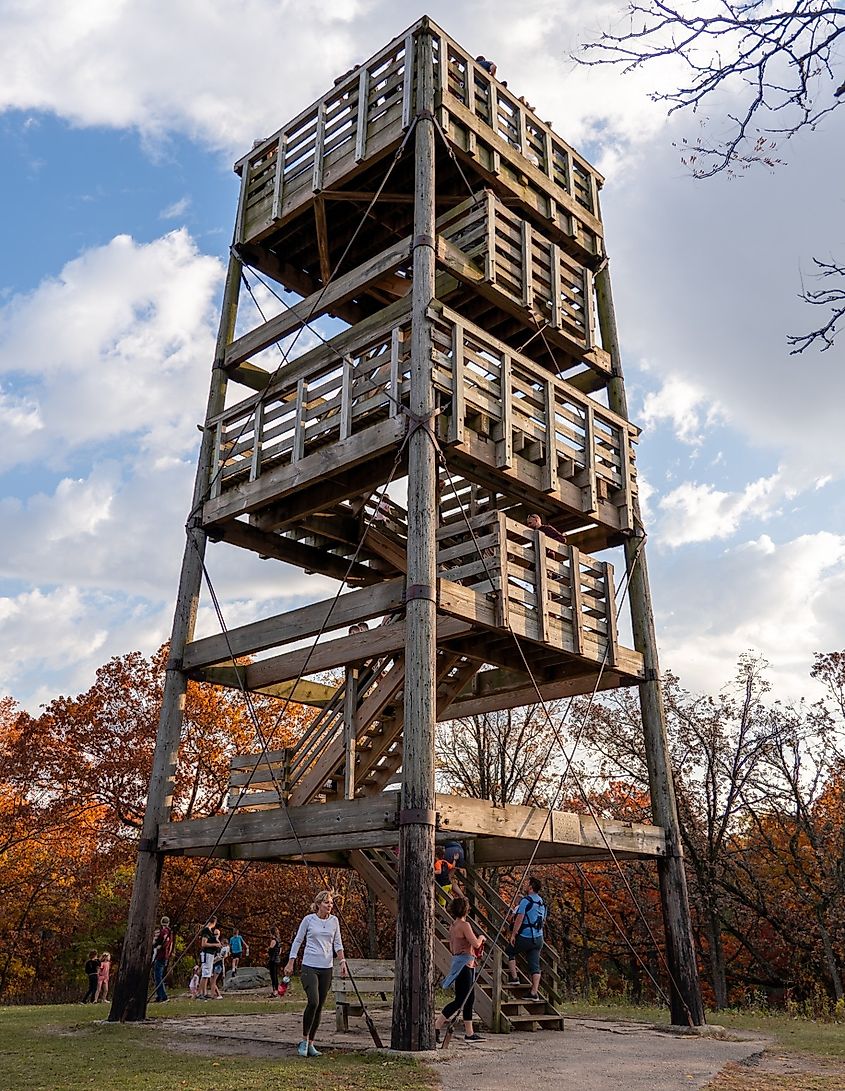 If you want to take a romantic trip this fall, here is one of the places you should be. Lapham Peak is a state park drawing from the Kettle Moraine State Forest in Waukesha County, Delafield. Its pleasing natural outlook and fun, energetic activities are best for outdoor couples who don't want to miss a chance at experiencing the sweetness of fall while it lasts. The park has miles of loop trails, including the Prairie Path and the unique Ice Age Trail, where you can go hiking, skiing, or backpacking and soak in the fantastic feel of the fall colors and weather.
Also, a 45-foot lookout tower offers a clear and beautiful park view. So you can document and take pictures of the beautiful landscape from a perfect view. Meanwhile, if you're enthusiastic about learning about nature, visit the park's Hausmann Nature Center.
Holy Hill, National Shrine Of Mary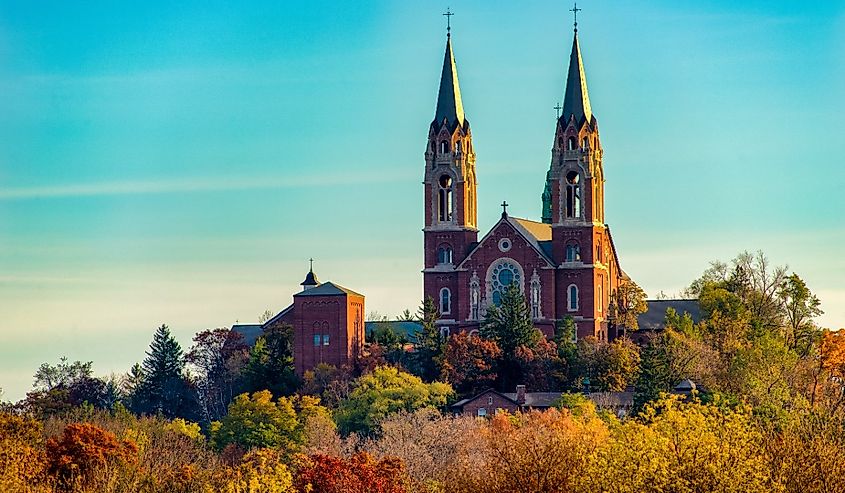 Fall leaves look pretty at this unique landmark location, as Holy Hill is atop a hilltop, approximately 1,345 feet above sea level, with surrounding trees and plants that grow red from the fall effect. The nature-covered area measures 435 acres, offering many sightseeing opportunities for travelers and nature lovers. The Basilica of the National Shrine of Mary, Help of Christians, or Hoy Hill, as it is commonly called, is a basilica of the Roman Catholic Church and a pilgrim site managed by Roman Catholic leaders.
The site has had a history of renovations and reconstruction since it was built in the late 19th century. However, its standing structures remain unique even after aging for 100 years, and its Basilica was dedicated in 2006. This location is best for sightseeing and fruit picking with family since the area has an apple orchard. The Basilica of the National Shrine of Mary, Help of Christians, has constant visits from thousands of people worldwide and is a sacred place, so while you go about your fun activities, consider respect for the culture.
Apostle Islands National Lakeshore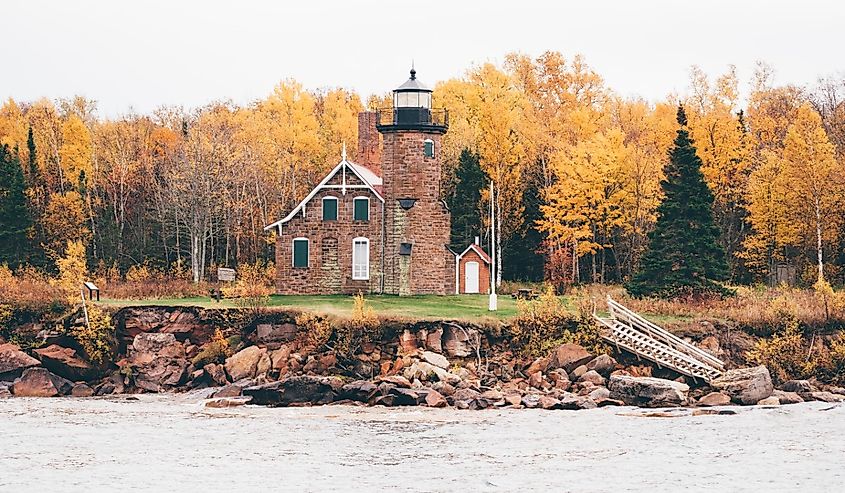 Spreading across 720 square miles, with 21 islands, and 12 miles of mainland, the Apostle Islands is a notable place in Wisconsin, which offers its elegance best in the fall. People around the world visit this place to witness the changing colors along the shores of Lake Superior. One of the most thrilling activities to do on the Apostle Islands during this period is hiking. There are numerous hiking trails, such as in Big Bay State Park and Big Bay Town Park on Madeline Island. You can also find notable hiking trails on the mainland, like the infamous Lakeshore Trail.
You could also take a fall boat tour around the Apostle Islands or go kayaking to sea sandstones and caves, reveling in the tranquility of the waters and the fall weather. Additionally, the Apostle Islands feature the Bayfield Apple Festival every first weekend in October, which is just in time for fall. The event is a celebration of Bayfield's agriculture and the fall harvest. Here, you'll get the chance to visit Bayfield wineries, local restaurants, and witness carnivals.
Geneva Lake Shore Path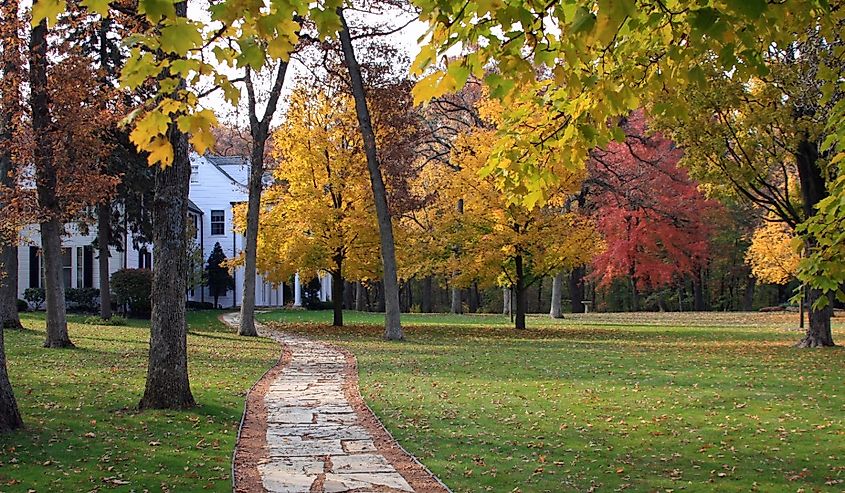 Geneva Lake clearly defines what a beautiful ecological city it is, with Lake Geneva on its shores. Lake Geneva is one of Wisconsin's most famous landmarks and go-to resort, but its path is particularly famous during fall. It creates a relaxing and playful atmosphere with a close view of beautiful historic estates like the Stone Manor and Alta Vista, landscaped gardens, and yards. While you glide through and observe fall trees, the clear blue waters and the tos and fros of sailboats create an epic atmosphere. The Lake's town also has exciting places you can visit in your leisure, such as wineries, breweries, distilleries, spas and salons, museums, orchards, and many more in various locations in Downtown Lake Geneva, Fontana, Williams Bay, Lake Como Area, and Lake Geneva.
Every time of the year has various special events and aesthetics, and the fall is no different. The transition from summer to fall comes with a tingling desire to explore nature, and if you find yourself in Wisconsin in the fall, there's an even better opportunity to explore, given the city's top-rated natural locations and destinations. From Devil's Lake to Lake Geneva, each location offers enthusiasts a peculiar experience of fall accompanied by recreational events and activities.