11 of the Friendliest Towns in Wisconsin
The state of Wisconsin in America's midwest cannot be more friendly, starting with a cute moniker. The Badger State welcomes curious visitors to discover what it is really about, from cheese curds and sports to the immense natural world of lakes, rivers, and state parks. Visit these cozy towns with a friendly atmosphere to relax and recharge on your next getaway from the city in any way you like and in any season.
Alma
Feeling moody and trapped in the steel city walls? Escape and relax in nature or enjoy the outdoors in Alma, a real pick-me-up town with a friendly atmosphere. Everything here lifts your spirits, from the small town appeal of around 700 welcoming residents to a gorgeous river setting and the fresh air that induces dopamine. Stroll downtown with excellent amenities, small businesses, and restaurants wrapped in local charm. Alma retains the pristine, mesmerizing environment of rural Wisconsin for an unforgettable escape, regular festivals, and events where there is always something fun for everyone.
Find scenery up and down 13 staircase streets and three different boat landings around Brekow's Landing, Dairyland Landing, and the Alma Marina. The peaceful river town emanates waves of Pleasantville, with spectacular eagles that find these skies equally attractive during the winter. After the first settlers arrived in the beautiful area in 1848, it was named by riverboat pilots for a protruding rock on a bluff overhead that guided boats and log rafts along the river. Lounge on the Mississippi beaches, take out a canoe or kayak or have a houseboat lounge party under the sun.
Baraboo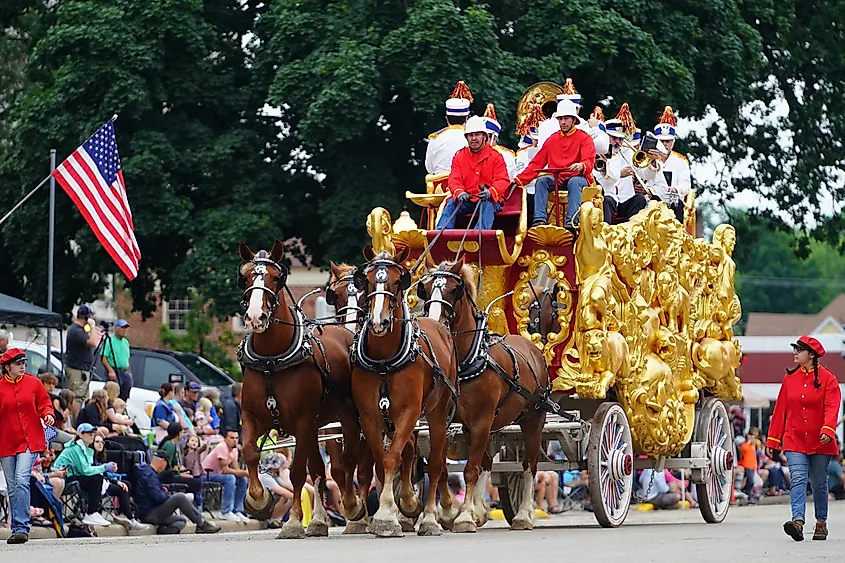 The breathtaking town of Baraboo, at the gateway to Devil's Lake State Park, hosts a friendly atmosphere to relax in nature. Despite its daunting name, Wisconsin's most visited state park is a sight to behold, with towering quartzite cliffs and 500-foot-tall bluffs hanging over a crystal-clear, refreshing lake. The family-friendly Aldo Leopold Foundation is a favorite local naturescape to hang out with friends or kids in the fresh air, mingle, and unwind on a sightseeing stroll. Baraboo's beating heart, its picture-perfect courthouse square, features inviting boutiques and cafes like Bekah Kate's for unique home goods.
Sightsee through Cornerstone Gallery, grab a snack from Neat-O's Bake Shoppe or Little Village Café, and come back in the evening for Con Amici Wine Bar. Return in the winter for the spectacular shows at Ringling Bros. and visit Circus World, with its impressive collection of restored antique circus wagons. The Al Ringling Theater downtown is a gilded jewel from 1915, while Ringling House B&B is designed for a cozy stay at the original home of one of the Ringling brothers. Stop by the International Crane Foundation, unlike any other in the world, to see all 15 species of cranes.
Chippewa Falls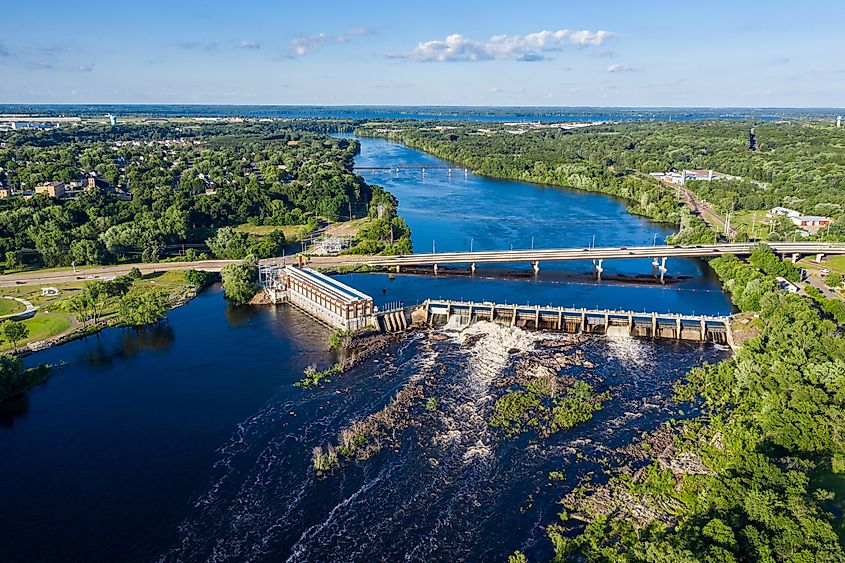 This deeply historic town in northwestern Wisconsin has been welcoming sightseers since the 1800s to its beautiful banks along the majestic Chippewa River. Play volleyball year-round or enjoy tubing during the summer right from Loopy's Grill & Saloon over the river and find the state's oldest brewing business, Leinenkugel's, the state's seventh-oldest, having brewed since 1867. The picturesque Bridge Street Commercial District downtown is just a hop away from the outdoors of various state parks, with hiking and water trails for all your summertime desires.
Stay at the cozy Hideaway Resort along Lake Wissota, with hundreds of miles of bike trails around and 450 more lakes in the area. Choose a retro eatery to recharge, like The View, with live music by the lake, and many more at every corner of the lovely town. Each with a memorable flair, find perfect Bloody Marys with epic cheese curds at the SandBar and Grill and The Edge Pub & Eatery for a classic Wisconsin fish fry. Get a treat from Olson's Ice Cream before a fun family day trip to Irvine Park and Zoo. Return in the wintertime for ice fishing, cross-country skiing, and snowmobiling with your crew.
Elkhart Lake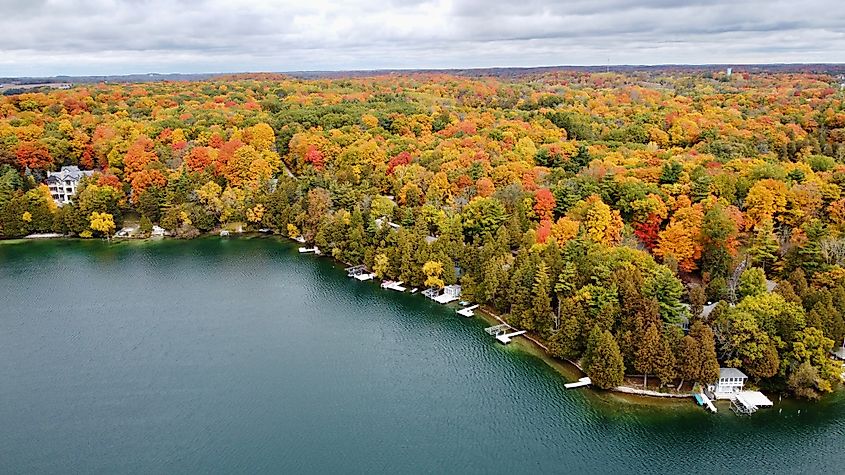 This charming lakeside village is a resort getaway with very friendly locals, sans the tourist vibe. Choose from clapboard resorts, like Osthoff Resort, Siebken's, or the Shore Club, with porches and cupolas, mere steps from the sandy beaches lapped by Mediterranean-like blue water, a ring of tiki bars, and a pretty brick promenade for sunset strolls and views. Explore the whole town on foot or paddle on a weekend getaway, and check out some of the inviting shopping hotspots like Gina's high-end outdoor apparel and one-of-a-kind home décor.
Take a marveling wander through the Two Fish Gallery and Sculpture Garden and the central Vintage Wine Store for afternoon tastings with friends. Paddle on to the natural Kettle Moraine State Forest, or try the modernized racing at Road America. Elkhart Lake's hidden food scene is a real draw when you discover Rail Cafe for coffee over breakfast, Lake Street Café for lunch, and Gesserts for ice cream. End the memorable day on a high note with live music and drinks at Brown Baer or a fine dinner at Paddock Club or the Concourse Restaurant.
Hayward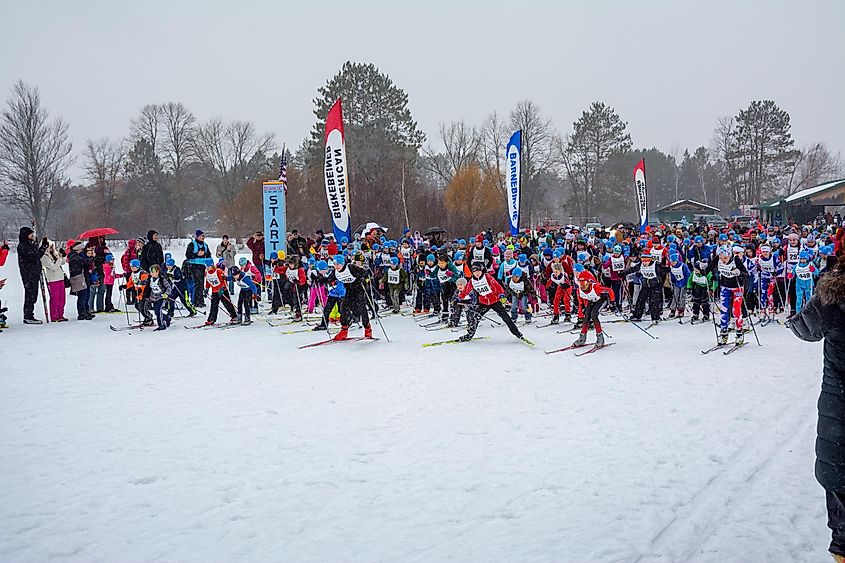 The small town in Wisconsin's Northwoods is all you need for a pick-me-up in the embrace of nature and the warmth of locals. Escape in any season for outdoor adventures and recreation or relaxing strolls in the welcoming environment with inviting local businesses and small family-owned restaurants. 
Play a round of golf with a new friend at some of the state's best courses right here, or enjoy watersports on the surrounding lakes, like the state's third-largest, Chippewa Flowage.
Nelson Lake or Round Lake are your year-round go-tos for fishing, with muskies in the summer and perch and walleye for ice fishing in the winter. You can also rent a fat tire bike or cross-country skis from a local shop to shred some snow trails. Catch the American Birkebeiner Ski Race, a world-class event, or enjoy these groomed trails yourself. Wintertime is also a great time to explore the surrounding towns on a snowmobile ride through hundreds of miles of regional trails.
Janesville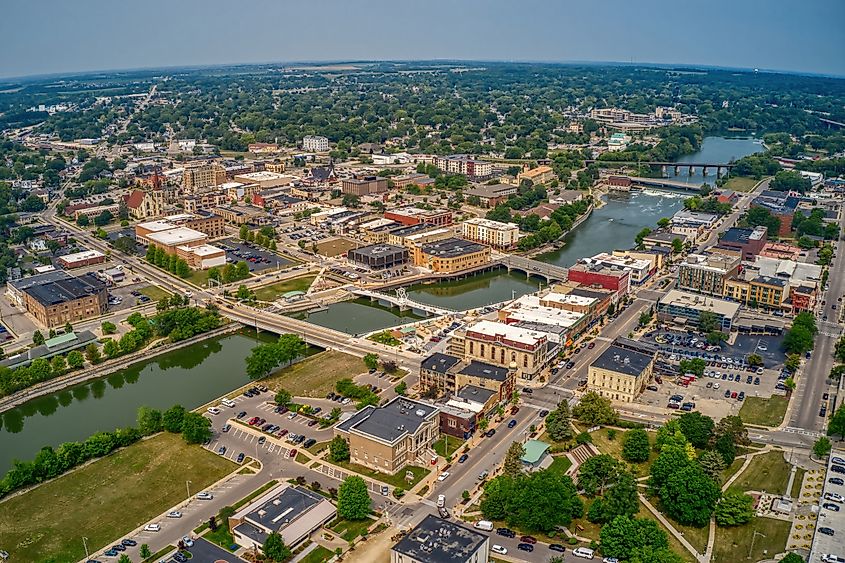 This quaint historical town will surprise you with a gamut of things to do and some of the best sites in the state, which are listed on the National Register of Historic Places. Check out Lincoln-Tallman House and the hexagon Milton House, a former stop along the Underground Railroad. The award-winning Rotary Botanical Gardens will treat most of your senses as you relax on a serene stroll through over 24 types of gardens with more than 4,000 different plants. Satisfy your hunger at one of the pleasant restaurants and choose a welcoming B&B for a night's rest.
Explore Janesville on a bike ride and challenge yourself to hike a stretch of the famed Ice Age Trail right through town, including the must-take Devil's Staircase, a joyous and scenic path despite its daunting name. Play a round in the fresh air at one of the several golf courses in town, or join the locals at the indoor Ironworks Golf Lab when it is raining. The beautiful Rock River, great for any day stroll along, hosts water ski shows by the Rock Aqua Jayswater Ski Show Team, with no others quite like them in the whole world.
New Glarus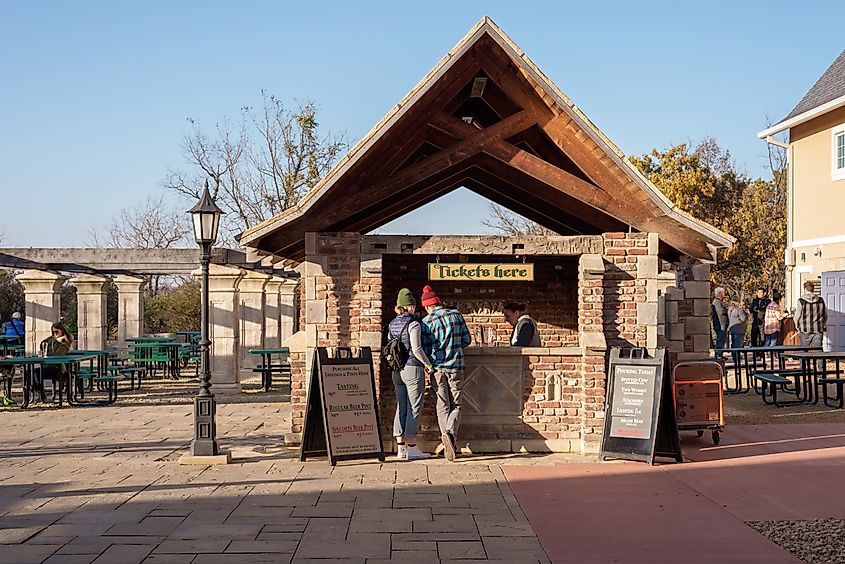 This small town with a big Alpine flavor, first settled by the Swiss in the mid-1800s, knows how to have fun. The "hottest" months to visit are August, September, October, November, and December, while the other months will comprise a relaxing getaway in peace. New faces are always welcome at the vibrant regular festivals like Polkafest, Swiss Volksfest on Switzerland's Independence Day, the Wilhelm Tell Festival, and the iconic Oktoberfest. The latter, at the end of September, features bright festivities, music, beer, and other traditional themes. You can also stop at New Glarus Brewing Company for a great brew at any time.
New Glarus offers a perfect mix of retro charm, a Swiss atmosphere, and a spirited population, including sweet Swiss music downtown. This "America's Little Switzerland" will wake you up from the city's drowsiness, lift you from the dumps, and cure your craving for nature. Stop by the Swiss Historical Village Museum and head outdoors on a paddle along the charming 23-mile Sugar River State Trail. Chat up a new friend over some live music at Puempel's Olde Tavern, and frequent the New Glarus Bakery for unique Swiss delicacies perfected over decades.
Sister Bay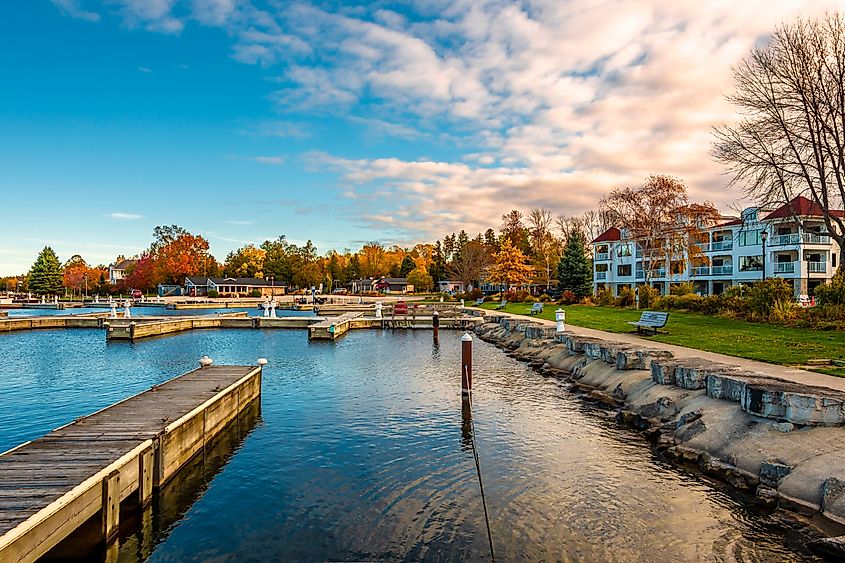 With a name like that, you know you've landed in a pleasant town with one of the state's best waterfronts. Visit the friendly Death's Door Maritime Museum for heritage that, despite its eerie name, looks back into the fishing industry. Trek to some brilliantly restored farm buildings from the past for a look at this multifaceted town's agricultural heritage at the turn of the 19th century. Sister Bay is exceptional for all the outdoors lovers in Door County, with famous waterfront access that draws crowds for water sports.
Explore on foot through the town's hotspots and mingle with like-minded locals and visitors before diving into the waters. There are thrilling ventures for all groups, from kayaking, paddle boarding, and canoeing to water tours to the local caves and historic lighthouses. Visit off-season for fewer crowds, with shops and restaurants just as welcoming, including the marvelous restaurant with goats on the roof.
Stockholm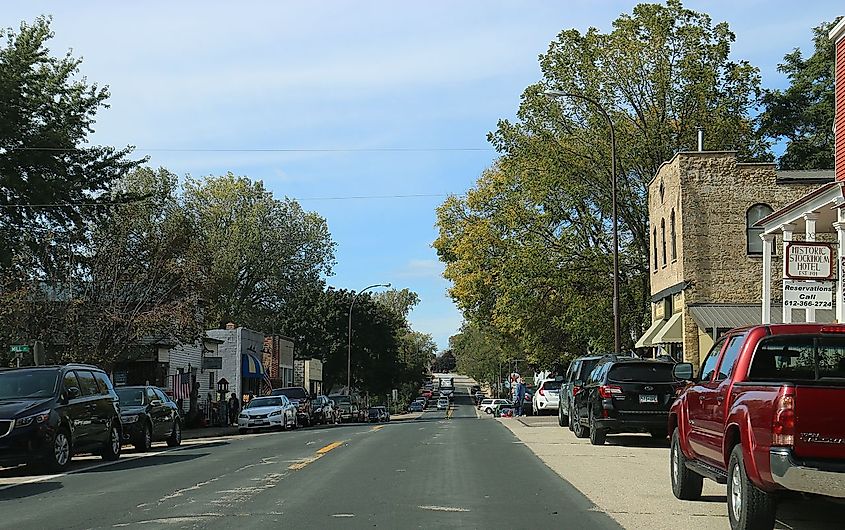 Visit Stockholm, a little slice of perfection along the Great River Road, overlooking Lake Pepin, the widest spot of the Mississippi River. Find sweet residents and a delightful environment with attractions to unwind, relax, and sightsee. Take a stroll through the welcoming galleries and boutiques and catch an evening show at the unique Widespot Performing Arts Center in the autumn with a variety of dazzling entertainment. There is no other place like the world-famous Stockholm Pie to satisfy a craving, but the Triple Berry flavor, among countless others at the General Store, is a worthy competitor.
This town, first settled by the Swiss, boasts plentiful Scandinavian treasures preserved from its rich heritage. Seek cultural pursuits and sights at Maiden Rock Winery and Cidery for European-style hard ciders, or enjoy a glass of vino from the charming Vino in the Valley with an outdoor terrace and scenic area. Escape into the wild on a hike to Maiden Rock Bluff Natural Area with a picnic over glimmering water, and enjoy locally grown and made goods from A to Z Produce and Bakery on popular pizza nights. The stone pier jutting 700 feet into the blue offers postcard-like shots each way, like unforgettable sunsets and the friendly town behind—a real picture of perfection.
Sturgeon Bay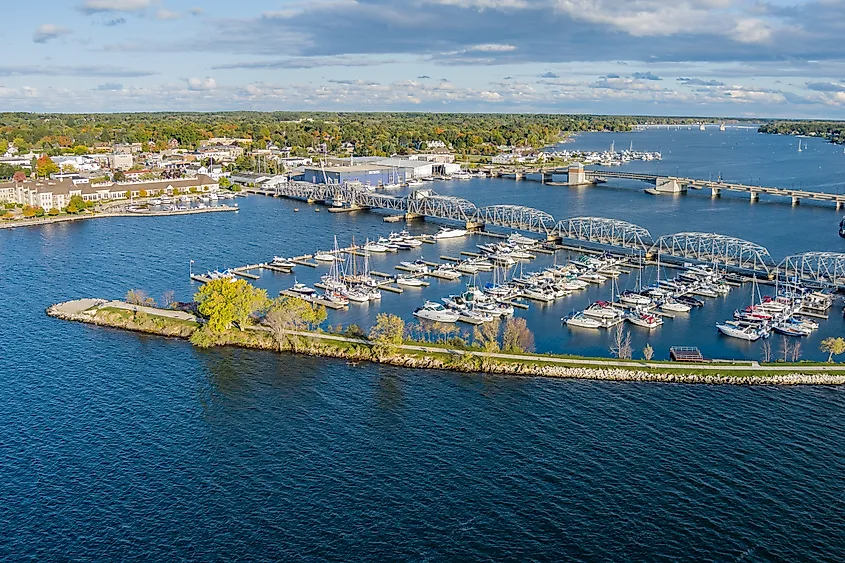 Sturgeon Bay is a tiny but the largest town in Door County, along the state's peninsula, with a deeply rooted maritime and shipbuilding heritage. Enjoy nature and history away from the city to relax in remote peace with pets and a close group of friends. The surrounding waters of Green Bay and Lake Michigan are perfect for sightseeing strolls and water activities. Hikers and photographers rejoice at the spectacular Cave Point County Park, with trails to picturesque jagged limestone cliffs overlooking Lake Michigan. Set up a picnic to see the kayakers down below exploring the caves, or join them at the best place to kayak in the area.
The scenic waterfront is great for a stroll, from the Maritime Museum to the three lighthouses at Sherwood Point, Sturgeon Bay Canal Station, and North Pierhead. Enjoy local nature at Potawatomi State Park and head to Sunset Park in the evening, as implied. The Michigan Street bridge is another great spot for sunset, with ships and tugboats arriving and departing throughout the day. The chill town, with fishing still central, will treat you to fresh-caught delicacies prepared traditionally, like at the authentic Supper Club. Feel like a local while shopping for clothing, home decor, and gifts through Sturgeon Bay's three quaint shopping districts with quality shops and boutiques along the West Side, Jefferson Street, and Third Avenue.
Washington Island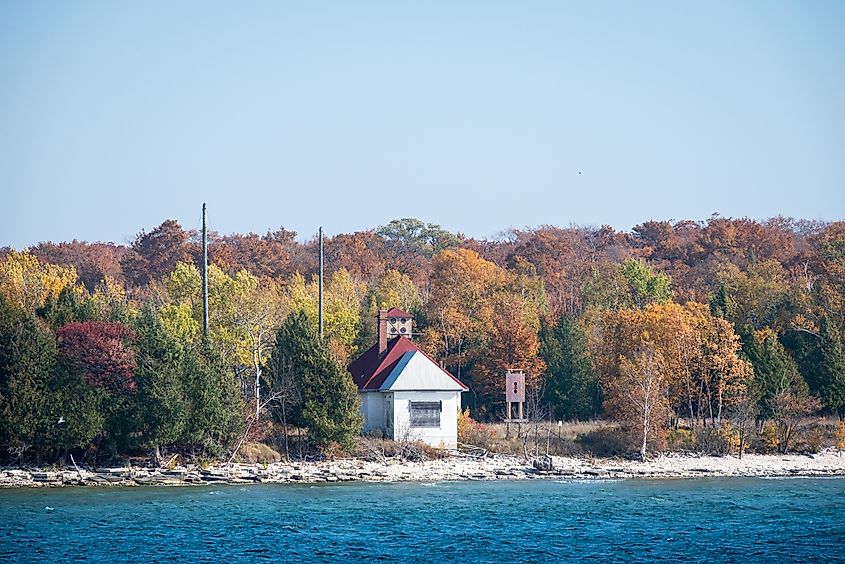 Washington Island is your escape into a scenically charged outdoors and atmosphere in town, where nature and culture combine in an overload of sights. Access this small island community, where Lake Michigan and Green Bay come together, via a friendly five-minute ferry journey from the top of the Door County Peninsula across Death's Door waters. Take in the scenery at the lavender fields and stop by the Fragrant Isle Lavender Farm for pure lavender oil and its delicate production process. Stoll to the iconic wooden stave church just off the path, a stunning Viking-designed replica stavkirker like in Scandinavia.
Washington Island is easy to explore by bike and stroll along the ferry port around its small businesses. Stop for lunch at one of the local restaurants here or ask them to pack it to go for a picnic, a popular activity around the island to eat at leisure in a scenic place like by the water. The unique Schoolhouse Beach, composed of smooth, round limestone rocks, invites you to relax in the shade with views of crystal-clear water. Find more family-owned restaurants and unique boutiques in town for gifts handcrafted from resources on the island by local artisans.
"America's Dairyland" is a surprising destination to enjoy water sports and major breweries, where beer and alcohol consumption is a no-secret popular part of Wisconsin life, as well as any family fun activities. Seek unique German and Scandinavian heritage through sights, festivals, and thematic pursuits throughout these towns in America's Midwest.