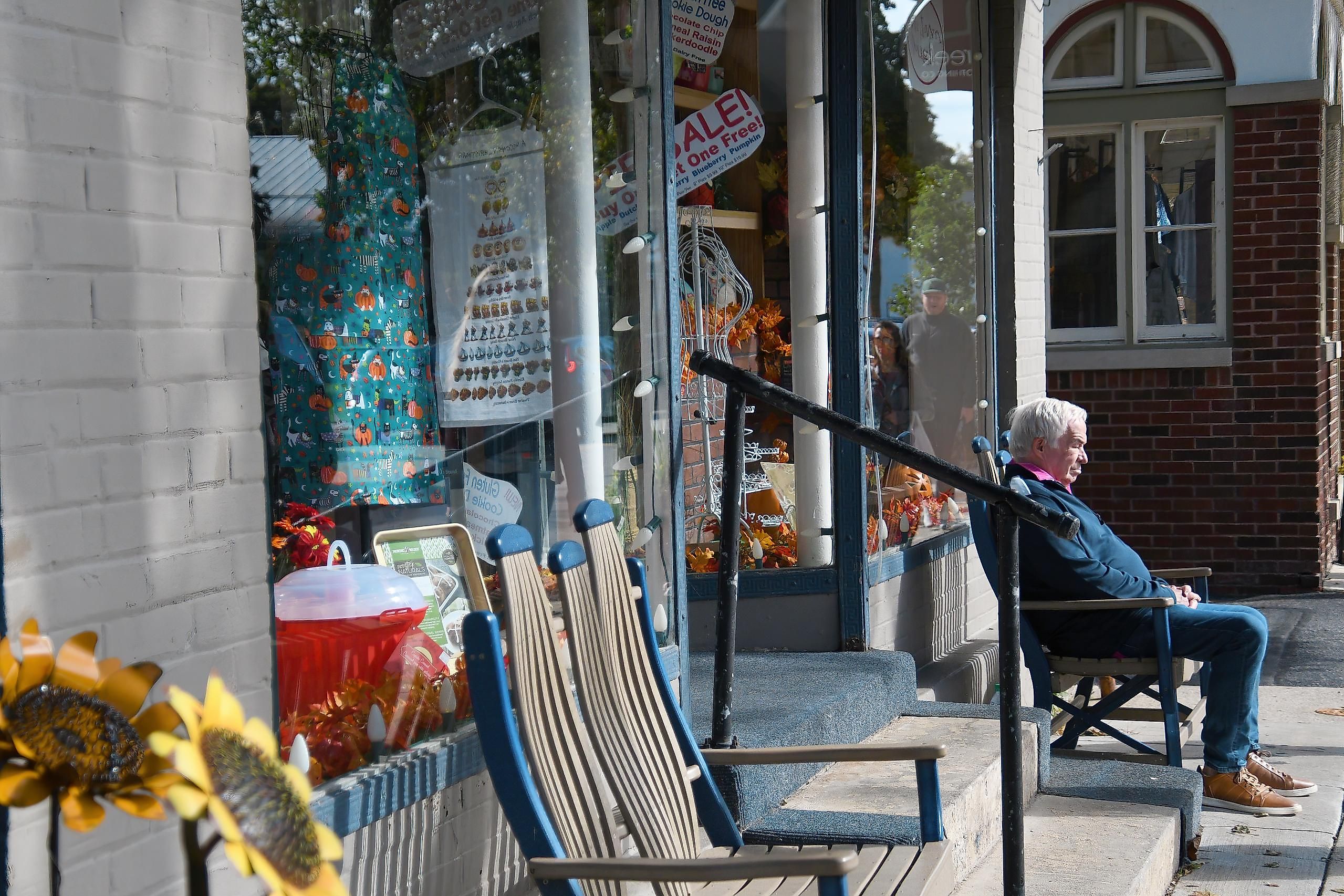 These Small Towns in Wisconsin Come Alive in Fall
In between Wisconsin's typically mild summers and cold, snowy winters lies the sweet spot of autumn. Although it'll be too cold to swim in one of the state's famous pristine, clear lakes during the fall months, there is no shortage of things to keep you busy during a visit. Wisconsin's small towns are known for their hospitality, charm and quaint restaurants, boutiques, coffee shops, and year-round recreational opportunities. Some of the towns, such as the ones listed below, even come to life in the fall by celebrating all that the scenic season has to offer.
New Glarus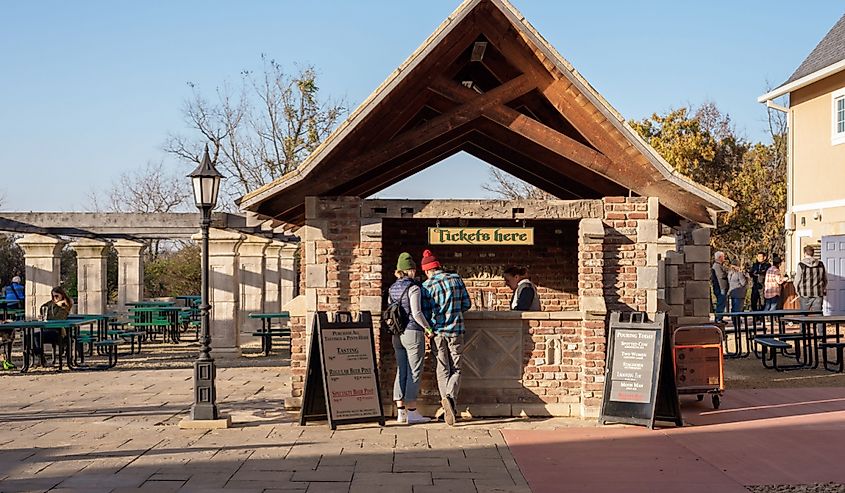 With its Swiss heritage, including architecture, cuisine and more, New Glarus is charming town to visit any time of the year. It really comes to life in the fall, however, due to its annual Oktoberfest, which features live music, local beer and food, and wagon rides for the kids. The event, which is typically held at the end of September, offers free admission and takes place in quaint downtown New Glarus. If you're a beer drinker, stop by New Glarus Brewing Co. to take a tour of the brewery, and sample some seasonal brews. Had enough of the crowds and need to work off some calories from and other local delicacies? Head to New Glarus Woods State Park and take a hike amongst the fall foliage.
Cedarburg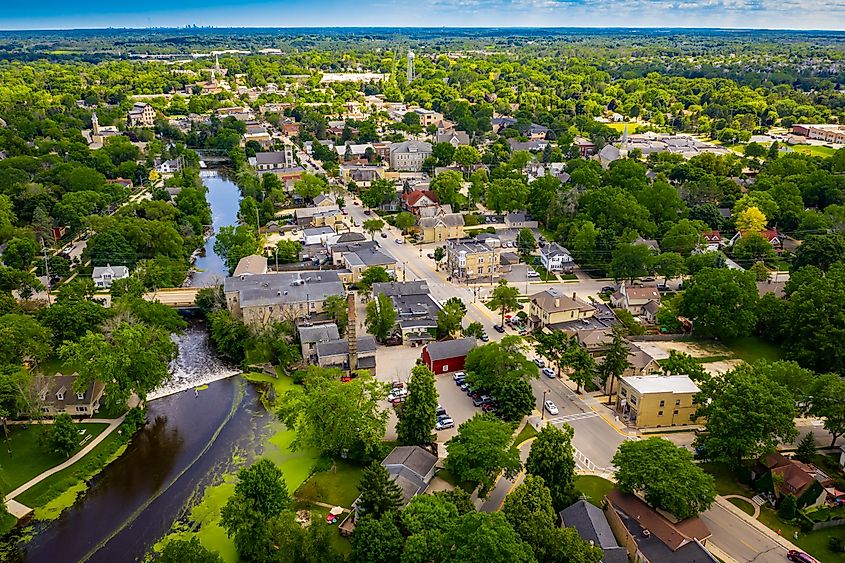 Natural beauty and historic architecture combine to make Cedarburg another ideal Wisconsin town to visit during the autumn. Take a walk through the historic district, taking in the quaint eateries and coffee shops, specialty boutiques, and the Cedarburg Art Museum, which showcases both local and state-wide art. Sample some seasonal wine at the Cedar Creek Winery, where you can take a tour and sign up for a wine and cheese tasting. The menu changes according to the season, and th tastings take place in the cellar for plenty of old world ambiance. Cedarburg has six public parks, so get some food to go or pack a picnic lunch to enjoy while surrounding by the fall colors. 
Minocqua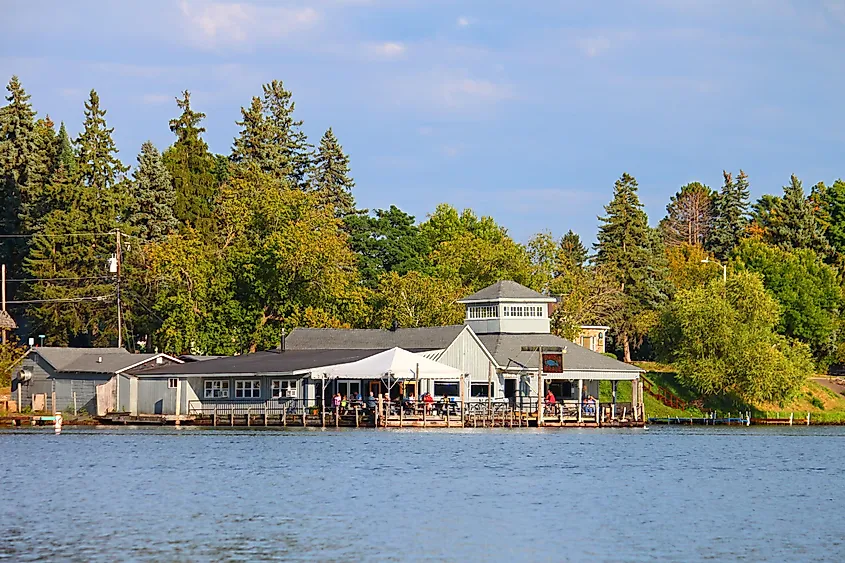 Another Wisconsin town that springs to life during the autumn months is Minocqua, which is dubbed the "Island City" as it's surrounded by scenic Lake Minocqua. Deep in the heart of th northwoods, Minocqua is a nature lover's paradise, especially when the foliage change to fiery shades of orange, gold and crimson. Take a hike or bike ride on the Bearskin Trail, which begins in downtown Minocqua features a 21.5-mile paved path. The area is also known for its many crystal clear lakes, many of which offer public boat launches if you want to experience fall colors from the water. The annual Beef-A-Rama event, which takes place at the end of September, beckons visitors from all over with its 5k Rump Roast Run, cow costume-clad crowds, live music, and a craft show. 
Ashland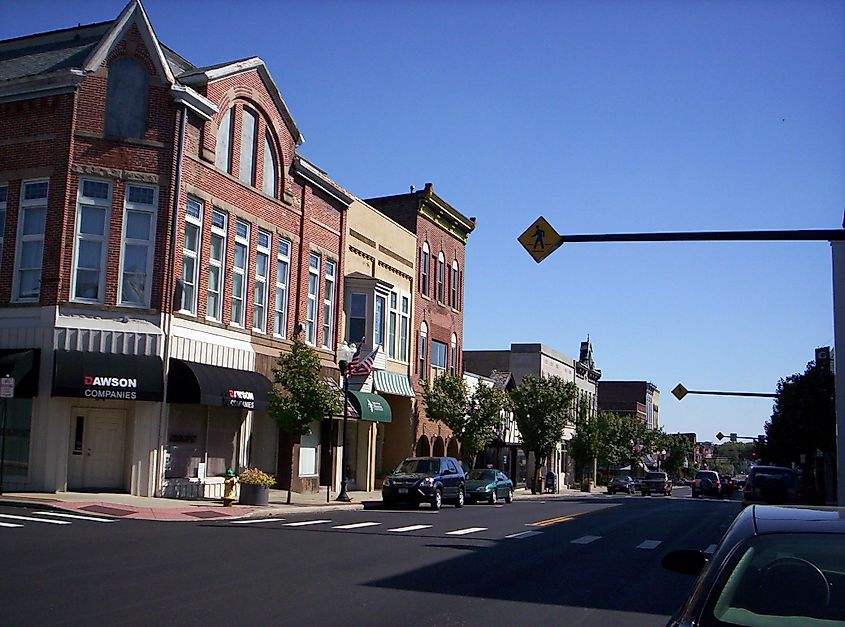 Due to its location on Lake Superior near the head of Chequamegon Bay, Ashland is a picture-perfect fall destination. The WhistleStop Marathon takes place each October, drawing in crowds who want to experience the excitement of the race while taking in scenic fall views. Launch your personal watercraft or rent a boat at the Ashland Marina, and try your luck with some fall fishing. Check out the Ashland Breakwater Lighthouse, sample some local cheese at the Benoit Cheese Haus, or shop local boutques downtown. You can also take a day trip the stunning nearby Copper Falls State Park, which features ancient lava flows, deep gorges, several waterfalls, and rustic log cabins that were built by the Civilian Conservation Corp in the 1930s. 
Menomonie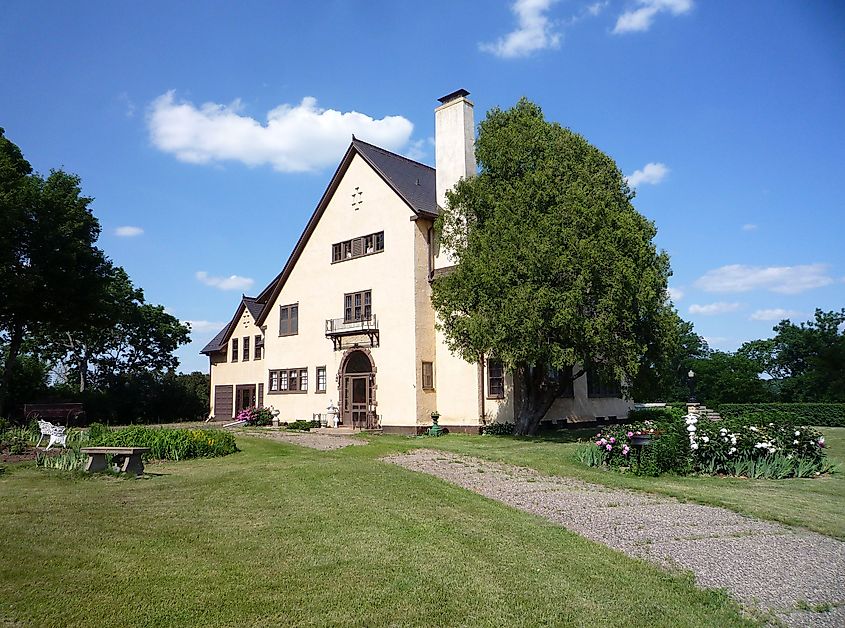 Menomonie's claim to fame is that it was once known for being home to the largest lumber company in the world.  Located just an hour east from Minneapolis, this  charming town comes to life in the fall, when residents and visitors can take in the scenic autumn colors from atop the panorama tower, or go apple and pumpking picking at local farrms and orchards. Take a walk or bike ride around Red Cedar River or Lake Menomin, and explore the waterfalls at the Devil's Punchbowl, which has two trails and a staircase to the top of the falls. Sip at fall-inspired spiced cider at 6th Avenue Cidery, or sample a local brew made with seasonal ingredients at the Lucette Brewing Company.
Sheboygan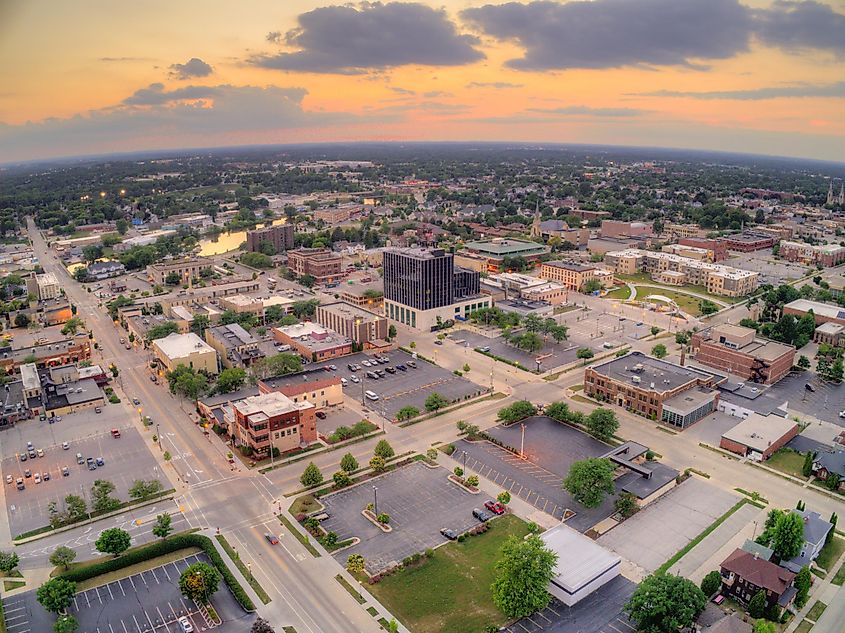 Next fall, visit Sheboygan to find out why it was dubbed the "Spirit on the Lake," and to experience all of the autumnal delights the town as to offer. Located on Lake Michigan, Sheboygan treats visitors to scenic water views and two miles of sandy beaches. During the fall months, take a walk through one of the city's 36 parks, which feature both rustic and paved trails from which to take in the colorful foliage. Launch your own boat or a rented watercraft on the lake, or if you prefer to spend a chilly autumn day indoors, head to the John Michael Kohler Arts Center. Sheboygan is also known as the "Malibu of the Midwest," as adventurous residents and visitors surf on Lake Michigan during the late fall and winter months when waves are the biggest. 
Lake Geneva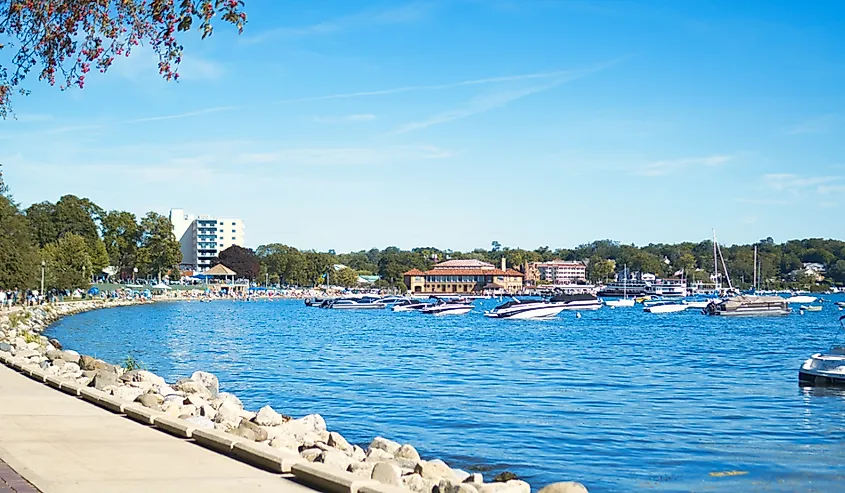 Lake Geneva is a popular vacation spot for Illinois residents as it sits right over the Wisconsin border, and has a year-round resort town atmosphere. Although it may be too chilly to swim in Lake Geneva during the fall, you can still take in the town's scenic views from the water. After shopping in local boutiques and enjoying local cusine at one of the town's many eateries, take a walk along the Geneva Lake Shore Path, which begins in downtown. Take your family apple picking at Royal Oak Farm Apple Orchard, or choose the perfect pumpkin from the patch in October. The farm also offers a petting zoo, a train, a bakery and a carousel for the youngsters. 
If you find yourself in Wisconsin during the months of September, October or November, be sure to stop in one of these towns that seems to get a second wind during the autumn. Whether you take a walk through colorful forests, view magestic waterfalls or sip a local beer or glass of wine in a cozy cafe, you won't be disappointed by the visit.