8 Best Hikes In Wisconsin
The 25th largest state in America, Wisconsin boasts a range of beautiful natural areas and activities. Located in the Midwestern United States, this stunning state is home to unique sights such as the Big Manitou Falls, Devil's Lake, and Apostle Islands, drawing tourists from near and far during all seasons. Hand in hand with these awesome sights are some of the most scenic and involving hikes in the country. From wetlands to rolling hills, Wisconsin's range of hikes is great for all experience and fitness levels.
Eagle Trail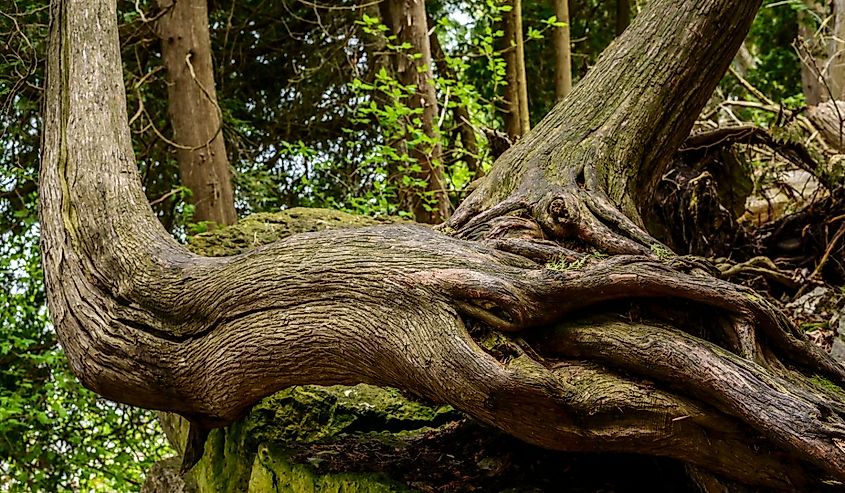 Starting off small, Eagle Trail is a 2-mile (3.2 km) loop nestled within the stunning Peninsula State Park. While it may not be very long, this iconic trail is one of the most popular, with gorgeous waterside views and varying terrain. Starting from the bluffs of the Niagara Escarpment, this trail drops 200 feet (61 m), surrounded by verdant cedar forests and rich wildlife.
While not too steep, hikers often maintain a slow pace as there are exposed roots, small rocks, and other hazards which require a keen eye. As the elevation continues to drop, the trail runs along calming waters, which are a treat to enjoy for any hiker. Add to this the chance of seeing a bald eagle, woodpecker, or black-throated blue warbler, and you're sure to enjoy Eagle Trail. Once you're done, this looped trail will bring you back to the start for a convenient end to your hike.
Geneva Lake Shore Path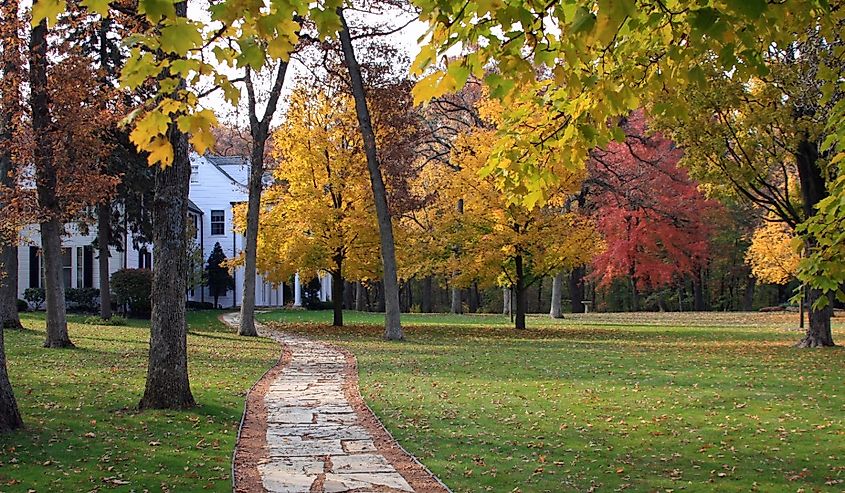 The Geneva Lake Shore Path is a stunning 21-mile (34 km) hike along Geneva Lake's shore. Primarily consisting of walkable areas, the trail can take anywhere between 8 to 11 hours for the average person to complete. Start at the Lake Geneva Public Library, nestled along the northeastern end of the lake. From here, the route passes stunning water sights, verdant gardens, and large estates for a comprehensive insight into the region's beauty.
Iconic historical sights like the 1929 Casa Del Sueno, the 1897 Yerkes Observatory, and the 1882 Congress Club make the hike feel like a walk into the past. For nature lovers, the Big Foot Beach State Park and never-ending crystal blue waters offer a reprieve from urban hustle and bustle. So, pack your walking shoes, grab some snacks, and start this amazing hike early in the morning.
Devil's Lake via West Bluff Trail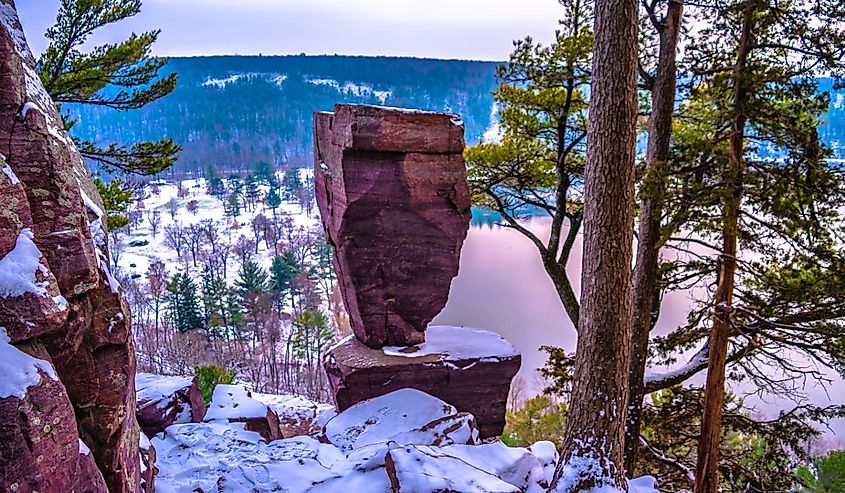 Another one of Wisconsin's lovely loop trails, the Devil's Lake via West Bluff Trail is a majestic 4.7 mile (7.7 km) route. The majority of this hike traverses through rocky hills along the stunning backdrop of Devil's Lake. Ode to its beautiful environment, this trial is always filled with hikers from all over. The hike itself is quite simple except for the rocky terrain and 984 feet (300 m) elevation gain, which can be quite tiresome.
Thankfully, there are great spots to rest throughout the trail, such as Balanced Rock. This unique rock marks the highest point on the trail, where you can sit down, click some pictures, and begin the descent back to the start. All in all, the journey takes an average of 2.5 hours and is a beautiful outdoor experience. But, be sure to bring the proper footwear, as some parts of this hike are quite steep.
Levis Mound Challenge Route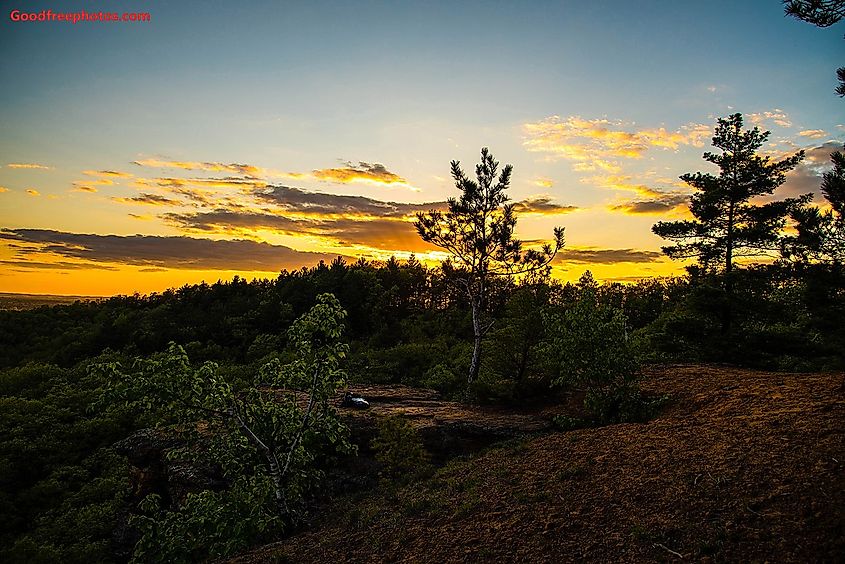 The Levis Mound Challenge Route is an intermediate-advanced 6.7-mile (10.8 km) hike in the Levis/Trow Mound Recreation Area. The trail starts off quite unassuming with simple terrain but quickly begins to show steep inclines, rocky paths, and a difficult environment. Winters are even tougher as you can expect slippery terrain which makes the elevation gain of over 650 feet (200 m) tough for even professional hikers. While it is challenging, Levis Mound Challenge Route is still a popular spot thanks to its irresistible viewpoints and adrenaline rush.
Surrounded by solitude and peace, hikers can focus on this 3-hour path while enjoying themselves in the large natural area. Along with this, the trail is open to dogs so you can enjoy a fun hike with your canine pal. That said, make sure to carry a map, as many hikers get confused by the splitting trails and intersections throughout.
Lion's Den Trail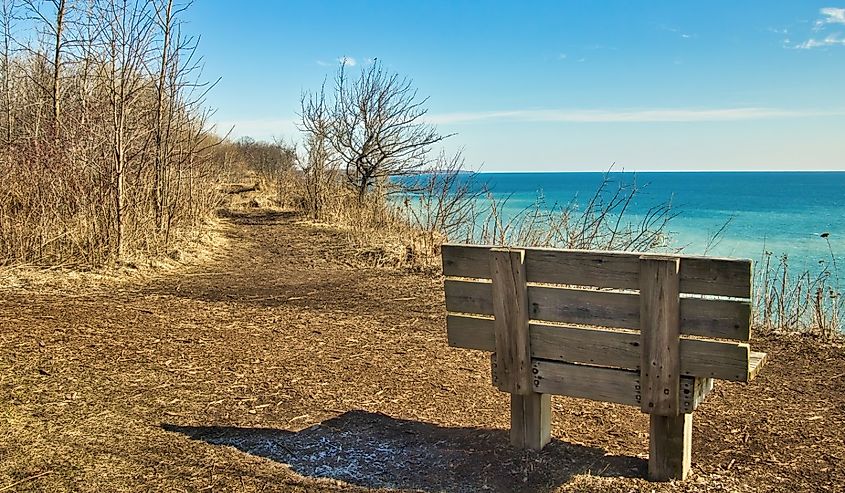 Traversing through the renowned Lion's Den Gorge Natural Preserve, the Lion's Den Trail is a treat for beginners. Easily completed within an hour, this 2-mile (3.4 km) trail is popular for a quick hike, walk, or jog within the massive natural preserve. Its layout is designed to maximize accessibility providing wooded segments, picnic tables, and even wheelchair access.
As a result, many people come here to enjoy the stunning gorge and its panoramic views overlooking the beautiful Lake Michigan. The rest of the trail cuts through thickly wooded areas providing a serene vibe. There are clear markings throughout, ample parking spots, and washrooms. So, if you're looking for one of the best hikes for a relaxing experience, Lion's Den Trail is a top choice.
Meyer's Beach Sea Cave Trail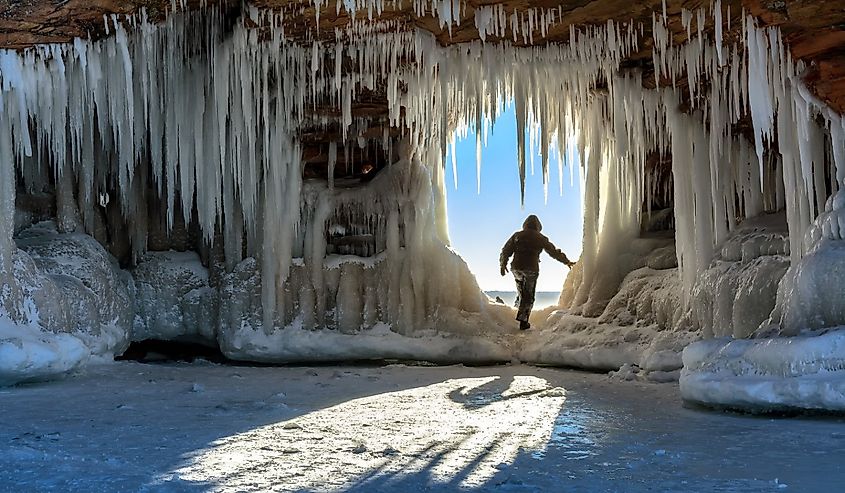 Nestled along the stunning coast of Lake Superior, you'll find the beautiful Apostle Islands National Park. This park is home to dozens of amazing trails, which all feel like stepping into a natural wonderland. Out of these, one of the best hikes you can opt for is the 4.6-mile (7.4 km) Meyer's Beach Sea Cave Trail. This route is a gorgeous mix of cliffside views overlooking the stunning beach and verdant coastline. Starting off with nearly a mile of wooden planks, the route takes you straight into the action with splashing waves, emerald waters, and caves which make it a surreal experience.
Once you've crossed the planks, it gets a bit harder with dirt, roots, and some steep drops, so watch your step along with the nearby sights. While the route is only about 2 hours, there are benches throughout where you can relax for a bit and enjoy the calming waves splashing against the rocky cliffs. Put it all together, and the Meyer's Beach Sea Cave Trail is an enjoyable hike perfect all year round.
St. Croix Falls Segment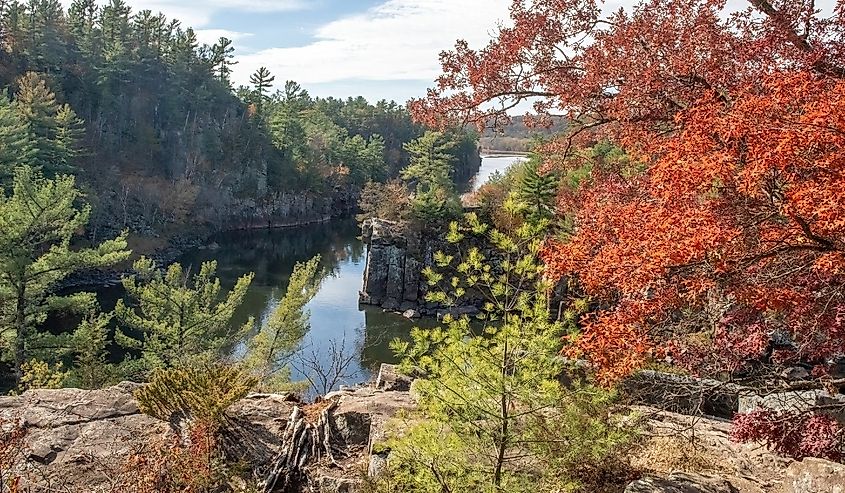 When you imagine an idyllic Wisconsin hike, the St. Croix Falls Segment embodies true beauty. Part of the massive 1,200-mile (1,900 km) Ice Age Trail, this western segment covers a quaint 7.8 miles (12.5 km) along the St. Croix National Scenic River. Formed by glacial lakes and meltwater over millions of years, this amazing trail feels like a whole new world. Starting at Interstate State Park, the route begins with a notable incline that takes you straight to St Croix's rocky bluffs providing a bird's eye view of the surroundings.
After this, the hike continues to amaze with endless trees, cliffs, and watery areas all over the place. While it takes a few hours on average, there are multiple campsites located at the nearby Taylor Falls and St. Croix National Scenic Riverway. Set up camp here and spend a few days enjoying outdoor activities such as boating, fishing, hunting, and biking. Once you've taken in all the region has to offer, head back to take on the trail's steep inclines and challenging fun.
Witches Gulch Trail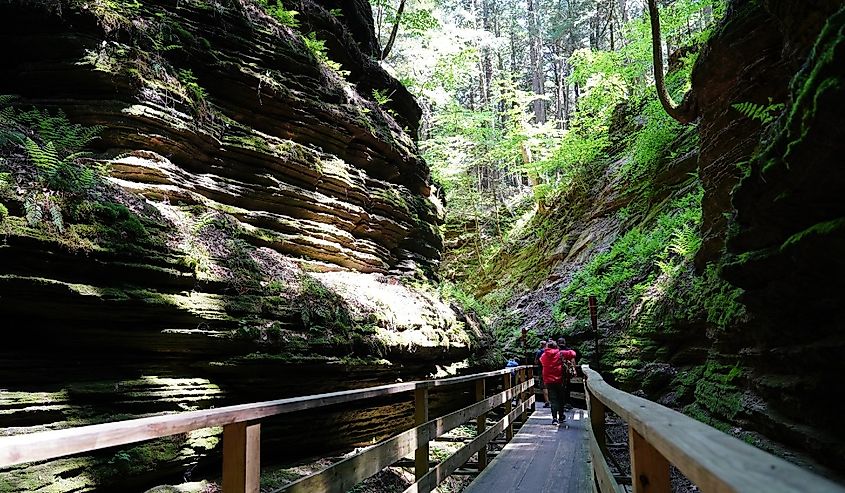 Wisconsin is not all verdant forests and large lakes, and the Witches Gulch Trail is the perfect example. Nestled along the Wisconsin River, the only way to get to this route is via the short and sweet Upper Dells Boat Tour. After enjoying the lovely coastal sights from the waters, you'll soon reach the stunning entry point of Witches Gulch Trail. Engulfed by deep valleys, glacial gorges, and thin areas, you'll find an unrivaled canyon hike providing a once-in-a-lifetime experience. So, embark on this unique trail that fascinates hikers with the mossy rocks and sandstone walls which always feel like they are caving in on you. Thankfully, the hike is only 2 miles (3.2 km) long and provides proper footing so even beginners can have a fun time out here.
Wisconsin is home to some of the country's best hiking trails, with steep cliffs, shimmering lakes, and amazing greenery. These trails are perfect for hikers of all skill levels, so everyone can enjoy a challenging experience in the great outdoors. Be sure to always carry the right gear and check the weather forecast before you go, so you can have the best time on your hike.