Camping is a tried and true experience that brings joy to countless Americans. However, sleeping outside is not without its share of challenges. Anyone who has pitched a tent in the wild knows that there is always some combination of tiresome chores, insatiable bugs, biting cold or sweltering heat, sub-optimal hygiene, and general discomfort. So it is understandable that not everyone sees the value in this pastime. Thankfully, glamping (i.e. glamorous camping) is a growing trend that combines the comforts of home (and then some) with the inspiring environments that those kooky granola folks cherish so dearly. Utah, in particular, continues to demonstrate its prowess as a premier outdoor destination by touting some glorious glamping spots. Sleep under the stars, but do it in style with these seven sweet setups. 
Conestoga Ranch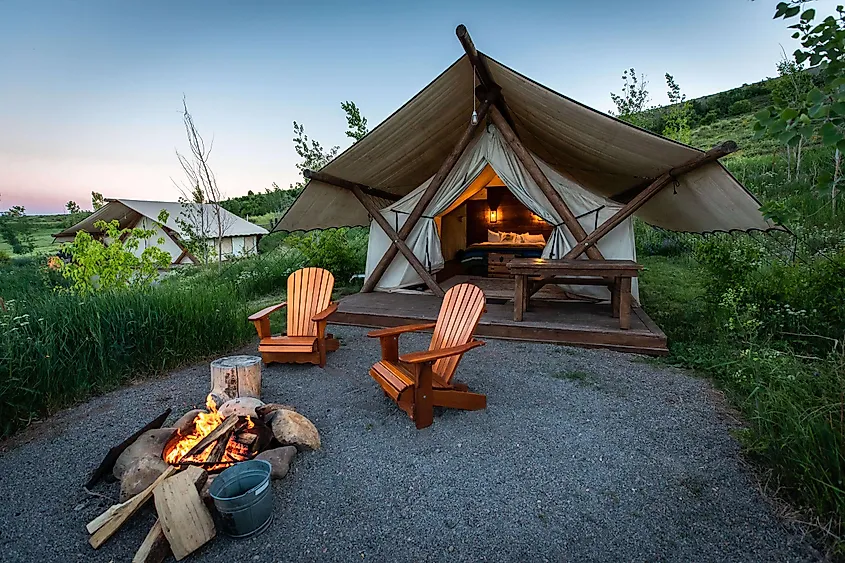 Spend a couple of nights in an authentic conestoga wagon, or some permanent tents that range in size from couples to large families in this beautiful glamping spot in Garden City, Utah. Each option includes a comfy bed, fresh linens, and the Grand Tents even have their own bathrooms. Conestoga Ranch, which is just North of Garden City, on the Western shore of Bear Lake, also has a lodge, restaurant, yoga/massage tent, and of course, Wi-Fi hotspots throughout its 18-acres. 
Boulder Mountain Guest Ranch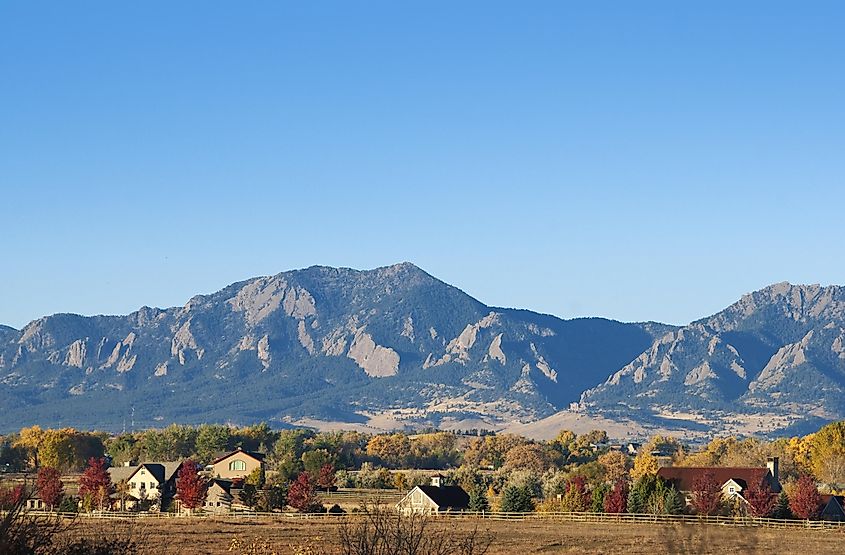 Located just West of Boulder, in Southern Colorado, Boulder Mountain Guest Ranch offers a range of glamping, hostel, and classic lodging opportunities. For the glamping experience, try out either the Cowboy Tent or the Native American Tipi. Both include multiple sleeping arrangements, basic fixtures, and a deck with patio furniture on which to enjoy views of the rolling landscape and big blue (or starry) sky. The Main Lodge has a large common area that guests can hangout in - enjoying the warmth of the fire, complimentary coffee/tea, and the company of fellow travelers. 
Zion Ponderosa Ranch Resort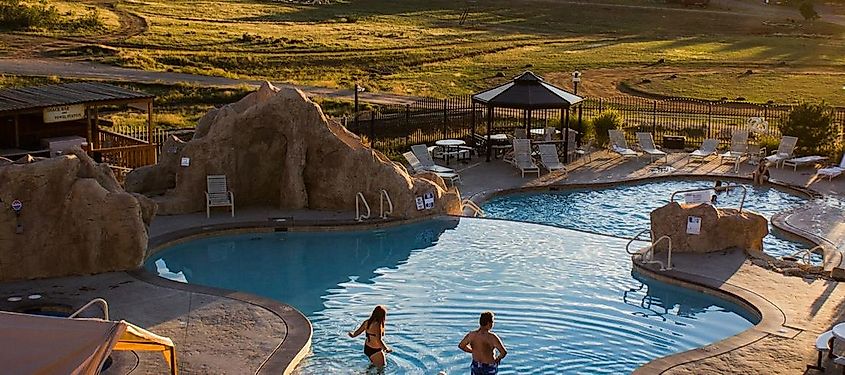 Situated at the Eastern door of Zion National Park, Zion Ponderosa Ranch Resort gives outdoor enthusiasts the opportunity to glamp it up at night, and explore the famous landscape during the day. This resort also features Conestoga Wagons, as well Glamping Tents, complete with furniture, bedding/towels, and lighting/electricity. There are loads of amenities included on site, including a swimming pool, hot tubs, athletic facilities, games, as well as additional jeep, horseback, hiking, and canyoneering tours. This place can be as energetic or tranquil as you desire, but quality time outdoors is the common thread. 
Zion Backcountry Glamping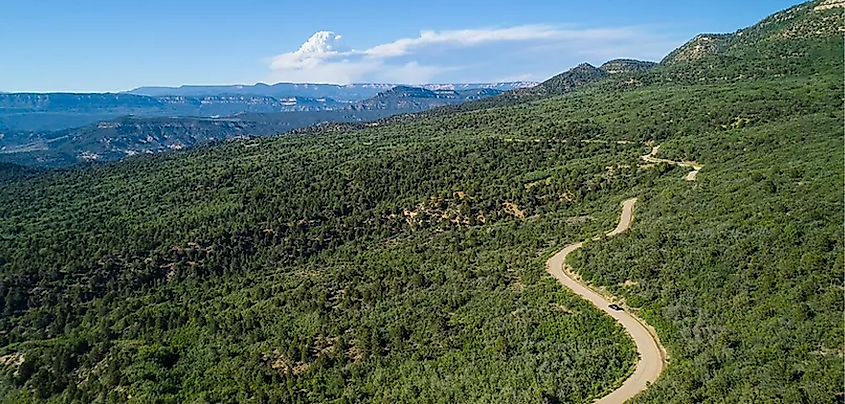 About ten-miles North of Zion Ponderosa Ranch Resort is another glamping site, but this one is more remote and less flashy. You have the choice between a traditional sheep camp, or a yurt, which is generally for larger parties. If you are a small group just looking to rub elbows with other off-grid campers, there are plenty of regular tent sites also available. Though this is not a place for streaming movies or riding a zip-line, it is an ideal spot to relax in nature, explore Zion National Park, and enjoy the light-touch bonus amenities, like board games, yoga mats, hammocks, and so on. 
Under Canvas (Moab)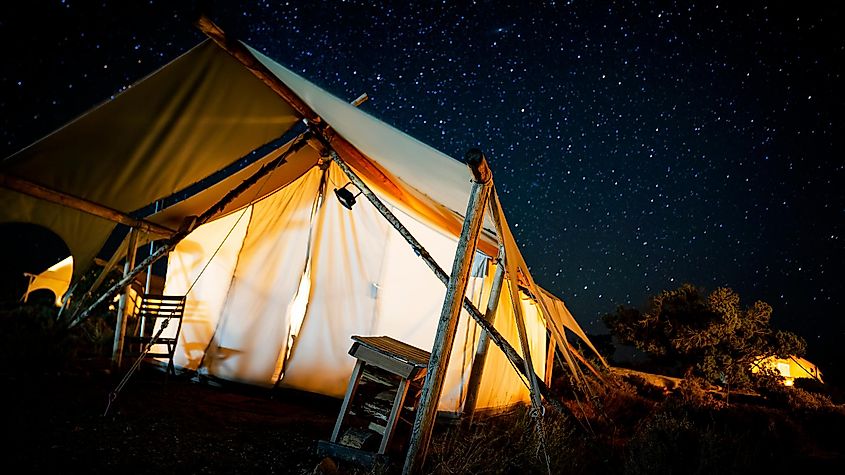 These upscale tents are the definition of glamping. Located just North of Moab, and between Arches National Park and Canyonlands National Park, Under Canvas is perfectly located and well-equipped to provide a memorable outdoor experience. There are different styles of tents to choose from, including luxurious features such as a stargazing window, wood-burning stove, en-suite bathroom (with shower), and a private deck. Though highly acclaimed, some reviews complain about the nearby highway noise, so it may be best to bring good ear plugs, or switch on some ambient music during the night, in order to better match the otherwise mesmerizing sensory inputs. 
Capitol Reef Resort
Plopped right in the midst of the red rock mountains, a little ways North of Capitol Reef National Park, Capitol Reef Resort has also stepped up to the glamping plate. The property, which is on the outskirts of the town of Torrey, is a sort of souped-up motel, but the objects of focus are the peripheral Conestoga Wagons and TeePees. These cozy and authentically-designed accommodations both feature magnificent views of the surrounding area, as well things like flat-screen TVs and a communal fire pit. Just note that there is a two to three night minimum stay for glampers. 
BaseCamp 37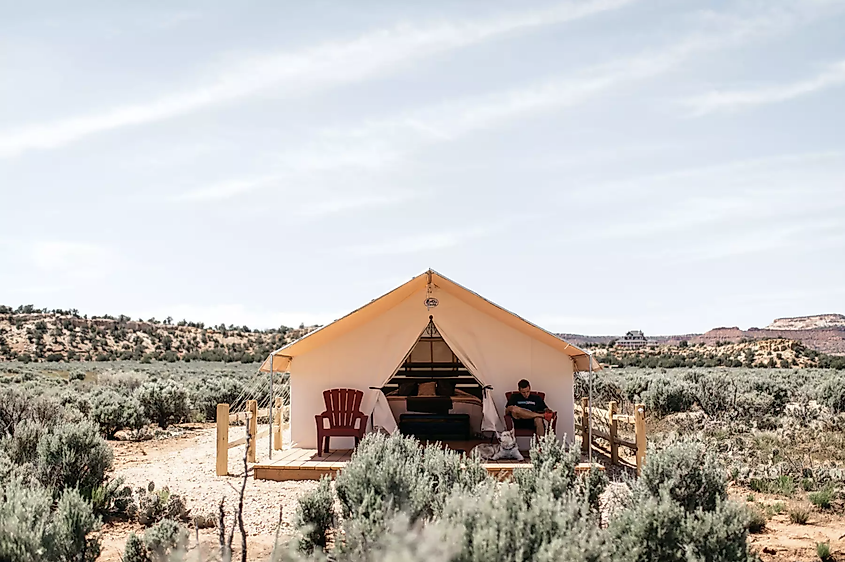 A smidge North of the Arizona border, and eight-miles East of the city of Kanab, BaseCamp 37 is another hub for both seclusion and comfort. These five, unique, safari-style tents provide top-tier sleeping arrangements, with communal amenities a short walk away. The idea here is to unplug from the hustle, but connect with the few other strangers (or rather, friends you haven't met yet) in the shared kitchen/bar area, and around the fire pit. 
Camping does not always have to be a "character-building" experience. Sometimes it is nice to relax in comfort and style, while still only having a thin canvas between you and the cosmos. Glamping is a welcomed alternative for both timid green horns, and weary veteran campers. If this sounds up your alley, pay Utah a visit during your next fair-weather vacation, and check out some of these cool glamping spots.