Back in 2009, during a break from teaching at a boarding school in India, Brad Hurvitz of San Diego, California, decided to embark on a trekking trip to Nepal. Little did he know then that his experiences on this trip would inspire him enough to establish Trek to Teach, an organization that brings positive change to the lives of hundreds of school students in the remote high-altitude villages of Nepal.
Hurdles On The Way To Education In Nepal
Nepal is a beautiful Himalayan country endowed with rich natural resources and an incredible biodiversity. It is home to the Mount Everest and seven other of the world's eight-thousanders. Although these mountains serve as a popular adventure zone for adventurists from all corners of the globe, the same mountains are a hurdle on the way to education for numerous school-age children living in the country's remote Himalayan villages.
Nepal has an estimated literacy rate of only 64.7%, with a significant gap between male and female literacy rates. Over half of primary school students fail to enter secondary school and those that do often dropout before completing their education. Also, fewer girls attend secondary school than boys. Although education is more easily accessible in the urban centers of the country, the children in the remote villages are often deprived of modern educational facilities. Many of Nepal's villages are located at extremely high altitudes where motorable roads do not reach. Few schools exist in such areas, and well-trained and qualified teaching staff are a rare find in such schools. Students often trek through the difficult mountain roads for hours to reach their schools in such areas.
It was during his trekking trip that Mr. Hurvitz became acquainted with the issues experienced by the children in these remote villages of Nepal. To know more about his experiences in Nepal and the work done by Trek To Teach teachers, World Atlas spoke to Mr. Hurvitz.
When asked about what inspired him to establish Trek to Teach, he recalled his first meeting with the children of these villages:
"Throughout the first couple days of my trek, I noticed students running past me, uphill, on the slippery stones in their rubber sandals. With my students in India on my mind during these moments, and surrounded by the exquisite natural beauty of Nepal's Himalayan landscapes, I was inspired to learn more about these students and the education system they were immersed in. When I expressed this to my trekking guide, we were able to visit a school and speak to the headmaster. From this, I gained that the schools were in serious disrepair and even some of the textbooks used to teach English in these schools were both incorrect and irrelevant. I yearned to help these students and immediately started brainstorming ways to do so."
An Innovative Initiative To Help The Schools In The Remote Nepalese Villages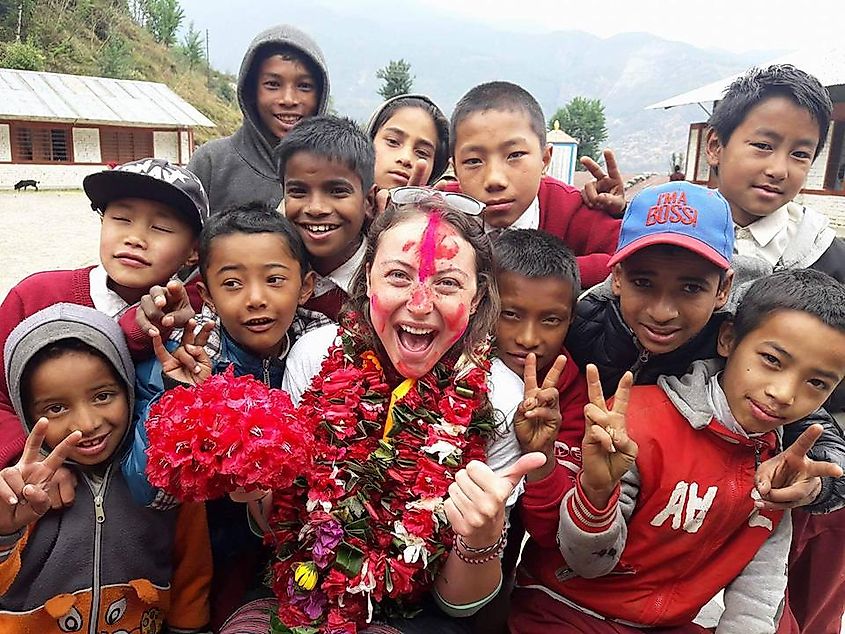 A Trek to Teach teacher and students bond in Nepal. Photo credit: Trek to Teach.
Trek to Teach invites applications from interested individuals who wish to trek and teach in the Nepalese Himalayas. Once accepted, these individuals will need to pay for the cost of the program which depends on the duration of their stay with Trek to Teach. The minimum length of the program is about 10 weeks but the maximum period of stay can stretch as per the choice of the applicants. Although the primary focus is to teach English, the teachers can also teach other subjects or extra-curricular activities if permitted by the headmasters of the schools.
Once in Nepal, a Trek to Teach teacher will be guided through the mesmerizing Himalayan landscapes to the village that will be their home for a while. Most of these villages lie on or in proximity to popular trekking routes with well-marked trails thriving with trekkers from different countries. Aside from the unique opportunity of interacting with inquisitive Nepalese students, the teachers will also get to experience authentic Nepalese hospitality, culture, and cuisine.
For Mr. Hurvitz, starting Trek to Teach was full of exciting challenges. Speaking of them, he said:
"Our biggest challenges when starting the organization were finding the right team to help us in Nepal and finding our first teacher. Once we had the right Nepali staff members in place we knew that we would be able to thrive as an organization. The majority of our Nepali team has been with the organization since the beginning, all of whom are extremely passionate about our mission. We had several potential teachers take interest in what we were offering, but we understood that it takes a special person to spend ten weeks in a rural village in the Himalayas, alone, teaching and mentoring students who barely speak English. Once we found our first teacher, a connection through a friend of mine, we were thrilled. She had a fantastic experience, as did her students."
World Atlas also managed to catch up with one of the teachers, Allie Cavallaro from the United States, who volunteered for Trek to Teach in the spring of 2016.
"The students were a joy," she said, "they came to my guesthouse, excited, and walked me to class every morning. They picked me flowers and brought me treats. They laughed and did their best to explain things in English to me. In fact, students from other classes I wasn't even assigned to teach often asked me if I would speak English with them!"
She also mentions about the challenges she faced while working in a completely new environment and how, in the end, only fond memories remained.
"Working in a Nepalese environment was certainly difficult. I don't speak Nepali, so we had a few miscommunications, but everyone was so incredibly kind and welcoming that the language didn't matter so much. One time I went to school and no one was there! It turns out that the school was on holiday but they'd announced this to the staff in Nepali and I missed the memo! It felt surreal, like a dream. I just kept checking my watch, confused, but eventually, I figured out what happened and had a good laugh about it with the other teachers."
She also mentioned that her experience in Nepal helped her grow as a person. When Mr. Hurvitz offered her to join the Trek to Teach team, she saw it as an opportunity to not only let her experiences live on but also as a way for her to enable others to enjoy a similarly life-changing experience. Today, Allie is part of the Trek to Teach team where she acts as the Program Director of the organization.
Looking Into The Future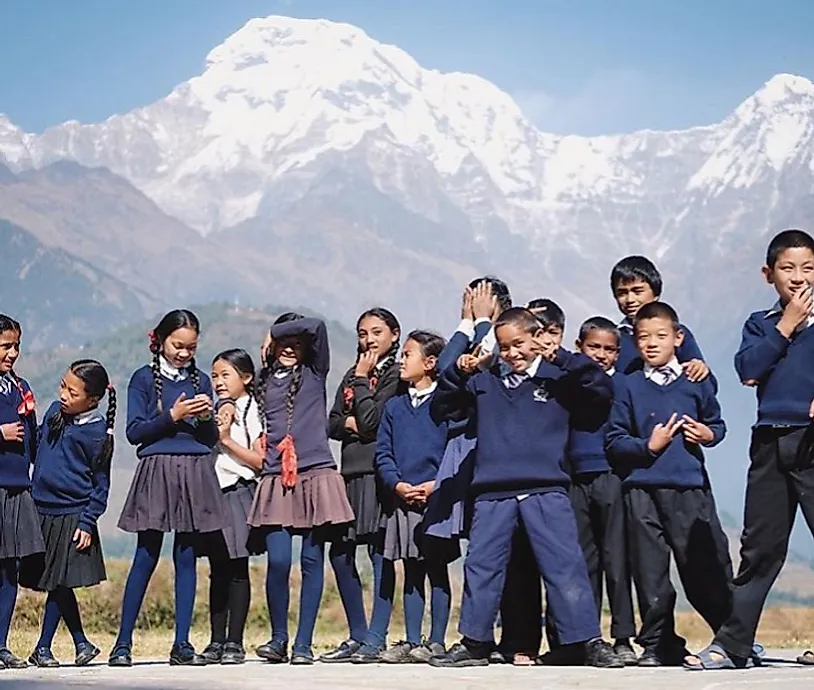 Nepali schoolchildren in Tolka. Photo credit: Trek to Teach.
Trek to Teach does more than just educate the children in Nepal's remote schools. The organization also funds some of the infrastructure projects in the schools where they operate. Trek to Teach has built water fountains in the partnered schools, provided educational furniture and appliances like white boards, constructed a library and filled it with books, and is also currently working on similar projects in some of the schools.
Mr. Hurvitz is happy about the progress of the organization and believes it is having a positive impact on the lives of the Nepalese schoolchildren. Speaking of some of the achievements of Trek to Teach, he said,
"While our organization is constantly working towards bettering the schools we work with, we are proud of the goals that we have achieved: increased test scores, higher levels of spoken English, number of teachers sent, and completed infrastructure projects. We have made a positive impact on thousands of students, which can be numerically shown through the increase of English test scores for more than 80% of the students. Additionally, and what you cannot see on paper, is the continued development of verbal skills and confidence of these students. Their ability to use English conversationally will significantly impact their lives moving forward as well as those of their family and village as spoken English means easier access to opportunities."
Like every organization, Trek to Teach also has its own future goals which are closely associated with a growth in literacy rates in Nepal's remote village schools. Emily Meyers, Executive Director of Trek to Teach, spoke of these goals on behalf of the organization.
"Trek to Teach has come a long way so far and no doubt it will continue to evolve. In the future, we want to expand to partner with more schools in the Annapurna Region and beyond, and send teachers to these schools at a higher frequency and in a more consistent manner.We hope that soon our teachers' presence at our partner schools is seen as the norm, instead of something unique that happens every few months. Additionally, a goal of ours is to try and track our students' success once they leave our partner schools. Seeking out and securing a clear path to higher education by working with local universities would help ensure that the middle schoolers that are in our classrooms today have support in place for when they reach adulthood. Finally, we plan on always being the same bunch of dreamers that we are now - just trying to spread knowledge and happiness to the far reaches of the world."
**
Dr. Oishimaya Sen Nag is a freelance writer and editor from Kolkata, India. She loves to participate in wildlife conservation activities and to explore new places and cultures.