The Number Of Motorcycles By State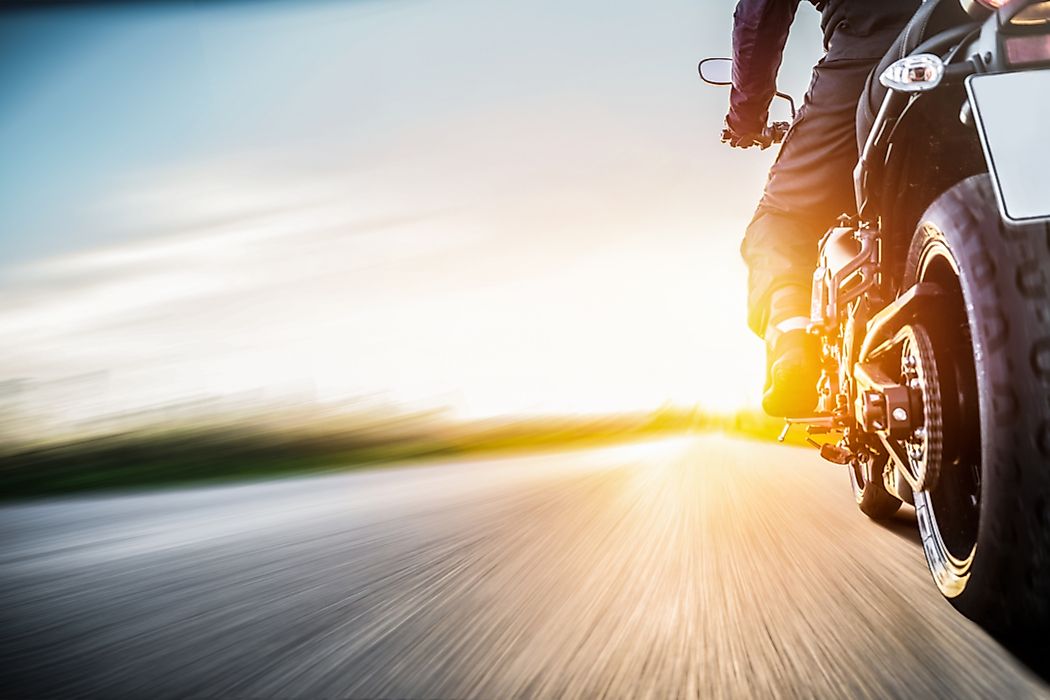 The last decade has witnessed a significant increment in motorcycle sales and registrations across the United States. Considering that the majority of motorcycles in use have to be registered for operation on public roads and highways, the number of registrations is likely the best indicator of how many motorcycles are in use on public roadways in the US each year. For the record, motorcycle registrations have grown in each of the past 10 years or so in the country. As statistics prove, total numbers of registered motorcycles significantly increased from 3.8 million in 1997 to 6.7 million in 2006 to 8.4 million in 2013. Better fuel economy, social perceptions, ease of parking and storage, and lower prices of purchase compared to four-wheeled automobiles have all helped drive this trend.
US States with the Most Registered Motorcycles
Statistics pertaining to motorcycle registrations in 2013 in all the states of the US show that the state of California had the most registered motorcycles in that year. The total number of registered motorcycles in California was found to be approximately 800 thousand. Out of these, there were 785 thousand private and commercial registrations, in addition to around 15 thousand state-owned registered motorcycles. This goes on to show how popular a means of transportation motorcycles have become in California. It is perhaps the ease that motorcycles offer that has made them so popular there. California also happens to the most populate state in the US, which makes it logical for it to have the highest number of registrations.
Coming in at number two on this list is Florida, with a total of around 545 thousand registered motorcycles in 2013. These were a combination of roughly 543 thousand private and commercial registered motorcycles and two thousand state-owned registrations. Let's not forget that Florida is also one of the most populated states in the US. It is known for having beautiful natural scenery, warm weather, and long stretches of motorcycle-friendly roads, which are major contributors to such a high count of registrations. Texas is next on this list, with around 443 thousand registered motorcycles in 2013. Breaking this count down further, we see 439 thousand private and commercial registrations together with four thousand publicly-owned ones. With its wide open stretches of road and typically warm, dry weather, it's no wonder that motorcycle rides are so popular throughout the year-round riding season that Texas offers to motorcyclists. But what makes things more interesting is the fact that there has been an even more marked increase in the number of women purchasing and registering their motorcycles in Texas. For example, nearly 15% of Fort Hood Harley-Davidson's customers are women.
Other Motorcycle-Dominated States
The fourth locale on this list is the state of Ohio, with 402 thousand registered motorcycles within its borders. Nearly all of these were private and commercial registrations, while merely 17 registrations were state-owned. Next in line is Pennsylvania with around 401 thousand registrations, of which most were private and commercially registered motorcycles and 725 were publicly owned. Motorcycle registrations were also fairly high in Illinois, with there being a total of 352 thousand registered motorcycles in the state, all of which were either privately-owned or commercial. New York has also made it onto the list, with 345 thousand registered motorcycles in 2013. Of these, the vast majority was private and commercial registrations, and only 2 were publicly owned.
From the statistics presented, we can take away some very clear conclusions. First, accessibility, economic and societal factors have driven up motorcycle registrations all across the United States in recent years. Secondly, high populations and warm weather appear to be the two biggest drivers for states having high numbers of total registered motorcycles within their respective borders.
Motorcycle Registrations By State
| Rank | State | Number of Motorcycle Registrations |
| --- | --- | --- |
| 1 | California | 799,900 |
| 2 | Florida | 545,452 |
| 3 | Texas | 443,856 |
| 4 | Ohio | 402,264 |
| 5 | Pennsylvania | 400,908 |
| 6 | Illinois | 352,318 |
| 7 | New York | 345,118 |
| 8 | Wisconsin | 323,378 |
| 9 | Michigan | 267,292 |
| 10 | Minnesota | 237,259 |
| 11 | Washington | 227,073 |
| 12 | Indiana | 218,630 |
| 13 | Georgia | 200,133 |
| 14 | North Carolina | 195,493 |
| 15 | Virginia | 189,689 |
| 16 | Arizona | 188,360 |
| 17 | Missouri | 184,723 |
| 18 | Colorado | 184,549 |
| 19 | Iowa | 183,294 |
| 20 | Montana | 171,085 |
| 21 | Tennessee | 163,820 |
| 22 | New Jersey | 152,111 |
| 23 | Oklahoma | 126,883 |
| 24 | Massachusetts | 125,122 |
| 25 | Alabama | 118,084 |
| 26 | Louisiana | 113,778 |
| 27 | South Carolina | 113,315 |
| 28 | Kentucky | 109,821 |
| 29 | Maryland | 99,560 |
| 30 | Kansas | 99,169 |
| 31 | Connecticut | 91,054 |
| 32 | Oregon | 89,797 |
| 33 | South Dakota | 86,710 |
| 34 | Arkansas | 74,196 |
| 35 | New Hampshire | 73,612 |
| 36 | Nevada | 70,675 |
| 37 | New Mexico | 65,321 |
| 38 | Utah | 64,970 |
| 39 | Idaho | 64,944 |
| 40 | Maine | 63,114 |
| 41 | West Virginia | 58,021 |
| 42 | Nebraska | 56,224 |
| 43 | Hawaii | 40,564 |
| 44 | North Dakota | 35,756 |
| 45 | Rhode Island | 32,252 |
| 46 | Alaska | 32,207 |
| 47 | Wyoming | 31,397 |
| 48 | Delaware | 30,056 |
| 49 | Vermont | 28,777 |
| 50 | Mississippi | 28,433 |