Now, tiger lovers from around the globe have a reason to celebrate the 10th anniversary of the Global Tiger Day with even greater zeal. Astounding photos and footage of wild tigers have been captured by conservationists in a region of Western Thailand for the first time in four years. Given the precarious condition of tigers in Southeast Asia, this new discovery is a harbinger of hope. 
The images were captured with the help of remote camera traps as part of a joint wildlife monitoring program by Thailand's Department of National Parks, Wildlife and Plant Conservation (DNP), Panthera (the global wild cat conservation organization) and the Zoological Society of London (ZSL).  
According to Dr. Saksit Simcharoen, Chief of the Wildlife Research Division for DNP, "These sightings are extremely encouraging for the future of tigers in our country and beyond."
New Hope, Tougher Challenges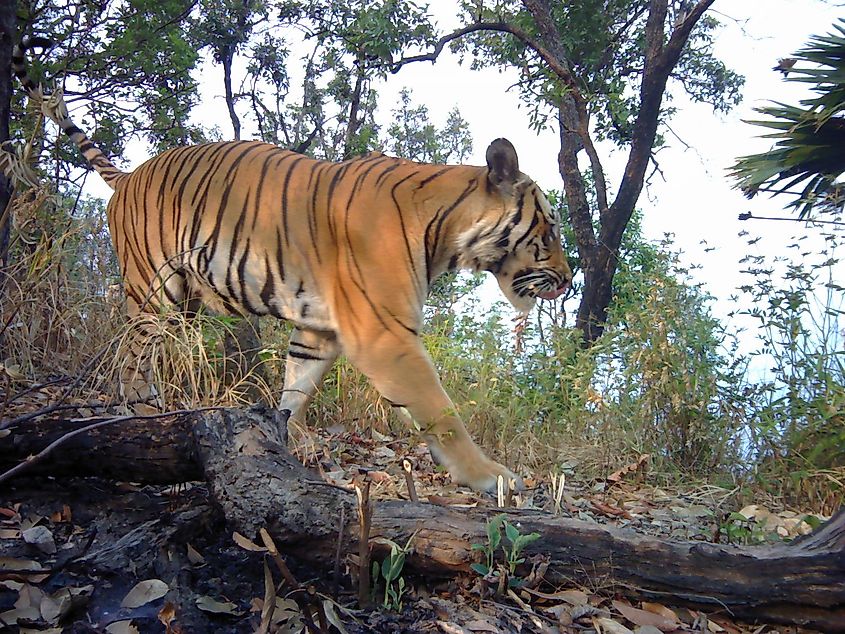 With tigers being regarded as an umbrella species, wild tiger conservation is usually equated to the protection of the vast landscapes where these big cats roam. Other species inhabiting such landscapes receive protection in the process. Unfortunately, however, while tigers act as the guardians of their forest, they themselves continue to be severely threatened by habitat destruction and poaching. 
Today, wild tigers number only around 3,900 with over 70% of the population residing in India. Once ranging across much of Asia, they have completely disappeared from southern China, much of Myanmar, Vietnam, Cambodia, and Lao PDR. In Thailand, tiger populations struggle to survive. Poaching still remains the most ominous threat to tigers in China and the Southeast Asian countries. The multi-billion-dollar illegal wildlife trade supports the rampant killing of these majestic predators for their body parts like skin and bone to feed the demand of the traditional medicine market. Thailand's tigers have not been spared as well. Only 160 tigers are estimated to remain in the country. The discovery of the new tigers thus throws up new challenges for conservationists to protect them as explained by Alex Godfrey, Thailand Country Program Manager for Panthera. 
"There are a number of threats that will affect the survival of tigers in Western Thailand in the coming years. Although the Western Forest Complex (WEFCOM) is a large and relatively contiguous landscape, with a stable breeding population of tigers at its core (the ThungYai - Huai Kha Khaeng World Heritage Site), the southern portion of the landscape still faces significant anthropogenic pressure," he said.
"While in recent years, the DNP has strongly cracked down on illegal encroachment, poaching of tigers and their prey remain significant threats to the former's long term survival. Although tiger poaching in the WEFCOM is arguably still relatively rare, recent (unconfirmed) reports of tiger poaching gangs targeting the southern WEFCOM landscape are concerning. The presence of tigers in the landscape is now open knowledge on a national/international level. Thus, it can be expected that the motivation for tiger poaching will increase with time. Given the low numbers, the loss of even a single tiger from the landscape can have a devastating effect on the recovery of the tiger population in the area," he continued.
While tiger poaching is definitely a cause of worry in the WEFCOM of Thailand, what is happening to the prey base of these tigers that are so vital to their survival? Is tiger prey also susceptible to poaching? Again, we look to Godfrey for answers:
"Poaching of tiger prey remains an issue across the landscape, involving multiple groups and a variety of modus operandi. Based on current information and previous arrests in the landscape, ungulate poaching activities can be split into three main categories: subsistence poaching, order-based, organized poaching, and tourism poaching. All three types involve local community members to varying degrees with order-based and tourism poaching also involving networks, middlemen, and supply chains. The proliferation of private groups on social media platforms (Facebook, Line) has significantly facilitated communications between suppliers and middlemen or buyers. While this allows for orders to easily be communicated to poachers, it also allows opportunistic poachers to advertise their catch and rapidly find a buyer. This system, therefore, appears to be driven both by the supply of opportunistically poached ungulates as well as the demand for specific types and amounts of wildlife meat," he informed.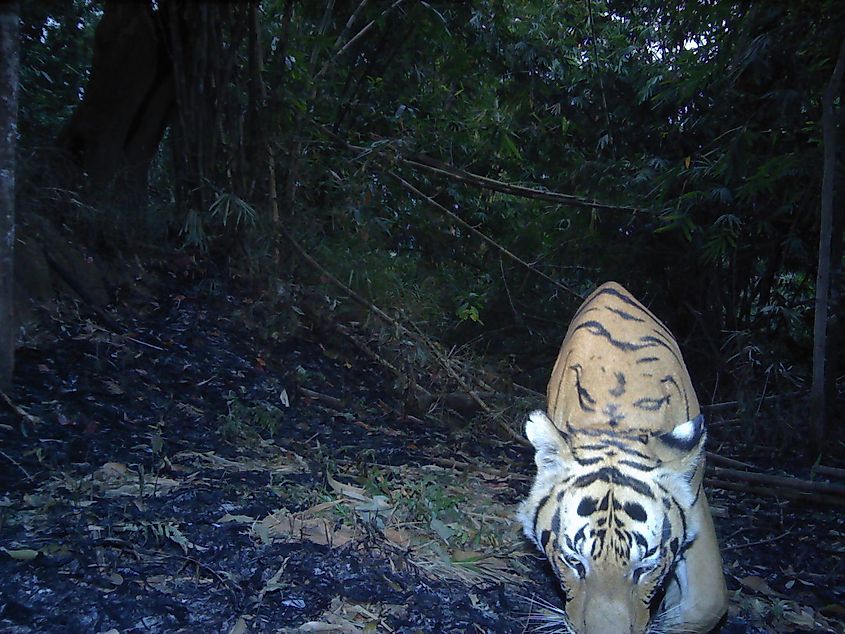 But it is not just poaching that threatens these tigers of Western Thailand as further explained by Godfrey. Large-scale infrastructure developments including proposed road expansion and irrigation pipelines also threaten the ecological integrity of the region. If approved, these infrastructural facilities will create barriers to successful dispersal of tigers from the source site to other key parts of the landscape. 
"There has not yet been any evidence of tigers breeding in southern WEFCOM so continued dispersal of mature tigers from the core of the WEFCOM is crucial to establish a breeding population in the south. The challenge in the coming years will be to balance the development and livelihood needs of local populations while ensuring that the southern WEFCOM remains ecologically connected to the core of the WEFCOM, allowing tigers to settle and move across the whole landscape," he stated.
Mitigation Plans Already In Action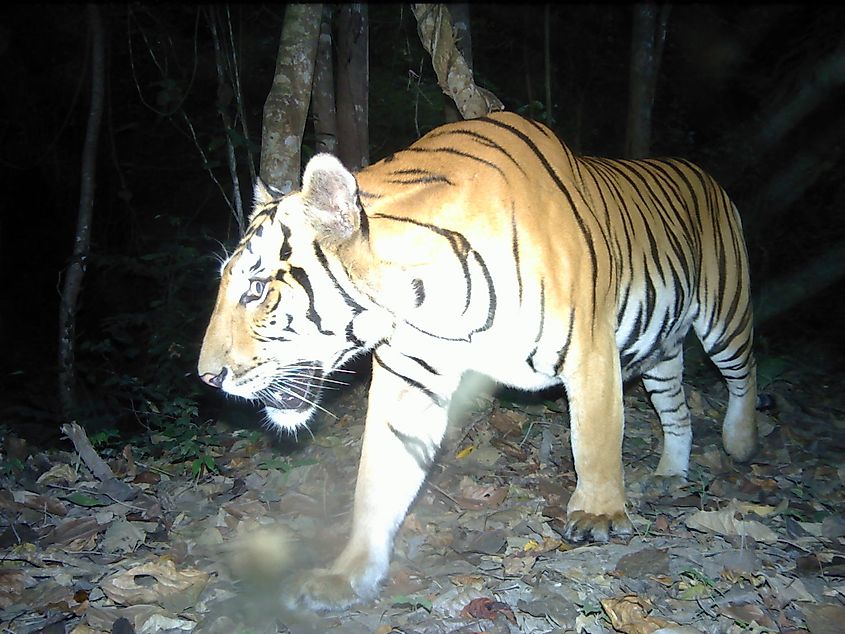 World leaders have set the target of doubling the global wild tiger population by 2022 as part of the Global Tiger Recovery Programme. While countries like India and Nepal have certainly made great strides in this direction, tiger populations have not fared too well in many other tiger-range countries. 
In an effort to aid Thailand in achieving its 2022 goal, Panthera in partnership with DNP and ZSL is trying to protect the tiger population of the country over the past decade as part of its Tigers Forever program in western Thailand. Some of the key activities of this program include monitoring the population of tiger and prey, antipoaching ranger training, supporting DNP in wildlife crime investigations, and the use of Panthera PoacherCams and patrol management software SMART (Spatial Monitoring and Reporting Tool).
Godfrey explained the use of PoacherCams and SMART in detail:
"Using signs of illegal activities recorded during ranger patrols and recorded in SMART as well as information from local communities, Panthera and local wildlife conservation agencies deploy PoacherCams at strategic access points into the protected area. These cameras are fully concealed and can be used either independently to monitor access to the park over time and gain a better understanding of the nature and temporal patterns of illegal activities or as a connect system, linked to local GSM networks to act as a near-real-time warning system, alerting law enforcement officers of illegal activity in the protected area. This has proven particularly useful in parks with limited resources, where constant surveillance and human presence at all access points is not possible. By better understanding the temporal patterns of access to the protected areas, patrol schedules can be adapted and optimized as necessary," he stated.
"Furthermore, camera trap evidence is admissible in a court of law in Thailand so PoacherCam images of known repeat offending poachers entering or leaving the protected areas can be charged, regardless of whether or not they were intercepted at the time of the event. PantheraCams are providing another line of defense and an invaluable tool for rangers to better protect wildlife," he continued.
Given all the above mitigation measures implemented to protect Western Thailand's vulnerable tiger population, it appears that tigers in the region are in safe hands. The discovery of the new tigers provides evidence of the same as mentioned by Panthera Chief Scientist and Tiger Program Director, Dr. John Goodrich:
 "In a sea of news that is casting doubt on the future of our planet's wildlife, this development is a welcome sign of hope and potential turning of the tide for the Endangered tiger in Thailand."