Politics
List of The Prime Ministers Of Thailand
The Thai Prime Minister is elected by the National Assembly's lower house to chair the Cabinet and act as Head of Government.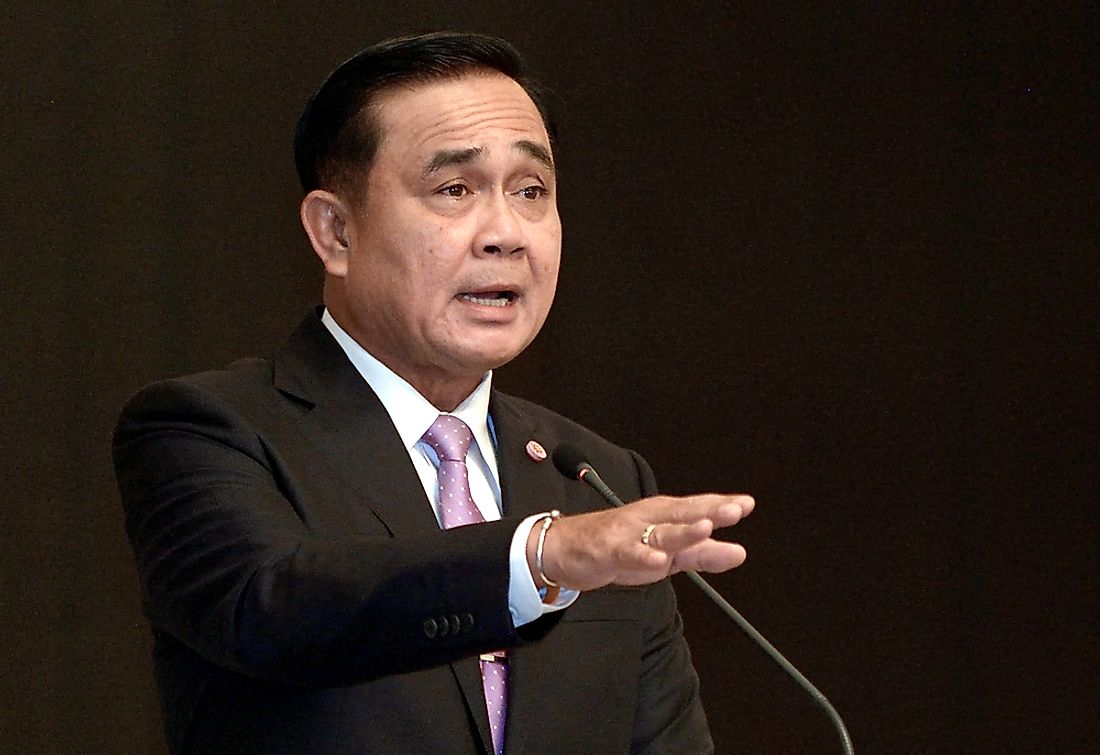 Thailand is a country in Southeast Asia. Since the country's revolution of 1932, the post of the prime minister has been in existence. Before the revolution, absolute monarchs ruled the nation. The first prime minister was Manopakorn Nititada who took the leadership from 1932 to 1933. The longest serving prime minister was Field Marshal Plaek who was in office for 14 years. The Prime Minister becomes the head of government upon his or her election by the House of Representatives.
Phraya Manopakorn Nititada (in Office 1932-1933)
Nititada was born in 1884 in Bangkok and died in 1948 in British Malaya. He started his education at Suankularb Wittayalai School and later studied law education at Assumption College. After his studies, he worked under the Ministry of Justice. Over the years he earned the title Phraya. The People's Party leader appointed him to be the prime minister of Siam, as the country was known by then. People remember him for spearheading the promulgation of the country's first constitution. In 1933, he approved the Anti-Communist Act which ensured the arrest of individuals spreading communist sentiments.
Phraya Phahon Phonphayuhasena (in Office 1933-1938)
Phonphayuhasena was born in 1887 in Bangkok to a Thai mother and a Chinese father. He attended a royal military academy before going to Berlin to study on a scholarship. His engineering studies at Copenhagen abruptly ended due to lack of funds, and he returned to his country in 1912. In 1931, he arose to become a phraya and received the position of colonel. He became the second prime minister and the first military leader after a coup in 1933. His reign faced rebellion from the people and he retired from public life after facing difficulties in his rule.
Sarit Thanarat (in Office 1959-1963)
Thanarat was born in 1908 in Bangkok, where he also died in 1963. He was a Buddhist and had three wives. He considered himself an Isan because he grew up in his mother's hometown. He staged a coup in 1957 due to public outcry following Pibusongkhram's election rigging. As a leader, he improved the country's economy under United States designation. On the other hand, his regime was one of the most authoritarian of Thailand's prime ministers. For example, he declared a single-party state. However, he revived the public role of the king, making him attend many ceremonies and patronize different projects. He died of liver failure in 1963, bringing an end to his rule. His reputation declined after his death when the people learned of his corruption and adulterous ways. However, he had many royal decorations to his name.
Prayut Chan-o-cha (In Office 2014-Present)
The current Prime Minister of Thailand is a former Commander in Chief of Thailand's Army. He is Prayut Chan-o-cha and is 62 years old, and was born in Nakhon Ratchasima. He received his military education in armed forces academies before graduating with a Bachelor's of Science Degree from the Royal Military Academy. He is concurrently serving as the head of National Council for Peace and Order.
Who Was the First Prime Minister of Thailand?
The first prime minister of Thailand was Phraya Manopakorn Nititada, who was in office between 1932 and 1933.
The Prime Ministers Of Thailand
| | |
| --- | --- |
| Prime Ministers of Thailand | Term(s) in Office |
| Phraya Manopakorn Nititada | 1932-1933 |
| Phraya Phahon Phonphayuhasena | 1933-1938 |
| Plaek Phibunsongkhram | 1938-1944; 1948-1957 |
| Khuang Aphaiwong | 1944-1945; 1946; 1947-1948 |
| Tawee Boonyaket | 1945 |
| Seni Pramoj | 1945-1946; 1975; 1976 |
| Pridi Banomyong | 1946 |
| Thawan Thamrongnawasawat | 1946-1947 |
| Pote Sarasin | 1957-1958 |
| Thanom Kittikachorn | 1958; 1963-1973 |
| Sarit Thanarat | 1959-1963 |
| Sanya Dharmasakti | 1973-1975 |
| Kukrit Pramoj | 1975-1976 |
| Thanin Kraivichien | 1976-1977 |
| Kriangsak Chomanan | 1977-1980 |
| Prem Tinsulanonda | 1980-1988 |
| Chatichai Choonhavan | 1988-1991 |
| Anand Panyarachun | 1991-1992; 1992 |
| Suchinda Kraprayoon | 1992 |
| Chuan Leekpai | 1992-1995; 1997-2001 |
| Banharn Silpa-archa | 1995-1996 |
| Chavalit Yongchaiyudh | 1996-1997 |
| Thaksin Shinawatra | 2001-2006 |
| Surayud Chulanont | 2006-2008 |
| Samak Sundaravej | 2008 |
| Somchai Wongsawat | 2008 |
| Abhisit Vejjajiva | 2008-2011 |
| Yingluck Shinawatra | 2011-2014 |
| Prayut Chan-o-cha (Incumbent) | 2014-Present |
About the Author
Benjamin Elisha Sawe holds a Bachelor of Arts in Economics and Statistics and an MBA in Strategic Management. He is a frequent World Atlas contributor. 
This page was last updated on April 2, 2019.
Citations
Your MLA Citation
Your APA Citation
Your Chicago Citation
Your Harvard Citation
Remember to italicize the title of this article in your Harvard citation.