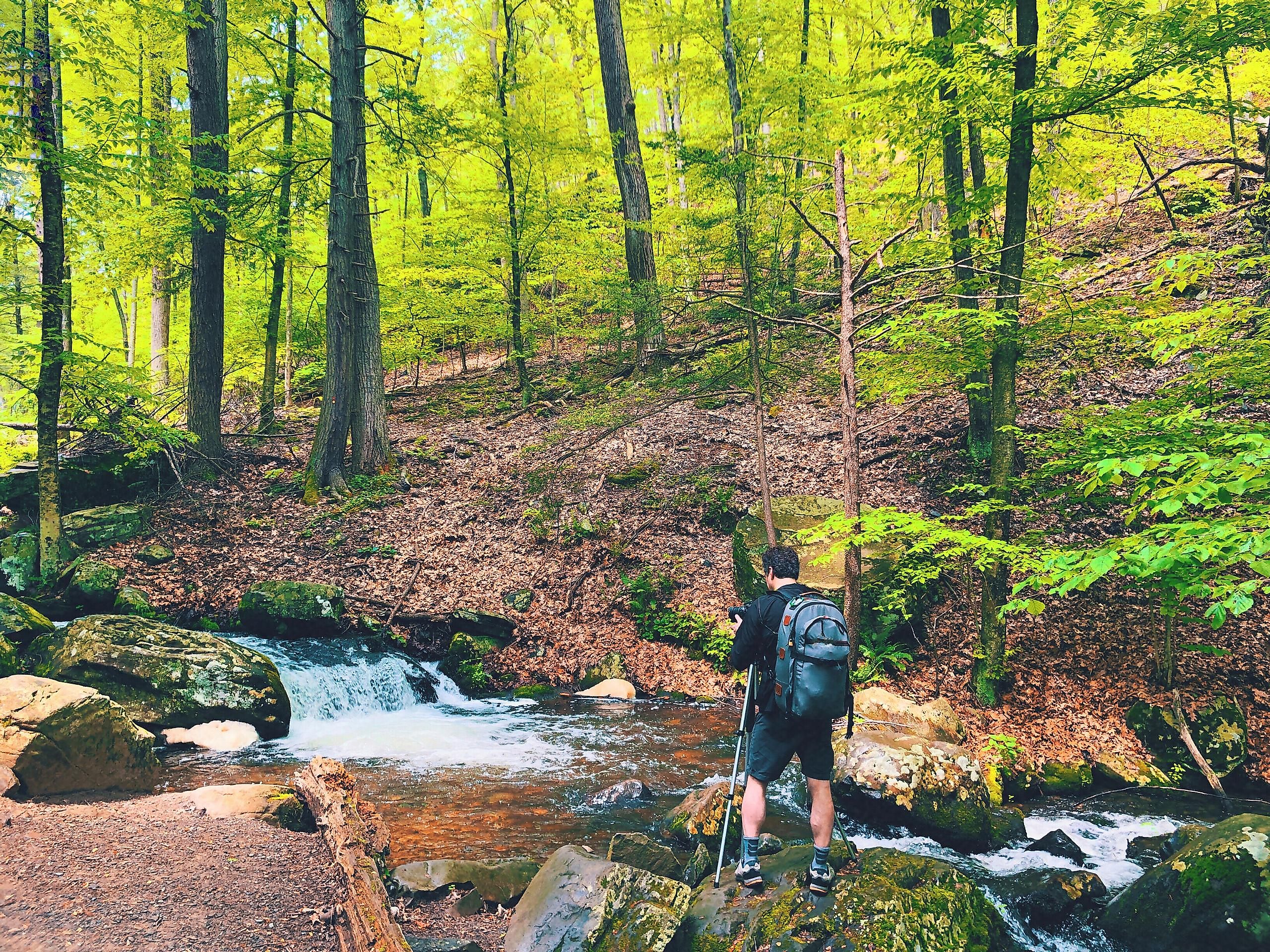 12 Best Hikes in Pennsylvania
Welcome to the enchanting realm of Pennsylvania's premier hiking destinations. Pennsylvania's hiking trails are more than just picturesque paths; they are gateways to a tapestry of landscapes that unfold in real-time, weaving tales of history, ecology, and adventure. It is not the realm of generic hikes; it's the realm of Pennsylvania's best hikes, where every step is an immersive experience. Every trail is a chapter in Pennsylvania's ecological narrative from the tranquil corridors of the Heritage Rail Trail County Park to the rugged expanses of the Quehanna Trail System. Pennsylvania's trails are not just paths but stories waiting to be written with each footfall. They are invitations to witness waterfalls, conquer summits, and encounter elusive wildlife. So, lace up your boots, embrace the trails, and let Pennsylvania's landscapes paint themselves on your soul.
Montour Trail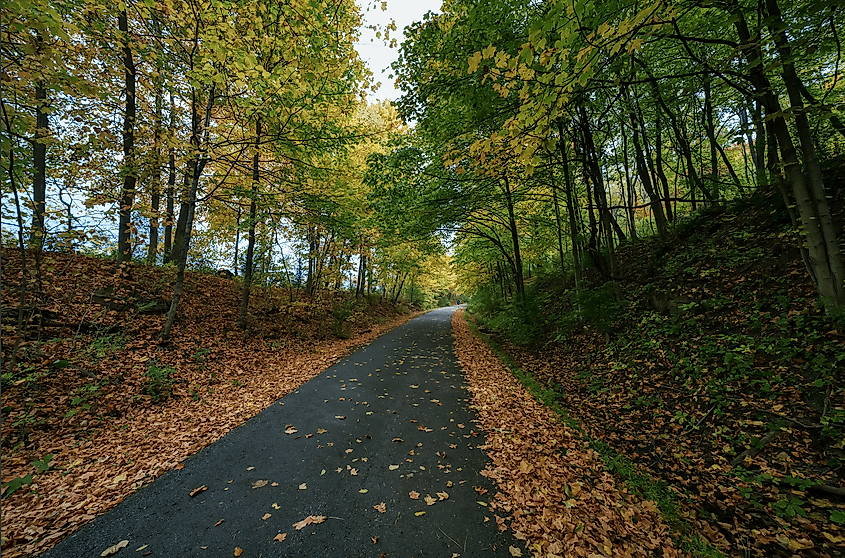 You can embark on a charming 46-mile journey along the Montour Trail, a former railway-turned-scenic path. Beginning in Coraopolis, Pittsburgh, and extending through several suburbs, this moderate-level hike winds its way through picturesque woodlands, old bridges, notably the century-old Enlow Tunnel, and remnants of the region's industrial past before culminating in Clairton. You will be rewarded with glimpses of serene ponds and the vibrant flora that lines the trail. You should keep an eye out for the mile markers that pay homage to the trail's rail history. Birdwatchers are in for a treat, as they might spot warblers, thrushes, and woodpeckers along the way. If lucky, you might spot red-tailed hawks and white-tailed deer among the foliage as you tread this trail.
Great Allegheny Passage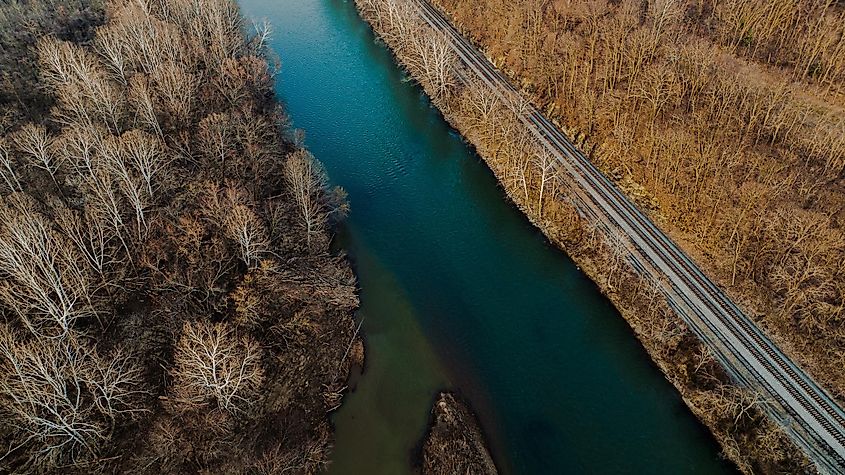 Prepare for a thrilling adventure on the Great Allegheny Passage, a 150-mile moderately difficult route from Pittsburgh to Cumberland, Maryland. The trail intersects with the C&O Canal Towpath, forming an epic 335-mile odyssey. The relatively flat terrain accommodates bikers, hikers, and even cross-country skiers in winter. As you journey through charming towns and verdant landscapes, iconic sights such as the Salisbury Viaduct and the Keystone Viaduct stand as engineering marvels. Starting at Point State Park, don't miss charming towns like Meyersdale, giving you a chance to glimpse into the mining legacy. Wildlife enthusiasts might spot deer, black bears, and elusive bobcats. Camping sites are strategically positioned for a multi-day adventure, and the sound of the Youghiogheny River accompanies you for much of the journey.
Canyon Vista Trail, Worlds End State Park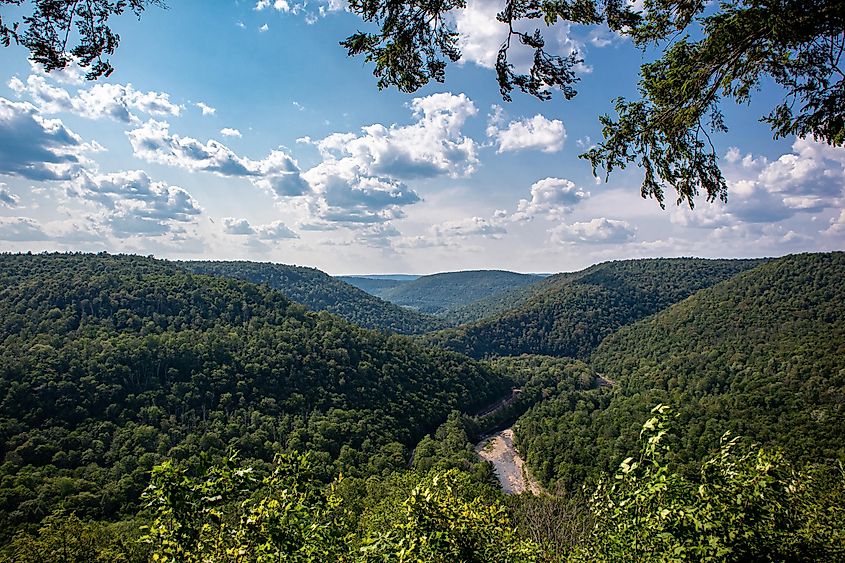 Intrepid hikers seeking a challenge will find it on the Canyon Vista Trail's short but exhilarating 4-mile hike. The trail's moderate difficulty level involves steep ascents, rugged terrain, narrow passages, and, of course, the awe-inspiring vistas overlooking the Loyalsock Canyon. You can wander through hemlock groves and witness the play of light through the trees. Keep an eye out for unique rock formations, and if you are lucky, you might spot a peregrine falcon soaring above. High Rock Vista and Canyon Vista provide breathtaking overlooks of the Endless Mountains. Among this tranquility, spot white-tailed deer, black bears, birds like belted kingfishers, White-throated sparrows, northern saw-whet owls, and Yellow-bellied flycatchers.
Standing Stone Trail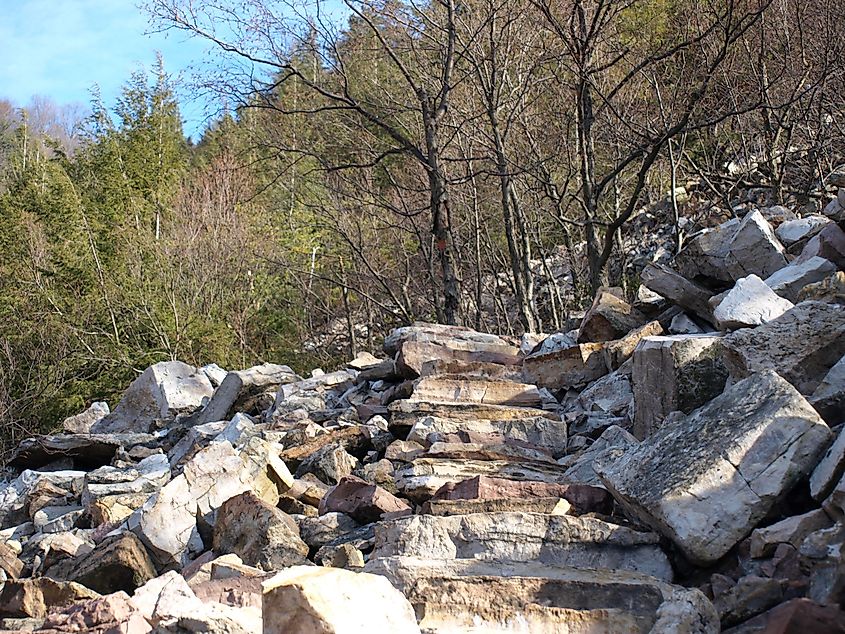 For the seasoned hiker seeking challenge and reward, the Standing Stone Trail beckons, winding through Pennsylvania's Ridge and Valley region. This trail showcases diverse terrains, from rocky outcrops to lush forests covering around 84 miles. Starting at Cowans Gap State Park and concluding at Greenwood Furnace State Park, the trail is peppered with captivating vistas, including the renowned Thousand Steps. These steep steps lead to a breathtaking view, rewarding your effort. Ancient rock formations and unique flora add intrigue to the journey. A must-discover is Stone Mountain, known for its dazzling rock formations and awe-inspiring overlooks. The trail also traverses Alan Seeger's Natural Area, named after the famous poet, offering a reflective pause in nature's beauty. Look out for timber rattlesnakes and wild turkeys that inhabit this diverse landscape.
Heritage Rail Trail County Park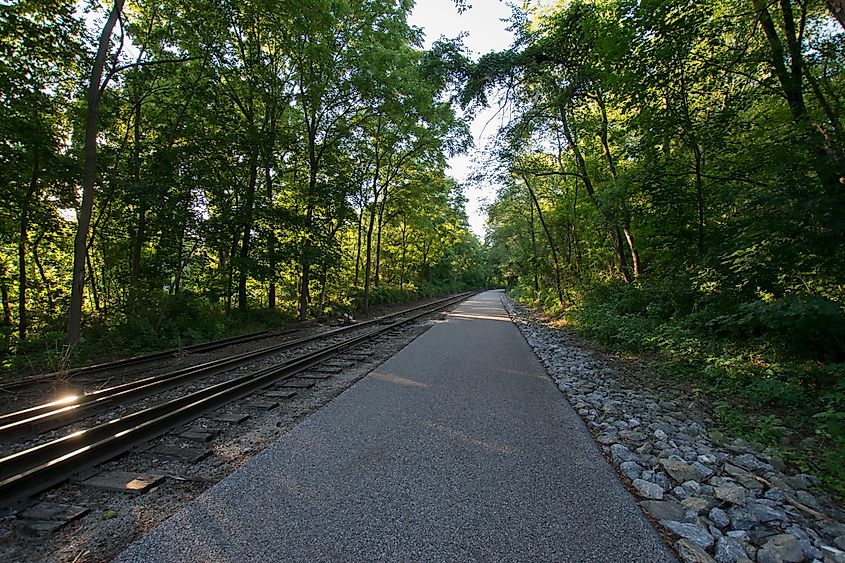 Heritage Rail Trail County Park, stretching 21 miles from York to the Maryland state line, is a delight for history buffs and nature enthusiasts alike. Ideal for beginners and families, this easy trail follows the old Northern Central Railway route. Meandering through rolling farmlands, trailing along the Codorus Creek, the path offers a serene escape from urban life. You will encounter interpretive signs and landmarks that share the area's history, including York City's Colonial Courthouse and railway heritage passing by the Hanover Junction Train Station. Wildflowers and songbirds grace the trailside, providing a pleasant backdrop. Keep your camera ready for bluebirds and red foxes that add life to the peaceful surroundings.
Schuylkill River Trail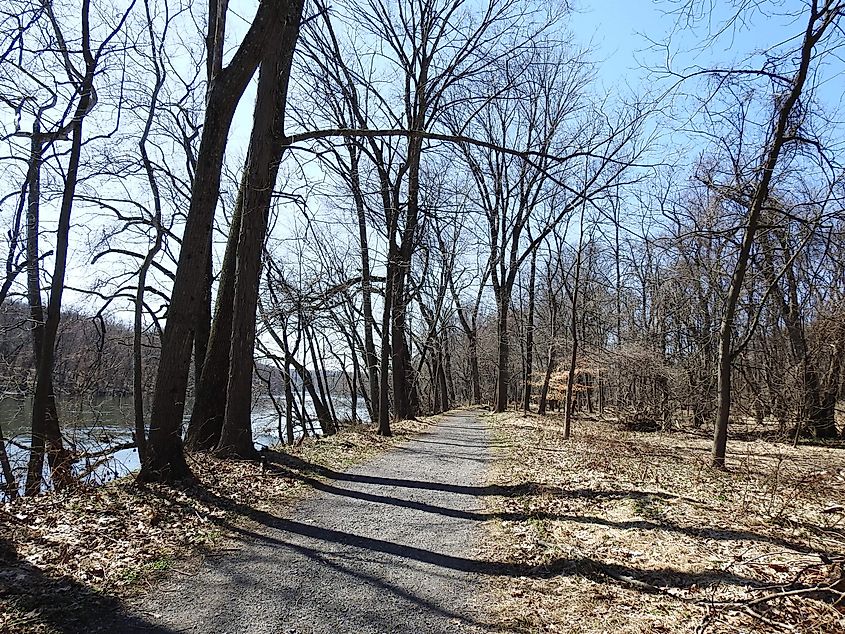 The Schuylkill River Trail is a picturesque 130-mile ribbon following the river's course from Philadelphia to Pottsville. Offering a mix of urban and rural scenery, this moderate trail treats you to historic landmarks and serene waterscapes. You will traverse Philadelphia's iconic Fairmount Park, pedal beneath leafy canopies, and witness the transition from cityscape to green havens. The Art Museum, Valley Forge National Historical Park, and the beauty of riverine landscapes enhance the trail's charming aura. You will also come across historic towns like Reading and admire landmarks such as Bartram's Garden and Boathouse Row. Diverse birdlife along the way is another highlight, including herons and waterfowl that grace the river's edge.
Quehanna Trail System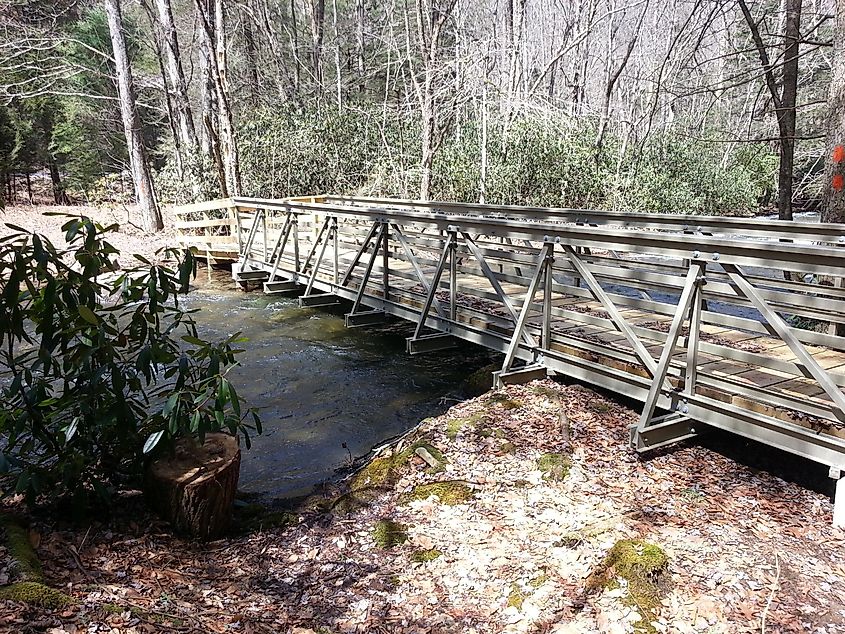 Calling all adventure seekers! The Quehanna Trail System presents a challenging 75-mile loop through Pennsylvania's wild heart. Rugged and remote, this trail winds through the Moshannon and Elk State Forests, offering a backcountry escape like no other. Encounter diverse ecosystems, from expansive meadows to spruce forests. The Seneca Point and Wykoff Run Vista provide awe-inspiring views. Wildlife enthusiasts can spot elk, black bears, and bobcats, while anglers can indulge in trout fishing along the trail. The trail also passes through the Quehanna Wild Area, known for its elk population and untouched natural beauty. You will also want to stop for the gleaming Table Falls and the majestic white birch trees of the Marion Brooks Natural Area.
Thunder Swamp Trail System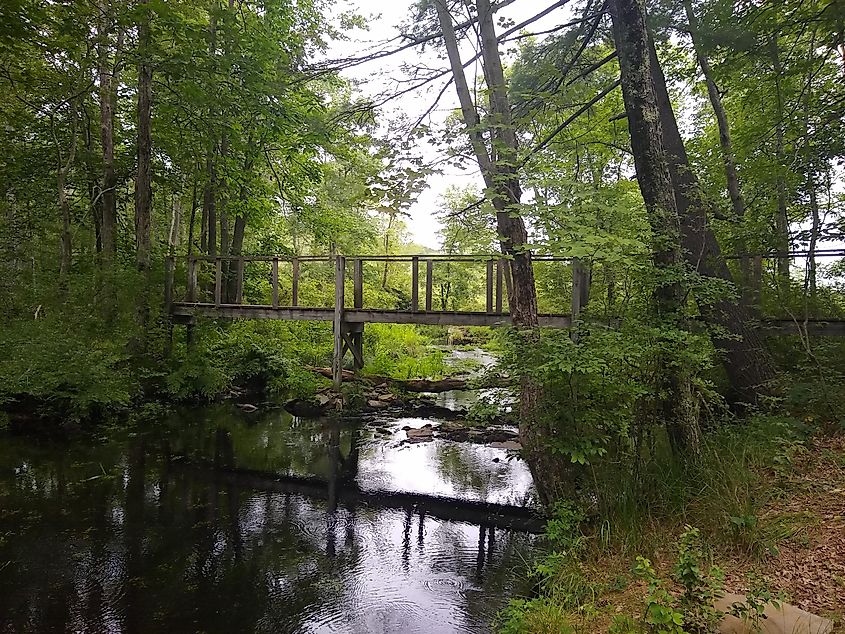 Dive into the heart of the Pocono Mountains with the Thunder Swamp Trail System. Spanning around 45 miles, this trail complex offers a range of loops and connections to suit varying levels of hikers. Traverse through lush woodlands, cross charming streams, and explore hidden wetlands. The trail's name originates from Thunder Swamp, a unique bog ecosystem that is home to distinctive flora and fauna where you will see wild turkeys, beavers, white-tailed deer, and various bird species. This moderate trail also unveils landmarks like the historic Thunder Swamp Fire Tower. However, please ensure to dress from head to toe, as the swamps are home to ticks, mosquitos, and copperhead snakes as well.
The Great Shamokin Path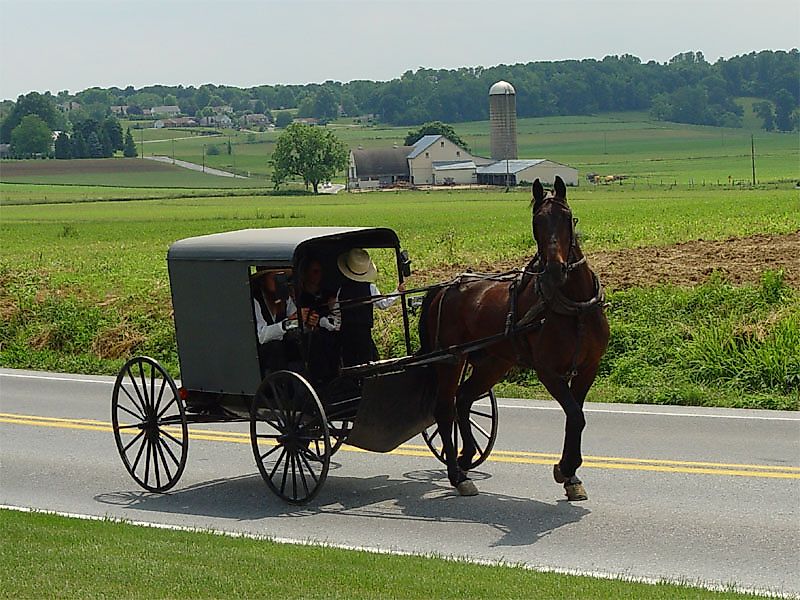 Retrace history on the Great Shamokin Path, an ancient Native American trade route that connected the Allegheny River and Susquehanna River, now about 4 miles. While the original path is fragmented, segments offer a glimpse into the past. Beginning in the Susquehanna River town of Sunbury, it ventures into the forests and fields of central Pennsylvania alongside the Cowanshannock Creek. Roam through rural landscapes, woodlands, and countryside reminiscent of a bygone era. You can take a peek at the Amish heritage in Armstrong County's Rural Valley. The Big Spring Campsite will make you familiar with the Battle of 1812. The beautiful tree canopy will be your friend throughout the journey.
Falls Trail, Ricketts Glen State Park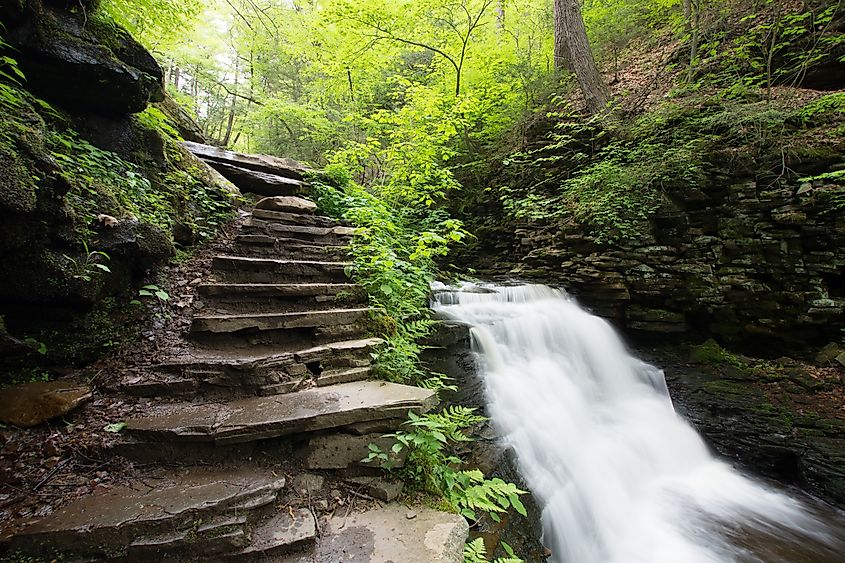 Nature's artistry is at its peak with a captivating waterfall wonderland on the Falls Trail at Ricketts Glen State Park. Boasting 7.2 miles, this challenging loop treats hikers to a series of mesmerizing waterfalls, including the majestic 94-foot Ganoga Falls. The trail, beginning at the Lake Rose parking area, showcases over 21 waterfalls in total, each with its own character and charm. Traverse stone steps, bridges, and winding paths that lead you to natural marvels like Lake Jean, which is ideal for taking a quick break. The lush, moss-covered surroundings add an ethereal touch to the experience. Birdwatchers can delight in spotting warblers and vireos, while the falls' constant rush provides a soothing soundtrack throughout your journey.
Balanced Rock Trail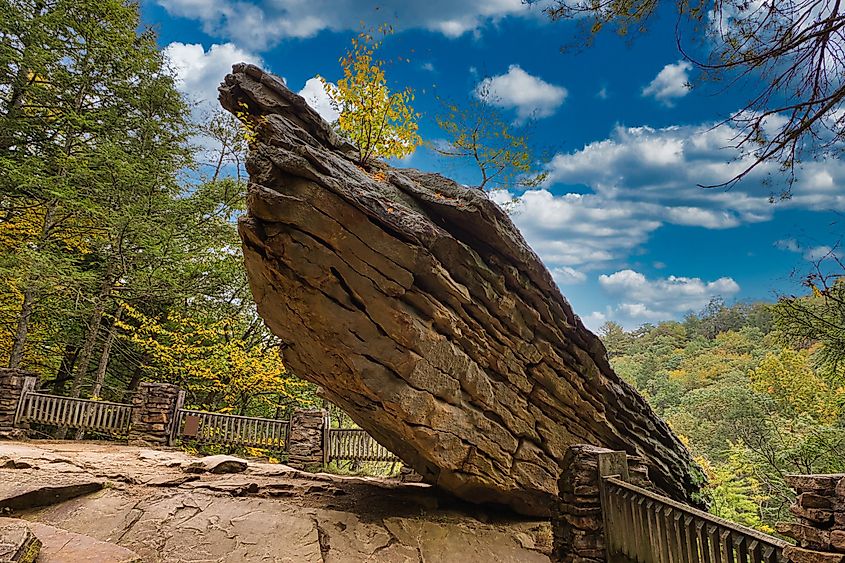 Elevate your hiking experience with the Balanced Rock Trail in the Trough Creek State Park. This moderate 0.12-mile hike leads you to the captivating Balanced Rock, a massive boulder perched in a seemingly impossible position. The trail winds through dense woods, offering a serene escape from daily life, which is evident when you meet eyes with the pretty Rainbow Falls. You will also traverse a suspension bridge which will deliver a cool experience with stunning views of the creek flowing below. Moving ahead on the same trail will take you to the Ledges Trail, which features a magnificent lookout of the Great Trough Creek valley and the neighboring hillside beauty.
Appalachian Trail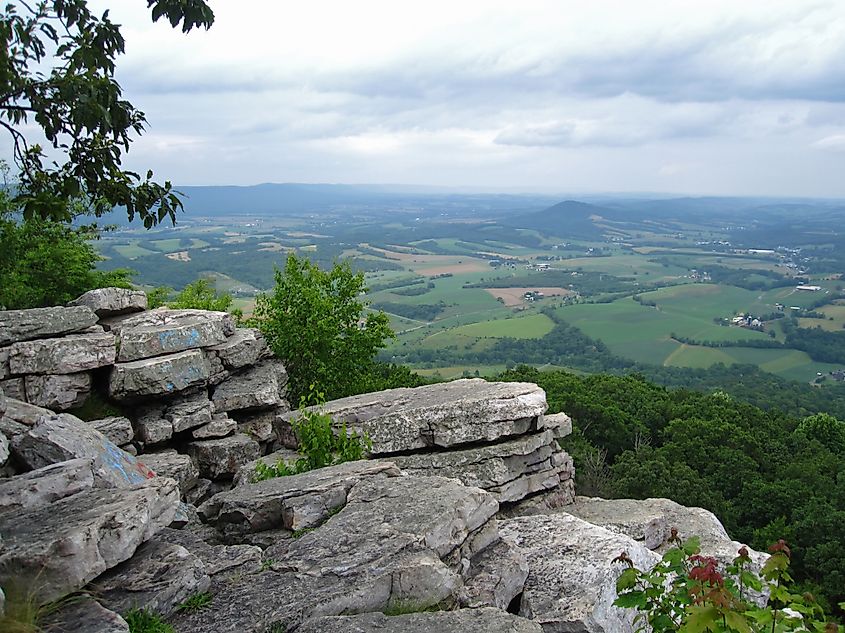 Hold steady for the journey of a lifetime along the Appalachian Trail, one of the most iconic long-distance trails in the world. Extending approximately 230 miles through Pennsylvania, this trail challenges hikers with rocky terrains, steep ascents, and rewarding vistas. Starting at the Mason-Dixon Line, the trail leads through the state's scenic landscapes, including the legendary Pine Grove Furnace State Park with its Half-Gallon Ice Cream Challenge. Witness the transition from wooded trails to stunning vistas atop rocky ridges to the glittering Susquehanna River. You will walk through the trail's unique "Rocksylvania" section, where the challenge of navigating boulder fields is balanced by the satisfaction of conquering them. The Pennsylvania stretch of the Appalachian Trail is a testament to both the beauty of nature and the resilience of the human spirit.
Pennsylvania's trails are more than just footpaths; they are avenues to connect with its diverse ecosystems, heritage, and the untamed pulse of nature. Whether it's the balanced marvel of a rock on the Balanced Rock Trail or the tranquil Heritage Rail Trail County Park, where the echoes of rail history merge with idyllic farmlands, these hikes embody the very essence of Pennsylvania's landscapes. The invitation is out, the trails await, and the stories of Pennsylvania's wilderness yearn to be etched into your footprints.