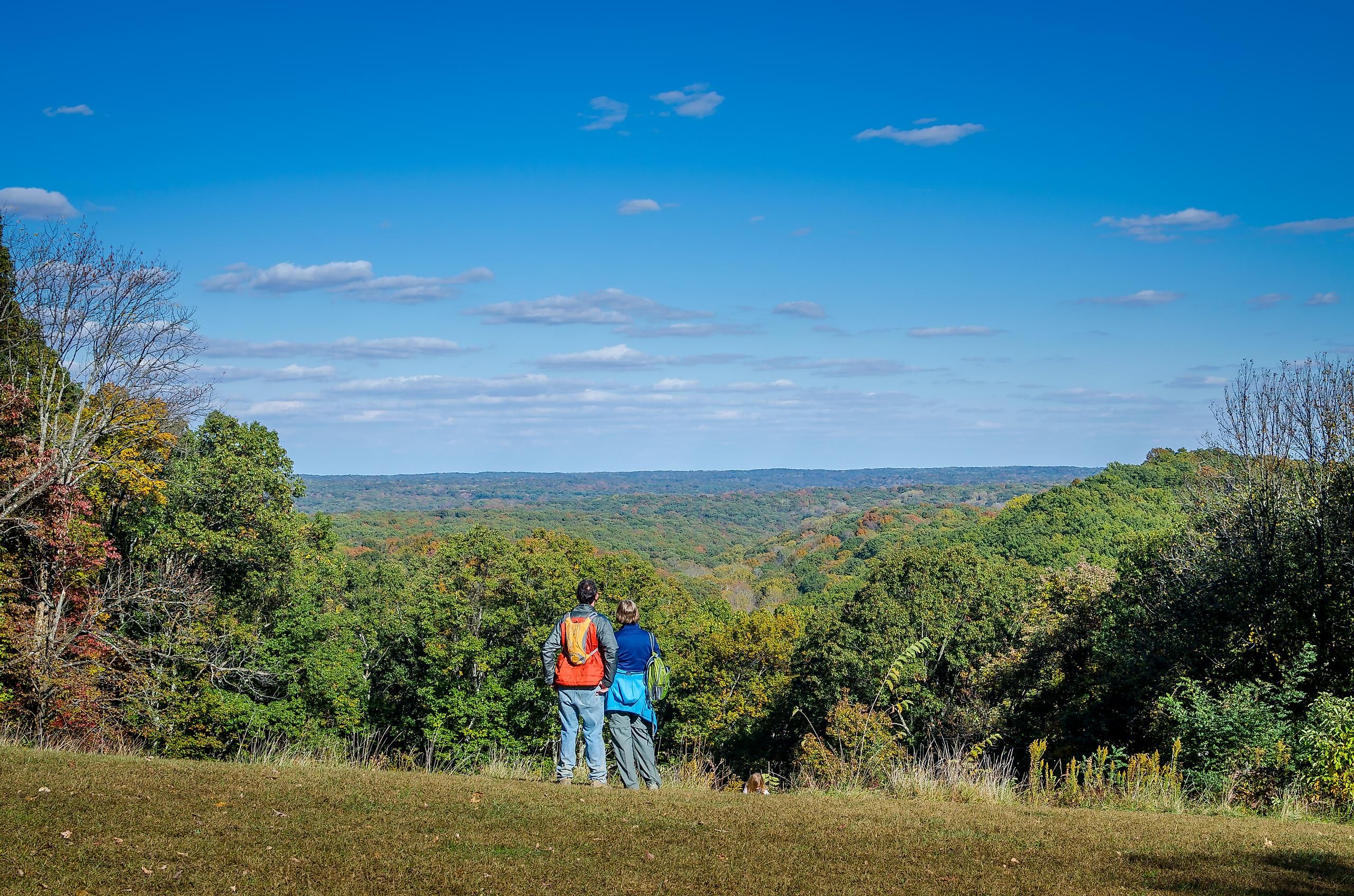 Contrary to popular belief, Indiana has some of the most beautiful and diverse hiking trails in the United States. Geologically, Indiana is made up of three distinct regions, the Great Lakes Plain in the north, the Southern Hills/Lowlands in the south, and the Tipton Till Plain in between, each offering no shortage of natural wonders to explore. Indiana's three National Parks and 27 State Parks offer hiking trails for both the experienced hiker and the novice, each providing the opportunity to explore Indiana's hidden natural beauty. With over 700 waterfalls, a multitude of bogs such as the Pinhook Bog and Cowles Bog, and the coastal sand dunes that run along Indiana's northern Lake Michigan shoreline, every hiking excursion is an introduction to a unique ecosystem. So if you are in Indiana and looking for a leisurely day with the kids or an adventure with friends, Indiana's hiking trails will never let you down.
The Ed Dailey Nature Trail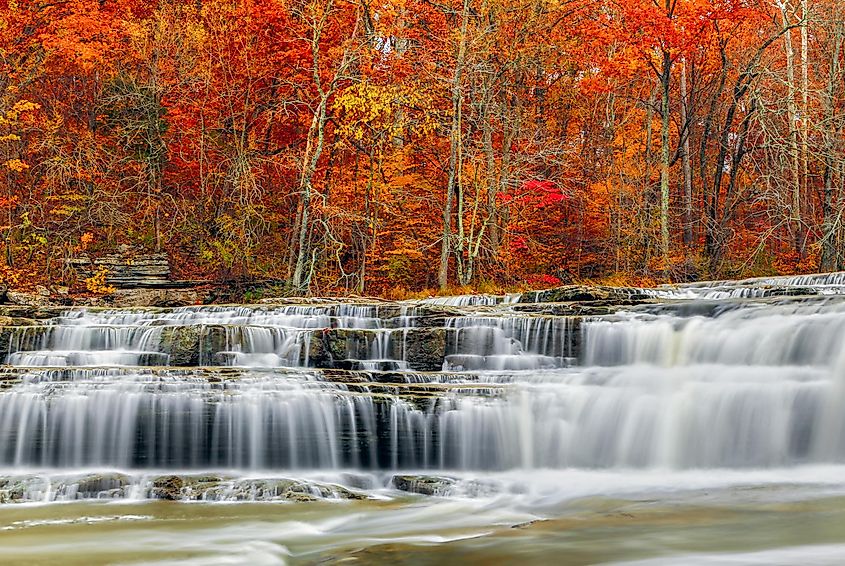 Located near Spencer, Indiana, this intermediate hiking trail takes hikers to the Cataract Falls, considered the most beautiful falls in all of Indiana. The trail runs through Lieber State Recreation Area, past both the Upper Cataract Falls (the largest falls in the state) and the Lower Cataract Falls. This 1.7-mile looping trail takes hikers to the falls, so do not forget your camera. Open year-round, this trail, on average, takes half an hour, making it a perfect place to spark the joy of hiking in kids of all ages. With a convenient parking lot beside the trailhead, this trail is dog and human-friendly.
Cowles Bog Trail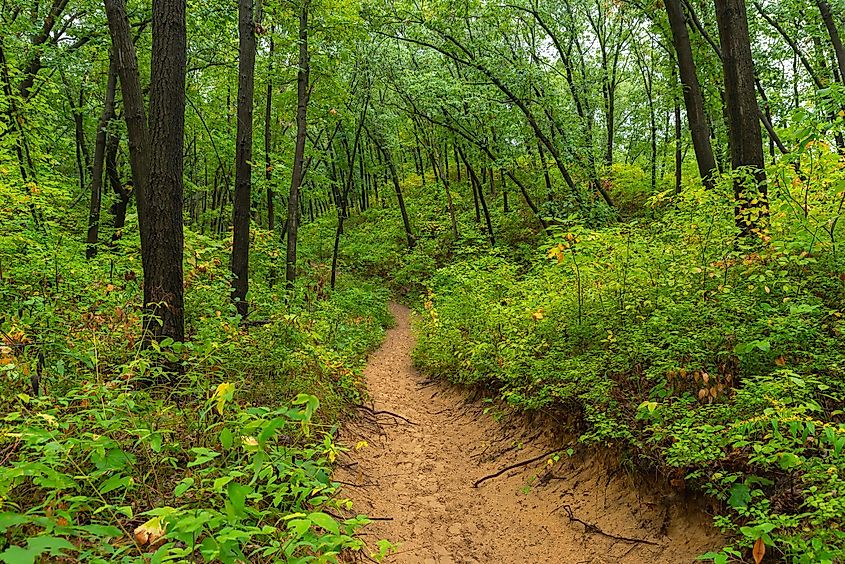 In the northwest corner of Indiana, on the shores of Lake Michigan, Dunes National Park draws hikers for its unique experience. This 4.3-mile-long hiking trail takes you through Cowles Bog, an ecosystem specific to the extreme north of Indiana. With its rare biodiversity, the bog, and its surrounding areas, have been designated as protected lands. On this trail, hikers will have the opportunity to investigate marshlands, swamps, and beaches alike. The trail through the bog and dunes has an elevation change of 202 feet, making it friendly for the entire family. With a mix of boardwalks, compact trails, and sand pathways, this hike is best experienced in the spring and summer. 
North Shore Loop Trail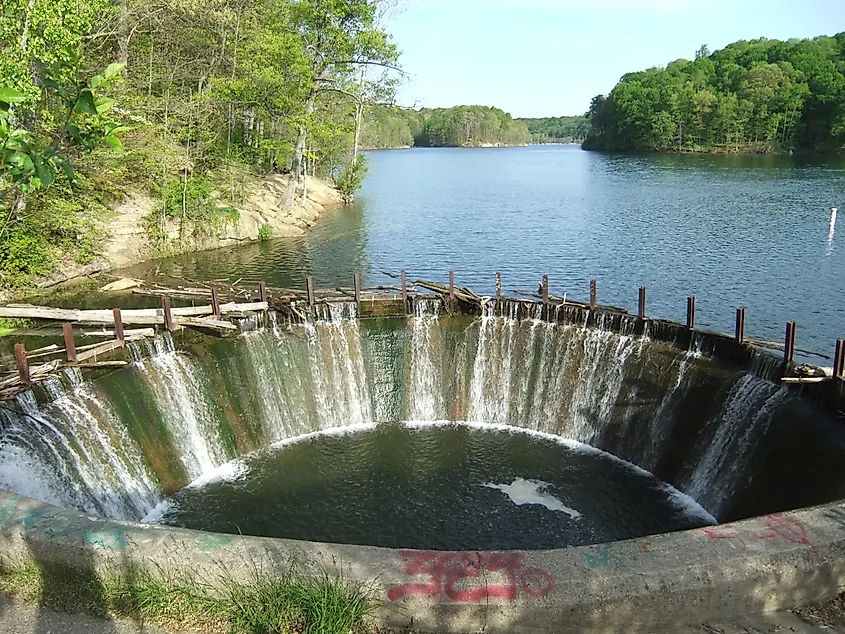 Located near Bloomington, Indiana, in the Griffy Lake Nature Preserve, the North Shore Loop Trail is a 3.3-mile loop that has a 220-foot elevation change. This trail is recommended for the more experienced hiker or for those looking for a challenge. The North Shore Loop Trail is also popular with bird-watchers, twitchers, and mountain bikers. This trail takes hikers along Griffy Lake's shore and through the oak-hickory forests of the Griffy Lake Nature Preserve. Newly added to this trail in 2018 is a fishing pier accessible to the public through the North Shore Loop Trail and a newly built causeway. 
West Beach 3-Loop Trail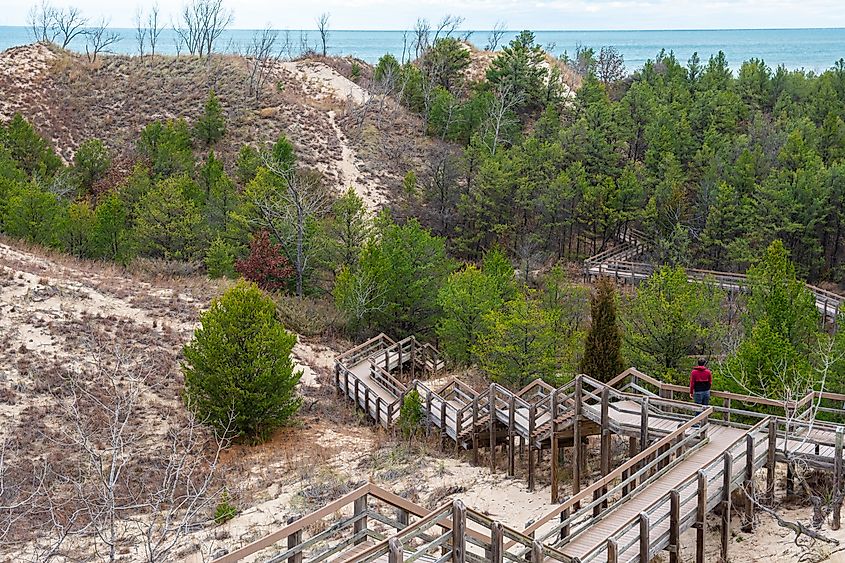 Looking for a unique and scenic hike that the entire family will enjoy? Then the West Beach 3-Loop is for you. Located in Indiana Dunes National Park, this 3.4-mile trail, which takes approximately just over an hour round trip, includes a climb up the Dune Succession Trail stairs (270 steps) to access a panoramic view of the park as well as Long Lake, the Indiana sand dunes, and the adjacent forest which boasts the southernmost jack pines in the world. For those looking for a longer excursion, the West Beach 3-Loop intersects with the West Beach 2-Loop, taking hikers onto the sand dunes themselves for a unique experience you will never forget.
Lawrence Creek Trail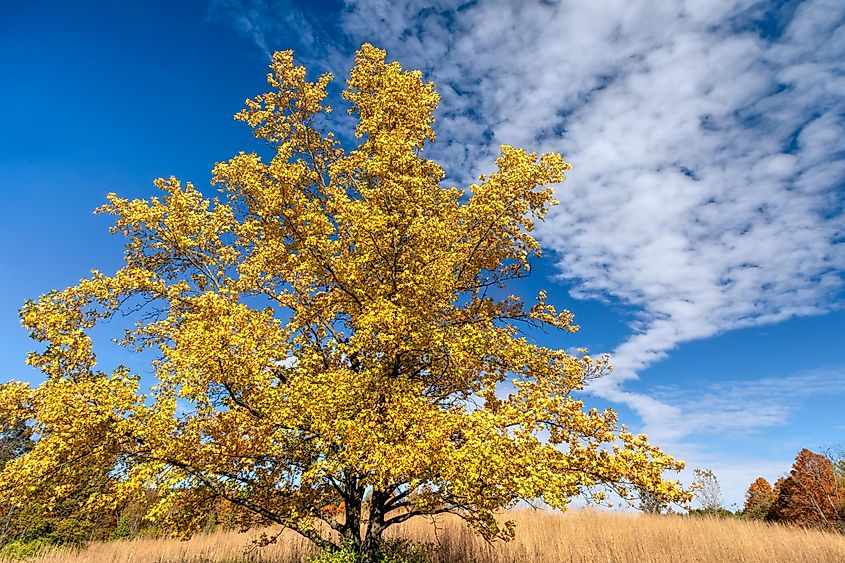 For those looking for a longer hike, look no further than Lawrence Creek Trail, located in Fort Harrison State Park near Indianapolis, Indiana. This 4.5-mile loop is suited for the intermediate or experienced hiker and runs through the upland woods of central Indiana. With a steep 255-foot elevation change, hiking boots are a must. The southern portion of the Lawrence Creek Trail runs along Lawrence Creek, with the northern portion crossing through beautiful fields of wildflowers, making this a perfect resting point or place to stop for a picnic lunch. This trail is particularly beautiful in the fall season, as the leaves change color, but no matter when you visit, the natural wonders in Fort Harrison State Park will wow you.
Trail 8 in Brown County State Park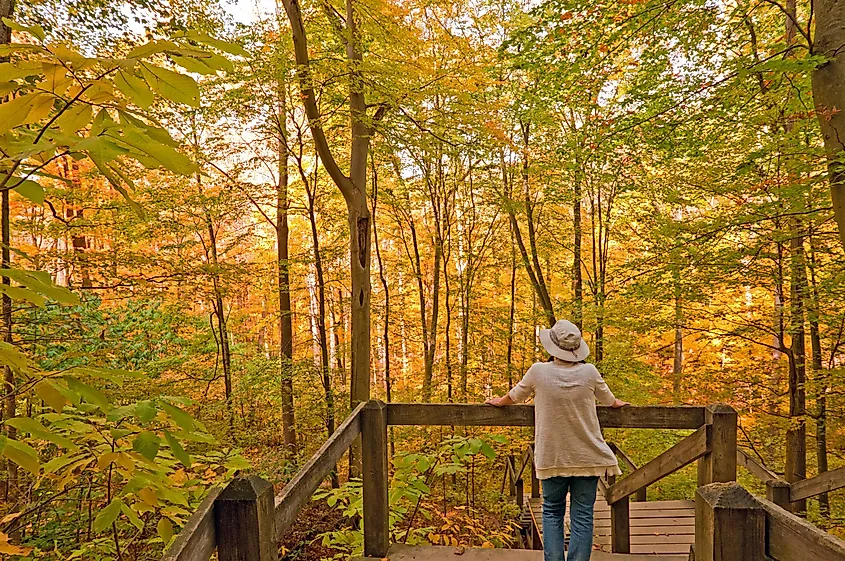 Located in Brown County State Park, this 3.9-mile hiking trail has many access points. The most easily accessed entrance to this trail is the Ogle Lake trailhead, with a parking lot and public amenities. Open to dogs, as long as they are on a leash, the two and four-legged hiker can enjoy this packed mud trail. Running along the Upper Schooner Creek, this hiking trail leads to Hesitation Point, where you will find a spectacular panoramic view of Brown County State Park. Popular with mountain bikers, bird-watchers, and tourists alike, this trail can get busy, so if you are an avid nature photographer, you might want to check it out earlier in the day.
Trail to Clifty Falls, Hoffman Falls, and Tunnel Falls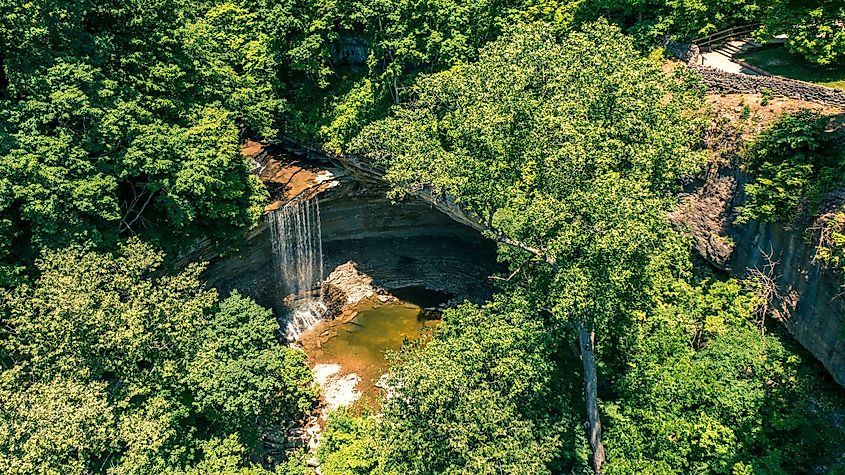 Advanced hikers take note. This challenging hiking trail is located in Clifty Falls State Park, near Madison, Indiana. With an elevation change of over 1000 feet, this 6.1 mile loop is worth it for the views alone. Add in the unique ecosystems and three gorgeous waterfalls and it is a must see for locals and tourists alike. This trail leads hikers to Clifty Falls, Hoffman Falls, and Tunnel Falls, also offering the opportunity to hike through an old train tunnel blasted into the side of a cliff, and then meet up with the trail on the other side. While this trail may be hard work the pay off is phenomenal.
The Adventure Hiking Trail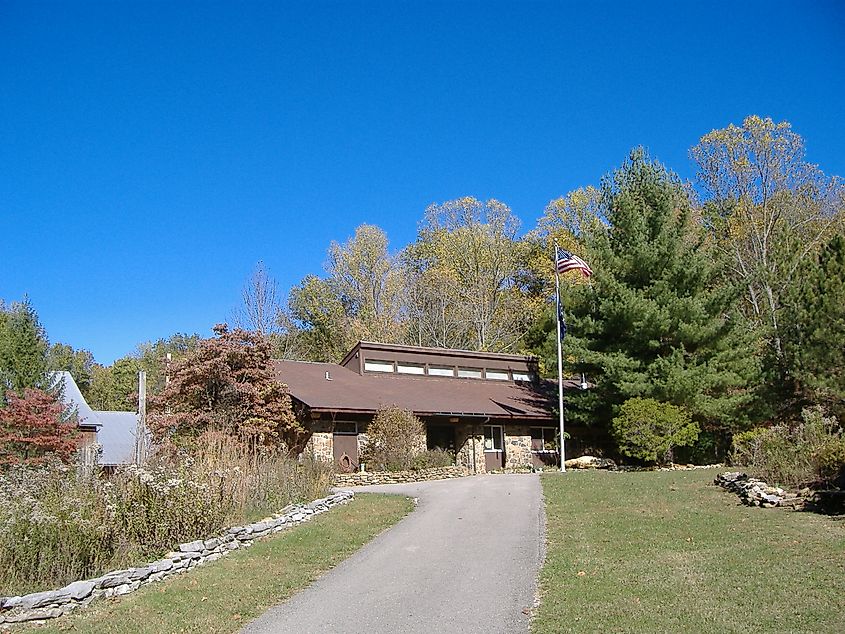 If you are looking to take your hiking to the next level, consider the Adventure Hiking Trail, located in O'Bannon Woods State Park. This 25-mile loop can be completed over two to three days, with the option of staying the night at a variety of lodgings along the trail or camping. If you are looking for accommodations, make sure to get to your desired lodgings early, as they are first come, first serve. With panoramic views of the Ohio River from the many ridges climbed along the way, this trail takes hikers on a unique adventure filled with caves, sinkholes, and abundant natural beauty. This off-the-beaten-track adventure is not to be missed.
Shades State Park-Trails 7 and 8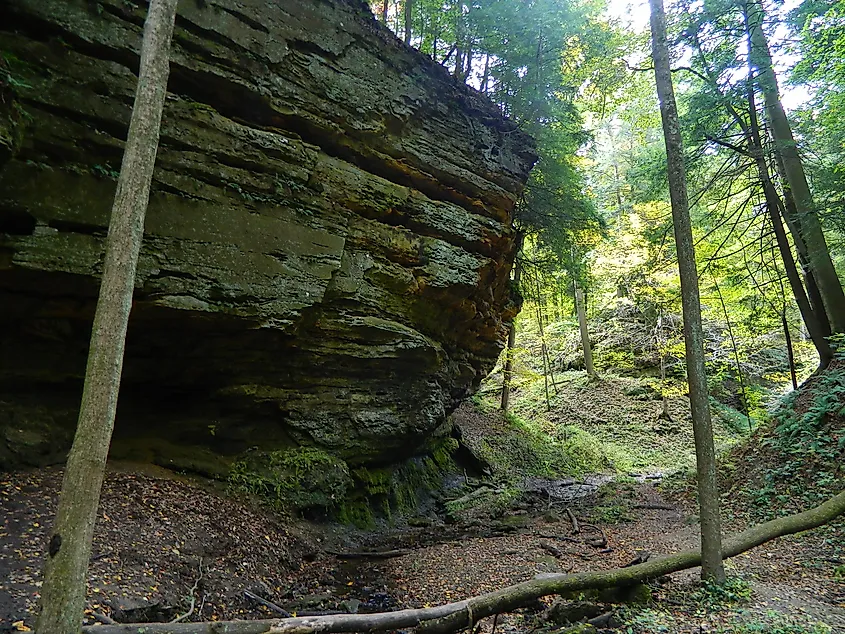 Shades State Park, located southwest of Crawfordsville, Indiana (off S.R. 47), encompasses a landscape of forests and canyons unique to this part of the state, accessible by eight different trails. Trail 7 is a moderately difficult 1.2-mile-long loop with an elevation change of approximately 150 feet. Trail 8 is a 2.4-mile-long loop with an elevation change of just over 400 feet. These trails allow hikers to traverse Shawnee Canyon, a breathtaking scene at dusk and dawn. For hikers looking for a longer trail, these two loops meet up and even share a trailhead. But do not forget, hikers must leave the park no later than 7:00 pm local time.
Knobstone Trail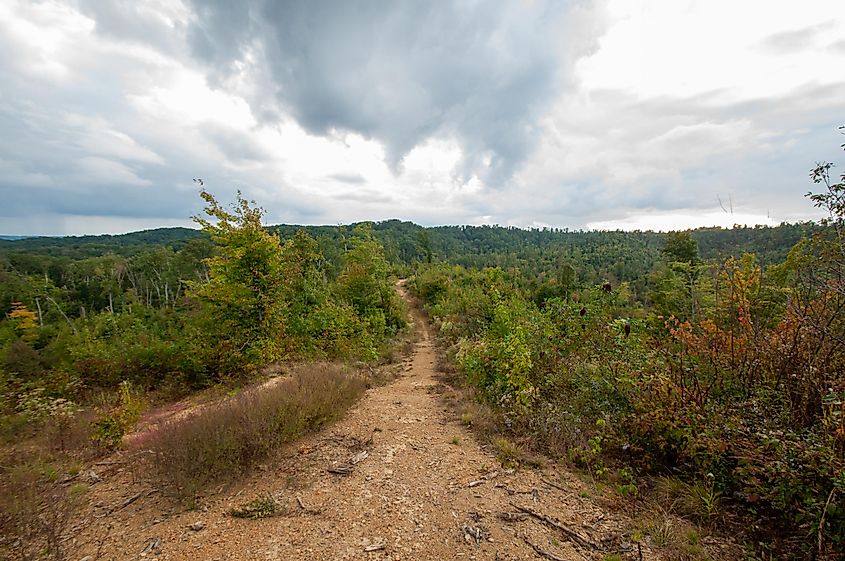 Named after the Knobstone escarpment on which this trail runs, the Knobstone Trail is a 48-mile long hike, the longest continuous hiking trail in all of Indiana. Located in the southern part of the state, this trail runs through Clark County, Scott County, and Washington County collectively, with much of its path passing through Clark and Jackson State Forests. Described as a backcountry trail, it is advised that only intermediate to experienced hikers attempt this journey. With many steep ridges, appropriate gear is necessary. Northern access to this trail is available at Spurgeon Hollow Lake or in Delaney Park, with the southern access point being at the Dream Lake State Recreation area, which is 20 miles outside of Louisville, Kentucky. 
Conclusion
With so many intriguing hiking trails to choose from, Indiana is a perfect destination for an outdoor vacation or a single-day escape from city life. With most trails open during all seasons, you can enjoy the natural wonders of Indiana all year long. From the novice hiker to the expert, there is no shortage of options. Just make sure you always bring a camera to capture the unique, beautiful, and distinctly Hoosier landscapes you explore.