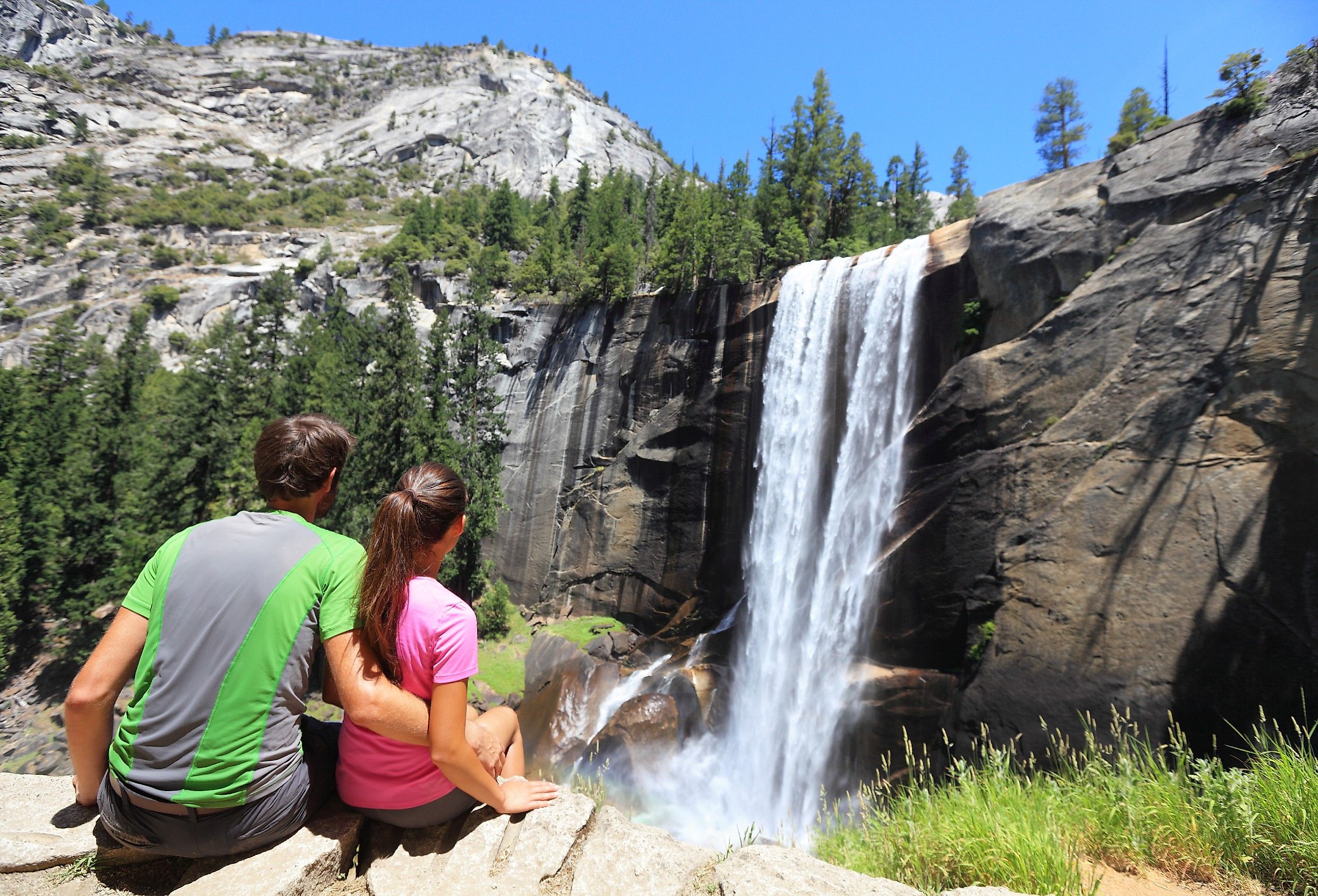 10 Best Hikes In California's Sierra Nevada
California's Sierra Nevada is a magnificent mountain range stretching for more than 400 miles in Western America. The imposing formation is home to many natural gems ranging from national parks to alluring waterfalls. Yosemite National Park, Mount Whitney, and Lake Tahoe are just a few of Sierra Nevada's notable features. With so much to see, California's Sierra Nevada is a hiker's paradise boasting some of North America's most scenic trails. The possibilities are endless, from beginner trails through thick forests to advanced routes conquering mountain peaks.
Rancheria Falls Trail, Sierra National Forest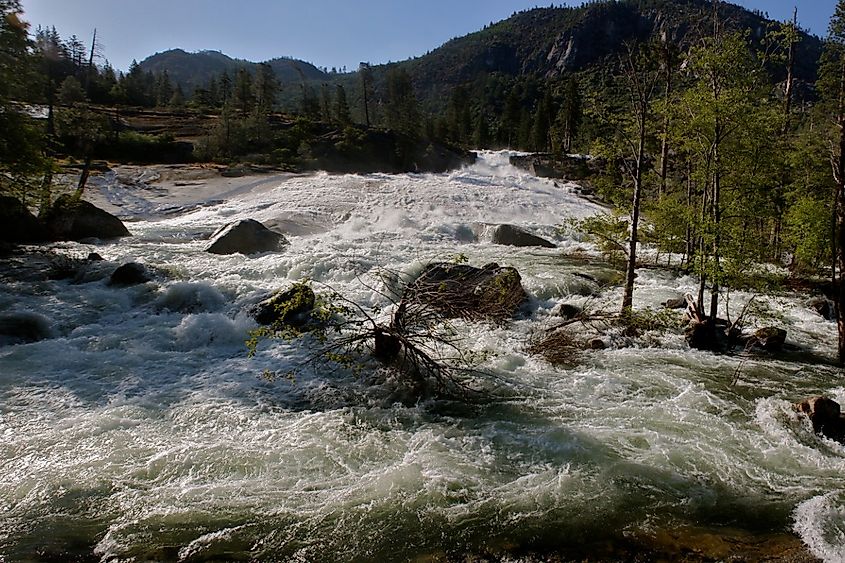 Starting with a beginner hike, Rancheria Falls Trail is a 1.6-mile (2.6 km) out-and-back route that cuts through the Sierra National Forest. Wide and well-maintained, this trail is perfect for hikers of all levels who want to enjoy a scenic day outdoors. Traversing through thick greenery, one can take their time and appreciate the vibrant plants and flowers on display. While there is a short 206-foot (63 m) elevation gain, one can reach the end in about an hour. Upon completion, the trail rewards hikers with a firsthand view of the beautiful 150-foot-tall Rancheria Falls waterfall. Plummeting water, jagged cliffs, and tall trees abound; it is a great place to relax and snap photos.
Stevenson Falls, Sierra National Forest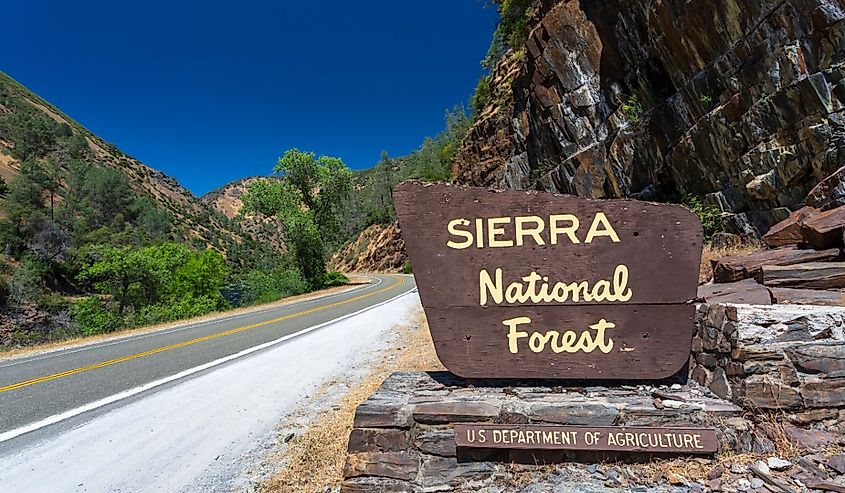 About 20 miles west of Rancheria Falls Trail, Stevenson Falls is another alluring path that ends at a magnificent waterfall. This trail is noticeably more difficult, stretching for 7 miles (11.3 km) through Sierra National Forest's expansive wilderness. So, experienced hikers can start their journey at the Million Dollar Road gate along the trail's asphalt path. Continuing northeast, open skies and fresh air make it an ideal route to feel connected with nature. That said, most people avoid this trail during summer as the sun can heat up the path, making it uncomfortable.
If you do end up out in the day, the trail boasts a cave perfect for resting up and getting back on your feet. Keep a steady pace throughout, and you should reach Stevenson Falls within 1.5 to 2 hours, the full hike taking 3 to 4 hours. Appreciate the steady flow of water as you recharge for the hike back to civilization.
Half Dome Summit Trail, Yosemite National Park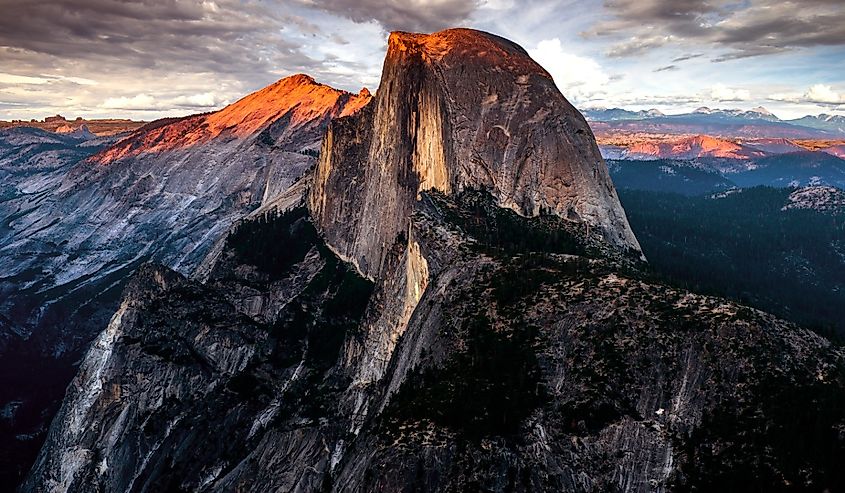 Head to Yosemite National Park in central Sierra Nevada to experience the extensive Half Dome Summit Trail. Covering a whopping 14.5 miles (23.3 km), this trail is ideal for people who want to experience a whole day in nature's embrace. Steep inclines, declines, and rocky terrain make it a challenge that only experienced hikers should take up. Beginning at Valley Shuttle Stop #16, the route starts uphill with an incline of more than 4,500 feet. Throughout this stretch, you will be greeted by an array of sights, such as the Happy Isles Nature Center and Vernal Falls. So, stop by and learn about the forest or enjoy the flowing waterfall for a quick break.
Halfway through the hike, you will reach Half Dome, a stunning quartz monzonite batholith and the precipice of this route. Sitting at a height of 8,846 ft (2,696 m), you can spend hours adoring the panoramic views of Yosemite National Park before beginning the latter half of the route. Thankfully, the rest is downhill, so you can ease off and appreciate your surroundings. The Half Dome Summit Trail takes about 10 to 12 hours for average hikers.
Vernal Falls Loop, Yosemite National Park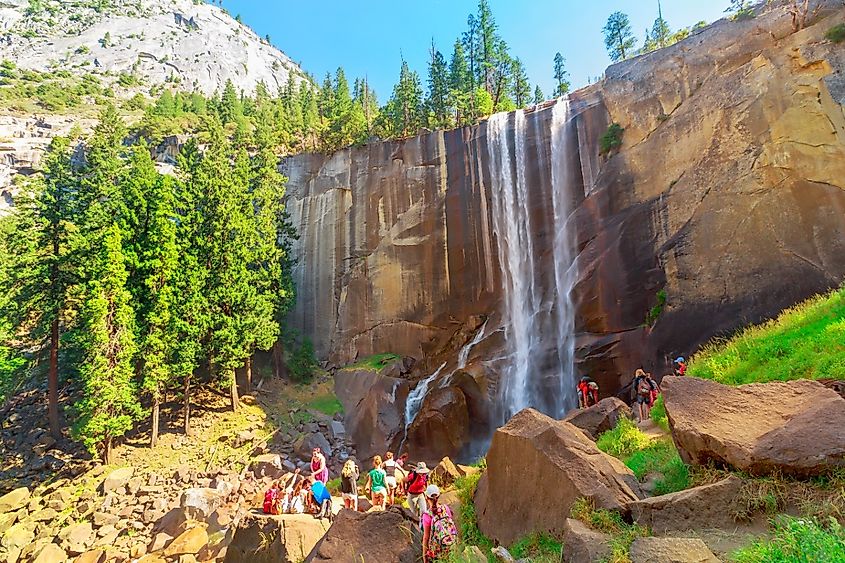 If you enjoyed the sight of Vernal Falls on the Half Dome Summit Trail, why not hop on the Vernal Falls Loop? This trail combines the popular John Muir and Mist Trails, showcasing a unique side of Sierra Nevada's Yosemite National Park. The Vernal Falls Loop focuses on the open wilderness and mystical waterfalls hidden within. To this end, it is slightly easier with minimal alpine hiking sections that require specialized gear to climb. Once you begin, it feels like entering a fantasy world with endless green-covered mountains as far as the eye can see. Keep a strong pace climbing as the trail to the top of Vernal Falls gains 1,000 feet (300 m), and the trail to Nevada Falls gains 2,000 feet (610 m) along rocky valleys.
While it may not reach as high as Half Dome, the beauty of this loop, which takes a full day to hike, lies in the journey downhill. Embellished with the beautiful Nevada Falls and Vernal Falls, you will find yourself stopping for photos every few miles. Splitting through mountainous landscapes to create a pristine flow of water, these waterfalls will relieve you of all fatigue.
Twin Lakes Trail, Sierra National Forest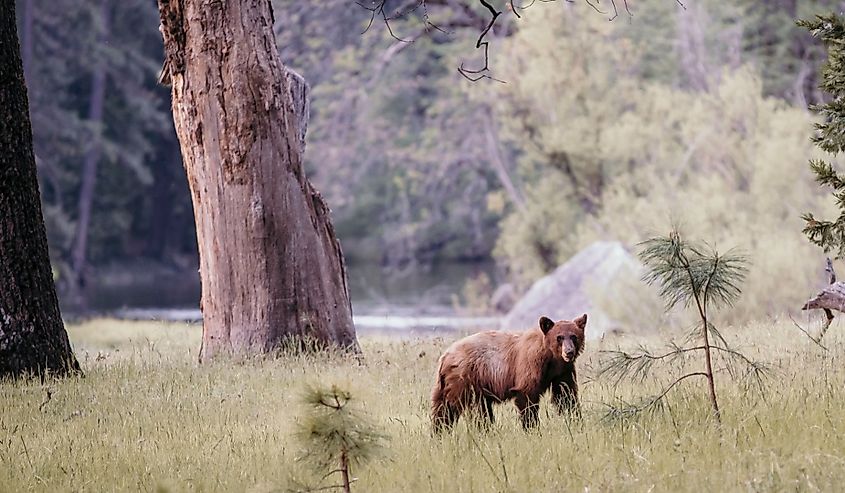 This Sierra Nevada hike, which is quite popular, takes you to the pristine Twin Lakes for a lovely experience. Cutting through thick forests and lush greenery, the route is 7 miles (11.3km) long and somewhat challenging. There are many steep slopes totaling over 1,475 feet (450 m) of elevation gained.
Keep your eyes open to spot mule deers, foxes, marmots, or porcupines that occasionally walk up to the trail. However, be weary as larger animals like black bears are also visitors to the area. Twin Lakes Trail should take 3.5 hours to complete. After that, you can relax and set up camp for the night. So, grab your hiking shoes, put on some bug spray, and head out to conquer this scenic trail in the Sierra Nevada mountain range.
Tokopah Falls Trail, Sequoia National Park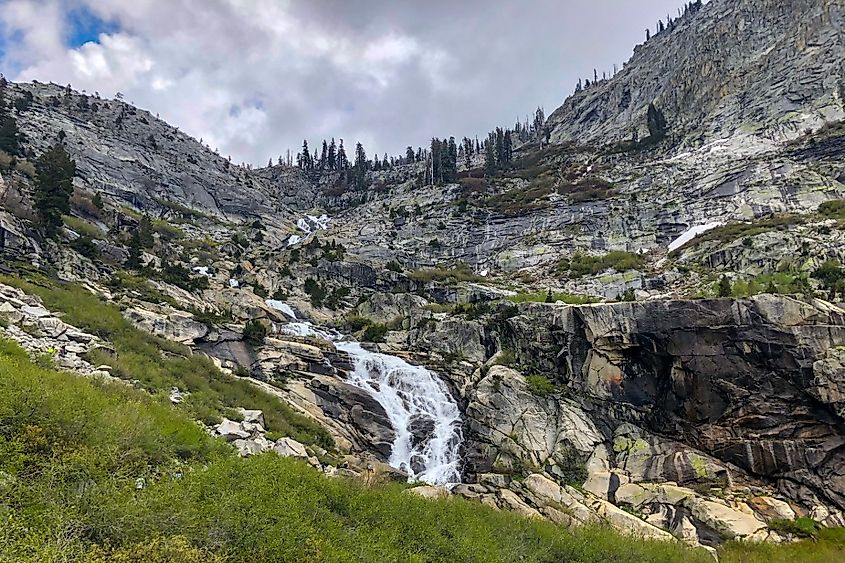 Taking a step back from the difficult hikes, Tokopah Falls Trail is a beginner route that anyone can enjoy. Cutting through a deep valley in Sequoia National Park, hikers will be encompassed by the grand peaks of the Sierra Nevada and the Marble Fork of the Kaweah River. The tranquil trail begins from the Lodgepole Campground so hikers can stock up on anything they may need for the 2-hour journey. After starting, clear markings and massive formations will make the 1.7-mile (2.7 km) hike pass by instantly. As you jump across rocks and clear through dirt, the foliage will clear out at Topokah Falls. With a 1,200-foot (370 m) drop, this cascading waterfall is a majestic example of Mother Nature's charm.
Shaver Lake Trail, Sierra National Forest
If you plan on hiking with your pet dog, Shaver Lake Trail is a great route to appreciate Sierra Nevada's views. Considered to be an easy trail, dogs are allowed throughout the 2.1-mile (3.5 km) journey. Embark on the trail early in the morning so you can appreciate the open areas without the scorching sun burning your feet. Following the paved road, you'll notice utmost silence save for the calming sound of birds and insects in the forests. With a minor elevation gain of less than 100m, neither you nor your canine accomplice will have trouble getting through the hike.
If everything goes well, you should reach Shaver Lake in one hour, leaving loads of time to enjoy the waters. Whether you want to sit back and watch the clouds or run around with your dog, you are sure to have a blast. If you still have energy after the hike, many other trails, such as Rancheria Falls and Stevenson Falls, are within a 30-mile radius so you can spend the day outdoors.
Way of the Mono Trail, Sierra National Forest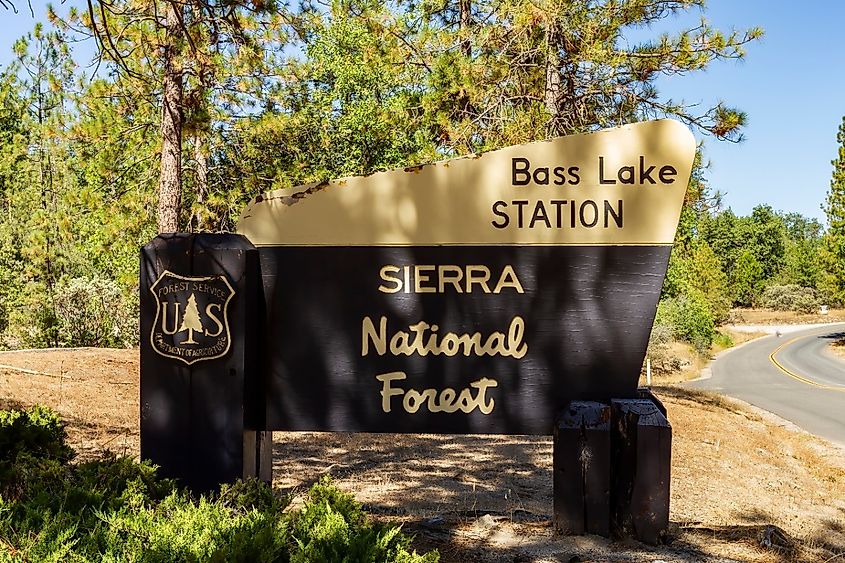 Way of the Mono Trail is a short half-mile (0.8 km) loop that traverses along the western slope of central Sierra Nevada. Coveted by grand peaks and steep inclines, this short trail is full of life. Its layout is designed to give hikers a bird's eye view of the stunning Bass Lake for ever-present beauty. Keep an eye on the path, as trees often fall and may need a bit of leg work to get over. Thankfully, the entire route lasts less than 20 minutes, and you will be right back at the start.
Mount Whitney Trail, John Muir Wilderness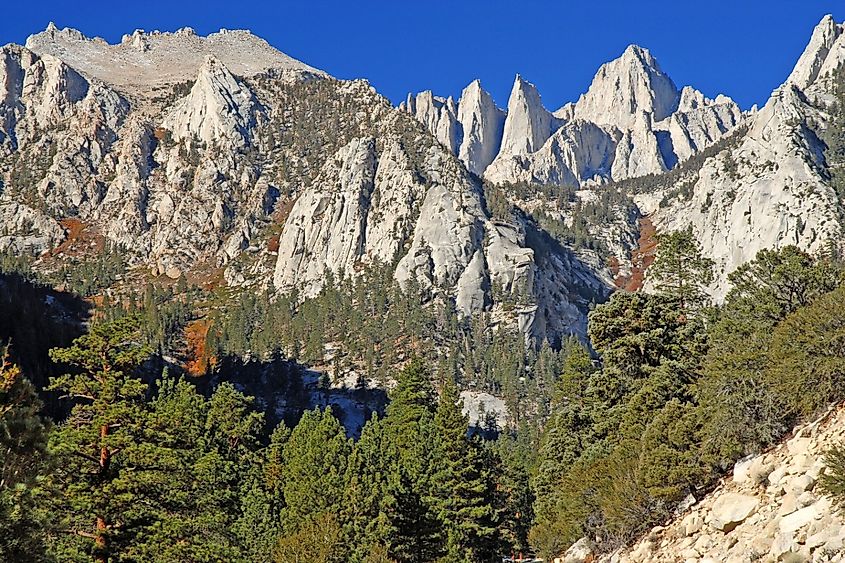 No hiker's trip to Sierra Nevada is complete without a hike up one of the range's cascading mountains. Mount Whitney Trail is the perfect example of such a hike, allowing one to reach Whitney Peak, which rests at a whopping 14,505 feet (4,421 m). So, get your permit, pack your bags, and try to plan your hike before November for a hassle-free time. The route itself covers a distance of 22 miles (35 km), during which you'll have to climb about 7,000 feet (2,133 m) in elevation. Start with a strong pace as the out-and-back trail takes you by rocky switchbacks, menacing cliffs, and multiple waterfalls. If you start to tire out, the trail features two designated campsites at 10,000 and 12,000 feet, respectively, where one can relax and recoup. As the trail can take over 10 hours to complete, some people opt to camp overnight to divide the effort into two days.
No matter what you do, the latter half of Mount Whitney Trail is a wellspring of Sierra Nevada's appeal. Panoramic views of Lone Pine Lake, the Inyo Mountains, and Mirror Lake create an air of accomplishment like no other hike. If you reach the summit, rejoice as you are part of an elite group who have touched the highest point in the contiguous United States. This trail is the apex challenge for professional hikers who want to witness the Sierra Nevada.
Yosemite Falls Trail, Yosemite National Park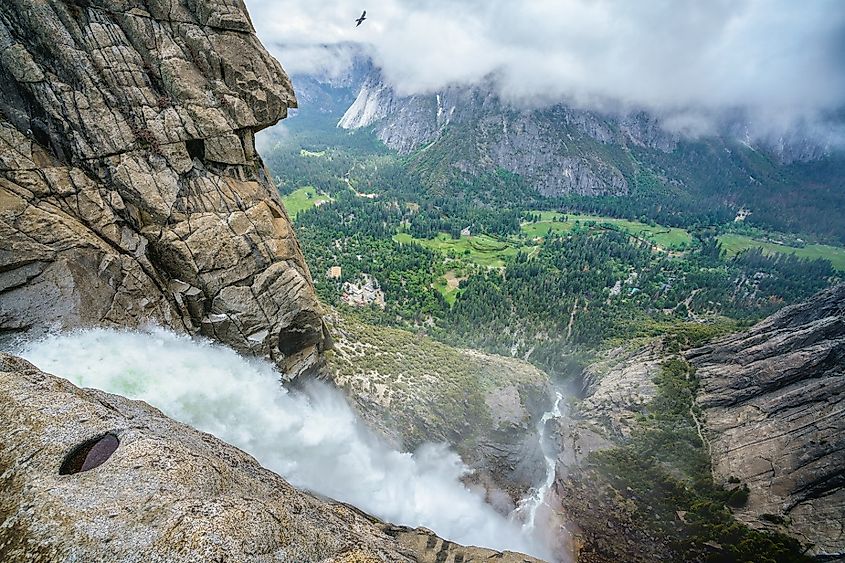 Yosemite Falls Trail offers hikers a first-hand view of Sierra Nevada's diverse natural formations. Adding on the mountainous views, one can adore immense valleys such as the Half Dome and waterfalls like Yosemite Falls. To this end, skilled hikers can head out on the 7.2-mile (11.6 km) journey, which takes between six to eight hours to complete.
Starting quite unassuming, you will quickly notice rocky pathing and a steep incline that doesn't let off. Accompanied by the thick treeline of oak woodlands, the first 1,000-foot (305 m) climb takes you to Columbia Rock, a great vantage point where one can see Half Dome, Sentinel Rock, and other sights. Keep climbing through the challenging trail, and you will finally reach Yosemite Creek, a small creek that supplies the massive Yosemite Falls. All in all, as long as you have the right gear and proper training, this is a must-visit trail in Sierra Nevada.
From paved trails for beginners to advanced summit routes, these are some of the best hikes to witness Sierra Nevada's beauty. Surrounded by all sorts of unique landscapes, from thick forests to rocky valleys, hikers can choose which scene suits them best. Moreover, most of these trails are quite popular and have clear safety guidelines so you can focus on California's beautiful wilderness.