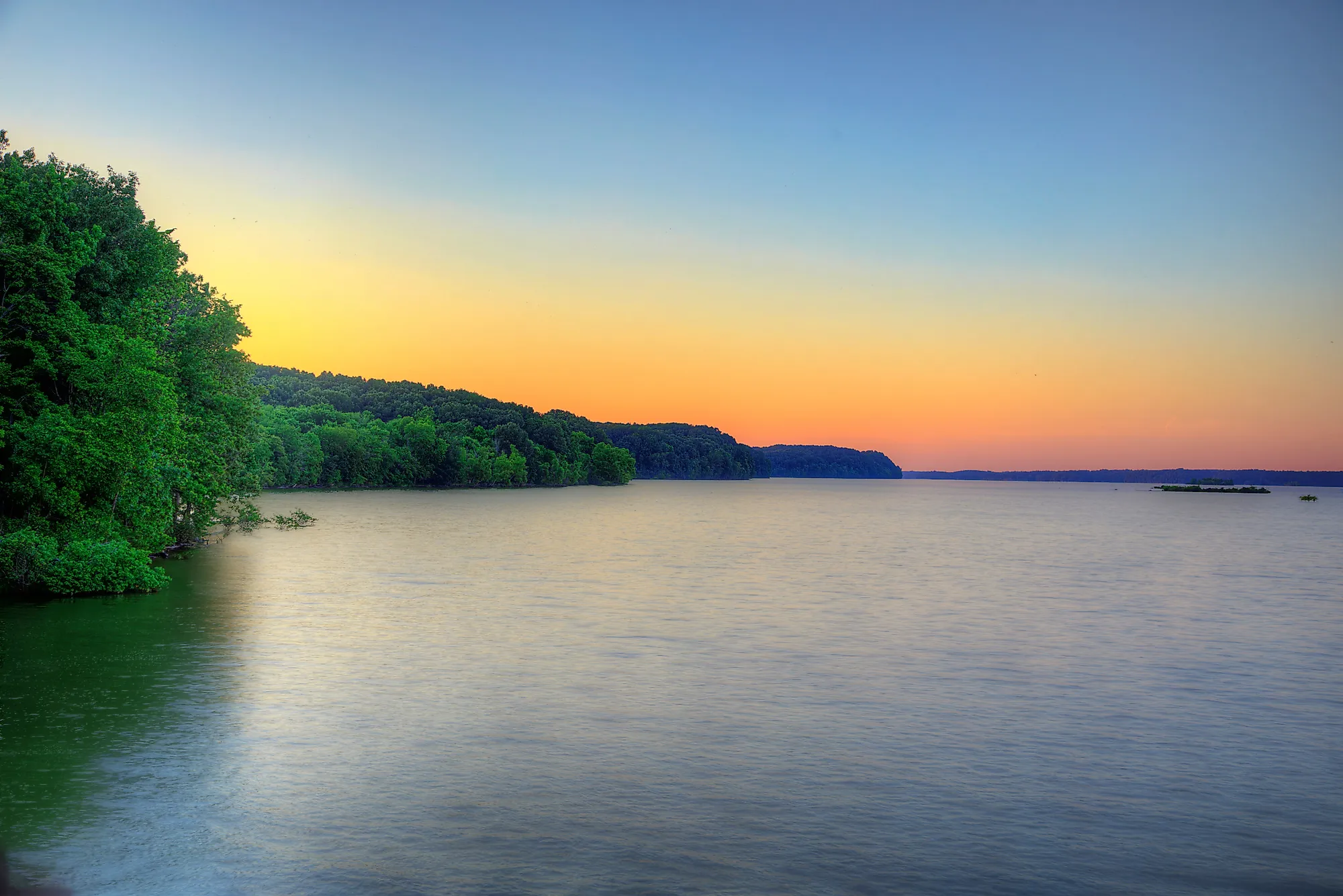 Lake Barkley is a long and narrow man-made reservoir located mostly in Kentucky and partially in Tennessee. It is named after Alben W. Barkley, a Kentucky native who served as the country's 35th president. Of the 45 major lakes in Kentucky, Lake Barkley is one of the largest, second only to Kentucky Lake. The two artificial reservoirs share many similarities, which is why Lake Barkley is often called "Kentucky Lake's Twin."
Lake Barkley is connected to its twin by a thin stretch of land, with a mere 8-mile distance between them. The 170,000-acre peninsula is known as the Land Between the Lakes National Recreation Area. Nearby, there is also the Lake Barkley State Resort Park. Both settings are popular for fishing, water recreation, camping, and observing Lake Barkley's diverse ecosystem. Lake Barkley is also connected to Kentucky Lake in a more literal sense, through a northern free-flowing canal, which is known as one of the country's most significant freshwater recreational complexes. 
Today, Lake Barkley maintains its original purpose of generating hydroelectric power and maintaining flood control via the Barkley Dam. It is controlled (and owned) by the United States Army Corps of Engineers.The lake also serves as an important source of social and economic value due to its natural beauty and opportunities for outdoor recreation. Paired with Kentucky Lake, Lake Barkley hosts 15 million visitors every year. 
Geography Of Lake Barkley
Lake Barkley is located along the Cumberland River. It covers 57,920 acres, meaning it is a little over two-thirds smaller than its twin, the 160,309-acre Kentucky Lake. Like its twin, the Barkley Reservoir falls within two states, 47,570 acres of which are in the southwestern borders of Kentucky, while the remaining 10,350 acres drift into north central Tennessee. For this reason, Lake Barkley is primarily associated with the Bluegrass State. However, Tennessee's portion of the lake has the unique feature of flowing through a famous Civil War battlefield known as the Battle of Fort Donelson.
The lake is considered shallow, with a maximum depth of around 68 ft. and a far smaller average of 15 ft. Its water levels fluctuate throughout the year, rising to 359 ft. above sea level in the summer, and dropping to 354 ft. above sea level in the winter. It is 134 miles long, with a 1,003-mile shoreline, and the surrounding terrain is typical of the area, mainly consisting of small to moderate hills, wide fields, old-growth trees, and rugged bluffs.
As previously mentioned, the twin lakes are famously connected by a canal. The 1.75-mile waterway has a 400-ft. bottom width. It provides a convenient channel for transportation between the two lakes, both for recreational and commercial purposes.
A Brief History Of Lake Barkley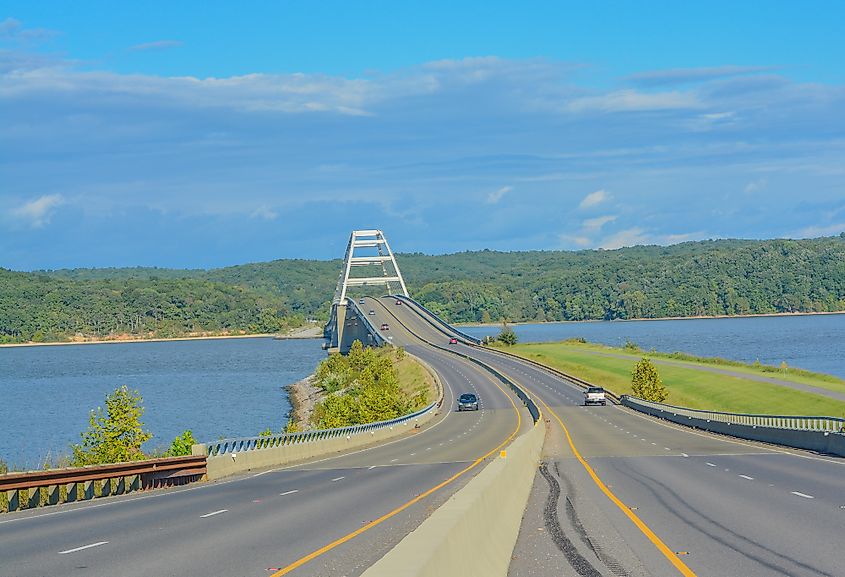 In the aftermath of a vicious flood in the late 1930s, the Tennessee Valley Authority decided to construct the Kentucky Dam. The structure was built across the Tennessee River and was completed in 1944. Not only did it provide flood control for the area, but it also generated power and created the mighty Kentucky Lake. 
Twenty-two years later, the United States Corps of Engineers followed suit, finalizing their construction of the Barkley Dam just a few miles away. This was in response to the frequent flooding of 2 small towns along the Cumberland River: Kuttawa and Eddyville. The U.S. Corps of Engineers ultimately decided to replace Cumberland's collection of smaller dams with the far larger Barkley Dam in the town of Grand Rivers, Kentucky. Thus impounding Lake Barkley.
With the flow of the Tennessee and Cumberland rivers halted the Land Between the Lakes was formed. It is one of the area's greatest attractions, luring 1.5 million visitors annually. Economic development is a key benefit of the dam's construction, but similar to the Kentucky Dam, the Barkley structure also maintains flood control and generates hydroelectric power for the area to this day.
The aforementioned towns of Kuttawa and Eddyville were purposefully and permanently flooded but continue to thrive in their relocated communities. During the winter months (with the lake's decreased surface level), you may be able to spot elements of the original communities below Lake Barkley, including sidewalks and even some of Eddyville's roads.
Ecology Of Lake Barkley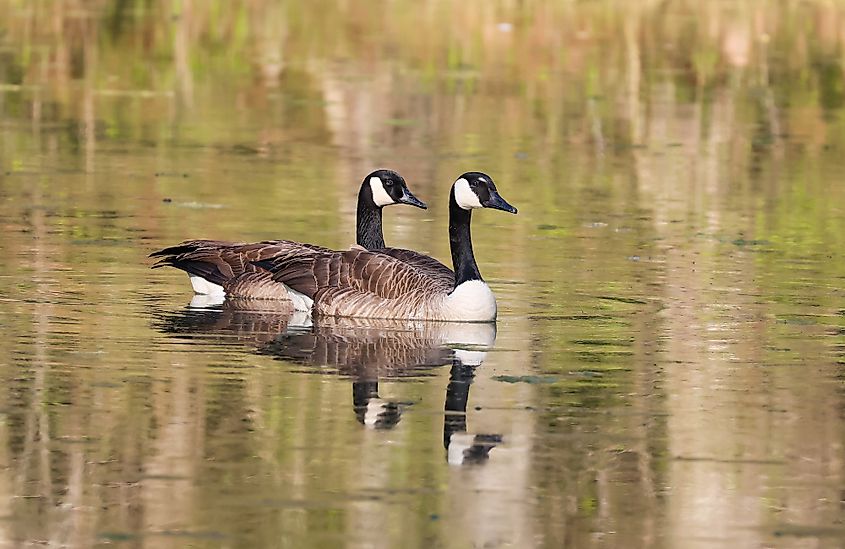 Lake Barkley is a popular fishing destination due to its diverse range of freshwater species. Some of the more popular catches include channel catfish, white crappie, black crappie, Kentucky bass, largemouth bass, sauger, and bluegill.
The species living above Lake Barkley's waters are equally diverse. While the Land Between the Lakes offers several enclosed areas with free-roaming animals (including elk and bison), Barkley is also an integral part of the natural unenclosed ecosystem. Beavers can often be sighted on the lake, as well as otters, Canadian geese, deer, and osprey. Native bald eagles are also commonly seen soaring above or at Barkley's shoreline.
Recreational Activities At Lake Barkley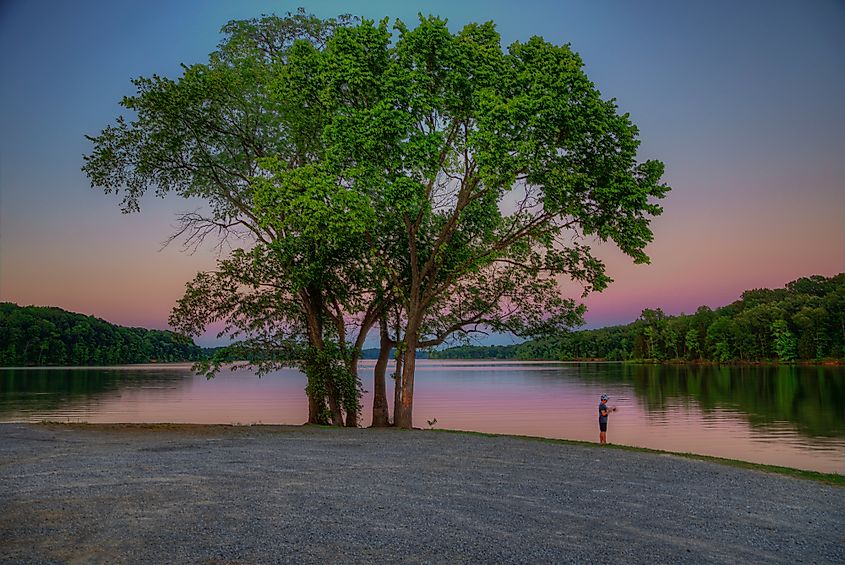 In the summer months, Lake Barkley's water temperature stays within the comfortable limits of 70 to 80 degrees Fahrenheit, making it a well-liked spot for outdoor adventure and recreation. Water recreation is enjoyed at places like the Lake Barkley State Resort Park, whose public lakeside beach is popular for swimming and kayaking.
The Lake Barkley marina is also 0.5 miles from the lodge, offering a boat launching ramp. Boating is one of the more popular pastimes on Lake Barkley due to the iconic canal connecting Lake Barkley to Kentucky Lake. Other beloved watersports include water skiing, wakeboarding, and paddle boarding, to name a few. 
Fishing is another highly sought-after lake activity at Lake Barkley, but bear in mind a Kentucky Fishing License is required. Many opt to hire a fishing guide, while others prefer to fish on a self-guided tour of the lake. The Land Between the Lakes National Recreation Area is especially favored as a home base for self-guided anglers, offering nearly 2-dozen free lake access areas equipped with launch ramps. 
In addition to fishing and boating, camping and hiking along Lake Barkley are also enjoyed at the Recreation Area. Paths like the Honker Lake Trail feature a 4.5-mile hike around an embayment of Lake Barkley. The nearby Woodlands Nature Station also offers canoes and kayaks available for rent.