Kentucky Lake is a 160,000-acre body of water, covering parts of Kentucky and Tennessee. It is one of the most well-liked and often frequented lakes in the world, attracting thousands of tourists to the area due to its stunning shorelines, numerous recreational activities, and substantial size. And while we know that a day at the beach can sometimes get long and tedious, that will surely never be the case for a day out at Kentucky Lake. With numerous marinas and two renowned Kentucky State Parks spread out along its enormous shoreline and a recreational facility dividing it from the adjacent Lake Barkley, this huge basin has become a hub for those seeking a beautiful day out without the dreariness of a long monotonous day. A common destination for fishing, there is also no shortage of wildlife in and around the lake. These numerous characteristics indeed render Kentucky Lake one of those destinations with something for just about any taste, no matter how hard.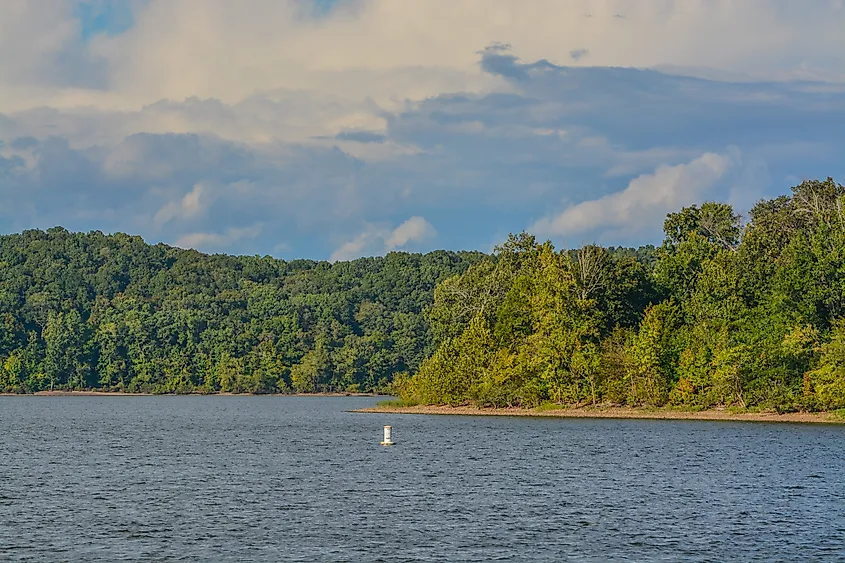 Climate And Environment Of Kentucky Lake
Kentucky Lake is a popular destination for vacationers and anglers alike, but did you know that weather can be unpredictable? While the climate in the Kentucky Lake area is characterized by hot, humid summers and generally mild to cool winters, you can expect to distinguish the four seasons distinctly. Snow in the area is not only expected but is frequently awaited due to the breathtaking scenery it creates with the alluring landscape of the region. Snow is usually expected to fall between November and March, and the area expects about eight inches of snowfall yearly. Snowstorms and blizzards are relatively rare, but when they do occur, you should expect a whopping 10 inches of snow to drop in just one night! The average high temperature during July is around 90 degrees Fahrenheit, while average low temperatures drop to 70 degrees Fahrenheit. The average high temperature during January is 50 degrees Fahrenheit, and the average low temperatures can quickly drop to below 20s, especially overnight. Humidity and warmth usually arrive around the end of June and end at the beginning of March.
Kentucky Lake is a place of natural beauty and peace, where you can experience the environment and wildlife in a way many places do not allow. It is known to be the largest lake in the eastern part of the US and offers plenty of breathtaking natural scenery. Land Between The Lakes National Recreation Area is located on this lake. This recreational center is founded upon a small piece of land that divides Kentucky Lake and Lake Barkley. The average area of the lake is about 260 square miles, and this lake is famous for being reasonably proportionate in size. And due to its substantial size, Kentucky Lake is situated in southwestern Kentucky in Marshall, Calloway, Livingston, Lyon, and Trigg counties. With 2,300 miles of shoreline, its average area comes down to 260 square miles. While Lake Barkley holds more water volume, Kentucky Lake is known to be one of the largest bodies of water in the US.
History Of Formation Of Kentucky Lake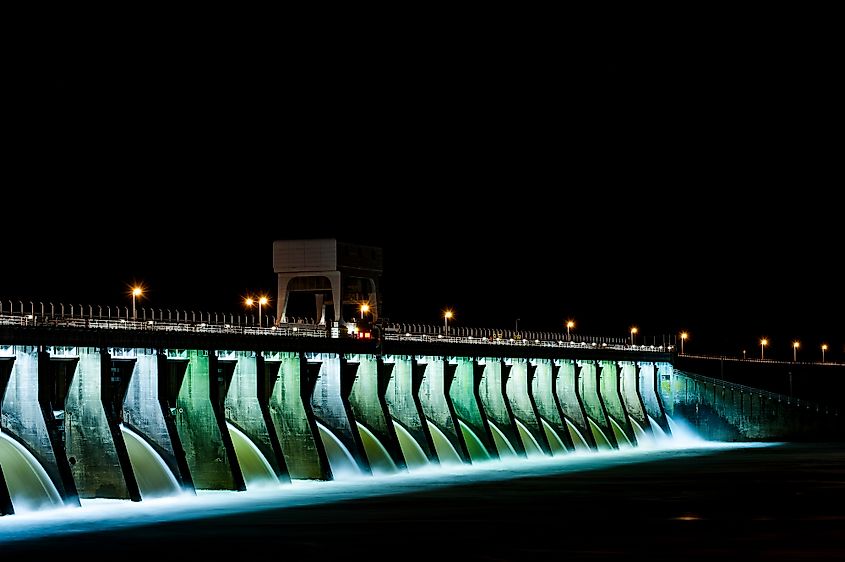 This manufactured lake was founded for several reasons. It was founded in the year 1944 as a flooding control measurement. Locals were complaining of the constant flooding that came from the Tennessee River during the seasons when the lake was high. A basin was formed to allow the extra volume of water from the Tennessee River to have somewhere to go. The locals started constructing the dam in 1938, and the project finally ended in 1944. The dam was dug out to be 206 feet high and 8,422 feet long. Located near Paducah and Tennessee's Lake Barkley State Park, it provides boating access to areas that were previously inaccessible by boat because they were too shallow during certain seasons.
Human History Of Kentucky Lake
The Kentucky Lake region is rich with history, and it is easy to see why. Humans had inhabited the area before the Ice Age when glaciers covered much of the earth's surface. Humans have lived in the area for more than 10,000 years, but it was not until 1775 that Europeans settled in the region permanently. The first settlers were French trappers who came down through what is now Kentucky, Tennessee, and Virginia. They were followed closely by British explorers who wanted to explore this new land and make money off it. They were looking for new places where they could start their lives over again after escaping from war-torn Europe or escaping slavery in America's South. These early settlers decided to build farms on land once used primarily as hunting grounds by Native Americans who previously lived in the area. They developed farms that relied heavily on slave labor. This was mostly done because there were not enough white people.
Flora And Fauna
Kentucky Lake is home to an abundance of wildlife, including white-tailed deer, black bears, wild turkeys, raccoons, coyotes, and more. More than 300 species of birds can be seen in the area. This region is home to more than 51 species of mammals and 89 species of reptiles as well. Kentucky Lake is an essential habitat for fish such as bluegill, largemouth bass, crappie, and others. Some of the most notable species that you can find in the region around the lake are deer, bobcats, river otters, and red foxes. Other small mammals such as squirrels and chipmunks are also present.
The most common type of vegetation in and around the lake is grass. Native species include big bluestem, little bluestem, switchgrass, and Indiangrass. Other types of vegetation that can be found include shrubs such as dogwood and box elder; trees like white oak, black willow, and red maple; vines such as poison ivy; and cattails, sedges, wildflowers, ferns, mosses, mushrooms, fungi, and algae.
Visiting Kentucky Lake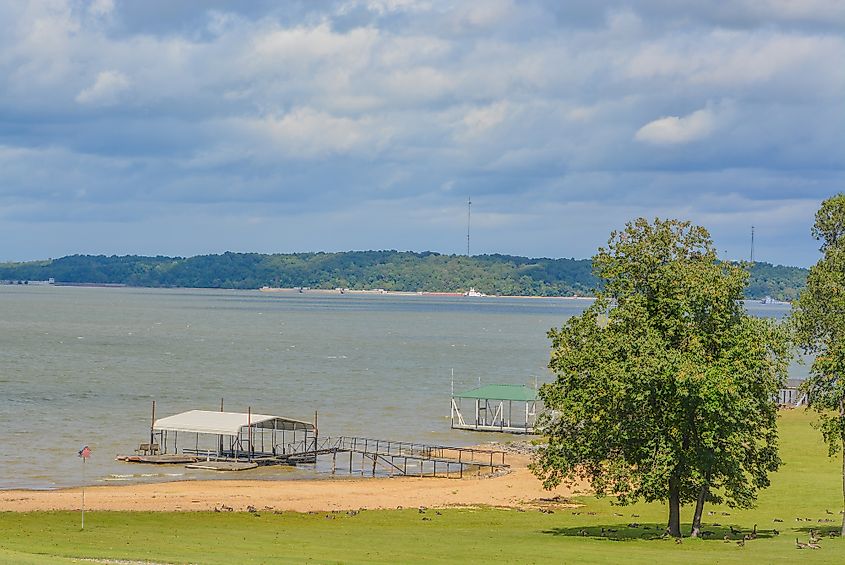 Kentucky Lake is a prominent destination for tourism and outdoor activities. With an array of things that can be done in the area, here are only just a few of the most popular attractions at the lake site:
Kentucky Dam Village State Resort Park: This park is excellent for enjoying the outdoors or relaxing by the lake with your family. There are plenty of places to camp and stay overnight if you want to make it an extended getaway. You can also rent boats or jet skis at this park if you'd like to have an adventure on the water!
Cherokee Landing State Resort Park: This park offers camping, cabins, boat rentals, and other activities like fishing tours. You will find beautiful views along with fun activities here!
Lake Barkley State Resort Park: This resort has several different events throughout the year, including festivals and art shows that showcase local artists' work. They also have cabins available for rent if you would like an extended stay.
Other popular sites include Bowling Green State University's Roper Mountain Science Center, which features one of only two permanent planetariums in Kentucky; Land Between The Lakes National Recreation Area; and Mammoth Cave National Park. Mammoth Cave National Park contains more than 400 caves, including the most comprehensive cave system in the world at 321 miles long!
Kentucky Lake is an incredible place to visit and explore. Kentucky Lake has something for everyone, whether you are looking for a place to go fishing or want to spend some time in the great outdoors. It is a beautiful place that offers something for all tastes, from fishing to hiking and bird watching to horseback riding. You can even enjoy a relaxing evening at one of the many resorts near the lake. After all this, it is clear that Kentucky Lake is truly one of those enchanting places to be, and it will only get better. With the proper care and attention at the right time, this lake can become a source of pride for generations.