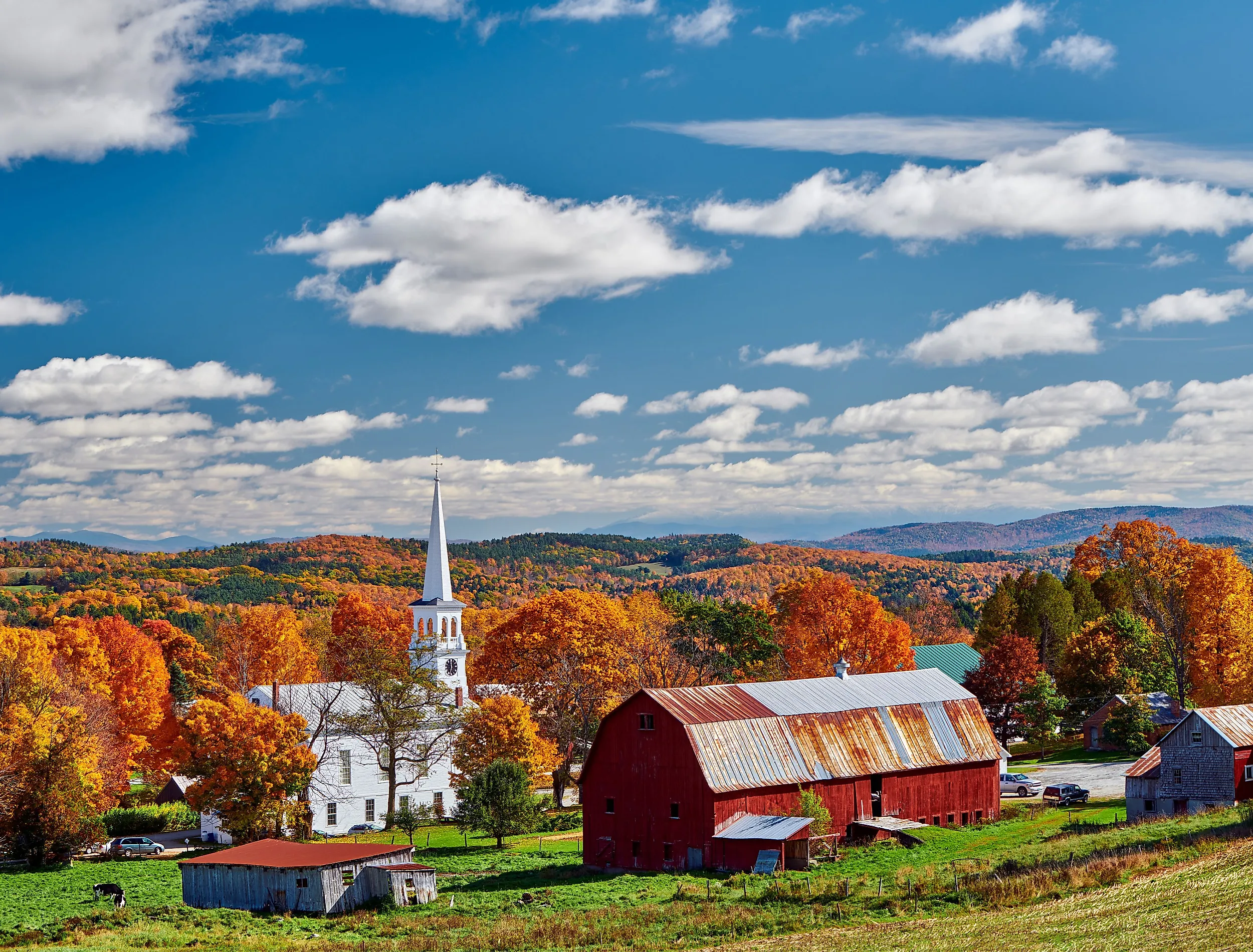 6 Small Towns in Vermont With Stunning Fall Colors
Over-sized sweaters, piles of leaves, pumpkin spice lattes, and crisp mountain breezes, fall is here, and so are all the vibrant colors that come with the changing of the seasons.
Thousands descend upon Vermont yearly, not for the late-season mountain biking or spending time outdoors before the teeth chatting first snow. But, for the pretty little towns that seamlessly "pop" overnight with spectacular fiery hues on the native sugar maple trees.
Whether you enjoy a fall hike in the Green Mountains, or a winding country road teaming with jaw-dropping sights, Vermont is the place to be when fall arrives. From Peru to Windsor and a few places in between, here are six you need to see for stunning fall colors.
1. Peru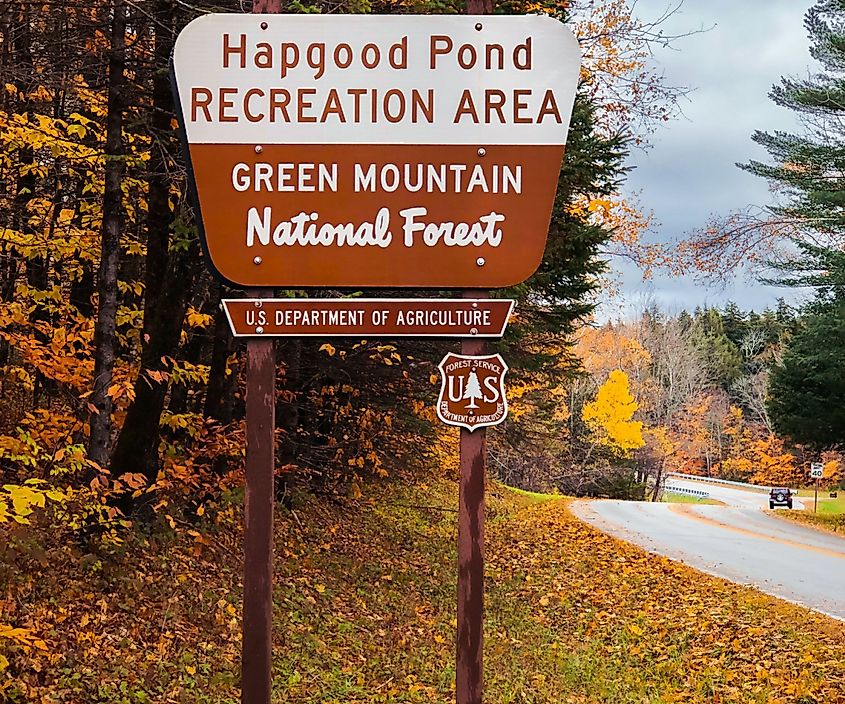 Welcome to Peru! No, not the one in South America, but the one in Vermont. The one you most likely haven't heard of until now. Peru is a community in Bennington County of just 500 and mainly consists of farms found off the beaten path. In fact, it was originally named Bromley but was changed to attract buyers in an area that was best described as "trees, bears, and mountain lions."
That being said, there are so many trees in Peru, that it houses both the Green Mountain National Forest and Hapgood State Forest. All this and Bromley Mountain combined make one of the best leaf-peeping destinations you never heard of!
Furthermore, for all those photography enthusiasts out there or family looking to snap the perfect family photo, take some time and stop in Peru off Route 11. 
2. Granville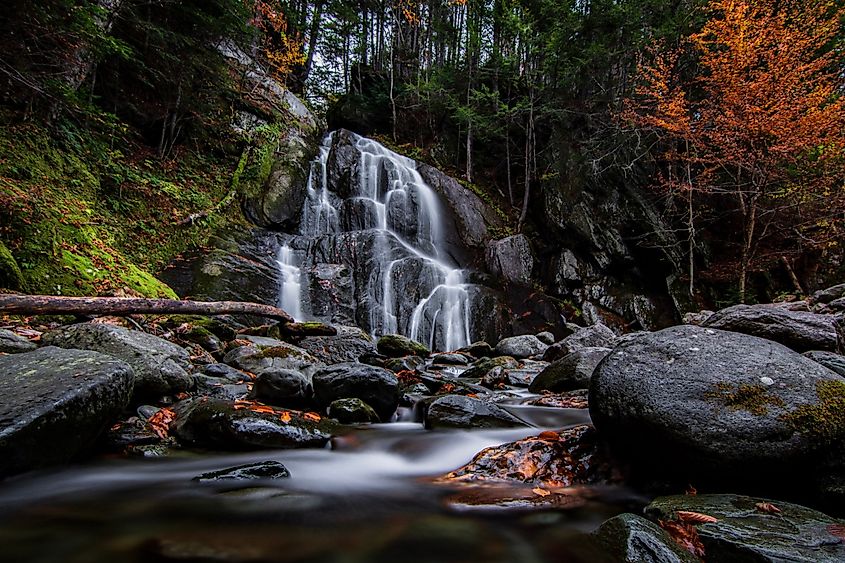 Imagine a place where you can ogle at the changing leaves against the backdrop of a plummeting waterfall. Then, look no further than Granville! This small town of just 300 can be found in Addison County.
Although nestled between the scenic Northfield and Green Mountains, many are drawn to the staggering sights of 50-foot Moss Glen Falls. 
If you like taking in the sights and short hikes, consider this trek and observation area found off Route 100. But don't forget to snap photos of this epic cascade. Just don't confuse this Moss Glen Falls for the other Moss Glen Falls found in Stowe.
3. East Burke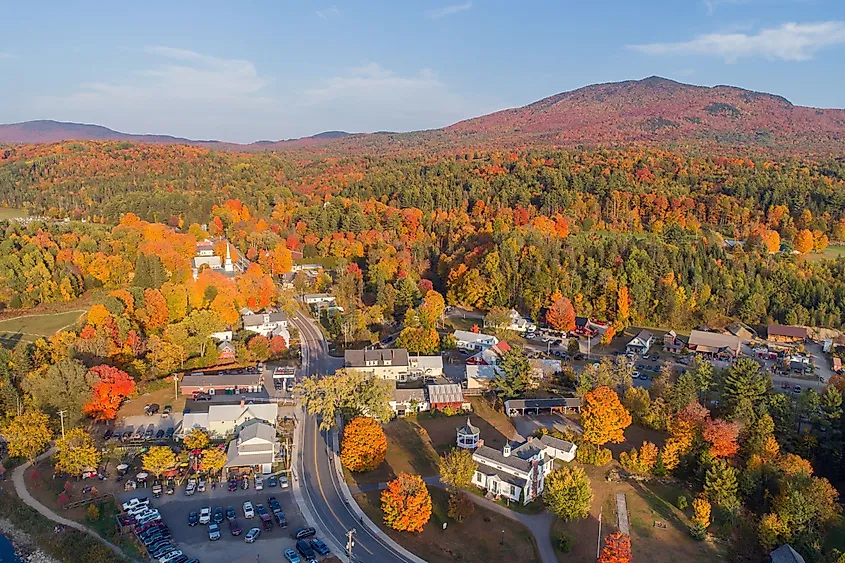 It is pretty hard to visit Vermont without being inspired by its breath-taking scenery. While you likely have not heard of East Burke, it's an enchanting, even mystical community perched in the shadows of Burke Mountain. 
East Burke is a community of a little more than 100 in Caledonia County. It is dotted with family farms and country shops, but many come here to be among nature. The Burke Mountain and Kingdom Trail offer sweeping vistas overlooking the tree canopy and East Burke in the valley below. An image worthy of a postcard and one of Vermont's best-kept secrets!
4. Hanover
When tracking down the best destination for fall colors, why not go where there are dense forests? And Hanover has precisely that! 
Hanover, in Grafton County, rests on the Connecticut River with a community of about 11,800. It is home to the Ivy League and prestigious Dartmouth College. Yet, approximately 80 percent of the Green Mountain National Forest expands into Hanover area. See where this going? Thus making it a prime destination for taking in all the stunning fall colors. Bring the whole family for a fall hike or take a cruise in this state treasure.
Speaking of cruises, just northwest of Hanover lies Norwich, a hidden gem for a colorful autumn joyride. If you have the time, consider putting along Beaver Meadow Road to Sharon. Gawk at all the sights of the brightly colored leaves overhanging your vehicle with each twist and turn. You won't want to miss this route less traveled!
5. Stowe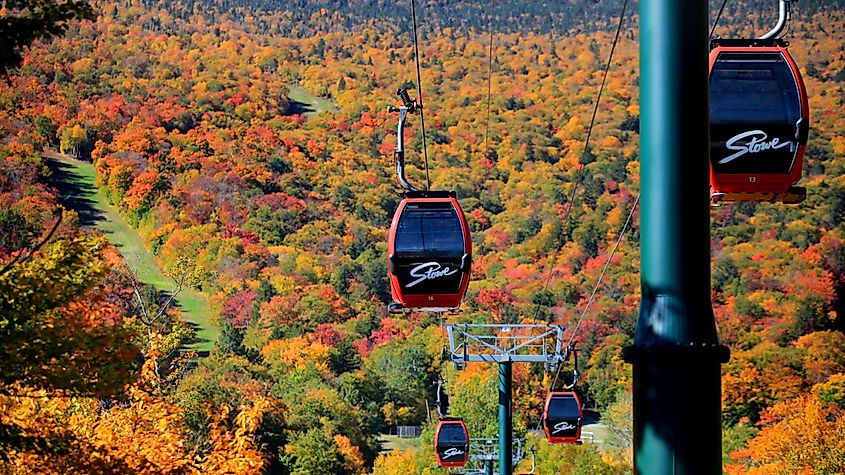 So far, the stunning displays of fall leaves have been covered by foot, bike, and car. But how about checking out a sea of autumn tones from above? 
When it comes to viewing the fall colors, chances are Stowe or the surrounding area comes to mind. And there's a good reason for it. From a charming little village of just over 5,000 to gondolas that offer 360-degree views, it's the place to come when the seasons change. Stowe is at the top of every fall-lovers list. 
Whether you're looking for a romantic getaway to spend the weekend or activities on entertaining the younger family members, Stowe offers some creative ways to view the colors of the mountainside. Starting with Smuggler's Notch and all the many outdoor family activities. You'll never get bored! The adrenaline-pumping Zipline Canopy Tour or the Treetop Canopy Course are geared towards the younger ones, who never seem to be without energy. It's a great option to be outdoors and uniquely see the dazzling shades.
But, for those looking to rekindle the flame, head on over to the Stowe Mountain Resorts. Grab a warm beverage and jump on a cozy gondola ride. Ascend to 4,395 feet on Vermont's highest peak; Mount Mansfield. You're sure to see eye-catching sights that will leave you craving more!
6. Windsor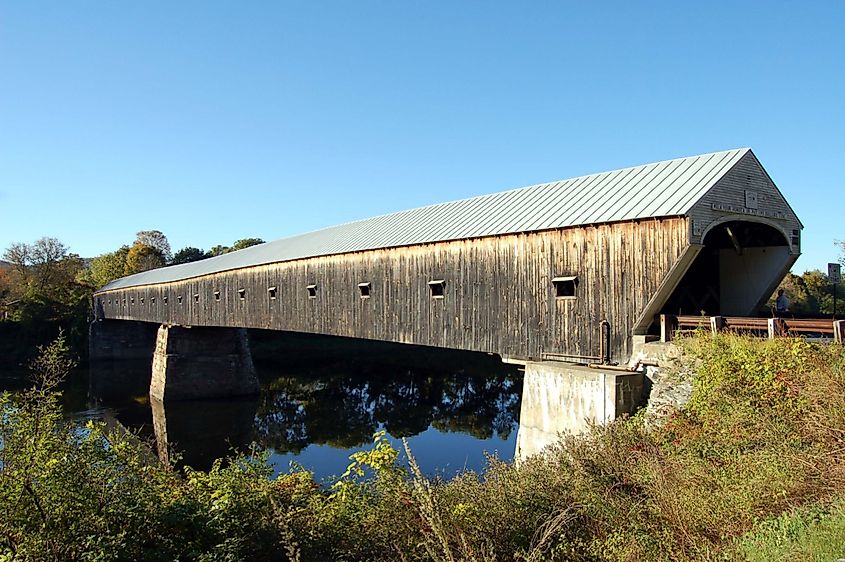 No list of Vermont would be complete without the mention of covered bridges. It is the state with the most covered bridges, after all. So much so that there were 104 of these structures at the last count.
In the "Birthplace of Vermont," lies the second-longest covered bridge in the US in Windsor, a community of 3,550. Shared with Cornish, New Hampshire, this piece of infrastructure spans 450 feet over the Connecticut River and was constructed in 1866. While the Cornish-Windsor bridge serves as a fun stopover for a fun fall detour, the town of Windsor is very much underrated, and if you blink, you could miss its potential. 
Whether you're coming or going, Windsor is a picturesque town full of historic buildings that could easily be missed. But it has one epic secret when it comes to stunning fall foliage. 
And that is Mt. Ascutney! Set out on a sunset hike with friends, family, or a dog and enjoy the breathtaking sights of the Connecticut River valley below. Before heading back to the car, check out the 84-foot waterfall of Crystal Cascade Falls and the just dramatic 35-foot Little Crystal Falls. This is one town you seriously don't want to pass up an opportunity when passing through in the fall.
In Summary
Vermont and fall foliage. Fall Foliage and Vermont, you really can't have one without the other. In many ways, the signaling of autumn change is synonymous with the identity of Vermont. Kind of like it's covered bridges. Mountains make up the skyline no matter your direction and only add to the magic of seeking the best small towns in Vermont for stunning fall colors.