Jump To
Although Nevada has a favorable climate most of the year, the state experiences sweltering heat during the summer months. Undoubtedly, seeing one of Nevada's scenic lakes offers a reprieve from the hot climate and also provides awe-worthy scenery. Imagine trekking in the Ruby Mountains for backcountry camping or peering upon a water body that shimmers an ethereal blue. Water bodies like Lake Mead, Lake Las Vegas, Washoe Lake, and Lake Tahoe, to name a few, are all Nevada lakes that strike excitement in all who have visited their shores.
Lake Mead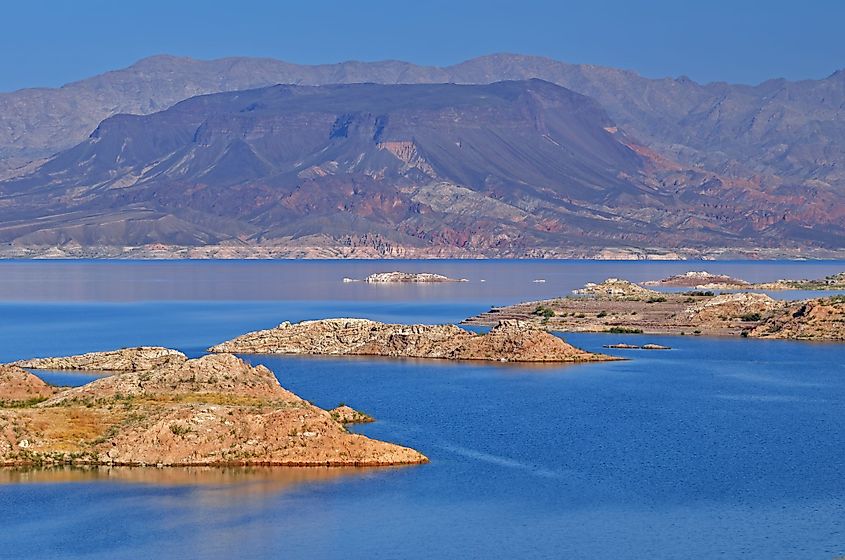 What do the Hoover Dam and the Colorado River have in common? They can both be found on the largest reservoir in the United States - Lake Mead. Just a stone's skip from the busy lights of Las Vegas, Lake Mead can be found on the boundary of Nevada and Arizona. Lake Mead offers visitors sweeping vistas of 1.5 million acres of mountains, canyons, and pristine blue water. Being about 30 minutes from Las Vegas and other substantial cities, the Lake Mead Recreation Area is popular for outdoor recreation, including swimming, boating, and fishing enjoyed by families.
Topaz Lake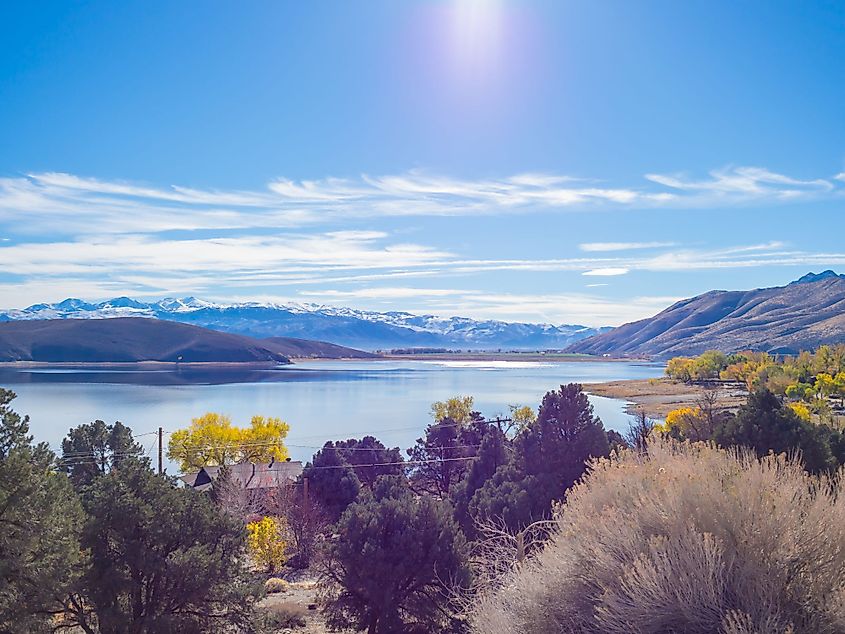 Topaz Lake offers visitors and locals alike year-round entertainment, graced by warm weather in the spring, summer, and fall. Nestled on the California-Nevada border, the 2,410-acre reservoir of Topaz Lake is a beloved summer escape from Reno and the state capital Carson City. Many seek Topaz Lake due to its ample space for boating, fishing, sailing, water-skiing, and camping. Speaking of fishing, the California and Nevada Departments of Wildlife stock trout on this body of water, making it a premiere destination for targeting rainbow trout, brown trout, and an elusive tiger trout. Set in the backdrop of the picturesque Antelope Valley, one can find serenity among the 25 miles of shoreline, like many before.
Washoe Lake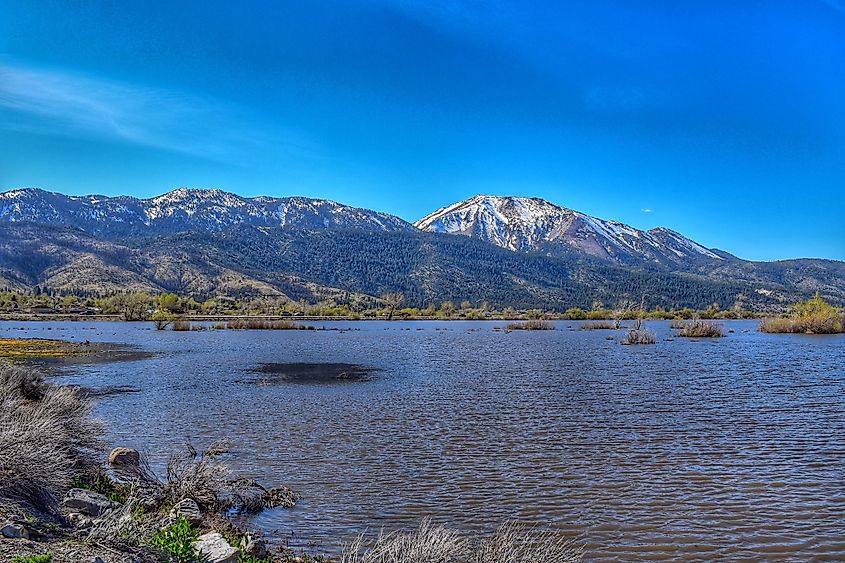 Situated within the epic eastern foothills of the Sierra Nevada is Washoe Valley, which contains the eutrophic Washoe Lake. At an elevation of 5,029 ft, Washoe Lake is a shallow body of water surrounded by the Carson and Virginia Mountain Range. Found between Reno and Carson City, the warm waters and sand dunes of Washoe Lake are revered as a day trip from the big cities, offering a desert landscape amidst outdoor recreation. It serves as an alternative to the nearby and busy Lake Tahoe, which is only 35 miles away. On locale, one can experience the phenomenon known as the Washoe Zephyr, where the warm winds kick up on the lake. A spectacle that is observed daily throughout the summer, making for ideal conditions for kiteboarding and windsurfing, where many dot the lake in vibrant colored sails. 
Ruby Lake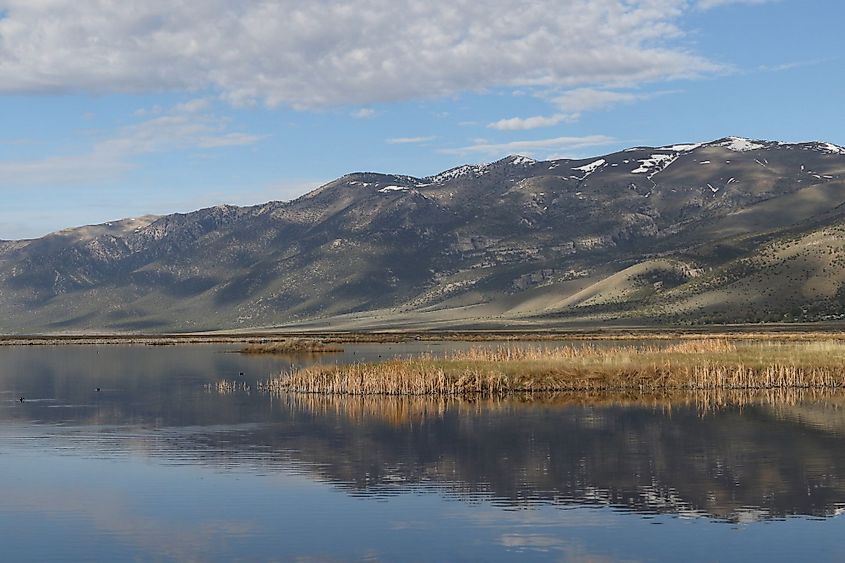 Set within the spectacular Ruby Mountain Range of northeastern Nevada is the oasis of Ruby Lake. Approximately an hour and a half from Elko, this lake is enshrined by 17,000 acres of marshlands and offers visitors an escape into a surreal, untouched wilderness. Ruby Lake is a mecca for wildlife, with 220 recorded species of birds observed, including sandhill cranes and trumpeters swans. Furthermore, avid nature lovers will not want to pass up on this one. Ruby Lake is home to a healthy bass and trout population that will surely reward any fishermen. Accessing Ruby Lake is a trek in itself; one will want to download maps in advance as there is no cell service, further adding to its rugged location. Simply follow the Rubies Route through the Secret Pass to Harrison, and the stunning Ruby Lake is before you.
Spooner Lake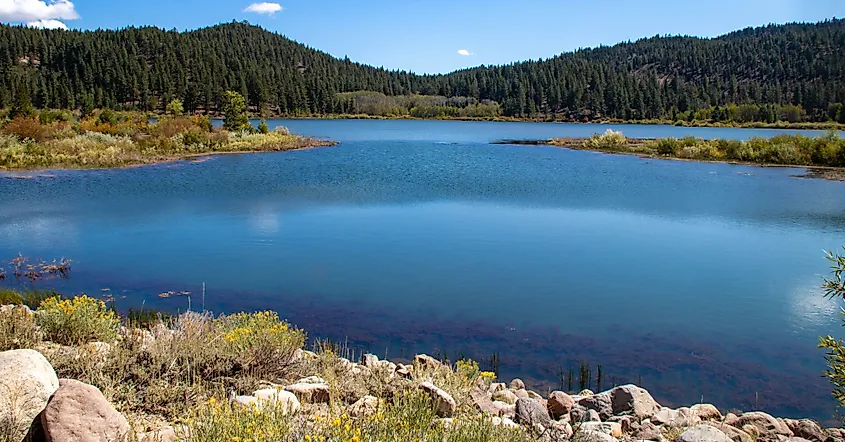 Set in the phenomenal scenery of the Tahoe Basin, Spooner Lake presents visitors with 12,000 acres of dynamic backcountry. Easily accessible by highway 50 and highway 28, the route to the Spooner Lake – Lake Tahoe Nevada State Park embarks through the Carson Range of the Sierra Nevada and the Tahoe Basin. One will know they have arrived at the sight of a sparkling lake, edged out by aspen forests and granite rock outcrops. At 7,100 ft above sea level, Spooner Lake is an alpine lake and draws many for outdoor recreation amidst the mountains. Containing 50 miles of trails, horseback riding, hiking, mountain biking, and backcountry camping are favorites within the state park. Of the hiking trails: Marlette, Red House, Flume, and the Tahoe Rim Trail are among the most enjoyed. For the avid angler, Spooner Lake is a hidden gem for trout fishing. Stocked by the Nevada Department of Wildlife, species such as Lahontan cutthroat trout, rainbow trout, brown trout, and brook trout are found in Spooner Lake.
Walker Lake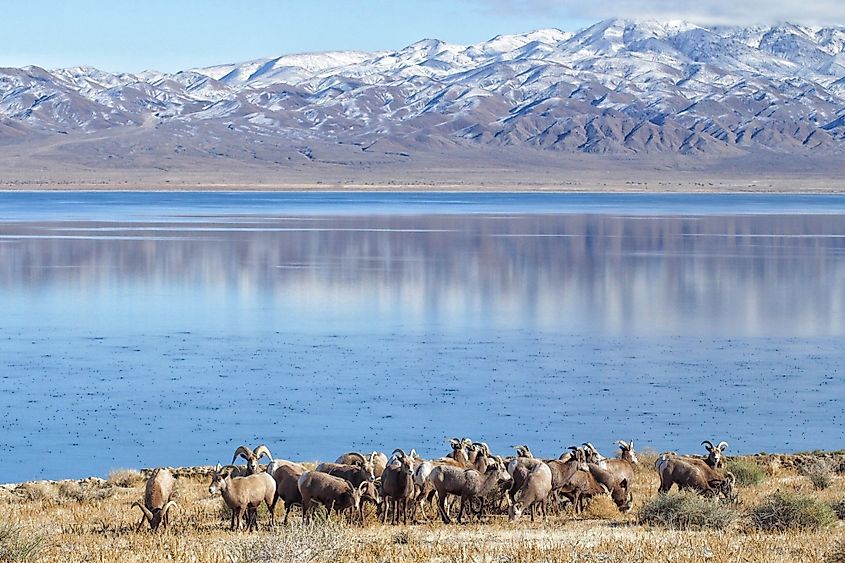 Set in the astonishing Wassuk Range of the Great Basin, Walker Lake is a revered destination for outdoor fun and festivals. Fishing derbies, boat races, and the annual Loon festival continue to magnetize many to Walker Lake and its recreation area of the same. More localized attractions do not end here, with Sand Dune Point, Twenty Mile Beach, Tamarack Beach, and the Cove Beach being popular among recreationists. Spanning 38,000 acres and 12 miles long, this natural lake is a refuge for many migratory birds observed year-round. Keep an eye out for white pelicans, snow geese, and harlequin ducks that grace the shoreline. Animal lovers will not want to pass up spotting one of the resident desert bighorn sheep, pronghorn antelope, or wild horses. Walker Lake can be found 95 miles south of Fallon, Nevada, and can be traveled via US highway 95.
Lake Las Vegas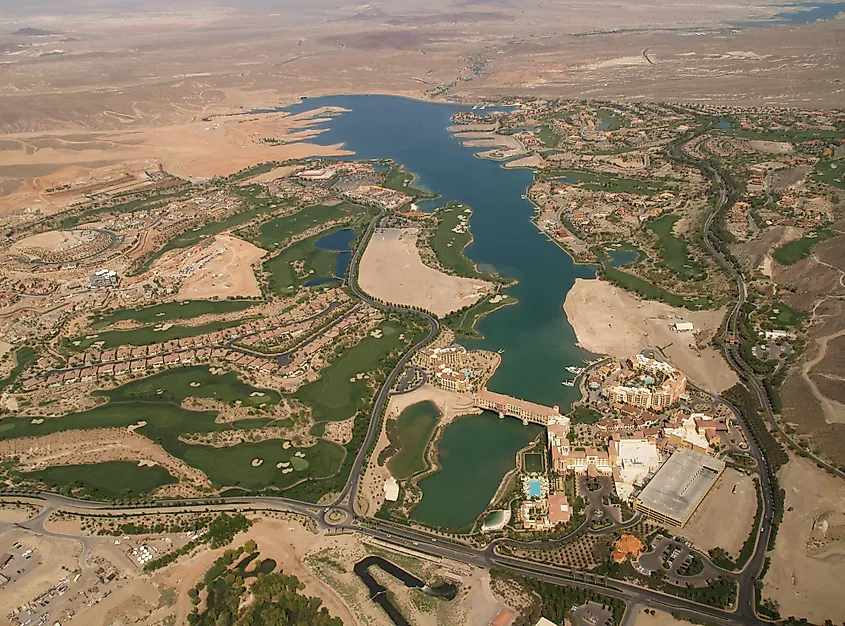 Known as one of Nevada's most luxurious lakes for the resorts like the Westin, Hilton, and the Aston MonetLago, which sit on its banks, Lake Las Vegas offers everything of Las Vegas but in a laid-back setting. One can start their day with a riverside breakfast, an afternoon of boating or fishing on 320 acres of water, and finishing the evening playing the slots. Lake Las Vegas is a spectacle in itself; with many stunning homes, golf courses, and yachts that cruise around Lake Las Vegas. Ogling the insurmountable desert landscape, a trip to Lake Las Vegas is best viewed in person.
Lake Tahoe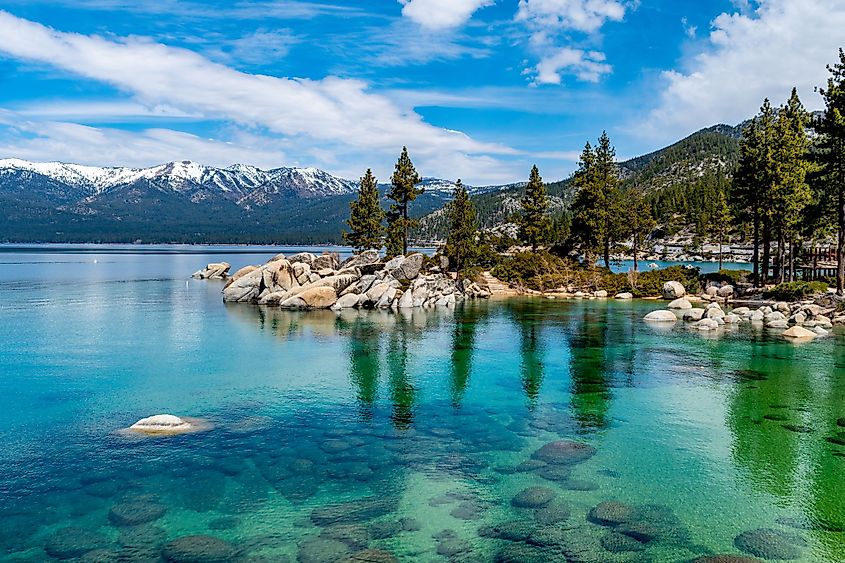 One of the largest attractions of the capital of Nevada, Lake Tahoe, has long been an attraction of western Nevada, appealing to countless locals and tourists from all over the globe. This freshwater lake is synonymous with the identity of the Sierra Nevada and Carson Range. On a national scale, Lake Tahoe is the largest alpine lake in North America, with 191 square miles. More impressively, with a volume of 120,000,000 acre ft, its volume is so vast that Lake Tahoe just trails behind the Great Lakes. The main reason why so many flocks to Lake Tahoe is for limitless space of crystal clear water lined by forests and waterfalls, hiking the Tahoe Rim Trail, fishing, boating, water-skiing, or gambling at one of the lakeside casinos. Consider camping or renting a cottage on the lake, or spend an afternoon enjoying a shore lunch while taking up the sights at Emerald Bay State Park; the options are endless. To access Lake Tahoe, one can drive to the lake by Carson City or various towns along the California side of Lake Tahoe.
Pyramid Lake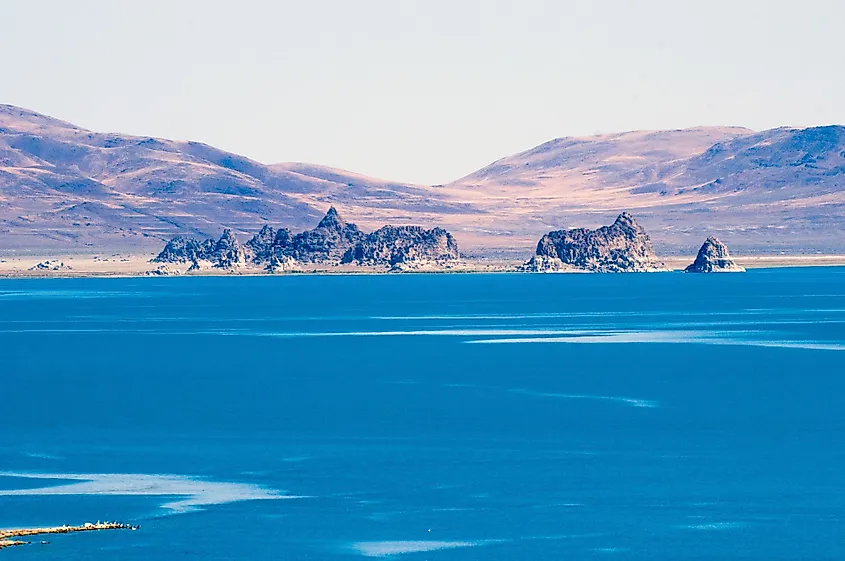 With a name like Pyramid Lake, one may ponder how a body of water received such a name. The answer may lie in the gripping rocky features of the tufa formations. Yes, these geological features appear as if pyramids stick out of the water and make up the shoreline in places. Once a geographic sink and the leftover remnant of the much larger and ancient Lake Lahontan, the number of tufa rocks left behind are unclear throughout its 112,000 acres. Another extravaganza that intrigues many and adds to its beauty is the color-changing nature of the lake. With different shades of blue and gray, the color of Lake Pyramid depends on the cloud cover overhead. Interestingly, the Pyramid Lake Paiute Tribe Reservation is home to one of the most internationally recognized festivals in the world: Burning Man. Thousands and thousands of revelers descend onto Pyramid Lake each year to observe wooden art installations burning in the desert.
Liberty Lake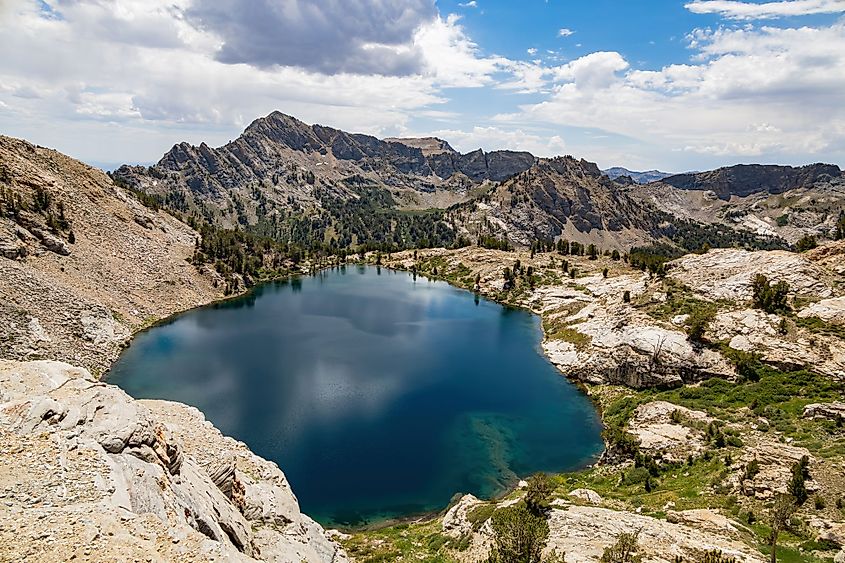 Tucked in the Ruby Mountain Wilderness of northeast Nevada is the astonishing, opaque blue glacial tarn of Liberty Lake. Sought out for its spectacular 360° panoramic views of the Ruby Mountains, Liberty Lake offers backcountry trekkers unforgettable scenery. Perched at 10,039 ft above sea level, the hike to Liberty Lake is not for the faint of heart. Backcountry campers, horseback riders, and hikers can locate Liberty Lake along the Ruby Crest Trail that, from start to end, is 38 miles. Along the northern section of the trail, not only will visitors be rewarded with views of Liberty Lake but also other amazing glacial tarns of Castle Lake and Favre Lake. Those who trek down the Kleckner Canyon, can sneak a glimpse of the impressive Ruby Dome which stands at 11,392 ft tall. For one to discover the beauty of Liberty Lake for themselves, the trailhead is located at Lamoille Road within the Lamoille Canyon.
Home to alpine lakes, out-worldly rock formations, famous attractions, luxury resorts, and wild desert creatures, the most beautiful lakes of Nevada offer mountain views and outdoor recreation. With activities like camping, hiking, horseback riding, boating, and fishing, these bodies of water are the perfect place to take a vacation. Come and unwind at one of the most beautiful lakes of Nevada for peace and tranquility, like, so many have already discovered.