At an elevation of 9,793 feet, Castle Lake is a glacial tarn nestled in the Ruby Mountains Wilderness of the Humboldt-Toiyabe National Forest in Nevada. Castle Lake is a small body of water covering only 14 square miles, with an average depth of 15 feet. But, what it lacks in size, it makes for with its stunning mountainside beauty and sweeping vistas. Sought after by backpackers and hikers, Castle Lake is a popular resting place, offering tranquility as part of the nearby backcountry trails.
Geography Of Castle Lake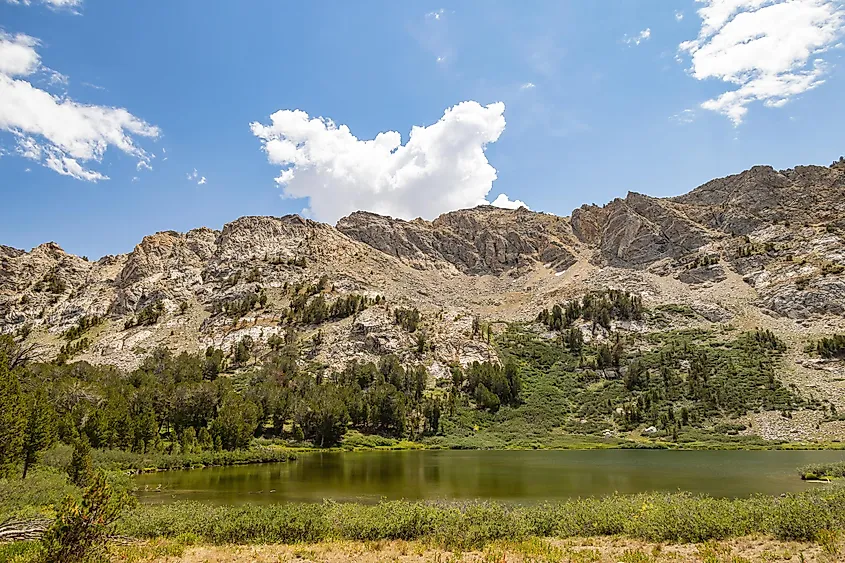 Castle Lake rests in the Great Basin between the Sierra Nevada and the Wasatch Mountains range. The lake can be found in Elko County in northeastern Nevada. Of the largest nearby cities to Castle Lake is Elko, which resides 65 miles northwest. Both Elko and Castle Lake are situated on the eastern edge of the Humboldt Valley of the Ruby Mountain Wilderness. As for other bodies of water, Favre Lake and Liberty Lake can be located to the north. Water outflows from Castle Lake into Kletchner Creek, which also forms a shelf and continues to flow until merging with the South Forks of the Humboldt River to the north northwest.
Geology Around Castle Lake
The formation of the Ruby Mountains occurred when the North American Plate extended. It was once a part of the Basin and Range Province, but faults and flanks on the eastern and western sides separated it. This mountain range is an example of a metamorphic core complex, where the deep crust has been pushed to the surface. As for the Ruby Mountains, lower and middle crust rocks are evident superficially. Moreover, during the most recent ice age, glaciation and erosion carved out distinct features of the Ruby Mountains that can be observed today. Of these features are; cliffs, U-shaped valleys, steep granite mountains, hanging valleys, moraines, glacial gouges, cirques, and tarns. Furthermore, Castle Lake is a glacial tarn that was once carved out by a cirque.
Gold Rush Near Castle Lake
During the mid-19th century, miners that traveled the California Trail thought the mountain range would contain gold. What was discovered were red gemstones speculated to be rubies, giving way to the name of the Ruby Mountains. It was incorrect, however, and the miners had stumbled upon a bounty of garnets.
History Around Castle Lake And The National Forests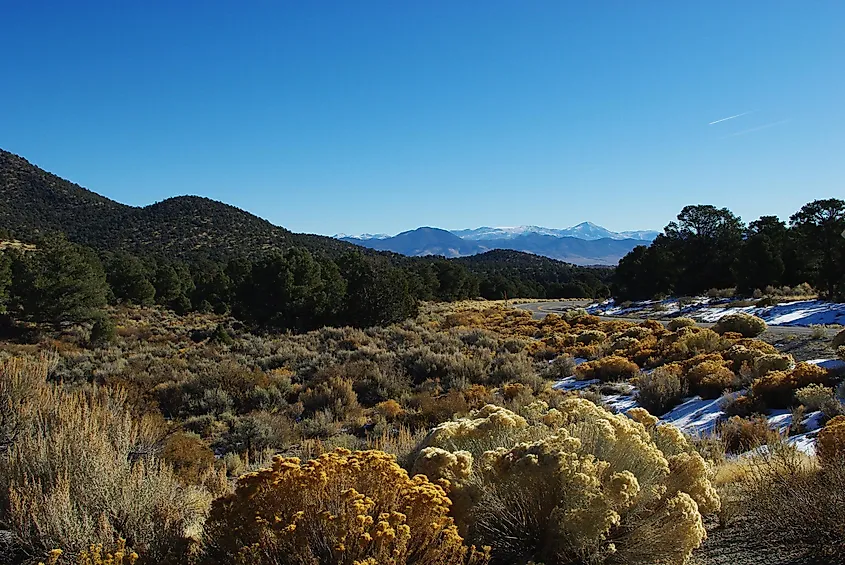 The Humboldt-Toiyabe National Forest is the second-largest national forest outside of Alaska, but it wasn't always this way. Today's national park is a convergence of many of Nevada's previous national parks. As for the timeline, the oldest, Ruby Mountain National Park, merged with Independence National Forest in 1908 to create the Humboldt National Forest, where Castle Lake resides. Toiyabe National Park has a rocky history. It was founded in 1907 but later concluded to operate after 1932. This was short-lived, as it was merged into the Nevada National Forest in 1938. Another reorganization occurred in 1957 when the land from the Nevada National Forest was split between the Toiyabe National Forest and Humboldt National. Lastly, in 1995 Humboldt and Toiyabe National Forests would merge but still had two unique identities to boot.
Recreational Opportunities At Castle Lake
The most popular activity around Castle Lake is hiking, with trekkers often coming as day hikers or passing through as part of larger trails nearby. The best way to access Castle Lake is by the Castle Lake Loop Trail near Springcreek, Nevada. This trail is not exclusive to backpackers or hikers, and horseback riding or having a dog off-leash are welcome. On a cautionary note: the 17.9-mile trail is rated as difficult, and the altitude could affect those who are not accustomed. But it presents avid hikers with picturesque blue lakes and vistas of the peaks all around. Consider taking a multi-day trip and camping out on the lakes. There is no need to worry about the trail or Castle Lake being busy. As for other activities, there are no fish for fishing in Castle Lake, but it does serve as a scenic backdrop for photography.