The Largest Reservoirs in the United States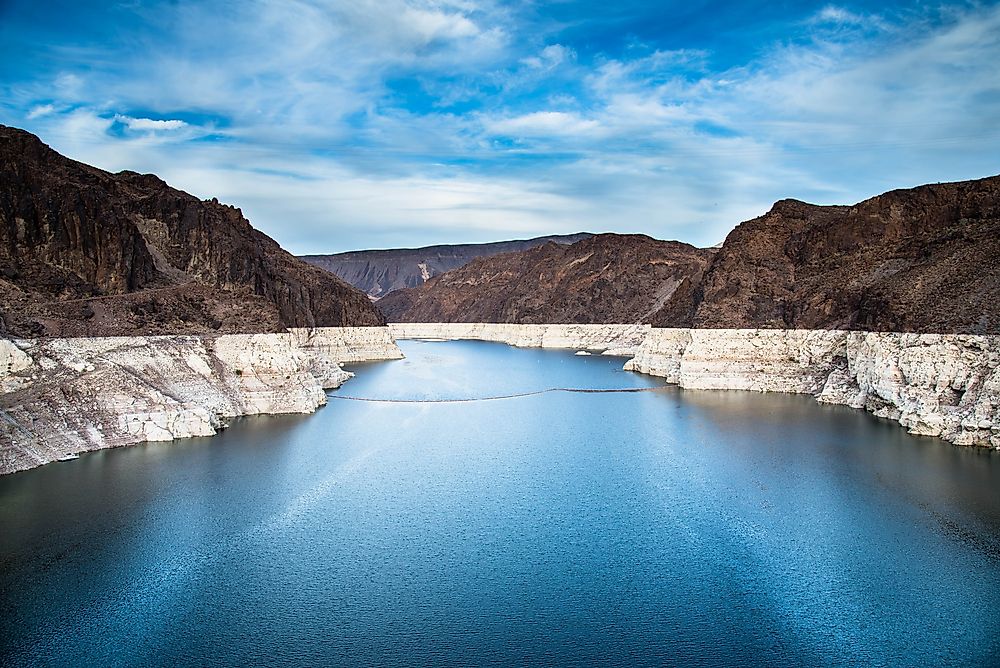 The United States is known for huge construction projects, many of which are incredibly costly. Among the many examples of these projects are dams which are constructed for numerous reasons including energy production and flood prevention. Construction of dams leads to the formation of large artificial lakes behind the dams which are known as reservoirs. The United States has some of the largest reservoirs in the world. The largest of these are outlined below.
The Largest Reservoirs in the United States
1. Lake Mead
Lake Mead is the largest reservoir in the United States. It is located just southeast of the city of Las Vegas, and was formed by the world-famous Hoover Dam. The Hoover Dam is one of the largest and most important dams in the United States. It is only the largest reservoir in the United States when it is filled to capacity. It is often not at capacity, and usually sits somewhere around 40%.
2. Lake Powell
Lake Powell is the country's second largest reservoir. It is found where Utah and Arizona meet. Lake Powell was created by the Glen Canyon Dam, which took ten years to be created. Lake Powell is fed by the melting of snow in the spring months. Lake Powell is known for its unique scenery, which makes it a popular tourist attraction.
3. Lake Sakakawea
Lake Sakakawea, the state's third largest reservoir, is found in North Dakota. It was formed by the Garrison Dam, which was completed in 1956. The lake is used for fishing, boating, and other activities. The Garrison Dam construction was responsible for misplacing people living in the Fort Berthold Indian Reservation and was also responsible for extensive flooding on Reservation land.
4. Lake Oahe
Lake Oahe was created by a dam on the Missouri River in the Dakotas. Lake Oahe has made recent news for being the possible site of the controversial Dakota Access Pipeline.
5. Fort Peck Lake
Fort Peck Lake is found in Montana. It is the fifth largest artificial lake in the country. It is the largest lake in Montana. Fort Peck Lake freezes over in the winter. It was formed by the Fort Peck Dam, which was completed in 1940.
Impacts of Reservoirs
Reservoirs are a critical source of fresh water for the communities living around the reservoirs. The reservoirs also have other purposes including the regulation of water levels which is important in averting floods in a river's downstream regions. The large American reservoirs also act as tourist attractions from the parks and recreation areas found on the shores. However, the establishment of reservoirs can also have detrimental effects, especially in the biosphere. The formation of Amistad Reservoir led to the submerging of Goodenough Spring which was the only wild habitat for the Amistad gambusia, a fish species. The species was declared extinct in 1987.
The Largest Reservoirs in the United States
| Rank | Reservoir | Capacity (Acre-Feet) |
| --- | --- | --- |
| 1 | Lake Mead | 28,945,000 |
| 2 | Lake Powell | 26,214,900 |
| 3 | Lake Sakakawea | 24,300,000 |
| 4 | Lake Oahe | 23,500,000 |
| 5 | Fort Peck Lake | 19,100,000 |
| 6 | F.D. Roosevelt Lake | 9,562,000 |
| 7 | Kentucky Lake | 6,129,000 |
| 8 | Lake Cumberland | 6,089,000 |
| 9 | Lake Koocanusa | 5,869,000 |
| 10 | Bull Shoals Lake | 5,869,200 |