Geography
Smoothed by glacier retreat during the last Ice Age, Lithuania is mostly flat lowlands in the west, with some low hills.
In the east and southeast, bogs, numerous small lakes, and the rolling hills of the Baltic Highlands dominate the landscape, where much of the land is covered by dense forest.
Its highest point is near the Belarus border where the Juozapine stands at 964 ft. (294m).
Important rivers include the Neman (Nemunas), Neris and Venta.
In the west along the Baltic Sea the shallow Curonian Lagoon extends south to Kaliningrad.
Geography
Lithuania
Location:
Eastern Europe, bordering the Baltic Sea, between Latvia and Russia

Geographic coordinates:

56 00 N, 24 00 E

Map references:

Europe

Area:

total: 65,200 sq km
land: NA sq km
water: NA sq km

Area - comparative:

slightly larger than West Virginia

Land boundaries:

total: 1,273 km
border countries: Belarus 502 km, Latvia 453 km, Poland 91 km, Russia (Kaliningrad) 227 km

Coastline:

99 km

Maritime claims:

territorial sea: 12 nm

Climate:

transitional, between maritime and continental; wet, moderate winters and summers

Terrain:

lowland, many scattered small lakes, fertile soil

Elevation extremes:

lowest point: Baltic Sea 0 m
highest point: Juozapines/Kalnas 292 m

Natural resources:

peat, arable land

Land use:

arable land: 45.22%
permanent crops: 0.91%
other: 53.87% (2001)

Irrigated land:

90 sq km (1998 est.)

Natural hazards:

NA

Environment - current issues:

contamination of soil and groundwater with petroleum products and chemicals at military bases

Environment - international agreements:

party to: Air Pollution, Biodiversity, Climate Change, Climate Change-Kyoto Protocol, Endangered Species, Hazardous Wastes, Law of the Sea, Ozone Layer Protection, Ship Pollution, Wetlands
signed, but not ratified: Air Pollution-Persistent Organic Pollutants

Geography - note:

fertile central plains are separated by hilly uplands that are ancient glacial deposits
Note: The information tabled directly above was researched by and provided by the U.S. Central Intelligence Agency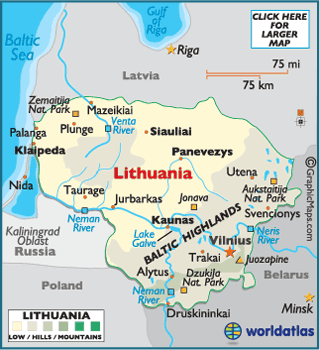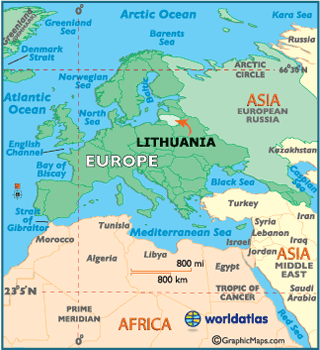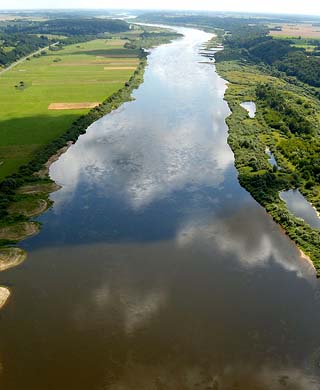 Aerial view of Neman River
Watas at en.wikipedia