Lina Bo Bardi was an Italian-Brazilian modern architect born in December of 1914. Her contributions to the art world include print design work, architecture, set design, and furniture design. Today, she is most known for her design of the São Paulo Museum of Art (known as the MASP), the SESC Pompéia, and a modern bowl chair design (Bardi's bowl). While many consider her a modernist, Bo Bardi also incorporated many traditional methods (learned from artisans) such as straw and mud into her work. Much of her life's work in architecture was about the social and cultural potential of architecture and design. She died on March 20, 1992.
Childhood and Foundations in Italy
Lina Bo Bardi was born Achillina Bo to Enrico and Giovana Bo, in Italy. From a young age she enjoyed art. Lina studied at the Rome College of Architecture and graduated in 1939 at the age of 25. She studied under architects such as Gustavo Giovannoni and Marcello Piacentini. Her father was not supportive of her decision to be an architect.
After her graduation, Lina moved to Milan, where she worked with Carlo Pagani in the Studio Bo e Pagani. She also worked with Giò Ponti, a designer and architect, on the magazine Lo Stile. Due to World War II, there was limited architecture work. Consequently, during this time Bo Bardi worked with a number of different publications doing design work, including Illustrazione Italiana and Vetrina. From 1944-5 Bo Bardi was the Deputy Director of Domus magazine. In 1943 her office was destroyed by an aerial bombing. Bo Bardi became involved in the Italian Resistance movement during the war and was active in the Italian Communist party. In 1946 she married an art gallery director by the name of Pietro Maria Bardi, and the two moved to Brazil.
Life & Work in Brazil
Bo Bardi and her husband came to Brazil because Bardi had been invited by Assis Chateaubriand (a journalist and media magnate) to help set up the São Paulo Musem of Art. Initially they only planned on staying a year, however Bardi became the director of the Museum. Bo Bardi designed the interior of the first iteration of MASP and the wall hanging system, which was unique and suspended paintings away from the wall. The first iteration of the museum shared space with other parts of Chateaubriand's business.
In 1950, Lina and Pietro launched the magazine Habitat; the title of the magazine referred to Bo Bardi's concept that the ideal interior was a habitat that was designed specifically with the intent (and execution) of maximizing human potential. Bo Bardi was its editor until 1953. The magazine became one of the most influential architectural magazines of its time. In 1951 Bo Bardi became a naturalized citizen of Brazil and designed her home the Glass House (Casa Vidrio).
MASP
Editorial credit: Alf Ribeiro / Shutterstock.com.
In 1957/1958, Bo Bardi began the design of the expanded MASP. The museum had outgrown its space and needed more room. The building that Bo Bardi designed was a response to a unique situation: the plaza Terraço do Trianon needed to remain open and available. Her solution was to divide the building into two parts: first, two levels are below ground and then she built a suspended edifice 26 feet above ground. The building has bright red concrete pillars which hold it up over a 70 feet square. Construction on the space would continue until 1968. Her work was seen as innovative and bold.
Pompéia Factory (SESC Pompéia)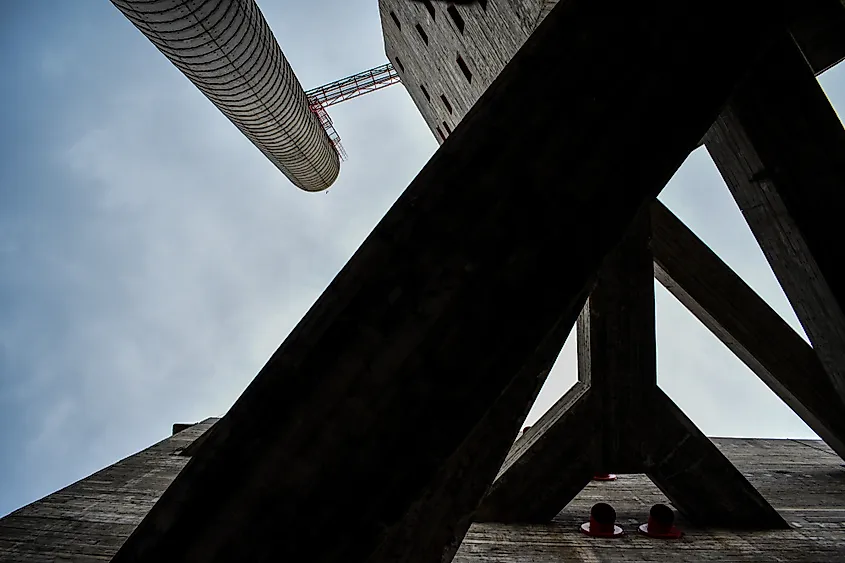 In 1977, Bo Bardi was commissioned to convert an old steel drum factory into a leisure/community center. From the beginning, Bo Bardi's influence was strong. Rather than tearing down the old factory and making a new building from scratch, Bo Bardi adapted the building. Her argument was that space was already being used for some of its planned activities. Bo Bardi attached three concrete towers to the factory and connected the buildings using bridges. SESC Pompéia has multiple activities hosted within it—football, swimming, dance, theatre, art—and various populations: children, older folks playing chess. It is organized around a nonhierarchical environment: each area is given equal prominence and care. The center is still popular today and is a testament to Bo Bardi's vision. The building was built in stages, from 1977 until 1986.
Design Philosophy
Bo Bardi's work was significantly informed by her life experience, beginning with her time in Italy. Once she came to Brazil though, her immersion into the culture there and her husband's passion for making art and art education accessible to all influenced her work. In the late 50s and early 60s, Bo Bardi lived in Bahia (in Salvador). Bahia is one of the most demographically and culturally diverse states in Brazil, as well as one of the poorest. During this time, Bo Bardi became even more committed to repurposing existing structures. Bo Bardi believed that the most interesting thing about a space or a piece of furniture should be the person using it.
Today Lina Bo Bardi's work is experiencing a renaissance and she is perhaps finally receiving the credit due to her for her vision and her extensive contribution to the design and architecture world. In 2012 her work was featured in an exhibit titled "Lina Bo Bardi: Together". Its title was drawn from a statement Bo Bardi had made about the importance of collaboration.