Roza Shanina – Famous Soviet Sniper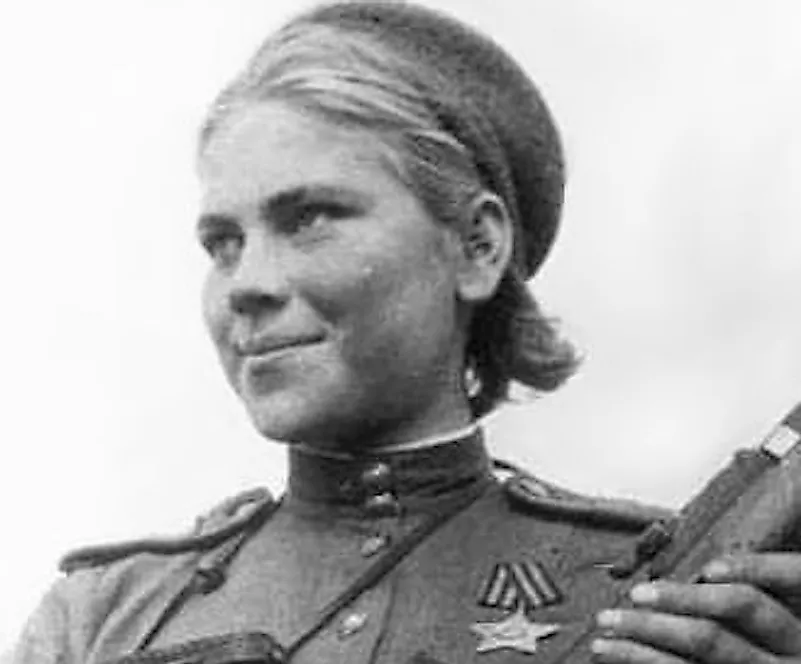 Roza Shanina was a Soviet sniper who lived between April 3, 1924, and January 28, 1945. She was prominent during World War II where she had most of her 59 confirmed kills. The count also includes the Battle of Vilnius where she got 12 kills as part of the confirmed 59. Aside from her accuracy in shooting, she also had the ability to hit two targets by releasing two bullets in quick succession, which is called making doublets. She was once described as an "unseen terror" by a Canadian newspaper, which is not surprising considering that she received the Order of Glory for her bravery. She died during the East Prussian Offensive while trying to protect a wounded officer.
Early life
Roza was born to Georgiy Mikhailovich Shanin (a logger) and Anna Alexeyevna Shanina (a milkmaid) in Arkhangelsk Oblast. She grew up in a village called Yedma together with her six siblings and three orphans that her parents were raising as well. After elementary school in her village, she was forced to advance her education in a village called Bereznik some 8.1 miles away.
Against her parents' wishes, she joined college at the age of 14 in the city of Arkhangelsk. Getting to the city required her to walk 120 miles. With little to her name, she had to stay with her elder brother called Fyodor. After years of hardship and adventures, she graduated from college during the academic year of 1941/1942, which was the time when the Soviet Union officially joined World War II. However, she did not join the military then as she began work in a kindergarten.
The German Invasion
The Germans invaded the Soviet Union in 1941, which forced Roza and her townspeople to take measures to defend the kindergarten. At that time, two of her brothers had been enlisted in the military. In December 1941, she received word that one of her brothers, Mikhail, who was 19 at the time, had been killed at the Siege of Leningrad. Two more of her brothers also lost their lives in the war.
Roza Joins the Military
Following the death of Mikhail, she went to join the military, which was easier because the Russians were deploying women as snipers. The Russians believed that women had flexible bodies, patience, cunning, and care. She was accepted on June 22, 1943, for universal military training. Before her acceptance into the program, she had taught herself to shoot at a range. After several applications, she was accepted into the Central Women's Sniper Training School. She graduated with honors from the school.
Shanina was attached to the 184th Rifle Division on April 2, 1944, after the victory at the Battle of Stalingrad. Three days later, she made her first confirmed kill in an area on the southeastern side of Vitebsk. According to her diary, this was a hard moment for her and it took a while for her to get used to killing. Her diary also records that she found her life's meaning in the killings and that she would do it again if she had to.
On April 18, 1944, she was awarded the Order of Glory 3rd Class, which was her first military accolade. She received the award because of her impressive number of kills, which was 17 at the time. In the same year, she was featured on the front page of Unichtozhim Vraga, a Soviet newspaper. Over the years, she would justify this award and others she got through her driven nature and impressive skill.
Her Final Days
Roza died during the East Prussian Offensive when the Germans strengthened their position. She recorded in her diary that she was being pushed to be where the danger was despite her wish to stay in a safe place. In fact, she was prepared to join in melee combat. This was an entry for January 16, 1945. The next day, she wrote that she was close to her death because 72 people of her 82-person battalion were dead. The last entry states that they had to take shelter as the German offensive was too intense.
Two soldiers found her severely wounded on January 27. She died the following day despite the best attempts at saving her life. According to the nurse who saw to her, Roza's regret was that she had not done enough. She was buried on the shores of the Lava River, which was previously called the Alle River. She was later buried again at Znamensk, Kaliningrad Oblast.