Presidents Of Argentina Since 1900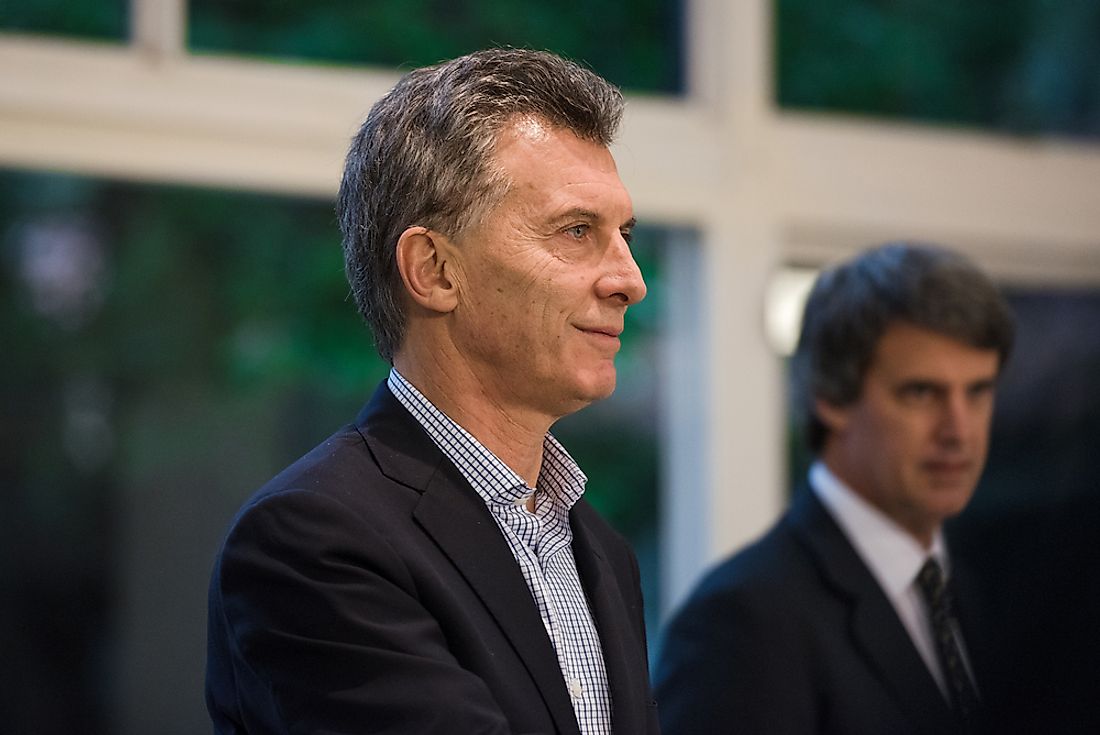 Argentina's President is the nation's commander-in-Chief, its Chief Executive, and its Head of both State and Government. Before Argentina's independence, the country was part of the vast Spanish empire in Latin America headed by the King of Spain. Beginning in 1776, Argentina was part of the Viceroyalty of La Plata, administered from Buenos Aires, until the Republic of Argentina was established constitutionally in 1853. The first constitutionally elected President was in 1953, and the position has evolved over time in regards to duties and responsibilities. Argentina's President appoints the Supreme Court's judges with the approval of the Senate and other members of the judiciary, senior officers of the army, and ambassadors. The President takes part in law making and promulgation, and also grants pardons, retirements, and pensions, and appoints the chief of the cabinet ministers and removes the former bearers of the office as well.
List of Argentina Presidents
Julio Argentino Roca
Julio Argentino Roca served as the Chief Executive of Argentina from 1898 until 1904. He was born in San Miguel de Tucuman on July 17, 1843. Born into a wealthy family, Roca received his education from the National College in Uruguay, where he studied for a degree course. Roca started his military career at around the age of fifteen, volunteering to fight for the interior provinces of Buenos Aires. He then switched sides to fight for Buenos Aires against the provinces and was also involved in numerous battles in the war with Paraguay. He rose to the level of colonel and later general and embarked on a mission to extend Argentina by expelling the Indians in the South as Minister of War. His popularity saw him elected as President first in 1880 and 1898. One of his notable achievements was the settling of border disputes with Chile, Bolivia, Brazil, and Paraguay. His government embarked on improving Argentina's infrastructure and subsequently improved the country's economy. His diplomatic skills proved useful when relations with Vatican were restored. He is mainly credited with quelling down the political chaos that had characterized the governments of his predecessors.
Manuel Quintana
Manuel Quintana succeeded Julio Roca in 1904 and served as Argentina's President from then until 1906. Quintana was born in Buenos Aires on October 19, 1835, and graduated in 1855 with a law degree from the University of Buenos Aires. His political career mainly revolved in the Congress, first as a Deputy in 1864 and then as a Senator in 1870. Quintana was not a keen supporter of Julio Roca, and his primary challenge as President was to quell a growing number of radicals in the government. Quintana and his wife survived an assassination attempt in 1905, and Quintana resigned from office in 1906 due to health reasons, dying in the same year.
José Figueroa Alcorta
José Figueroa Alcorta was Argentina's President from 1906 until 1910. Born in Córdoba on November 20, 1860, Alcorta represented Córdoba in Congress before he was Provincial Governor in 1895. He was elected Senator in 1898 and Vice President in 1904. After ascending to Presidency in 1906, Alcorta embarked on destroying Julio Roca's political machinery and establishing a working coalition with the opposition, most of whom were radicals. Alcorta made history as the first and only president of Argentina to have presided over the three arms of government, and that is Legislative as a Deputy and Senator, executive as President and the Judiciary as Justice of the Supreme Court in 1929. He died on December 27, 1931, in Buenos Aires.
Roque Sáenz Peňa
Roque Sáenz Peňa was Argentina's President from 1910 until 1914. He was born in Buenos Aires on March 19, 1914, to the former Argentine President Luis Sáenz Peňa, who was in office from 1892 until 1895. Roque traveled to Europe before going back home and assuming the position of foreign minister and Ambassador to Spain and Italy. He also took part in the War of the Pacific as a colonel and was jailed in Chile for six months after the Battle of Arica. He is credited with overseeing the first free elections in Argentina through the Sáenz Peňa Law. The law established the secret ballot and made voting compulsory for all males over 18, a move aimed to destroy the Argentine Oligarchy, where a few people had previously held power in the country. Roque died while in office on August 9, 1914.
Notable Argentine Presidents of the New Millennium
Cristina Fernadez became the first female to be elected as president of Argentina, and she served in the role from 2007 until 2015. She succeeded her husband Nestor Kirchner who was in office from 2003 to 2007. Fernandez studied law, as did her husband, at the University of La Plata, and the two were married in 1975. In 1985, she participated in elective politics when she was elected as a provincial delegate of Justicialist Party (JP) and later to the provincial legislature. When her husband decided not to run for the second term in 2007, she offered herself and commanded an earlier lead right from the campaigns to the election when she garnered 45% of total votes cast. The incumbent president of Argentina is Mauricio Macri, who became the president in 215.
Presidents Of Argentina In The 20th And 21st Centuries
| | |
| --- | --- |
| Presidents of Argentina Since 1900 | Term in Office |
| Julio Argentino Roca | 1898-1904 |
| Manuel Quintana | 1904-1906 |
| José Figueroa Alcorta | 1906-1910 |
| Roque Sáenz Peña | 1910-1914 |
| Victorino de la Plaza | 1914-1916 |
| Hipólito Yrigoyen | 1916-1922 |
| Marcelo Torcuato de Alvear | 1922-1928 |
| Hipólito Yrigoyen | 1928-1930 |
| José Félix Uriburu | 1930-1932 |
| Agustín Pedro Justo | 1932-1938 |
| Roberto María Ortiz | 1938-1942 |
| Ramón Castillo | 1942-1943 |
| Arturo Rawson | 1943 |
| Pedro Pablo Ramírez | 1943-1944 |
| Edelmiro Julián Farrell | 1944-1946 |
| Juan Domingo Perón | 1946-1955 |
| Eduardo Lonardi | 1955 |
| Pedro Eugenio Aramburu | 1955-1958 |
| Arturo Frondizi | 1958-1962 |
| José María Guido | 1962-1963 |
| Arturo Umberto Illia | 1963-1966 |
| Juan Carlos Onganía | 1966-1970 |
| Roberto M. Levingston | 1970-1971 |
| Alejandro A. Lanusse | 1971-1973 |
| Héctor José Cámpora | 1973 |
| Raúl Alberto Lastiri | 1973 |
| Juan Domingo Perón | 1973-1974 |
| Isabel Martínez de Perón | 1974-1976 |
| Jorge Rafael Videla | 1976-1981 |
| Roberto Eduardo Viola | 1981 |
| Leopoldo Galtieri | 1981-1982 |
| Reynaldo Bignone | 1982-1983 |
| Raúl Alfonsín | 1983-1989 |
| Carlos Menem | 1989-1999 |
| Fernando de la Rúa | 1999-2001 |
| Adolfo Rodríguez Saá | 2001 |
| Eduardo Duhalde | 2002-2003 |
| Néstor Kirchner | 2003-2007 |
| Cristina Fernández de Kirchner | 2007-2015 |
| Mauricio Macri (Incumbent) | 2015-Present |