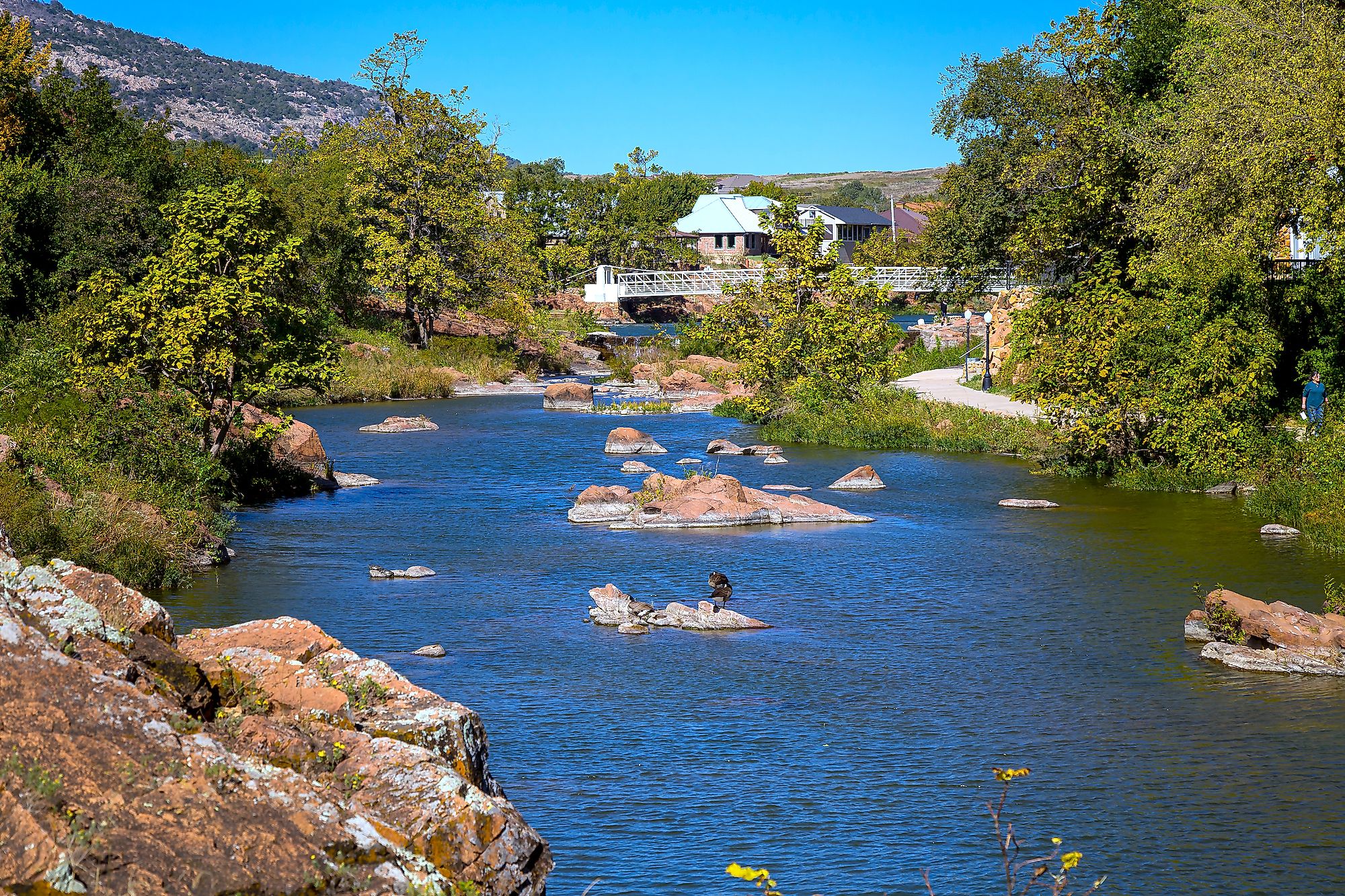 11 cutest small towns in Oklahoma
Every Oklahoma small town exudes a different kind of appeal. For some, their major draw is access to nature, some bust of fresh air, and the majestic outdoors. For others, it is the personal touch and intimate connection. One does not feel like a pin in a haystack. For some others, it is the slow pace of life. Everything is unhurried and calm. Of course, many small Oklahoma towns, as with towns in other states, are almost always uncrowded. As many might confess, it is a pleasure strolling through their cobble-stoned streets while taking in their captivating architecture. 
Broken Bow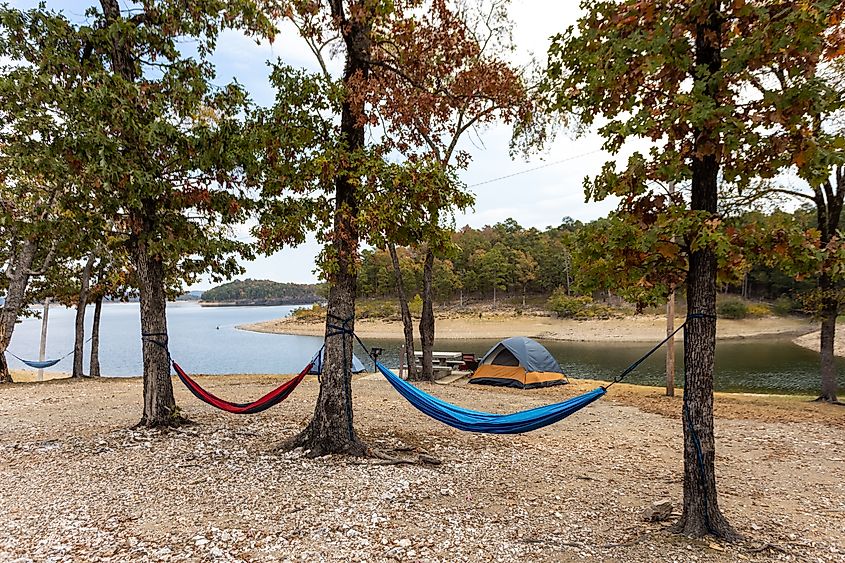 Southeastern Oklahoma boasts some of the best scenes and sites in the state. One of its gems is the beautiful little town of Broken Bow. With an estimated population of 4,000, Broken Bow is an Oklahoma small town that is among the most talked-about. For instance, it is one of only two Oklahoma towns that readers of Sothern Living ranked among the Best 50 Small Towns In the South for 2023. Nestled in the foothills of the Kiamichi Mountains, a frontal belt of the Ouachita Mountains, Broken Bow is framed by natural grandeur on every side. Outdoor lovers may want to head straight to Beavers Bend State Park — which in turn provides access to Broken Bow Lake — known for its blue, crystal-clear waters. And Broken Bow, as many foodies will confess, has plenty of dining options that can make one's taste buds run wild.
Guthrie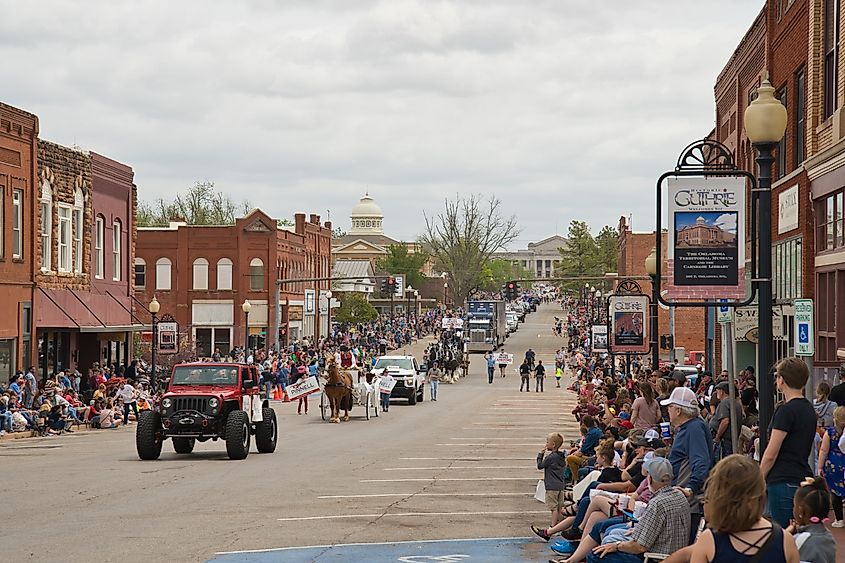 Guthrie and Broken Bow are the only Oklahoma towns featured in Southern Living's Best 50 Small Towns In the South for 2023. Guthrie boasts a population of about 11,000, fortunate to call this slice of paradise home. Once an unnoticeable railroad stop, Guthrie would later witness remarkable growth that culminated in it being the first capital in the state of Oklahoma. While it would yield that title to Oklahoma City, it retained much of its appeal. Today, this small town is an art lover's paradise famed for its impressive range of eclectic art galleries and antique stores. Besides, widely regarded as "Oklahoma's Christmas Capital," Guthrie's downtown boasts the largest contiguous National Register of Historic Places in the country. 
Medicine Park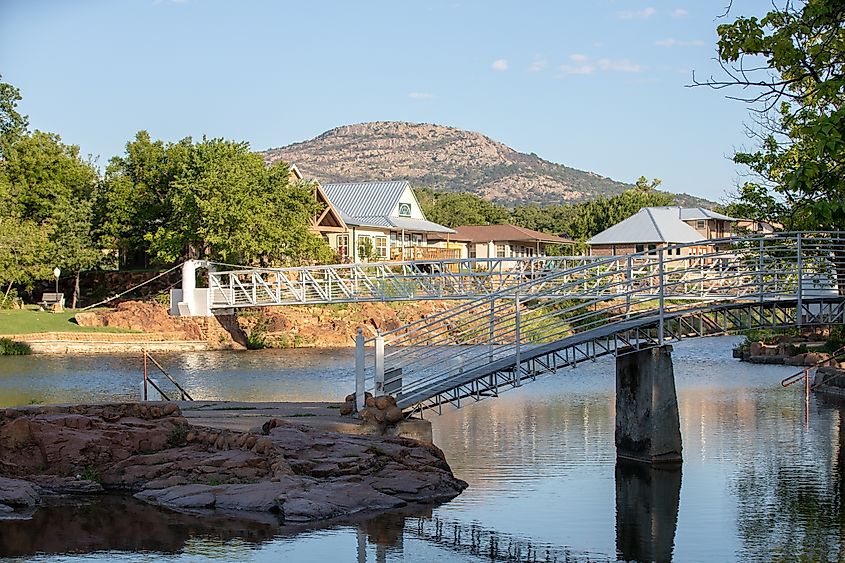 Secreted in southwest Oklahoma's Wichita Mountains, Medicine Park is as therapeutic as the name implies. But it is not about popping pills. Medicine Park's reputation as a resort town spans decades. Reputed to be Oklahoma's first resort town, Medicine Park's claim to fame has always been its picturesque mountains and unique cobblestone deposits. Attracted by nature's splendor, the town's founder built a health spa and called it Medicine Park. This was in reference to Medicine Creek which runs through the town — and whose waters Natives believed possessed healing properties. Styling itself as a Paradise on the Prairie, Medicine Park boasts such outdoor options as Bath Lake, located right in town, the 59,000-acre Wichita Mountains Wildlife Refuge, and the peaceful Lake Lawtonka.
Pauls Valley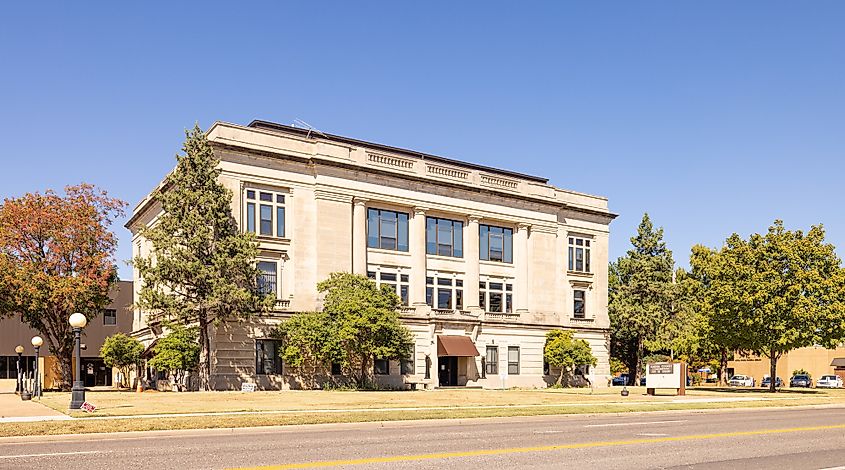 In USA Today's list of "10 best small towns in the South for 2023," there is only one Oklahoma town that is featured: Pauls Valley. One of the town's highlights is the beautiful Pauls Valley Lake which is located just 3 miles from town. This lake features playgrounds that children will enjoy getting tired on—as well as grills and campsites. Of course, swimming is on the menu, as is boating and fishing. For parents (or adults) with children, it will be fun showing the kids toys from their childhood days at the Toy & Action Figure Museum. For amateur historians, a trip highlight awaits at the Santa Fe Depot Museum located right next to the Amtrak Station.
Eufaula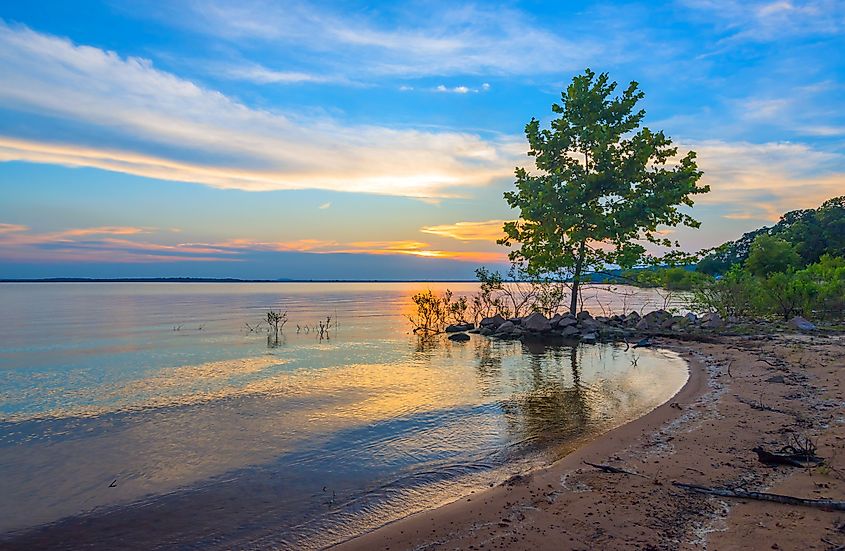 Eufaula is charmingly curled up in eastern Oklahoma near the shoreline of the largest lake by surface area in Oklahoma. Boasting an average depth of 23 feet, one of the biggest lakes in Oklahoma is a blue-space gem where visitors seek out some calm and quiet. And with more than 800 miles of shoreline, Lake Eufaula offers numberless thrills no one will want to miss. One can spend hours bobbing about in boats of every stripe: houseboats, paddleboats, pontoon boats, name it. And if fishing makes one's heart race, Lake Eufaula is a perfect antidote. Then again, the lake boasts trails ideal for biking, hiking, or just wandering about in quiet pleasure. And whether one is craving steak, cheese curds, or fries, Dobber's Roadhouse, located at 17155 OK-9, just about checks all boxes.
Perry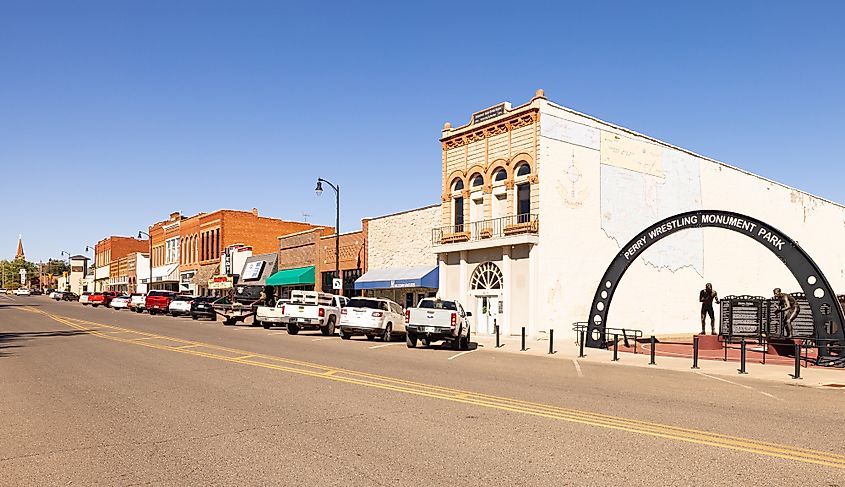 Perry is a small city of about 4,500, nestled in Noble County, Oklahoma's north-central county, and is called the "Rose Rock Capital of the World." Rose rock is a beautiful amalgam of barite and sand that looks like a fully-bloomed rose flower. One of the town's highlights is Perry Lake, a blue-space gem located just about two miles off Highway 77 and whose picturesque shoreline the town cuddles. Perry Lake is a reservoir of the Upper Black Bear Creek system and offers several outdoor activities that will be fun to engage in. These include skiing, swimming, and boating. For even more fun, CCC Lake and Park is an oasis of quiet where one can enjoy some fishing, swimming, or just relaxing and hearing the chirping of birds and the rustling of leaves.
Bristow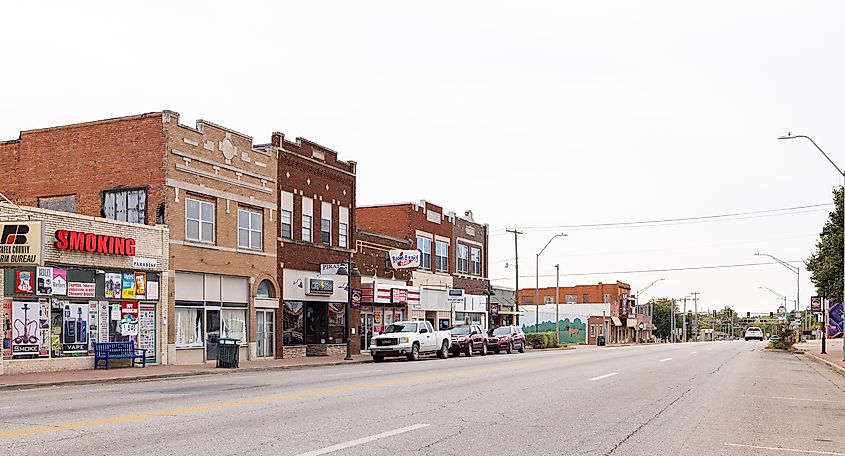 Visitors to Bristow, a town of about 4,000 nestled in northern Oklahoma's Creek County, will find sylvan charm in the 3-acre Klinger Smith Park. An added benefit to exploring Klinger Smith Park is the presence of another pleasure spot: Lake Massena. Whether one just wants to relax and listen to the heart's rhythmic beat, indulge in some great fishing, or just wait for an incredible glow in the sky as the sun dips below the horizon, Lake Massena is a secret gem worth uncovering. Besides Klinger State Park, other parks in convenient proximity include Lincoln Park, a 1.8-acre park located at 145 East Lincoln Avenue, and of course, Bristow City Park, 23 acres of greenery that is also the largest park in Bristow.
Carlton Landing
Carlton Landing is located directly south of Eufaula and is just separated from its northern neighbor by the Canadian River, the longest tributary of the Arkansas River. The town has seamlessly connected sidewalks that are enjoyable to stroll through or bike around. Exuding a look that is simple, authentic, and consequently charming, Carlton Landing is hard to find fault with. And with Lake Eufaula close by, blue-space fun is at the doorstep. The newest town in Oklahoma also boasts several parks, hammocks, and all, where one can swing in the shade and enjoy the calm and quiet. These include Pavilion Park, Firefly Park, and Redbud Park. For some feeling of warm sand on the toes and ankles, Swim Beach on Lake Eufaula is the place to look for.
Durant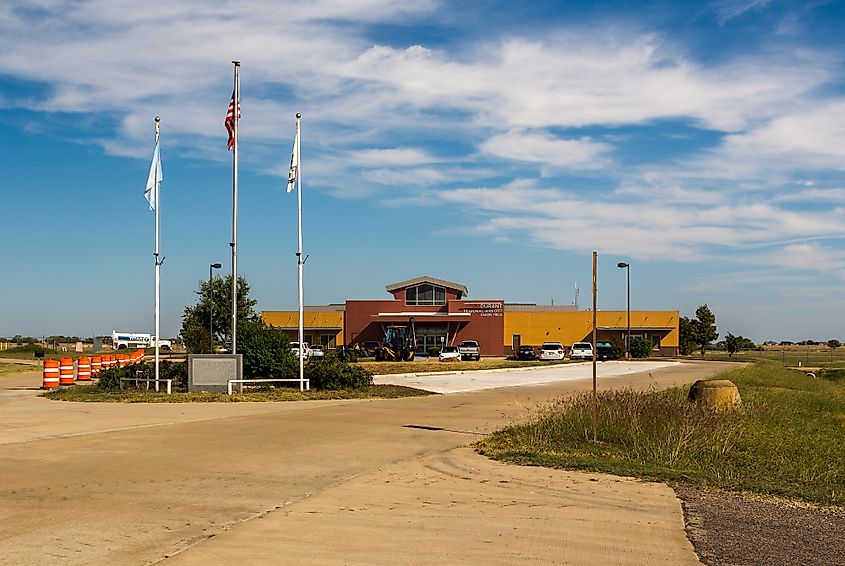 Nestled in Oklahoma's Bryan County, named for Democratic politician William Jennings Bryan, Durant boasts a population of about 18,000—and is as gorgeous as it is functional. Durant is known as "the City of Magnolias" or "the Magnolia Capital of Oklahoma." This is because the city's streets are lined on either side by an impressive number of beautiful Magnolia trees. Scientists believe Magnolia trees are the oldest of all flowering plant families. And of all trees, both that flower and that don't, experts believe only conifers are older than Magnolias. Aside from its Magnolia fame, outdoor lovers will want to linger in Durant. A famous draw is the beautiful Lake Texoma, whose sparkling waters lie only 15 minutes from Durant.
Woodward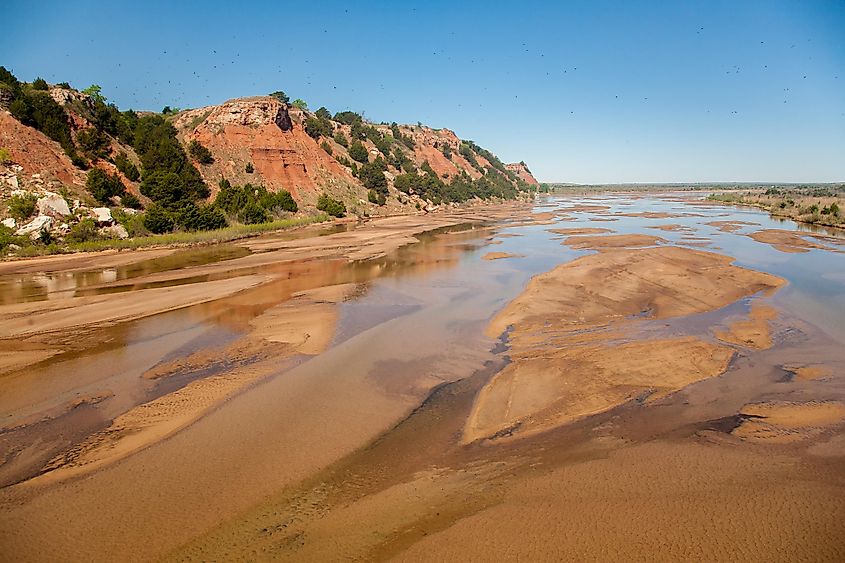 Curled up on the banks of the North Canadian River, Woodward is set in a rustic backdrop that is charmingly alluring. Cute, cool, and super convenient, Woodward is just where one will want to escape because of its amenities and attractions. The town of about 12,000 boasts two golf courses, numberless shopping and dining options, and Goetzinger Walking Trail, arguably Oklahoma's largest green space. Stretching for well over 600 acres, Goetzinger Walking Trail features more than five miles of paved walking trails, a gorgeous lake, and about 1.5 miles of nature trails. Conveniently located within the city, visitors will enjoy the serenity here, the amazing views, and the encounter with wildlife such as deer herds and flocks of turkey.
Pawhuska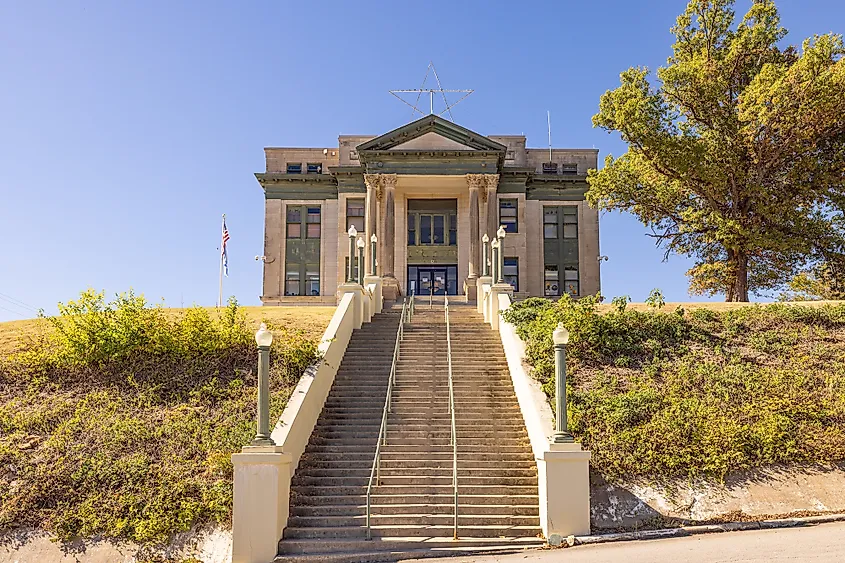 Pawhuska is that cute little town that lingers on first-time visitors like a good perfume. With an estimated population of only 3,000, Pawhuska often leaves first-time visitors wondering where they have been all along. The Pioneer Woman Mercantile, for instance, on average, sees more than 6,000 customers every day. Sometimes, that number can shoot up to 15,000. For a clearer perspective, one should read this while keeping a tab on the town's population. Aside from this shopping and dining wonder, visitors will love strolling through Pawhuska's downtown, which boasts 86 buildings listed on the National Register of Historic Places. And for some dangerous thrill, the rickety slats of the Swinging Bridge await those who are brave enough.
The Takeaway
Those who love the allure of small towns will find several options in the Sooner State worth checking out. Each of these cute little towns comes with its distinct character and personality. However, most of these towns are slow-paced, simple, and authentic. Moreover, many are set on picturesque backdrops open to amazing views of nature's scenes and colors. From Pawhuska, a state star that pulls visitors in droves, to Broken Bow, one of only two Oklahoma towns that readers of Sothern Living ranked among the Best 50 Small Towns In the South for 2023, Oklahoma has everything for everyone.