With a combination of daylight hours and electrical power, much of the world is indeed surrounded by light. But while bright lights and the shining sun illuminate many cities, some hold records for being truly the brightest cities in the entire world. Based on several key metrics, including average daylight hours, artificial lighting, and light pollution, the British optical company Feel Good Contacts compiled a list of the world's ten brightest capital cities. Here they are ranked on the basis of light score out of 10:
1. Riyadh, Saudi Arabia - 7.11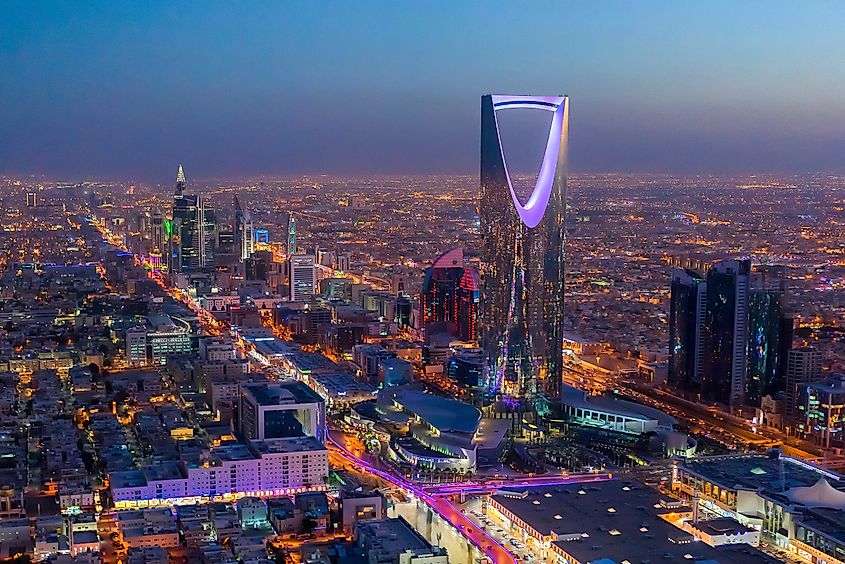 According to Feel Good Contacts' data, Saudi Arabia's capital is the world's brightest, with a light score of 7.11 out of 10. Analyzing several metrics, including artificial brightness, light pollution levels, and daylight hours, Riyadh continues to score very highly. With an average of 8.84 hours of daylight and a brightness score of 18.9 millicandelas per square meter, this desert city definitely stands out as one of the most illuminated places in the Middle East. 
2. Moscow, Russia - 6.5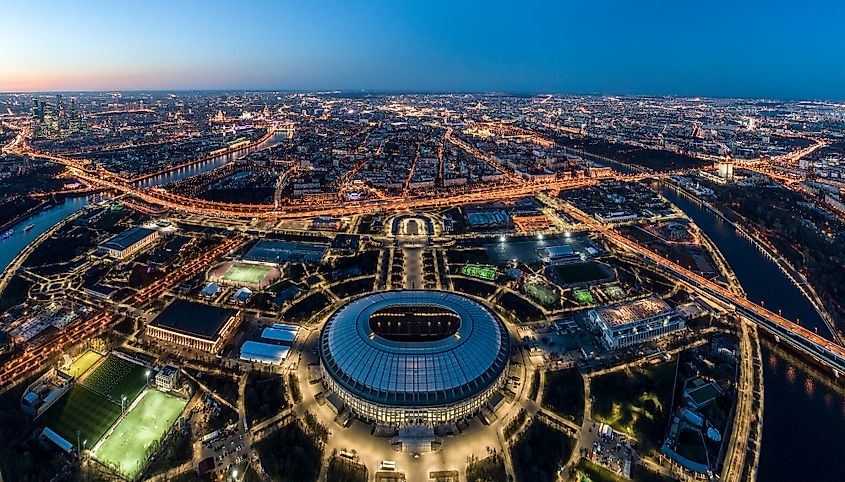 The Russian capital has a light score of 6.5 out of 10 and is the only Eastern European city in the top ten brightest cities. With a score of 20.3 millicandelas per square meter, an average of 5.21 hours of daylight, and some 20,200 candelas of artificial brightness, Moscow makes the most of its dark winter climate with plenty of electrical light. Indeed this city on the Volga River is most beautiful during the winter months when lights and other holiday displays illuminate the skyline. 
3. Washington DC, United States - 6.13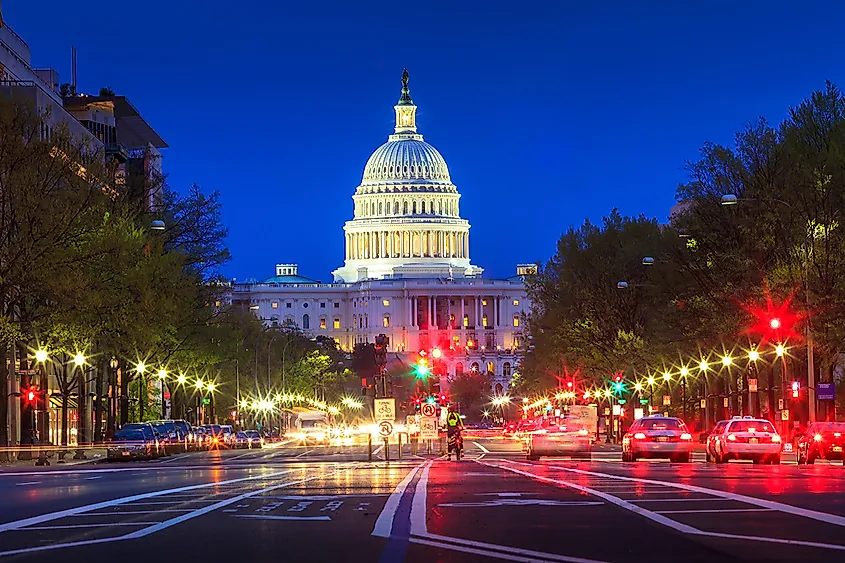 Washington DC records a brightness score of 17.9 millicandelas per square meter, according to Feel Good Contacts data, and has an overall light score of 6.13 out of 10. In addition to its 6.93 average daylight hours, the American capital also has 17,700 candelas of artificial brightness. With its many historic buildings and iconic landmarks, Washington DC is definitely a place where special lighting and illumination bring the nation's history to life.
4. London, United Kingdom - 5.87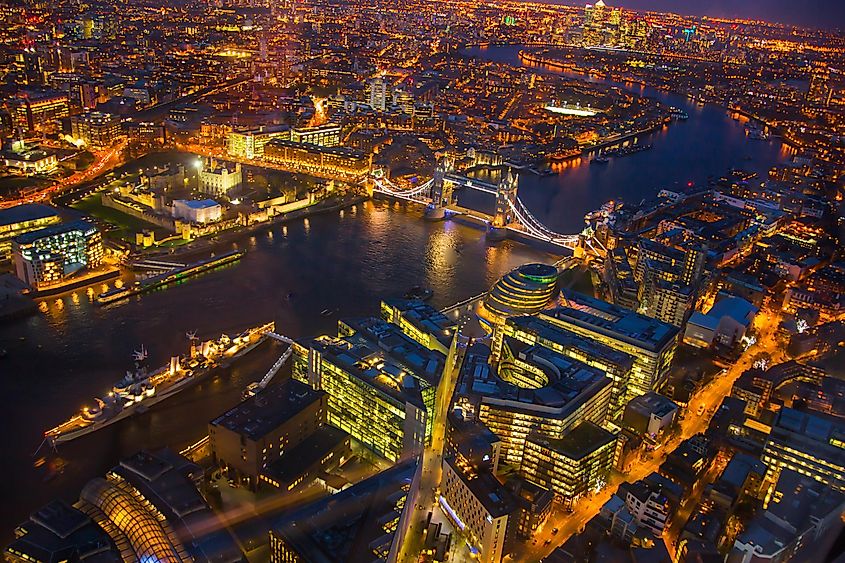 One of the world's most famous and historically important cities, London is fourth on the list of brightest cities, with a score of 5.87 out of 10. On average, this city on the River Thames sees only 4.47 daily sunshine hours and records 11.4 millicandelas per square meter. In addition, its artificial brightness score is 11,200 candelas.
5. Buenos Aires, Argentina - 4.79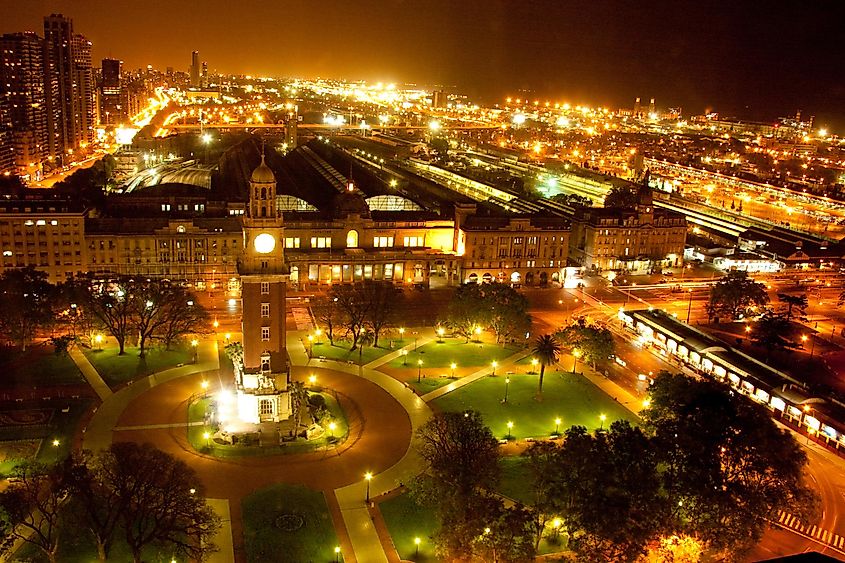 Buenos Aires is the only South American city in the top ten list of brightest global cities. Although it experiences more average daily sunshine hours than Moscow and London at 6.92, the Argentinian capital only records a light score of 4.79 out of 10. On the artificial brightness scale, the city records 12,200 candelas and a brightness rating of 12.4 millicandelas per square meter. 
6. Athens, Greece - 4.58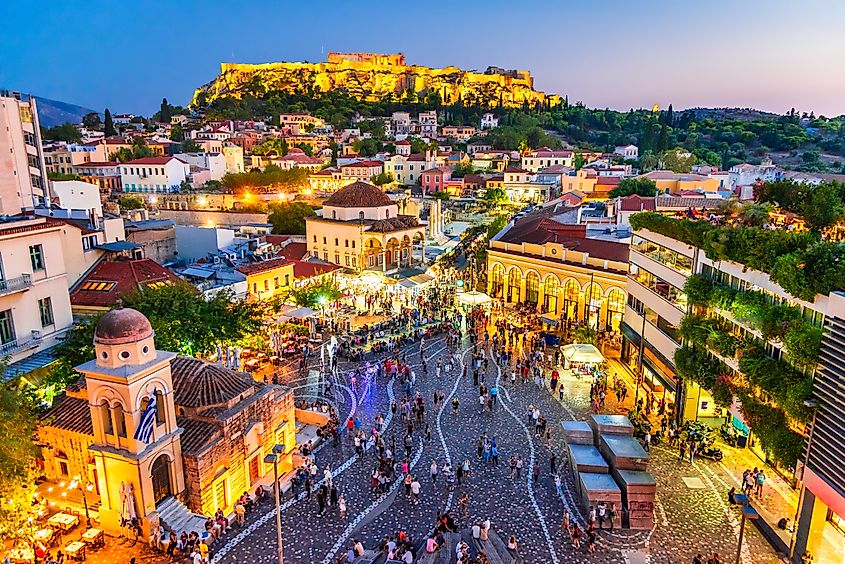 The ancient city of Athens scores a light rating of 4.58 out of 10 while seeing some 7.6 average daily sunshine hours. On the brightness scale, Greece's capital and largest city record 10.3 millicandelas per square meter and an artificial brightness score of 10,200 candelas. Widely known around the world, this important center of the ancient world is indeed not just one of the physically brightest spots in the world but also culturally. 
7. Dubai, United Arab Emirates - 4.46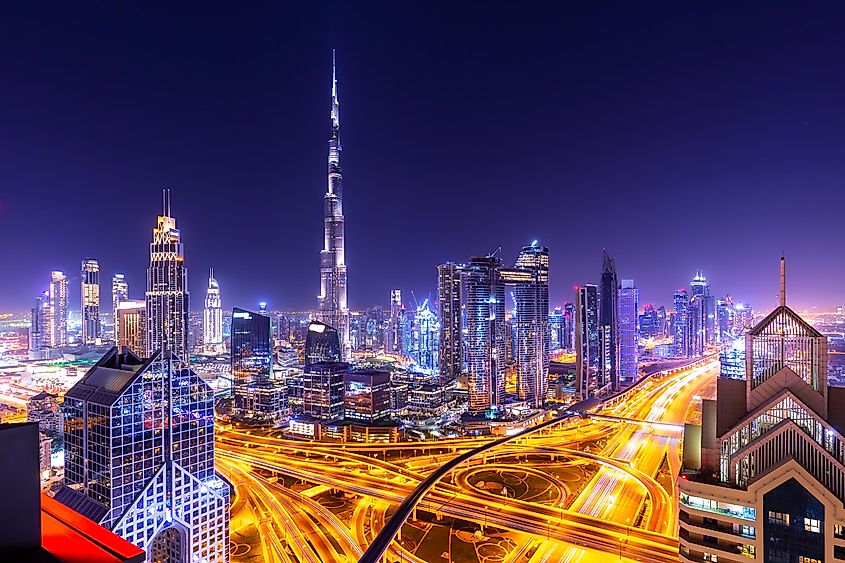 Of the cities on this list, Dubai features the highest amount of average daily sunshine hours at 9.61. Its artificial brightness score is low, however, at 4,180 candelas bringing the city's overall score down. With a rating of 4.46 out of 10, this city of 3.5 million inhabitants also records a low brightness score of 4.3 millicandelas per square meter. Regardless this desert metropolis remains one of the most fascinating and brilliant places to visit for any tourist in the Middle East region.
8. Madrid, Spain - 4.37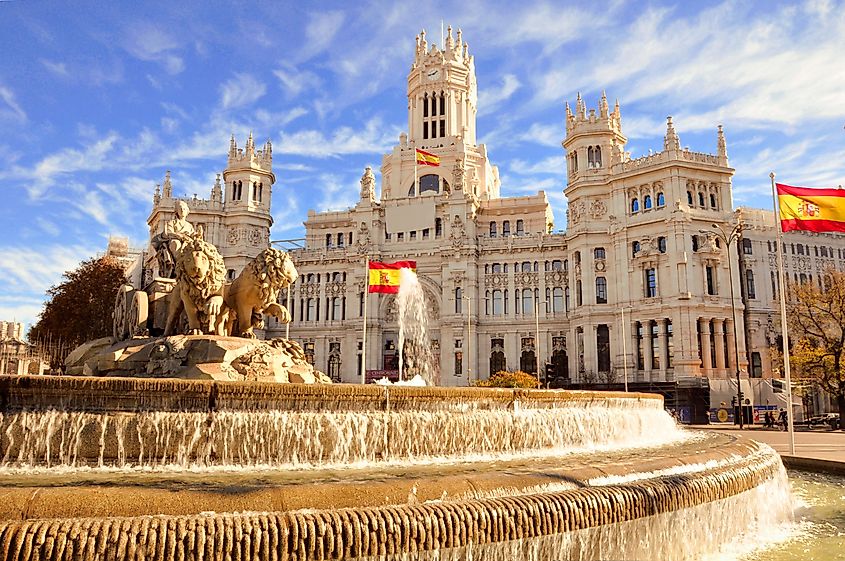 The Spanish capital of Madrid comes eighth on the list with a light score of 4.37. The city receives plenty of sunshine (7.59 hours daily) and is well lit at night, with its historic buildings and streets shining bright all through the hours of darkness. It has an artificial brightness of 9,270 candelas per square meter.
8. Lisbon, Portugal - 4.37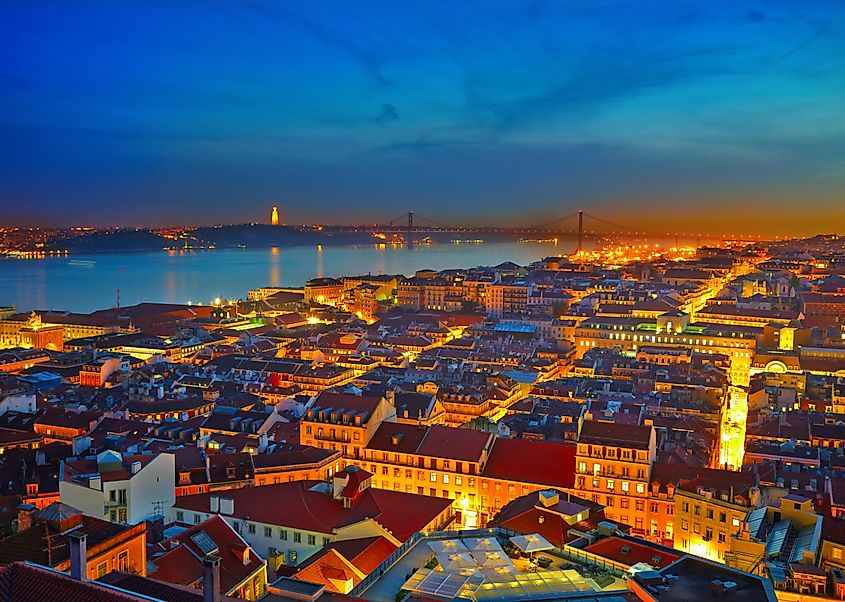 The capital city of Spain's neighboring country of Portugal, Lisbon, ties with Madrid for the eighth position with an equal score of 4.37. The well-lit streets of the city at night allow visitors to continue their quest for exploration even after the sun goes down the horizon. Lisbon receives 7.69 hours of daily sunshine and recorded 9,050 candelas per square meter of artificial brightness.
10. Tokyo, Japan - 4.31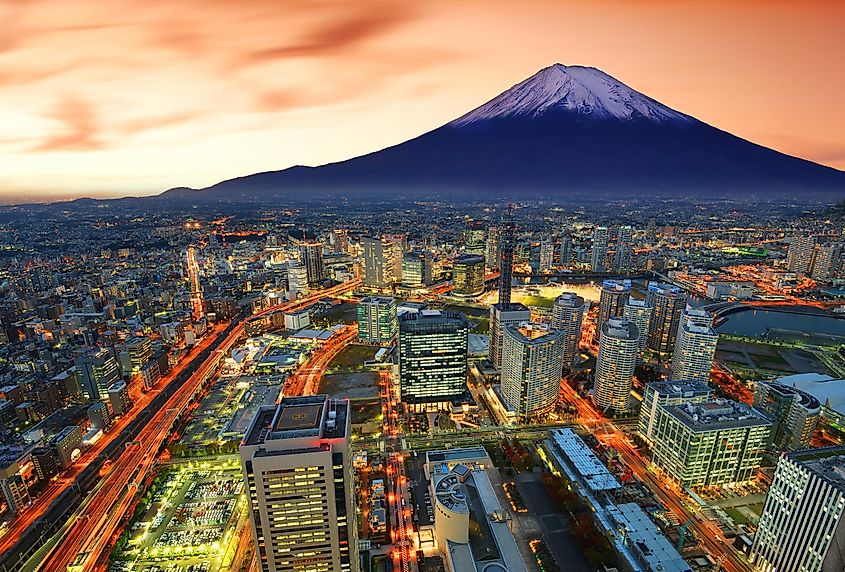 Japan's capital city and the world's most populated one shine all night through and so do the city's residents, among the most hard-working ones in the world. The city receives very few hours of daily sunshine (only 5.14 hours) but makes up with its high artificial lighting score of 9,170 to rank 10th on the list. 
These famous cities, Spanning different regions of the world, may differ in their culture and history, but they share the commonality of being amongst the brightest on the globe. Indeed a visit to any of these places will surely mean one will also get a literally illuminating holiday. However, from the perspective of the environment, the cities with high artificial light scores definitely contribute to light pollution that disturbs ecosystems in the area by adversely affecting species' natural behavior.
Capital city

Av. daily sunshine

hours

Brightness

(mcd/m2)

Artificial brightness

(cd/m2)

Light score /10

Riyadh, Saudi Arabia

8.84

18.9

18,700

7.11

Moscow, Russia

5.21

20.3

20,200

6.5

Washington, U.S

6.93

17.8

17,700

6.13

London, U.K

4.47

11.4

11,200

5.87

Buenos Aires, Argentina

6.92

12.4

12,200

4.79

Athens, Greece

7.6

10.3

10,200

4.58

Dubai, UAE

9.61

4.3

4,180

4.46

Madrid, Spain

7.59

9.44

9,270

4.37

Lisbon, Portugal

7.69

9.22

9,050

4.37

Tokyo, Japan

5.14

9.34

9,170

4.31