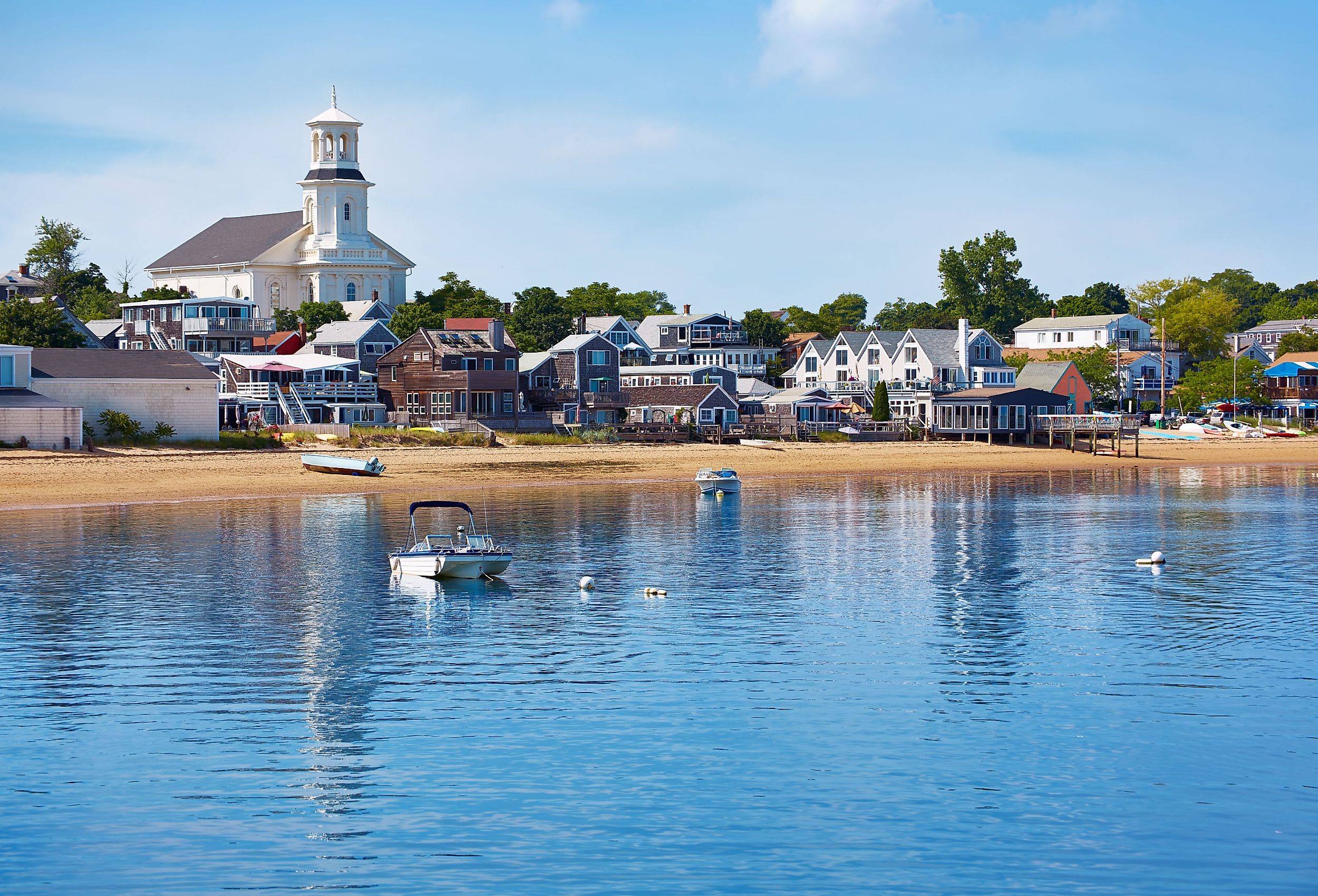 The Best Small Towns in Massachusetts To Chill Out
Massachusetts is the 7th smallest state and the 3rd most densely populated, with a big character and places like the Berkshires, Cape Cod, and many small, chill towns. Despite its size, it is hard to ignore the small Bay State that basks in New England's charm and refreshing nature, with stunning scenery at every turn and through all seasons. Find fall foliage, coastal views, historic architecture, cultural sights, and art, often inspired by the splendid environment.
Massachusetts shares borders with Connecticut and Rhode Island in the southwest and southeast, New Hampshire and Vermont in the northeast and northwest, and New York due west. It is the place where culture and nature create magic for you to experience on an unforgettable escape, like this collection of towns, a real deal ticket to chill out. Choose a picturesque town to immerse yourself in the refreshing scenery along the sandy beaches, rugged coastlines, and woodlands in the foothills.
Brewster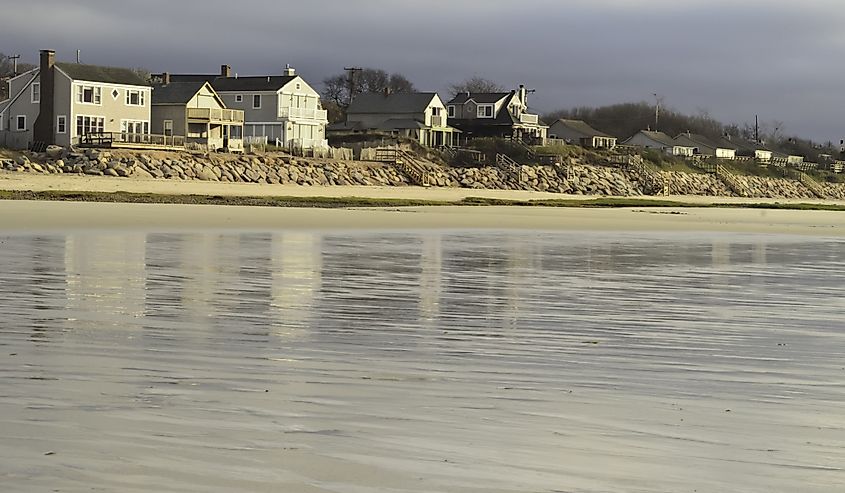 Brewster is a tiny gem on Cape Cod's north tip, shining brightly with New England's natural beauty. Immerse yourself in the chillaxing atmosphere with a laidback shoreline calling to relax and let go of worries at the stunning ocean vistas. The town is perfect for an instant-chill getaway into a slower pace or a whole vacation, with an army of attractions and pursuits for every taste. Despite seeing many new faces, Brewster retains a small-town vibe where you feel at home in the embrace of coastal charm.
Explore around town with fantastic outdoor opportunities or a relaxing picnic in nature, like Nickerson State Park with hiking trails and the nearby National Seashore beaches, to stroll, lounge, and repeat. Small Brewster's big character is evident throughout the historic downtown area, with a variety of art galleries and restaurants, as well as local shops and several museums like the Cape Cod Museum of Natural History and the Brewster Historical Society.
Edgartown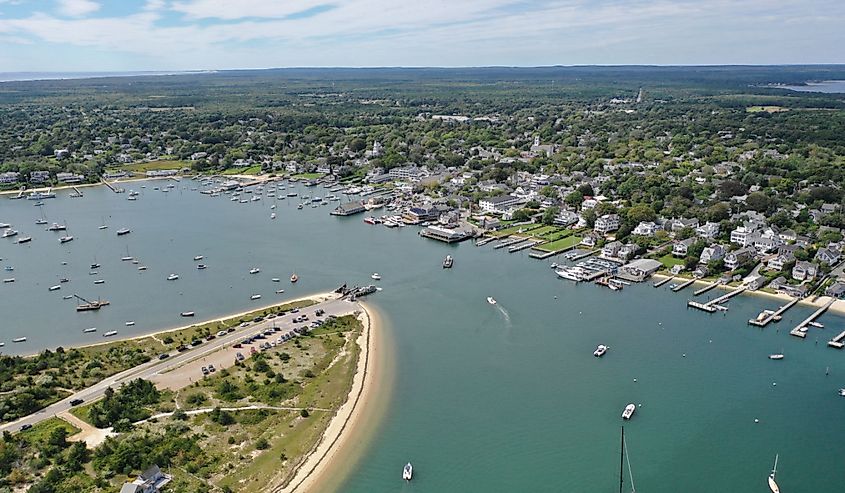 This Dukes County town along the idyllic Martha's Vineyard island was its first colonial settlement and a thriving whaling center in the past. Edgartown is a cool getaway with a relaxed and remote atmosphere and everything you need to chill out for a weekend or a whole vacation. Relish the sights on a stroll along the scenic rows of old captains' cottages down to some of the most pristine beaches of your life.
Enjoy a day of lounging and sunbathing at South Beach with perfect surf for swimming and taking a kayak to Vineyard Zen before hitting downtown for the evening. Find the Main Street trembling with attractions and the Water Streets embraced in an atmosphere of refined, quiet luxury. Sightsee the Edgartown Harbor Light and take a local ferry to the serene Chappaquiddick oasis, a favorite secret hangout.
Great Barrington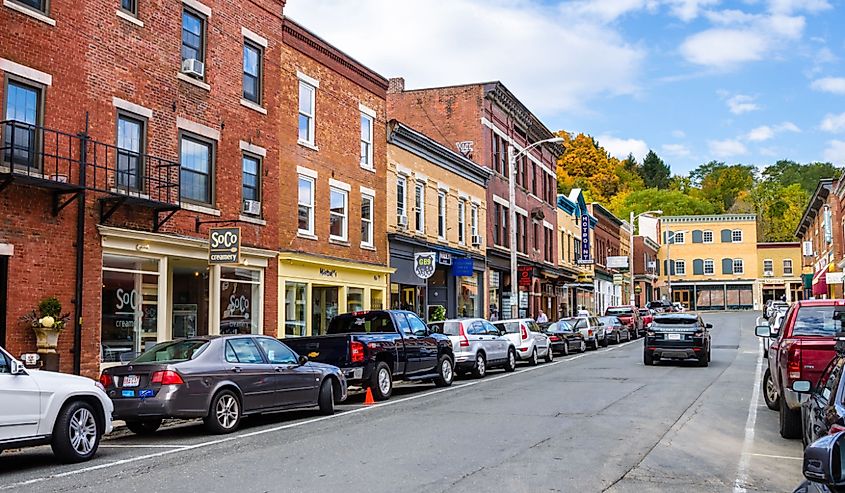 The charming town of Great Barrington is the epitome of New England's best, from vibrant arts and culture to recreational pursuits. Enjoy nature ventures along amazingly maintained trails like Monument Mountain with stunning views and Bash Bish Falls, a cascade plunging into a deep water pool. Take a cultural stroll through numerous galleries with local art and gems from around the world, and visit Mahaiwe Performing Arts Center for an annual lineup of concerts and events.
The incredibly charming, small southwestern Massachusetts town is endlessly picturesque, from its adorable downtown to the natural beauty all around the valley of the Housatonic River. Chillax your style through retail therapy hikes to the beautiful Berkshires, or along the Housatonic, on a memorable family bonding trip, a romantic getaway, or with your gang. Find delicious local cuisine for every taste and style of dining at many restaurants.
Lenox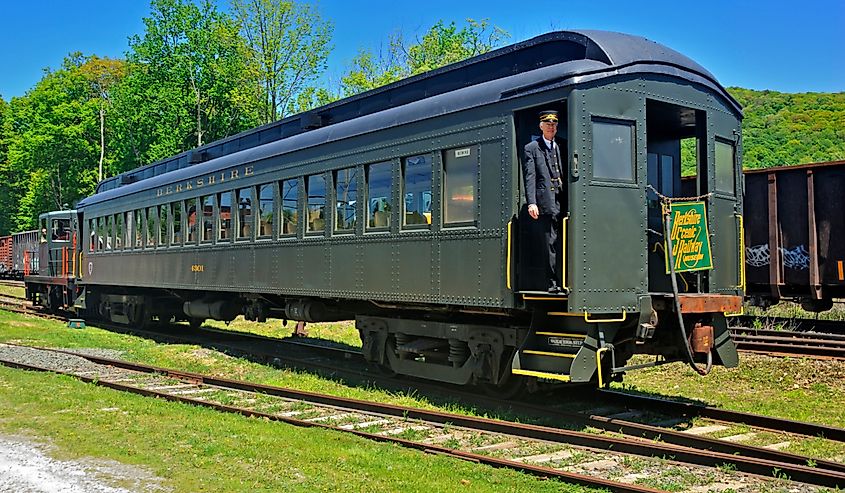 This Berkshire County small town is lovely on a stroll for sights and many experiences to chill both mind and body. Just 10 minutes away from Stockbridge in the scenic Berkshires of Western Massachusetts, you can immerse yourself in deep relaxation in your niche with your favorite people. The cultural town is a summer home for the Boston Symphony Orchestra to catch the popular Tanglewood show.
The Shakespeare and Company international campus is a must-visit when in Lenox, as is the scenic ride along the Berkshire Scenic Railway. Visit the Ventfort Hall Mansion and Edith Wharton's before diving into charming boutiques and local pop-up shops. Venture out to Kennedy Park or Parsons Marsh Reserve in the embrace of all Berkshire beauty and return for a delicious bite at a dining venue and more entertainment options.
Manchester-By-The-Sea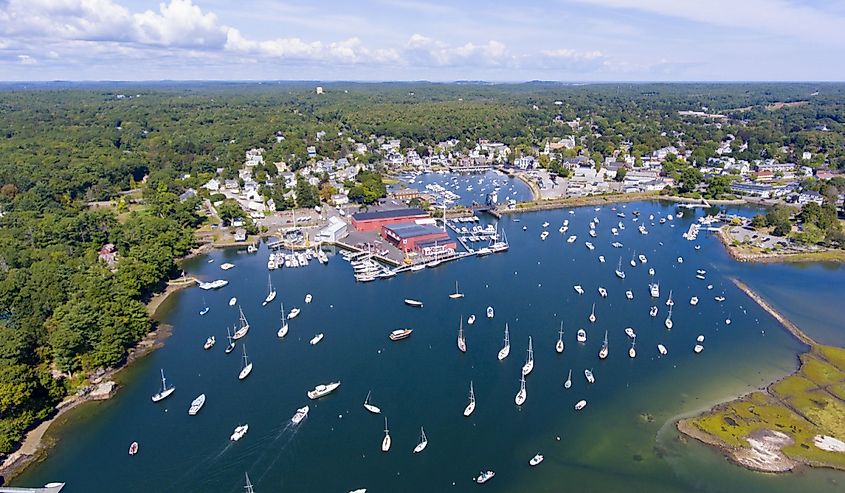 Manchester-by-the-Sea, just 34 miles from Boston, is your ultimate getaway to chillax in a small-town feel amid jaw-dropping maritime sights. The charming seaside town on the Atlantic boasts some of Cape Ann's best beaches, lined by stunning homes that inflict real estate envy. This standout town along the gorgeous North Shore was the setting for the namesake 2016 flick starring Casey Affleck, complete with towering trees and shores crashed on by the roaring waves.
The idyllic beaches are alluring for a stroll through all seasons, with swimming, sunbathing, strolls, kayaking, and fishing in the warmer months. The public Singing Beach is a must-experience with singing sand from the blowing wind and unique sand-grain composition. You can even make the sand sing by walking in this magical town, where everything is possible amid the awe-inspiring vistas. Continue your unforgettable escape through the charming colonial architecture downtown and restaurants serving various seafood dishes from locally sourced ingredients to dine by the waterside at sunset.
Nantucket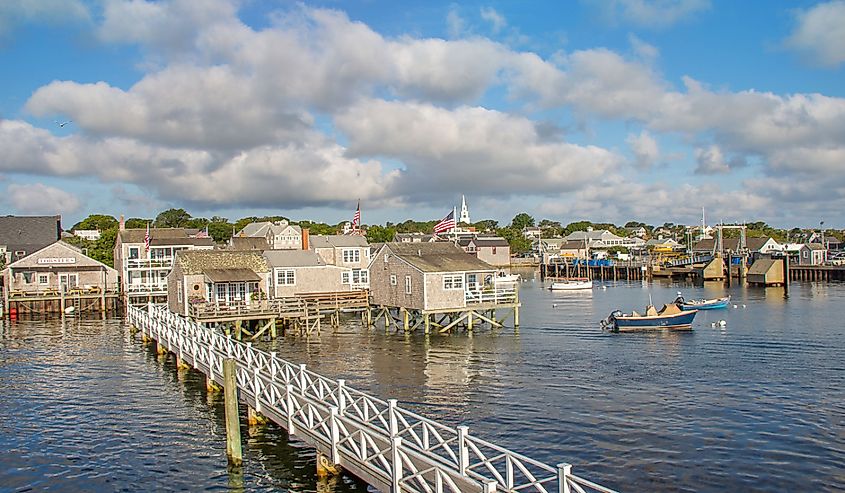 Nantucket, tucked on its namesake iconic Massachusetts island, is your ticket to chillax in serene remoteness with toes in the sand or lapped by warm waters. Enjoy scenic boat access from Hyannis or Martha's Vineyard and explore the town on foot. Nantucket is an alluring scene from every angle, from idyllic beaches to its historic downtown district and outdoor opportunities deep in the heartland.
Hit your chillax button on a hike to the Sankaty Head Lighthouse and spend the rest of the day at the sandy paradise of Madaket Beach until the breathtaking sunset takes over all your senses. Check out the island's Cisco Brewers and visit Bartlett Farm Road, where even celebrities love to hang out over a pint.
Provincetown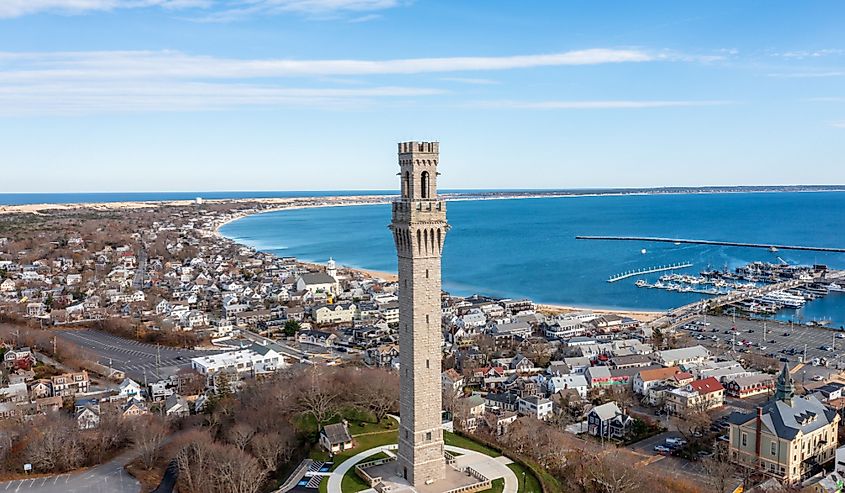 Provincetown, home to the oldest continuous art colony in the US, is the place on everyone's lips when it comes to chill times in a quintessentially New England environment. Enjoy a quick ferry journey from Boston to this little slice of heaven on the tip of Cape Cod, with arts and culture at every turn and the beautiful outdoors all around. The small, free-spirited town sees notable artists and bursts at the seams with creative energy, which is not surprising in the awe-inspiring, vibrant environment of culture and nature. Take a stroll through galleries with local and international works and venues like theater plays, musicals, and comedy shows to experience the finest of the region.
With just over 3,000 residents, Provincetown basks in a chill-worthy atmosphere to immerse yourself in easygoing pursuits along laidback streets or seek peaceful serenity by the shores. Commercial Street is a fantastic shopping and dining hub, like the Landing Bistro & Bar, for locally sourced, artisanal creations. Stop by the Fudge Factory on the way to the famous beaches, a playground to stroll, relax, or enjoy recreational activities like surfing and swimming. Celebrate local culture through art and outdoor concerts, get sun-kissed on the beach, and join the very active and LGBTQ-friendly nightlife.
Stockbridge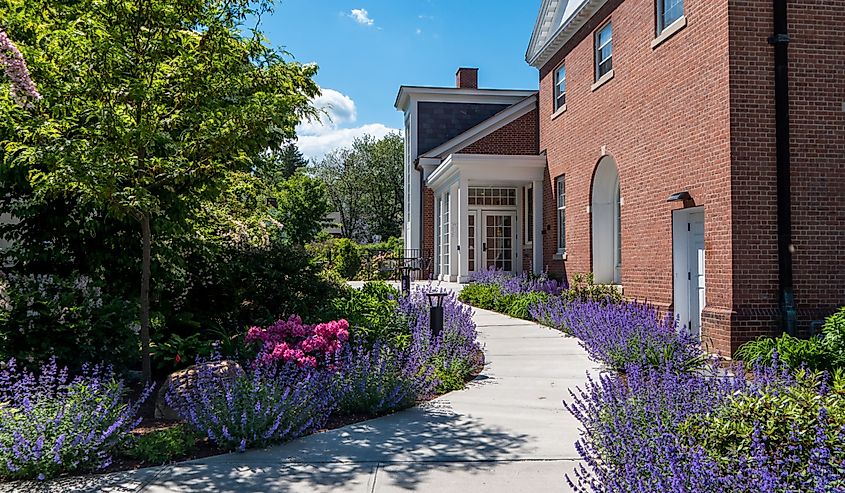 This wonderful little town calls you to chill out amid the beautiful Berkshires, just 13 minutes from Great Barrington, so you can visit both and not be remiss. Stockbridge boasts that quintessential New England charm that everyone raves about, with a glut of historical buildings and lovely small businesses. Feel at home and fall in love with the town on a stroll down the picturesque Main Street, and return at Christmastime for a transformation into a winter wonderland like you wouldn't believe.
The Norman Rockwell Museum houses renowned artists that reflect Americana through art you will feel a part of. Just look at the past digest covers of The Saturday Evening Post magazine to see the rave-worthy works of this former Stockbridge resident. There is something for everyone in this town to chill in their favorite way, like serene strolls through the beautiful Naumkeag Public Garden or reinvigorating hikes along the wooded trails around town to wondrous mountain overlooks.
Westport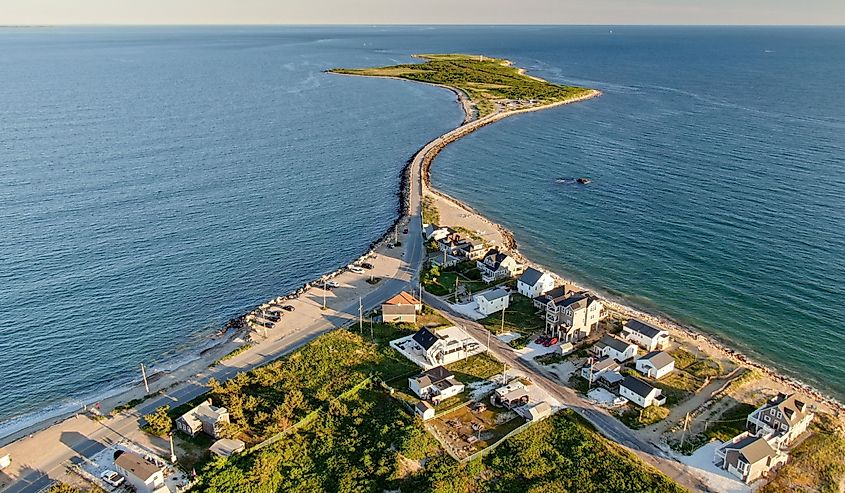 This idyllic beach town, under persistent sunshine along the state's south coast, is a scene of white-sand beaches, art galleries, and historic sites. Chill out at your leisure with your favorite pursuits and sightseeing ventures on a memorable escape from the everyday hustle of the stuffy city. Head to the beaches for lounging, strolls, and breathtaking views of Buzzards Bay at sunset. Choose from Horseneck Beach State Reservation, East Beach, and West Island Beach, each with a different vibe and all optimal for swimming and sunbathing.
Peruse the galleries with local artworks like historic themes and everyday scenery, and seek more history along the preserved Westport Point Historic District with vintage samples dating from the 1700s. Choose a dinner venue from seafood restaurants to cozy cafes and pubs, and reserve a whole day of shopping at the many boutiques along Main Street to find unique souvenirs, gifts, and one-of-a-kind home decor.
The Bay State is one of the earliest sites of English colonization in America and is on everyone's lips today when it comes to chillaxing in that glorious New England charm. Visit these towns for an instant feeling of home while being far away from your daily worries and city sights. Zen out with the sea views and reinvigorating forest hikes through the beautiful Berkshires. Chill out on the beach with sunset strolls and waterside dining on locally sourced seafood. These creative enclaves will inspire you through amazing arts and culture that blend with breathtaking nature to create your own lasting memories.