Located in southeastern America, Georgia is a beautiful state known for its southern hospitality and rich history. Testament to this, the city is filled with beauty, no matter where you go. This ranges from historic sites that played a major role in events such as the American Civil War to beaches that take advantage of Georgia's Atlantic coast. Moreover, nicknamed the "Peach State" for producing the best peaches in the country, the state is also filled with delicious food that everyone can enjoy. With all these unique attractions and sights, there are plenty of beautiful towns to visit in Georgia!
Dahlonega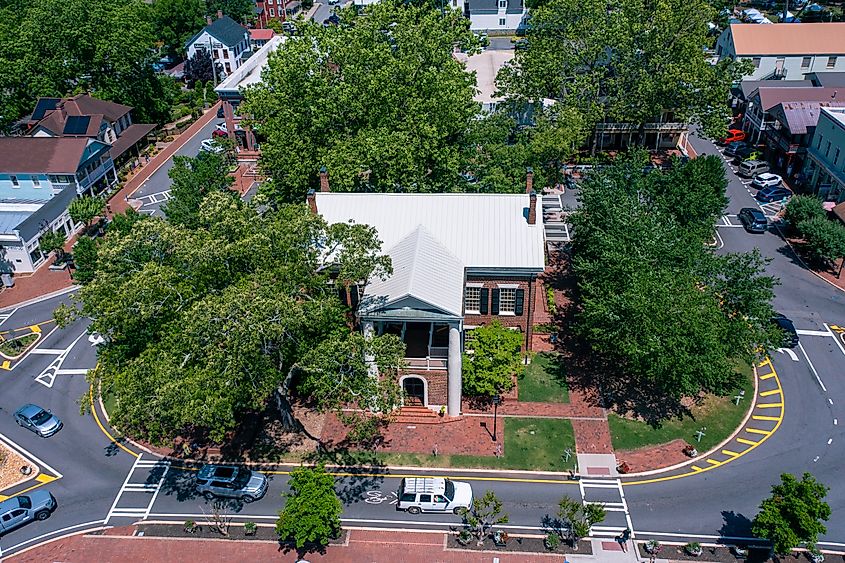 Surrounded by beautiful mountains and landmarks, Dahlonega is a picturesque small town located in Lumpkin County. While having a scenic environment and quaint population of 6,900, Dahlonega is most famous for its major gold rush in the 1800s. Specifically, in 1829, gold was discovered in Georgia bringing in an influx of people to the state, especially to mountainous areas. Thus, to manage the thousands of miners rushing in, the town of "Taloneka" was set up in 1883 and was a vital mining town. Shortly after, the spelling was changed to Dahlonega and while it may not be a mining hotspot anymore, the gold rush's influence is seen throughout the town. The Dahlonega Gold Museum State Historic Site is one of the most popular sites housing multiple exhibits with coins and nuggets minted in Dahlonega itself. For a more authentic experience, you can also take a tour of the Crisson Gold Mine, a gold mine from the time that now showcases mining techniques, tours, and more.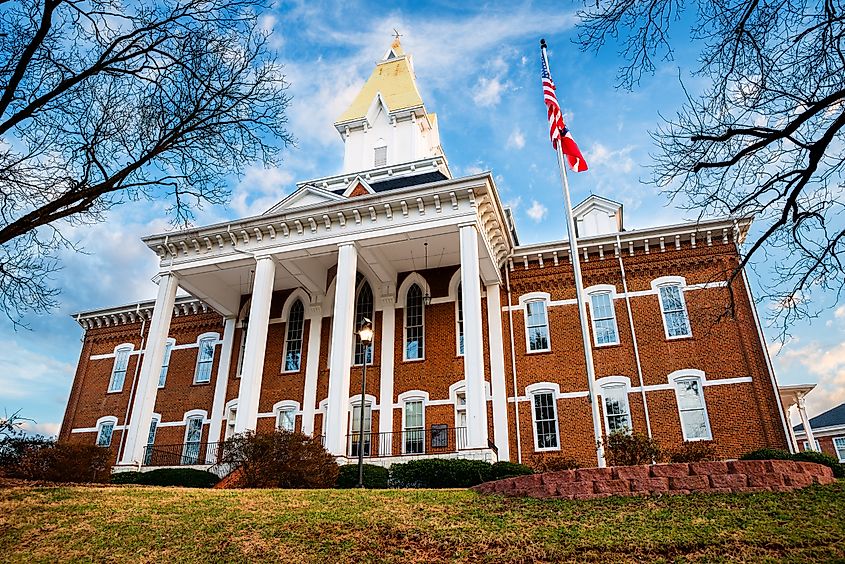 While the gold rush is imbued in the city's culture, it has managed to uphold its popularity thanks to the immense natural beauty around it. This is because Dahlionegha's 9 sq. mile (23 sq. km.) area is filled with waterfalls, hiking trails, and mountainous views that are rarely seen elsewhere. For example, take a hike along the Desoto Falls trail and you'll find five waterfalls spread throughout a large recreational area. After spending your day outdoors, Dahlonega has the perfect thing for you to wind down the day. This is the town's famous wine! With multiple award-winning wineries, Dahlonega is often known as the "heart of the North Georgia Wine Country" so you can find amazing wine-tasting experiences here. With so much to offer, it is the perfect display of Georgia's beauty!
Blue Ridge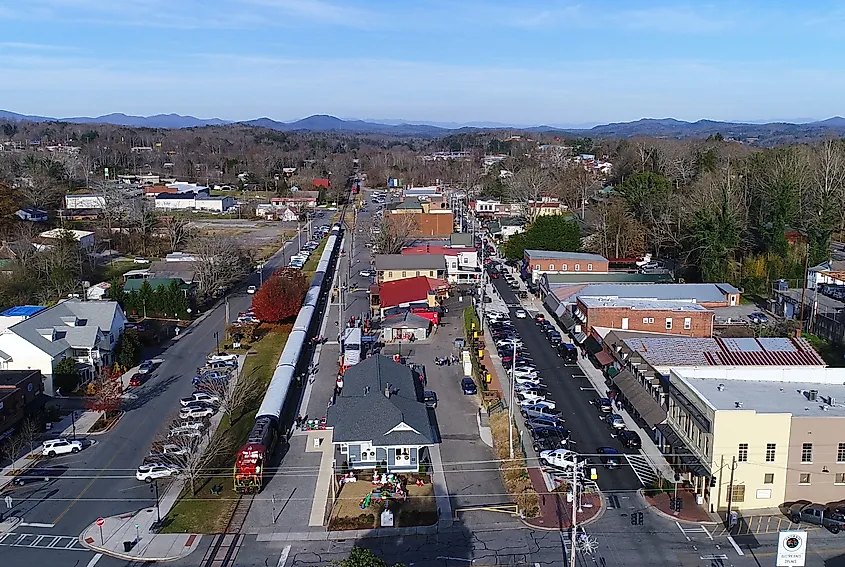 The county seat of Fannin County in Georgia, Blue Ridge is a lively city that is filled with enjoyable things to do. Home to a population of under 1,300, the town exudes a peaceful vibe no matter where you are. So, depending on what you want to do, you can enjoy yourself completely in Blue Ridge. If you are into shopping, the charming downtown area is filled with shops ranging from unique antiquity stores to large general stores with toys and candies. Moreover, you will also find dozens of eateries, restaurants, and bars that offer some amazing dishes famous with tourists from all over. Or, for a glimpse into Georgia's famous wines, take a short drive to the Bear Claw Vineyards which is known for its tastings of Chardonnay, Sauvignon, and other wines.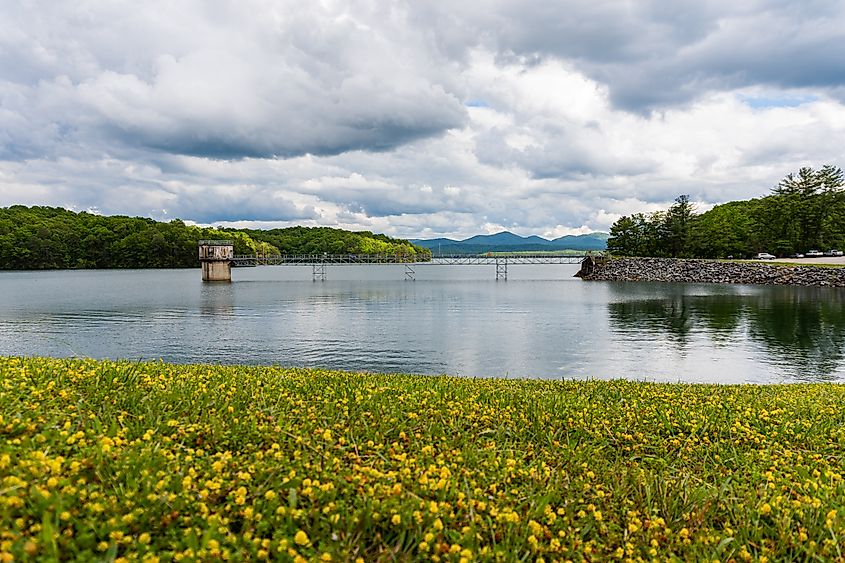 Once you've gone through the amazing city, Blue Ridge is nestled within a treasure trove of natural beauty. One of the largest sights in this regard is the Chattahoochee National Forest. Home to more than 850,000 acres of protected land, you can find mountains, forests, and much more in this national forest. Moreover, it is filled with multiple hiking trails, campaign sites, and other opportunities for an enjoyable time in nature. For a more relaxing experience to take in the region's picturesque beauty, hop on the Blue Ridge Scenic Railway. This train offers a 26-mile tour that goes through many beautiful sights within the Chattahoochee National Forest and nearby landmarks.
Brunswick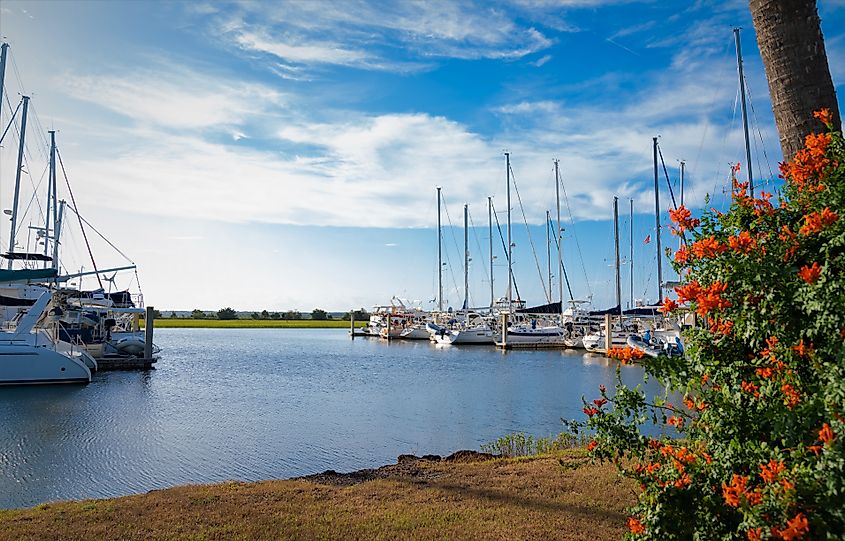 Home to a population of 15,200, Brunswick is a city located in Glynn County along the southeastern coast of Georgia. Thanks to this, the city is home to a vast array of scenic views spread along the coastline. These views can be enjoyed along the city's many waterside attractions like Mary Ross Waterfront Park. This park offers amenities such as washrooms, picnic areas, and more so you can enjoy your time out in the sun. In addition to this, Brunswick is mostly flat which allows for many biking trails and walking paths that take you through the town's scenery. It is also rich with flora and fauna, so you can spend the day lounging along the coast and admiring mother nature.
Moving further through the town's 25 sq. mile (64 sq. km.) area and another striking feature is the rich maritime history. Settled in 1738, Brunswick is filled with historical establishments from the 18th century. One such site is Fort Frederica National Monument which houses the remains of a British fort built in the mid-1700s. It was designed to defend against Spanish attacks and is now a museum that offers guided tours detailing battles that took place in the region. Another landmark built in the same period is the Horton House, which was once Georgia's first brewery. While it may only be a husk of its former glory, this building holds immense history and is a major cultural destination for the state. So, combining waterside beauty and maritime history, Brunswick is a lovely small town in Georgia.
Dillard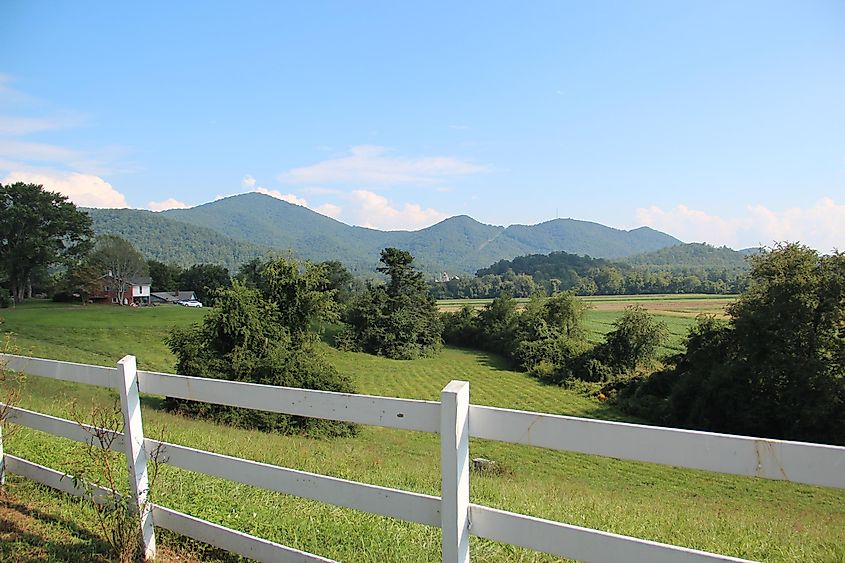 With a quaint vibe to it and a population of just 337, Dillard comes off as a fairly relaxed rural town in Georgia. However, located in Rabun County, this town is full of adrenaline and action-filled activities. This is because Dillard is nestled within the Appalachian mountains and has an abundance of beautiful natural formations around it. To this end, it is known as the gateway to the Great Smokey Mountains and it is the perfect place for outdoor lovers. For example, if you enjoy waterside activities, you can take a trip to the Chattooga Wild and Scenic Rivers. This site offers everything from white water rafting in beautiful rivers to picnic tables so you can watch other people raft! On the other hand, for a less wet experience, visit the 1,750-acre Black Rock Mountain State Park where you can enjoy hiking, camping, and wildlife watching!
While the list of things to do outdoors is neverending in Dillard, the town also has some great things to offer indoors. Primarily, within the 1.8 sq. mile (4.6 sq. km.) area, you can find a load of specialty shops with amazing products. One such store is Osage Farms which has become quite popular thanks to its fresh and organic vegetables! Or, you can also spend the evening at RM Rose & Company Distillers which offers distillery tours and delicious whiskey tasting. With so much to offer, Dillard is the perfect relaxing town nestled within Georgia's picturesque scenery.
Jackson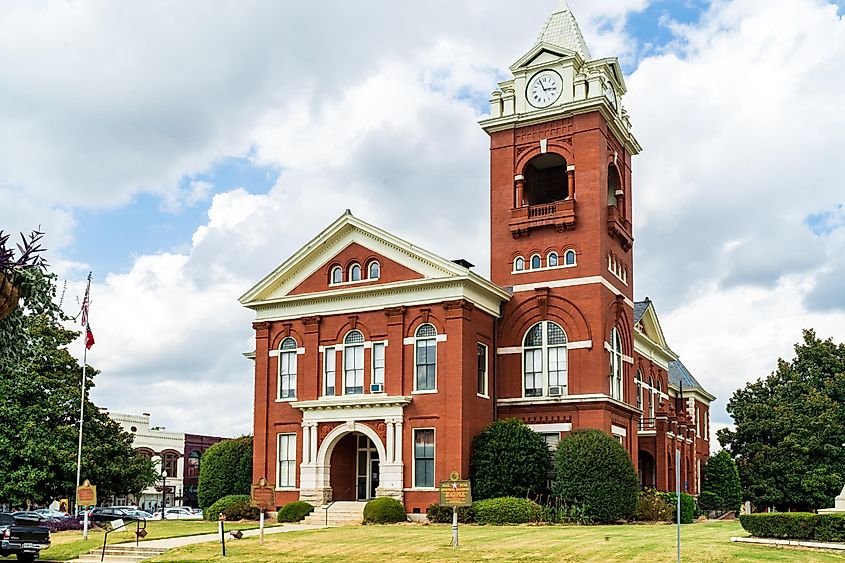 When it comes to Georgia's cultural and natural views, Jackson is one town you cannot miss. The county seat of Butts County, this town is home to a budding population of 5,000 people. It is filled with beautiful historic buildings and exudes a positive vibe no matter where you go. So, you can spend your day walking through town and you'll find loads of fun things to do. For example, relax in Jackson Square which is filled with dozens of eateries and cafes with delicious dishes. Buckner's Family Restaurant is one of the local favorites and is known for its amazing chicken! Speaking of Downtown Jackson, for fans of the series "Stranger Things" Mulberry and 2nd Street is a must-visit. This is because the site was used for the filming of multiple scenes in the hit Netflix show.
In addition to the culture and positivity, Jackson is most well-known for being a natural abode. It is engulfed in beautiful natural preserves such as the Dauset Trails Nature Center, High Falls State Park, and more. These parks offer amazing outdoor activities like fishing, hiking, cycling, and camping. For summer visitors, take a dip in Lake Jackson which is known for its still water and stunning views. All in all, Jackson offers a mix of everything you can want from a small town in Georgia.
Tallulah Falls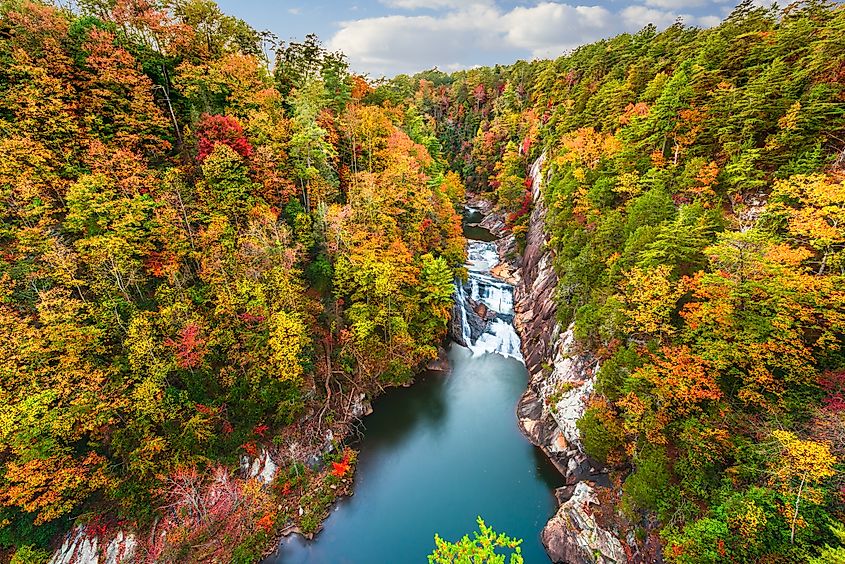 As the name suggests, Tallulah Falls is a town famous for its beautiful waterfalls. Located in Habersham and Rabun counties, this town is filled with some of the country's most scenic waterfalls. These waterfalls can be found in the 1'000 foot chasm aptly named the Tallulah Gorge. Here, you can follow the trail to find six unique waterfalls cutting through the nearby hills and forming a series of picturesque views. The entire area is protected as the Tallulah Gorge State Park and is a famous tourist destination with many enjoyable activities. For example, many people enjoy hiking and cycling along the trails to enjoy one of the many overlook points into the many waterfalls. In fact, the view here is so stunning that Tallulah Falls was once known to rival the fame of Niagara Falls!
In addition to the stunning falls, the region is also surrounded by many lakes which offer a range of recreational opportunities. Namely, the nearby Lake Yonah and Lake Tugalo are known for their natural greenery and are ideal for boating, sailing, and even fishing. If you want to fully immerse yourself in Georgia's countryside, there are also campsites set up for overnight stays. That being said, once you've seen the outdoors, going back into the quaint comes with a breath of fresh air. Home to just 200 people with an area of 9 sq. miles (23 sq. km.), the town is full of peace and quiet. Book a room at a local inn or even the nearby state park and you can find a home away from home in this stunning town.
Washington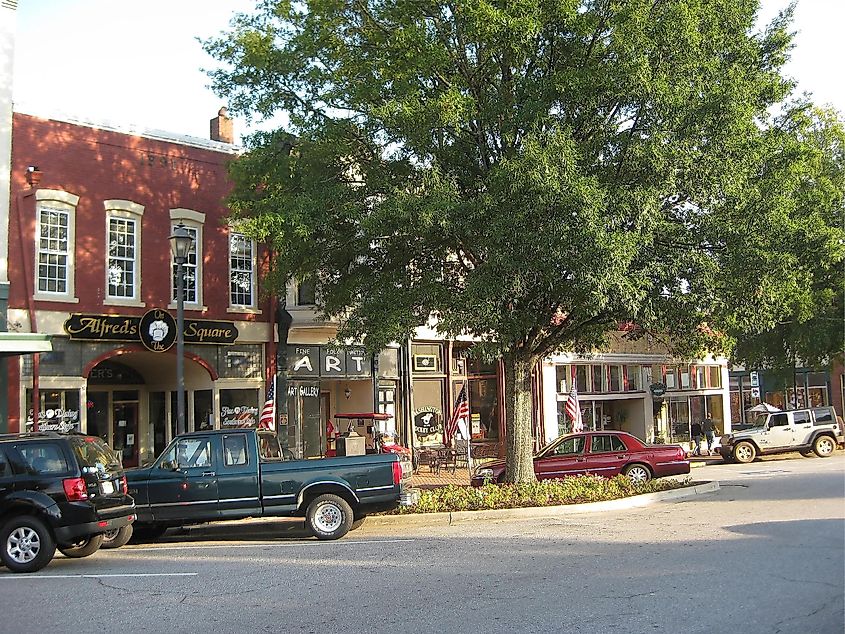 The county seat of Wilkes County, Washington is a lovely town with a unique appeal. This is because the town of 4,100 is famous for its immense history and culture. Settled in 1774 as a fort by colonist Stephen Heard, Washington was once the capital of Georgia and an important military embankment. Initially, during the American Revolutionary War, the famous Battle of Kettle Creek took place near Washington. Following this, the town was also a pivotal location during the American Civil War from a political aspect which saw major growth in the region. Testament to its immense importance throughout the past 2 centuries, Washington is home to a plethora of historical sites.
Out of many listed on the National Register of Historic Places, some of the most famous sites in Washington are the Washington Historical Museum, Fitzpatrick Hotel, and Wilkes County Courthouse. The Washington Historical Museum is known for its remarkable exhibits dating back to the Civil War! On the other hand, the Fitzpatrick Hotel is a historic establishment from 1898 which was recently restored and offers luxurious Victorian-style rooms to enjoy. While the historical sights are plentiful, you can also find many great places to eat in Washington. Big Bee's Soul Food is a premier attraction and offers delectable buffets on Sunday which are perfect for a family vacation. So, if it's Georgia's history you are looking for, this is the place to visit.
Thomasville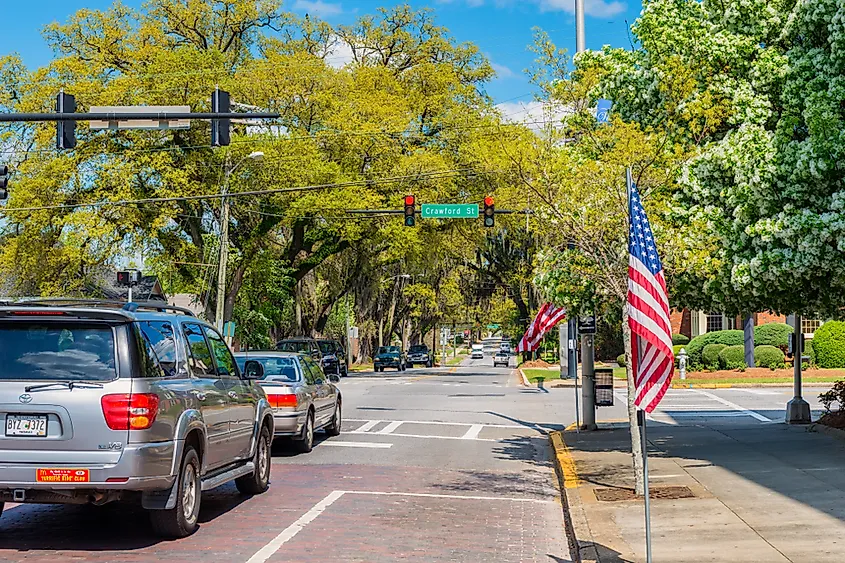 Located in southern Georgia and the county seat of Thomas County, Thomasville is a picturesque town with a unique charm. It is nicknamed "Rose City" thanks to the region's annual Rose festival. This festival takes advantage of the town's massive rose garden which is home to more than 1,500 rose bushes. With some of the most amazing flowers all in the same place, it is truly a sight to behold. Moreover, if you make it in time for the annual rose fest, you can enjoy food, drink, and more in this lovely place. Speaking of food, Thomasville also has many restaurants which are famous in southern Georgia. Testament to this, you can take the Thomasville Food Tour which goes through many establishments such as AJ Moonspin Pizza, Grassroots Coffee Company, etc for a complete day out. For a more drinks-oriented outing, visit the Farmer's Daughter tasting room which is known for its award-winning small-batch wines.
Apart from its scenic appeal, Thomasville is also an important town in the southwest of Georgia. With a population of more than 18,000 and nearly 200 years of history as the county seat of Thomas County, it houses many important historical sites. The town is home to two prominent plantations; South Eden Plantation and Pebble Hill Plantation which both offer stunning architecture and grounds built in the 1900s. Moreover, coveted by the historical buildings, you can find a range of antique stores, gift shops, etc. amongst Thomasville's historic district.
Helen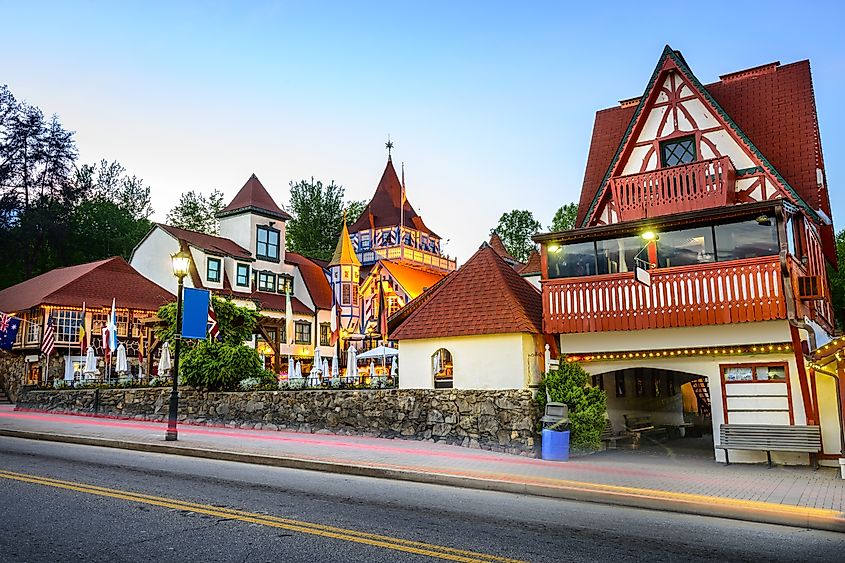 Situated in White County, Georgia, Helen is a small town home to a population of 531 people. It has an area of 2 sq. miles (5 sq. km.) which is filled with friendly people who are always willing to strike up a conversation. Along with this, the town sits along the Chattahoochee River, which offers a unique set of waterside views and activities. Some of the most famous things to do along the river are fishing, swimming, and more. For a more in-depth nature experience visit the Smithgall Woods State Park nearby for hiking trails, mountain views, and lovely waterfalls.
While Helen may be nestled within Georgia's natural beauty, it has a lot more to offer than many other places. This is because Helen was once a logging town that now exudes German design and architecture. Similarly, the culture holds true to what it was centuries ago, and the town is known for some of the best Oktoberfest festivities. Whether it is dressing in traditional attire, enjoying German delicacies, or dancing together, you can find it in Helen's Oktoberfest. If you are planning to attend this event, be sure to go here between September and November for the most fun!
Pine Mountain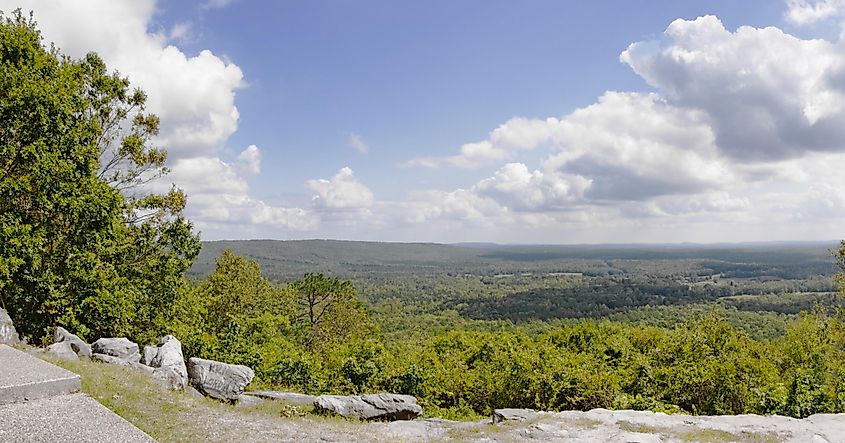 Pine Mountain is the perfect way to end off with a bang. Situated in western Georgia, this town is surrounded by some of the most surreal natural experiences. These range from indoor exhibits within the town to nearby trails that take you through immense heights and sights. For example, you can spend your day at the local Cecil B. Day Butterfly Center which houses hundreds of unique and stunning species. Similarly, the Wild Animal Safari is a 300-acre park that offers drive-through views of animals such as zebra, deer, etc. Take a trip to the town's namesake, Pine Mountain and you can enjoy massive hiking trails that provide panoramic views of the region. With these and dozens of other natural sights to see, there is no shortage of picturesque beauty in and around Pine Mountain.
However, don't underestimate the positive vibe that is filled in Pine Mountain's 3 sq. mile (8 sq. km.) area. Riddling the streets are local eateries, quaint stores, and historical sites. When it comes to stores, check out downtown for everything from antiquities to fine arts so you can find the best souvenir for your trip. On the other hand, for a blast to the past, visit the Franklin D. Roosevelt State Park and grab a selfie with the famous statue atop the mountains. Put it all together and you've got yourself one of the most picturesque small towns in Georgia.
Darien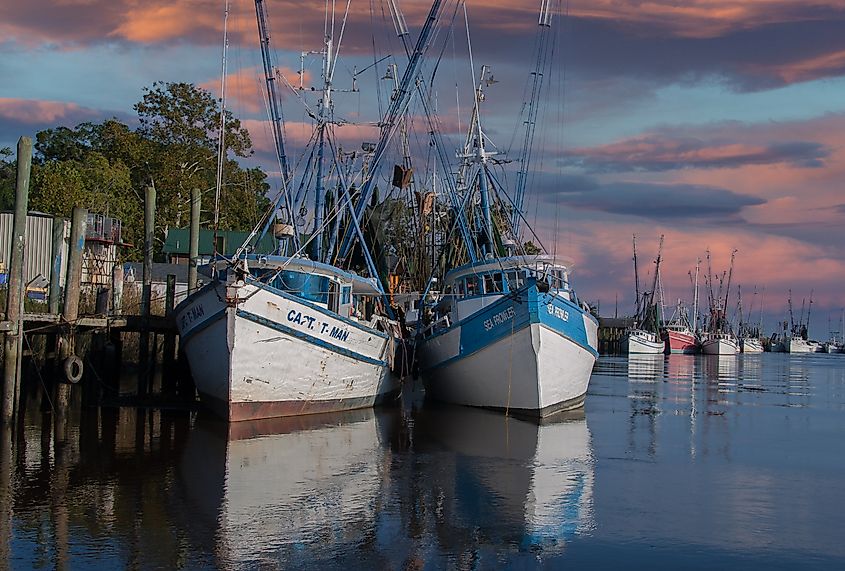 Darien is a lovely town located along the Altamaha River on Georgia's eastern coast. Home to a population of just under 1,500 people, the town takes full advantage of its coastal location with a wide range of waterside views and activities. For example, you can spend your day relaxing along the waterfront inns or cycling along one of the many trails. For a more adrenaline-filled experience, check out the local boat tours which offer options for deep-sea fishing, diving, and more! That being said, Darien's waterside location is more than just for show as it is also known for its amazing seafood. Riddled throughout the town's 24 sq. mile (62 sq. km.) area, there are dozens of amazing eateries such as Skipper's Fish Camp and B&J's Steaks & Seafood offer fresh oysters, crab, and more.
Apart from the prominent coastal vibe that the town exudes, it is also an ideal place to take in the region's history. This is because Darien was founded more than 250 years ago in 1736 by Scottish Highlanders. Since then it has been a prominent site for major events such as the Civil War in which the city was nearly burned to the ground! If the local history intrigues you, you can check out Fort King George, which is located in central Darien. This fort was established by the British even before the city was founded and was a vital outpost for defending against Spanish attacks. Similarly, many establishments such as the City Hall and Adam Strain building hold a unique and interesting past.
Whether you are looking for Georgia's historical tales or natural beauty, these small towns have it all. For example, Tallulah Falls is the epitome of nature's scenery while Washington offers a blast to the past with many historical sites. Moreover, each of these towns has a bit of everything so you can enjoy yourself at any one of them. So, why not start planning your trip now!