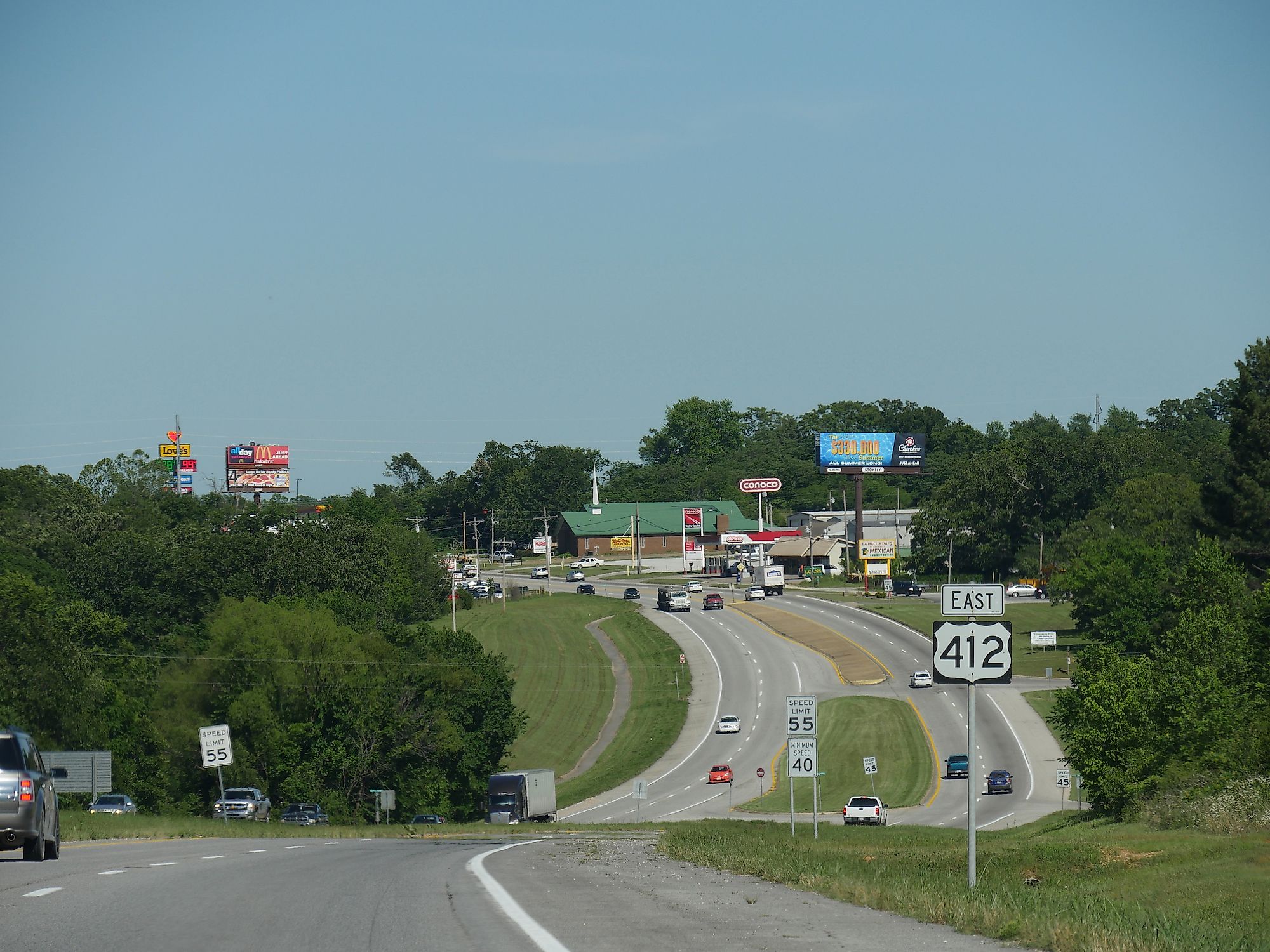 Known for its natural beauty, Siloam Springs is a pediment of rock-lined Sager Creek, which was once thought to possess healing properties by the Osage Native Americans. With early beginnings as a resort town, Siloam Springs is worthy of magazine-boasting green spaces, fountains, footbridges, gazebos, and even duck crossings. In 2012, it was named on the list of the 20 Best Small Towns in America by Smithsonian.com, and it is easy to see why with Ozark National Forest on its doorstep and many historic buildings.
Geography Of Siloam Springs
Siloam Springs can be found in the far northwest corner of Arkansas state, bordering Oklahoma state. Arkansas is a part of the United States of America on the continent of North America.
Siloam Springs sits in a geological area of the Ozark Mountains known as the Springfield Plateau and is named after Springfield, Missouri. Features of this area include dissected till plains resting on limestone and shale, which creates sinkholes, caves, and springs. Sager Creek is a 22-kilometer-long creek that is a tributary of Flint Creek and flows into the Illinois River and eventually the Arkansas River.
The Climate Of Siloam Springs
With a humid subtropical climate, Siloam Springs has four seasons, with a distinguishable long and muggy summer and a short and cool winter with minimal snow. Over a year, Siloam Springs collects 1166 mm of precipitation from rain, hail, and snow. January sees the least amount of precipitation with 66 mm and May sees the most with an average of 147 mm. July is the warmest month, seeing a median temperature of 26.7 °C, unlike January, with a median temperature of 2.9 °C. Similarly, countries with the same climate include Axioupoli, Greece (9,300 km away), and Gardabani, Georgia (10,400 km away).
History Of Siloam Springs
In 1835, Simon Sager and his family settled on a farm in what would be known as Siloam Springs. Thus, the Sager River is named after Simon Sager for being the first settler in the area. The original farm has been restored and is a part of John Brown University.
In 1884, the establishment of Hico was formed and contained a post office and was a trading post serving German settlers and Osage Indians. Alas, in 1879, the discovery of 28 springs with medicinal properties led the way for a health resort to be built. By 1880 the land would be plotted out to create the town known as Siloam Springs. The health resort proved to be popular and paved the way for Siloam Springs to be incorporated one year after its inception in December 1881.
This year also saw the opening of Lakeside Hotel, a National Register of Historic Places. The building is known for its spindled 2-story porch as well as the unique L-shape of the building. The Lakeside Hotel may have been the first brick hotel in existence due to its age. Today it is a Crown Plaza Hotel and occupies the building formerly known as the Lakeside Hotel.
Demographics Of Siloam Springs
Siloam Springs is a part of Benton County, Arkansas, with a population of 17,692 inhabitants. At 11.5 square miles, Siloam Springs has a population density of 1,555 persons per square mile. Thus, the median household income is $58,582, with a gross monthly rent of $743. The average age of a resident is 28.6 years old. On the cost of living index, Siloam Springs rates at 84, comparable to the state of Arkansas at 85. Albeit, 24.23% of residents live below the poverty line.
The Economy Of Siloam Springs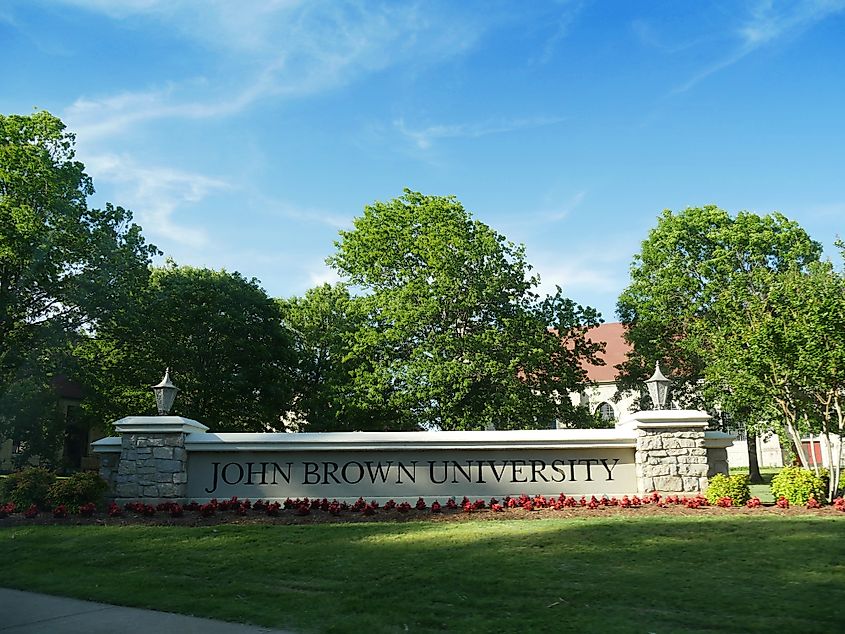 Siloam Springs employs a total workforce of 7,040 residents. The most notable economic sectors are 1,488 employees in manufacturing, 923 employed with educational services, and 730 employees in healthcare and social services. Simmons Food and Simmons Pet Food have their headquarters in Siloam Springs and are known to hire graduates from Northeastern University. As a whole, they have 7,000 employees in total and generate $320 million in revenue annually. The highest-grossing sector is utilities, contributing $66,923, transportation and warehousing $51,538, and scientific and technical services $46,295.
Attractions Of Siloam Springs
Siloam Springs Kayak Park
Formerly called Fishers Ford among locals for the road it was accessed from, Siloam Springs Kayak Park travels the water of the Illinois River. It has over 70 ft of rated class I and II rapids. Through local funding, change rooms, washrooms, and a paved parking lot have been implemented into the park. Drawing crowds from Arkansas, Missouri, and Oklahoma, this white water river is known for extreme tubing and kayaking. More leisurely activities include frisbee, fishing, picnicking, mountain biking, and hiking. There are no concessions, and all items must be brought with you, but admission is free.
Siloam Springs Farmer's Market
Found in Downtown's Memorial Park from April to October, the Siloam Springs Farmer Market is open on Mondays and Thursdays. Purchases are also offered online through the virtual market, and the website runs all year round. The market does offer fresh produce and items from local purveyors in addition to wood carvings, beaded items, knitted goods, and artisan soaps. Local artists often showcase live music.
Siloam Springs Museum
The Siloam Springs Museum is dedicated to local history, focusing on the relationships with the Osage people, the road to settling, and old medicinal practices. Permanent exhibits include the Civil War and how Siloam Springs remained neutral through the tensions between confederate and union sides. It also has an exhibit showcasing the turn of the century. Each year, it funds the Heritage Festival, which teaches residents about the heritage of the spring-fed town through interpretation and historic photography.
From its early days as a resort town, more than a century later, Siloam Springs is still known as a popular tourist destination. Today it caters to adventure seekers with the appeal of white water rapids, the allure of festivals, and meandering through the Farmer's Market or downtown green space. Siloam Springs is a historic town known for its healing water and laid-back connection with nature.