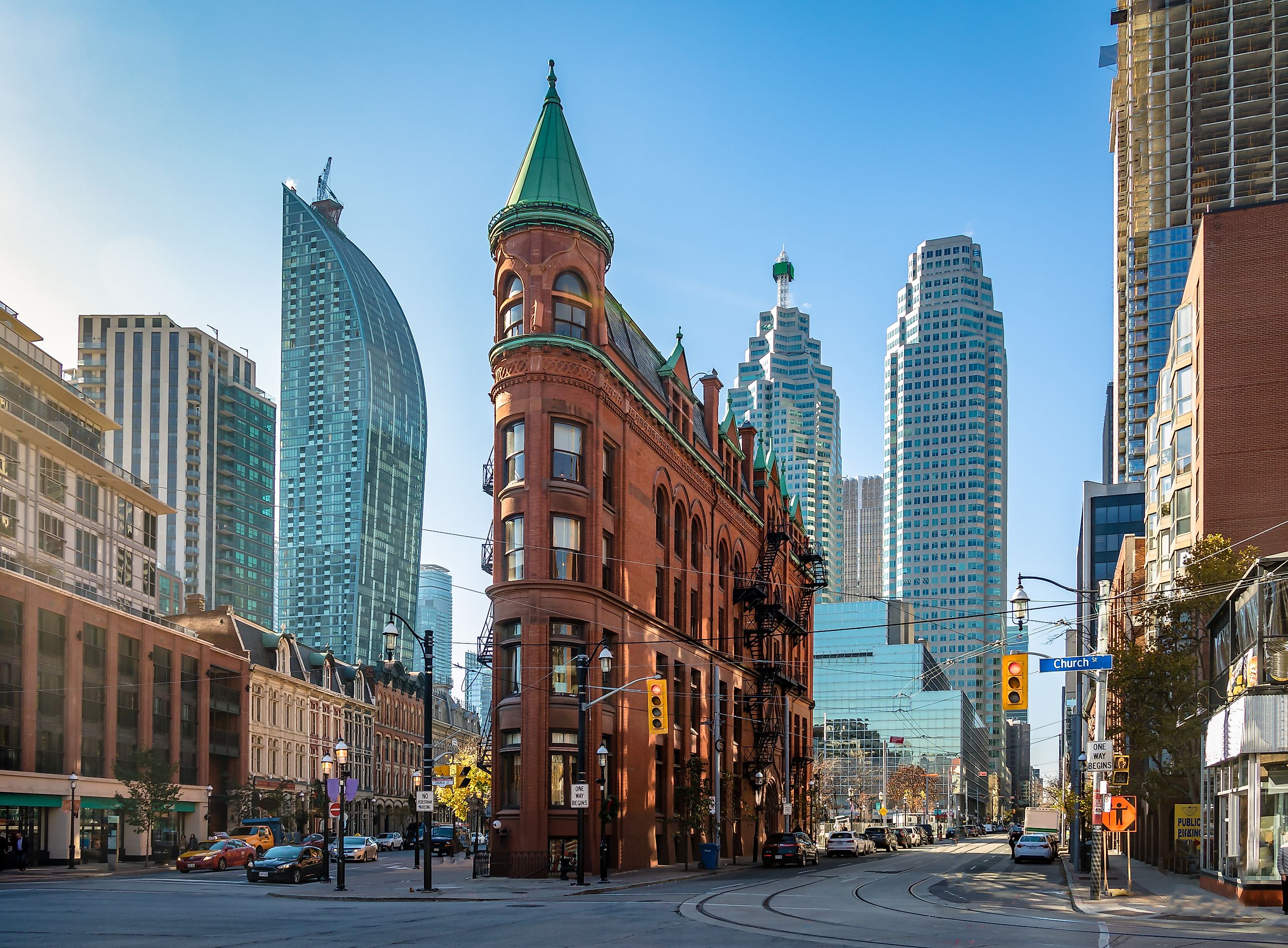 Safest Cities in North America
According to the Economist's ranking, Copenhagen is the safest city in the world, while North America's Canadian city of Toronto is the world's second-safest city. Copenhagen achieved 82.4 points out of 100, and Toronto scored 82.2, which indicates that North America's cities are perfectly safe for tourists when you know what to expect. When looking through the lens of each city in North America, these are its safest cities for 2022, according to the Economist. Every city has problems and criminals, but from a global perspective, these North American cities are some of the safest cities in the world.
When in a new city, it is important to know where to go. Always research before visiting a place and read about local customs and regulations. Be aware of what public transportation is available, including buses, subways, and taxis. Find out if there are any safety apps you can use in emergencies, and avoid dark alleys or secluded parts of town when walking around. Stick to busy areas with many people around, and always keep an eye on your belongings.
8 Safest Cities in North America
1. Toronto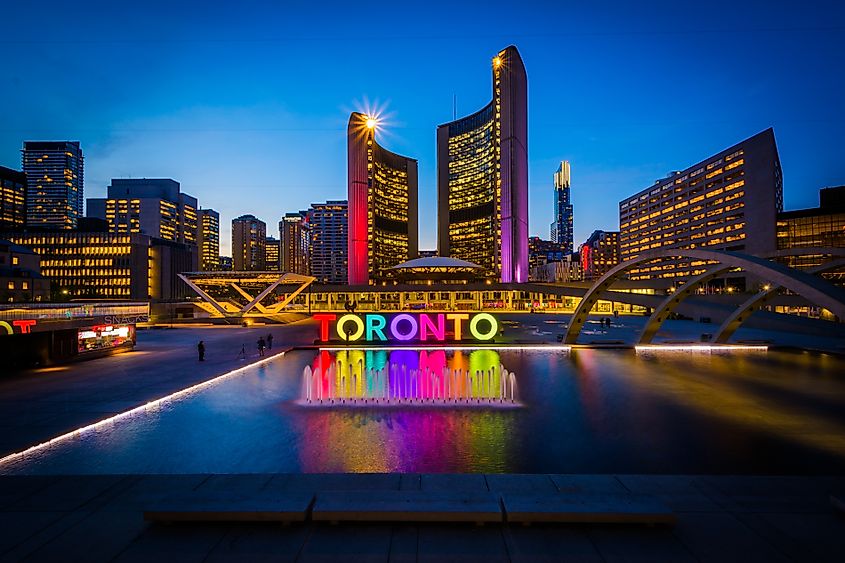 Toronto is Ontario's sizable and very populous capital city, on Lake Ontario. With fewer than 3 million residents and some 27 million annual visitors, it is the safest city in North America, according to the Economist in 2022, where the only real danger lies in its havoc-ridden traffic scene. The cool city is still fun and safe to explore by bike, especially in downtown neighborhoods. Stop at the hip Kensington Market, where public safety is a priority, and stroll the west side of Toronto even in the dark, as this area is virtually crime-free. The CN Tower and other popular landmarks are prime targets for petty crime, so hang tight.
The city stays busy and receives endless tourists as Canada's hub for culture, with theater, music, the film industry, and television headquarters for several major networks. Toronto is safer than all other North American cities, with lower crime rates, mostly safe neighborhoods, and a Global Peace Index of 1 in 2021. Visit in the off-season, when there are fewer opportunities for petty crime on the streets. There is the Toronto Zoo, the Royal Ontario Museum, the Gardiner Museum of Ceramic Art, the Art Gallery of Ontario, and Yonge Street, the world's longest street.
2. New York City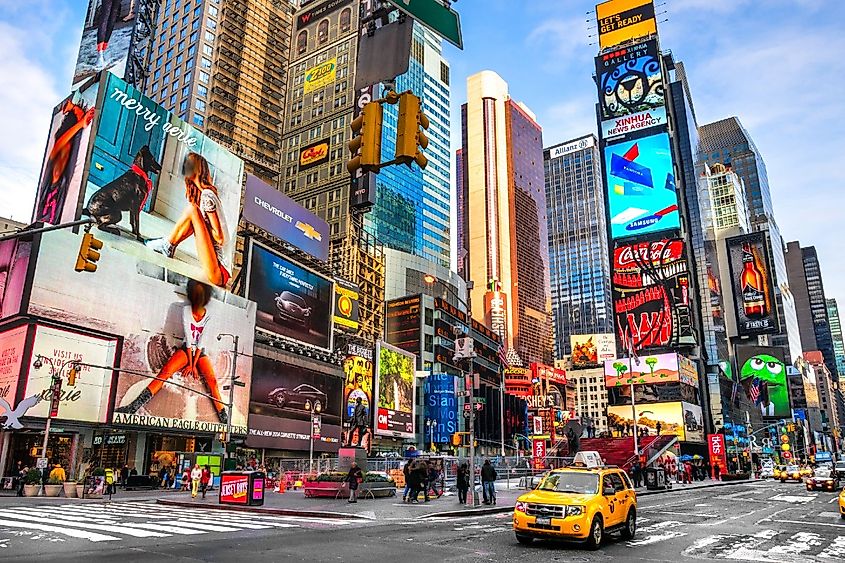 The Big Apple is North America's second-safest city, according to the Economist. With a population of 7.888 million, NYC is also the world's eleventh-safest city, a rank it shares proudly with Barcelona. Compared to other North American urban centers, New York City is very safe, with falling crime rates and only the real danger of losing money from expenses. Manhattan boasts about 72% fewer major crimes in 2022 than in 1993 and 438 murders compared to 2,262 just over three decades ago, according to a recent NYPD report.
Even though felonies, non-serious crimes but worse than a misdemeanor, have increased slightly over the last few years, major crimes are all down, including murders, rapes, robberies, burglaries, grand larcenies, or the stealing of valuables. Total major crimes spiked in NYC by 22% in 2022, except for murder, which declined by 11%, but all have dipped since then. Considering that "through the first quarter of 2023, major crimes are down," New York City is a safe option for visitors, and the nation's largest city is worth a visit.
3. Washington, DC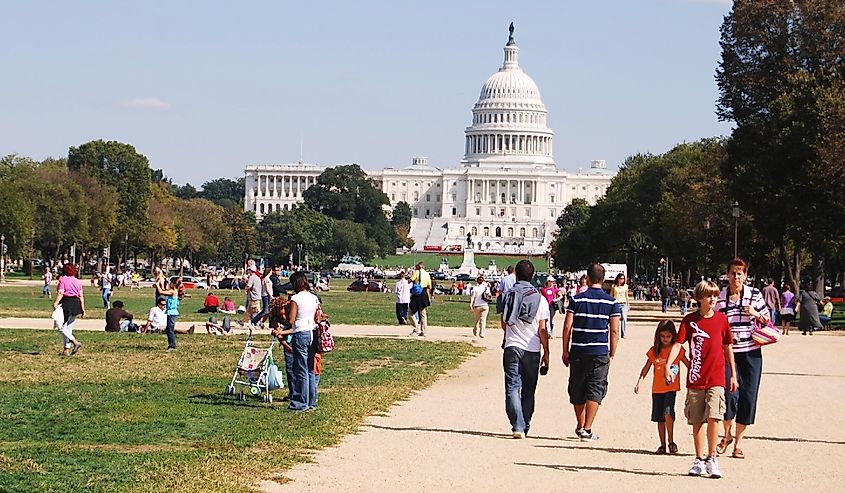 Washington, DC, is the third-safest North American city, even for solo travelers. There is a low violent crime and a reliable police presence in touristy areas, but precautions for exploring after dark remain. The country as a whole ranks 32nd on the Bounce Women Travel Safety Index. Stick around the more popular areas where there is less chance of being harassed, but also hang tight to your belongings as petty criminals peruse the crowds for pickpocketing.
Visit in a group or avoid the Anacostia River, Deanwood in Northeast DC, Sixth Street, Stadium-Armory, and Columbia Heights. North East and South East DC also have more common crime activity and higher property crime rates. The safest neighborhoods in Washington, DC, include Adams Morgan, for tourist excursions; Dupont Circle, a bright and colorful area with low crime, restaurants, and unique boutiques; and Capitol Hill, one of the safest walkable neighborhoods near some of the city's top landmarks, like Congress and the Senate tours. The U-Street Corridor, once the largest black community and home to the king of jazz, Duke Ellington, retains incredible culture with music, art, and civil rights activists.
4. San Francisco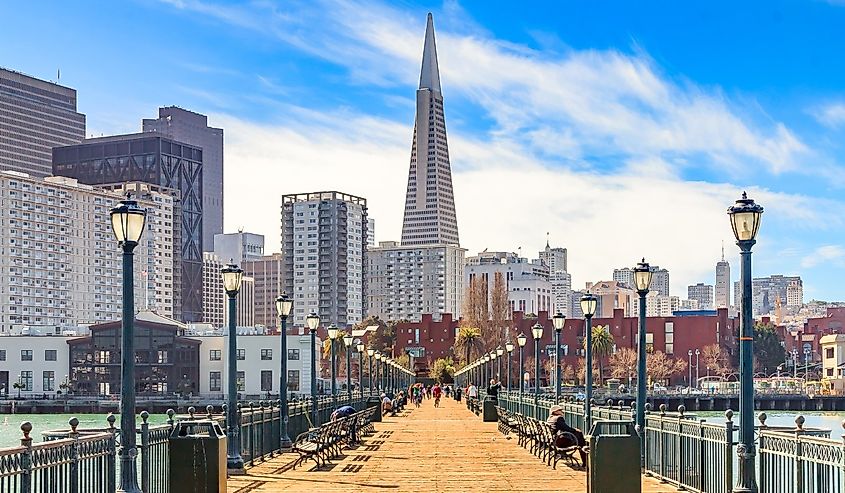 While San Francisco may have a negative reputation when it comes to safety concerns over crime, the Golden City, with its beautiful bridges, is safer than all but three cities in North America. According to data from a local police department and FBI statistics, San Francisco's crime rates are very low except for car break-ins, which are as bad as rumored. There is also homelessness, dirty streets, and drug addicts, but even then, the city does not relinquish its bronze medal.
Violent crime in San Francisco is quite low and concentrated in limited areas, which are generally away from all of the tourist hotspots, while the chance of having your car broken into is even higher if valuables are visible. When visiting San Francisco, the takeaway is that the city is very safe to visit, with violent crimes being very unlikely against tourists. Steer clear of shady areas, particularly after dark, and choose a safer neighborhood to park your car, free of valuables.
5. Los Angeles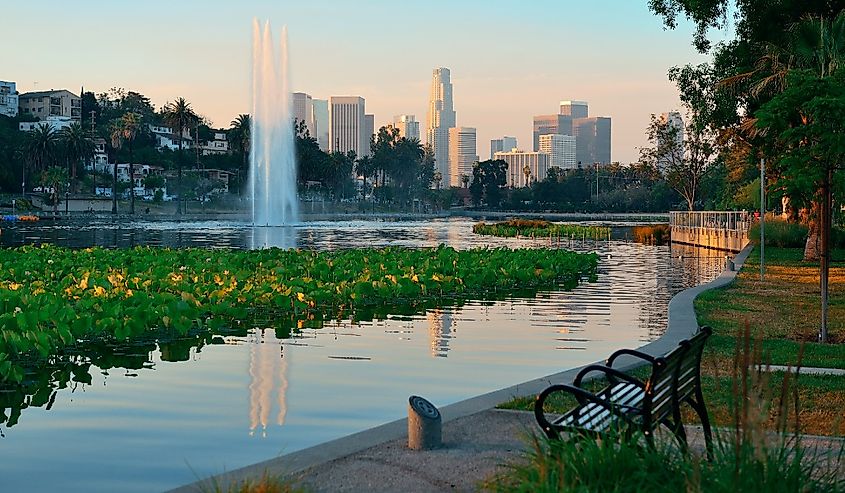 This amazing city blends seamlessly into the neighboring areas, from Los Angeles County to San Bernardino and further into Orange County. Others call LA the "concrete jungle" for its 30,000 square miles of pavement. As huge as Los Angeles is, it deserves kudos for being the fifth-safest city in North America, according to the Economist. Figures also show homicides dropping by 17% and the homeless increasing by 37.4% in 2023. Meanwhile, FEMA estimates Los Angeles County to be the most dangerous in the US in 2021 and the most susceptible to natural disasters in 2023. Despite this, LA remains the 18th safest global city out of 60 cities worldwide.
LA is very safe when subjected to its immense size and is an unmissable part of the US for all culture fans to visit. Downtown LA, with the telling moniker of "Skid Row," is the city's highest breeder for crime, including the violent kind, due to an explicit homeless population and gang activity. Don't walk out at night if you are a new tourist to the area, except for Beverly Hills, the safest neighborhood. You will likely come upon homelessness on the streets, which, unfortunately, boosts the crime rate in the city. Explore downtown in a group, and stick to the safest neighborhoods of Brentwood and Marina Del Rey when alone.
6. Chicago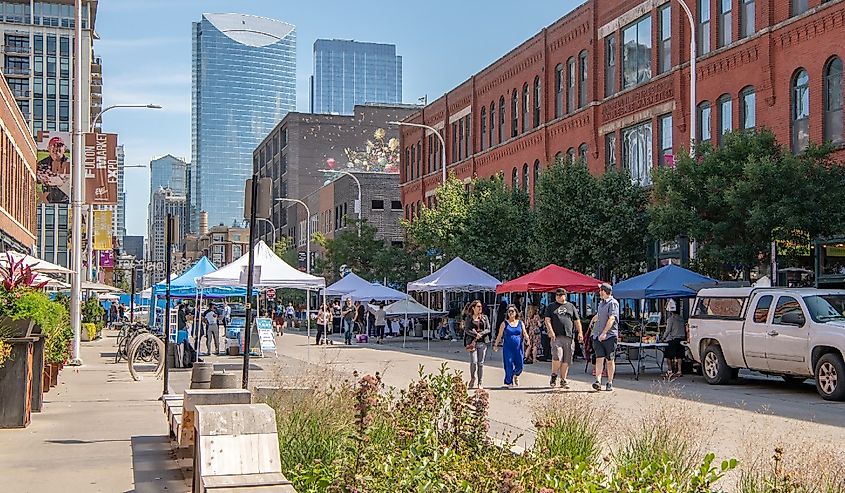 If any city has a reputation for bad crime in the US, it is Chicago, which even overshadows its famous deep-dish pizza. The Windy City is the biggest city in the Midwest, the third most populous and the sixth safest in the US, and one of the safest cities internationally. The high population naturally boosts the crime rate to almost 70 percent over the national average, according to Areavibes. Most of its crime is allocated to certain neighborhoods, while most areas in the immense 234-square-mile city are perfectly safe.
Chicago is a victim of a bad reputation and is sometimes referred to as the "murder capital," particularly exacerbated in conservative political campaigns in the early 2000s when Barack Obama, who is from Illinois, was president of the US. A 2022 study shows that Chicago ranks number 10 on the list of most murders per capita, which is not bad considering the urban city's size and reputation. So visit the star of Home Alone with peace of mind, fearing no more if you were anywhere else in the US but the four cities above.
7. Dallas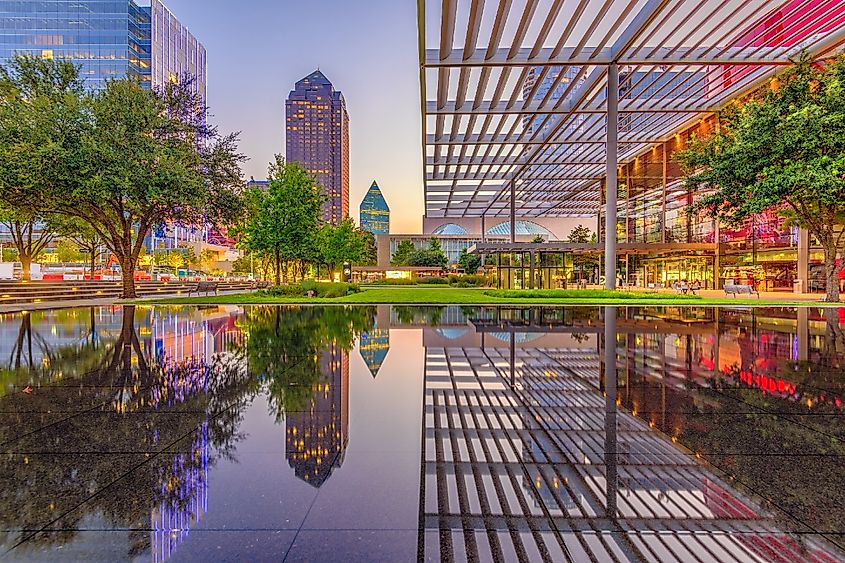 Dallas, the safest city in Texas, is also the seventh safest city in North America and one of the safest worldwide. Dallas scored 774.64 violent crime incidents per 100,000 residents in 2019, almost double the country's average of 366.7 incidents in that year. Dallas ranked at 3,185.09 incidents per 100,000 residents for property crime, compared to the national average of 2,109.9. These crime numbers and vehicle theft significantly decreased in 2020, following the city's crime reduction plan. With improvements in some areas, there's degradation in others, like homicide and aggravated assault crimes, which increased in 2020 compared to 2019.
According to the FBI's recent statistics from 2019, Dallas ranked 31st in the country for violent crime rates in the United States. The crimes are concentrated in certain areas of the city, so steer clear of the shady ones, and nothing should ruin your time spent in Dallas. The city is home to the country's biggest airport, which ranks fourth in the world, so it sees a lot of visitors, both touring and exploring on a layover. There are a few neighborhoods to avoid possible trouble; North Dallas is safer than its southern counterpart, and Frisco is also a safe zone.
8. Mexico City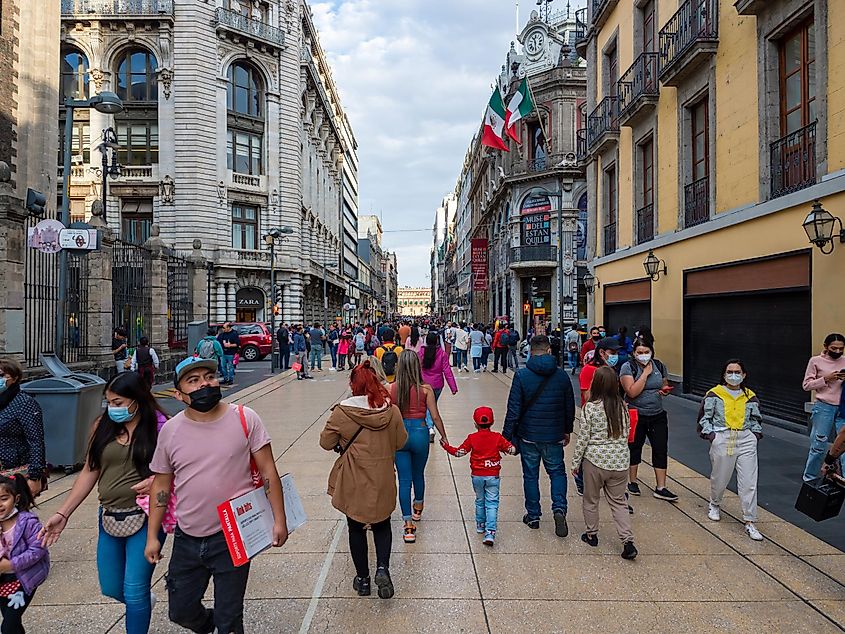 Mexico City is another North American city with a worse reputation than it has regarding safety. The largest city in North America by population is also its eighth-safest and one of the safest among urban world centers. It is not a dangerous city compared to all of Mexico, and it has a relatively low crime rate compared to other US states. There are some neighborhoods for tourists to avoid with higher instances of both violent and petty crime, including kidnapping incidents. Mexico City is perfectly safe if you know what to expect before you arrive to prepare for an easy visit.
There are many cool places to explore, like Roma Norte/Sur, Condesa, Centro Historico, and Zona Rosa, but watch out for scammers who target travelers in these touristy zones. You will also feel comfortably safe in the less touristy places of Juarez, Escandón, San Rafael, Coyoacan, and Polanco. Doctores' famous Lucha Libre wrestling is fine to see during the day, but leave before dark, as the area is much more dangerous at night. Ciudad Neza is historically a very poor area with high crime rates in the past, so steer clear or explore with caution in groups. Likewise, Tepito may be synonymous with authenticity but is a hotspot for scams and even robberies, being an extremely busy neighborhood with a sketchy street market despite recent improvements. Women should never venture alone to Iztapalapa, which has the highest rate of violent crimes against women.
The world's top six safest cities in four categories are Amsterdam, Melbourne, Tokyo, Toronto, Singapore, and Sydney. These six cities have switched top ranks without a tectonic shift but more of a reordering as the safest cities for many years. When looking at North America, the shift is more extreme, ranging from Toronto, the world's second-safest city, to Mexico City, near the middle of the 60 safest cities in the world, among cities that have always come close to the top.
8 Safest Cities in North America
| Rank | City | Overall Safety Rating |
| --- | --- | --- |
| 1 | Toronto | 82.2 |
| 2 | New York | 77.8 |
| 3 | Washington, DC | 77.4 |
| 4 | San Francisco | 77.2 |
| 5 | Los Angeles | 76.5 |
| 6 | Chicago | 75 |
| 7 | Dallas | 74.5 |
| 8 | Mexico City | 60.3 |
*Source: The Economist (Safe Cities Index 2021)