Overland Park started as a vision that was brought to fruition with a large land purchase of an old military road outside of Kansas City. William Strang had one goal: to develop a "parklike" city that was well planned out with an excellent education and transportation system. Today, Overland Park in the US State of Kansas depicts William Strang's first accomplishment and is a booming city as part of the greater Kansas City metropolitan area. Keen-eyed visitors may spot Strang's other early entrepreneurial successes on Santa Fe Drive. That was once the historic Santa Fe Trail, which played a role in the Great Migration and later turned into a successful intercity trolley line. Overland Park is connected as ever with Kansas City, Kansas, and Kansas City, Missouri, a stone's throw away.
Geography And Climate Of Overland Park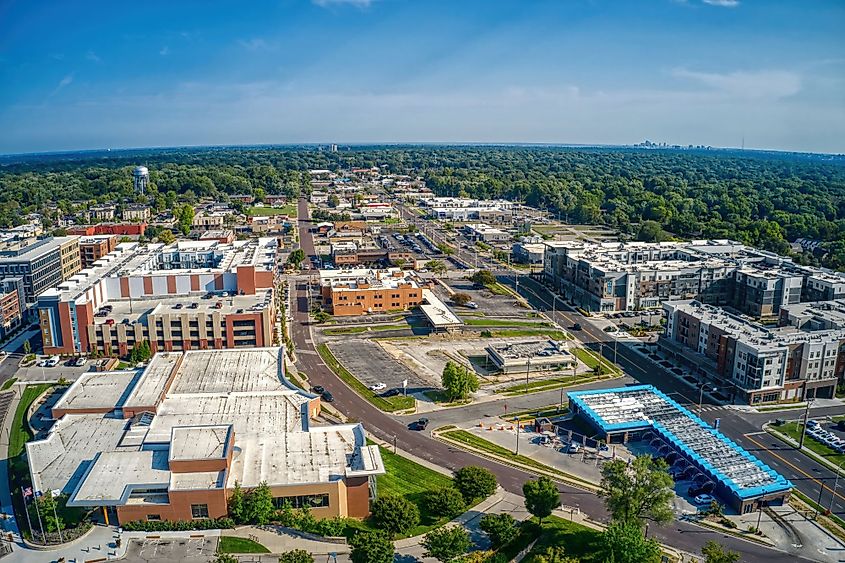 Overland Park is a large city situated in Johnson County in the western portion of the US State of Kansas. The city covers a total area of 195.21 sq. km, of which 1.38 sq. km is occupied by water and 193.83 sq. km is occupied by land. Located to the east of Olathe, Overland Park is the state's second-most populous city. The city is located approximately 1 km south-southwest of Kansas City, Missouri. Overland Park resides in a geophysical area known as the Osage Plains, which features a savanna prairie. The city lies south of the Kansas river. Turkey Creek, which is a tributary of the Kansas River, flows on the northern outskirts of Overland Park. 
With four seasons in a year, consisting of distinct muggy summers and snowy and windy winters, Overland Park is placed between two climates on the Köppen Climate Classification. Thus, it experiences a humid subtropical climate as well as a humid continental climate. Over a year, precipitation is collected over 90.6 days from rain, hail, and snow. Rainfall amounts to 1054.1 mm and snowfall to 355.6 mm. The year's coldest month is January, with an average temperature of -6.5 °C, whereas the year's warmest month is July, with a temperature of 31 °C. 
History Of Overland Park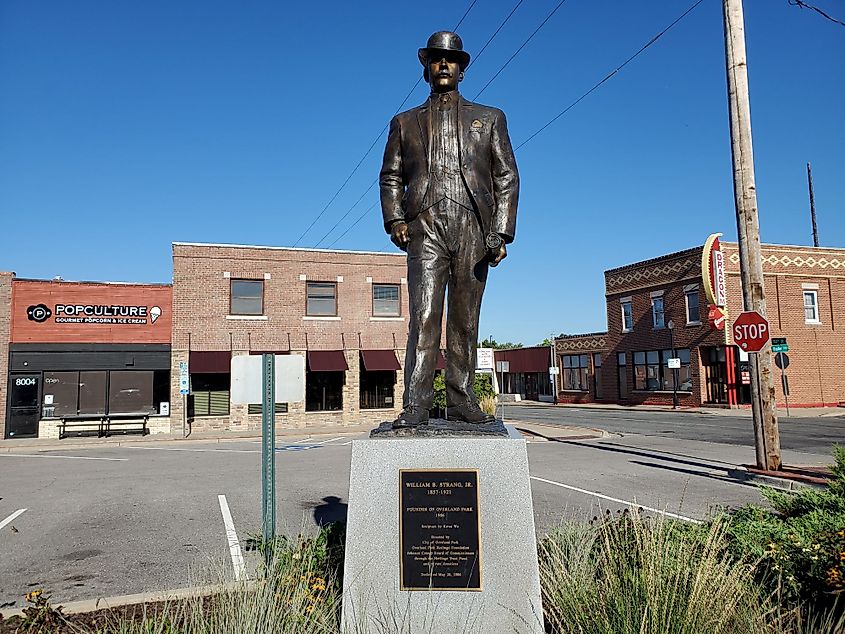 Before Overland Park was established, it served as a thoroughfare into Olathe, which served as a resting spot on the Santa Fe Trail. Sapping Grove Park found in modern-day Overland, was once a resting spot for the first wagon-driven caravans of the 1830s and 1840s. Present-day Santa Fe Drive is the route that the migrants traveled before Overland was settled. As such, Overland Park was founded when a subdivision got plotted out at the end of an old military road by founder William B. Strang Jr. His vision was to build a park-like city in 1905. Additionally, he planned out nearby Mission and Prairie Village. However, his most notable accomplishment came in the 1940s with the addition of an intercity trolley system that Strang founded under the Missouri-Kansas Interurban Railway company. This system connected Olathe to the west with Overland Park and Kansas City, Missouri, to the east. The trolley line was nicknamed the "Strang Line," and Sante Fe Drive still has old remnants of the trolley system, with the Strang Carbarn and Strang Carriage House still present today.
The Population And Economy Of Overland Park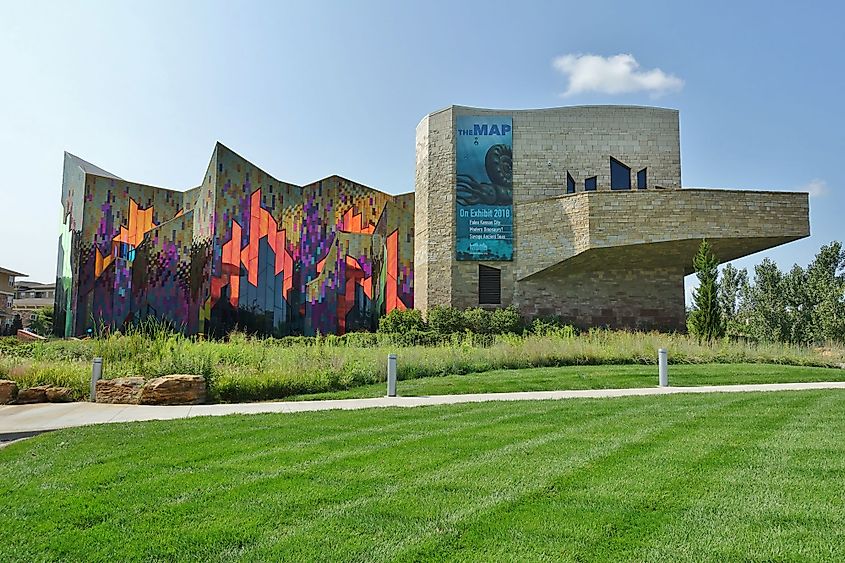 Overland Park has a population of 197,238 inhabitants, with a population density of 1000 people per sq. km. It is the second-largest city in Kansas state with Wichita ahead of it. The median household income is $115, 441 and the gross monthly rent is $1,164. On the cost of living index, Overland Park rates 111.2, whereas the state of Kansas is 83.1. Yet, 4.88% of the population lives below the poverty line.
The unemployment rate is 3.0%, whereas the US unemployment rate is 6.0%. The largest industries that contribute to the economy include healthcare and social assistance at 15.2%, scientific and technical services at 13.8%, and retail trade at 10.7%. The highest paying jobs can be found in utilities grossing $87,000, information at $$84,063, and scientific and technical services at $76,230.
Attractions In Overland Park
Overland Park Arboretum And Botanical Garden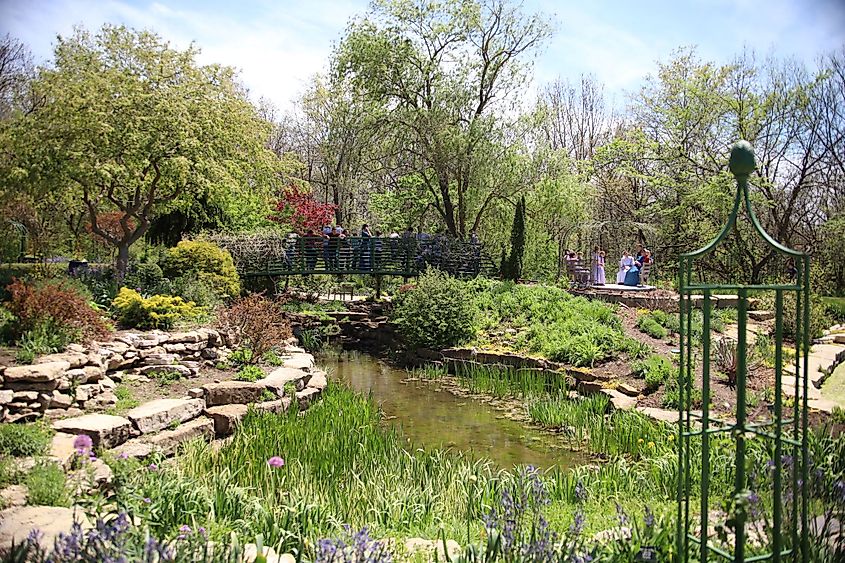 The Arboretum and Botanical Garden is a 300-acre dedicated green space founded in 1990. It serves as an education and recreational area to display over 1700 plants within gardens and native Osage Plain. Activities include hiking along the maintained hiking trails that highlight Wolf Creek, a tributary of the Blue River. Additionally, guided tours can be booked in advance of the various gardens, which also feature the limestone bluffs. More so, there is a children's discovery garden that has a story tree, a frog pond, and mulberry wood, among other kid-friendly features. Overland Park Arboretum and Botanical Garden are open every day, and children under six are given free admission.
Deanna Rose Family Homestead
Deanna Rose Family Homestead is open seasonally from April to October and is focused on educating the public on what a turn-of-the-century farm once looked like. Founded in 1978, the farm has over 250 animals, a fishing pond, a schoolhouse, a vegetable garden, a flower garden, and birds of prey exhibit.