Pronounced "Oh-LAY-tha," Olathe is the Shawnee Native American word for "beautiful." It was how founder Dr. John T. Barton described the wildflower-encrusted prairie lands and gently rising limestone hills to his friends when staking out his homestead. Once upon a time ago, Olathe was a popular stop on the Santa Fe Trail as part of the wagon-led Great Migration across the Great Plains. Today, Olathe is a sprawling urban city forming a part of the Kansas City metropolitan area. It has become a popular summer destination with many green spaces, fishing, hiking trails, waterfalls, and water activities on Lake Olathe and Cedar Lake.
Geography And Climate  Of Olathe
Olathe is a small city situated in Johnson County in the US State of Kansas. Olathe forms a part of the Kansas City Metropolitan area and is its fourth-most populous city. Olathe shares its border with Lenexa to the north, De Soto to the northwest, Overland Park to the east, and Gardner to the southwest. Olathe covers a total area of 156.49 sq. km, of which 1.97 sq. km is covered by water, and 154.52 sq. km is occupied by land. Olathe resides in a geophysical area of the Osage Cuestas. This area was formed by glacial erosion that created hills and cliffs unseen in other parts of Kansas. It consists of limestone and shale, with large rock deposits left behind from the glacial retreats. However, found southwest of the city are Lake Olathe, Cedar Lake, and Cedar Creek, which feeds into both bodies of water.
With a humid continental climate, Olathe has four seasons, with distinct muggy summers and cool winters. Over a year, Olathe collects 90 days of precipitation from hail, rain, and snow. Rainfall totals to 1038.86 mm and snowfall to 335.28 mm. The year's coldest month is January, with an average low of -6.5 °C, while the year's warmest month is July, with an average high of 31.1 °C. 
History Of Olathe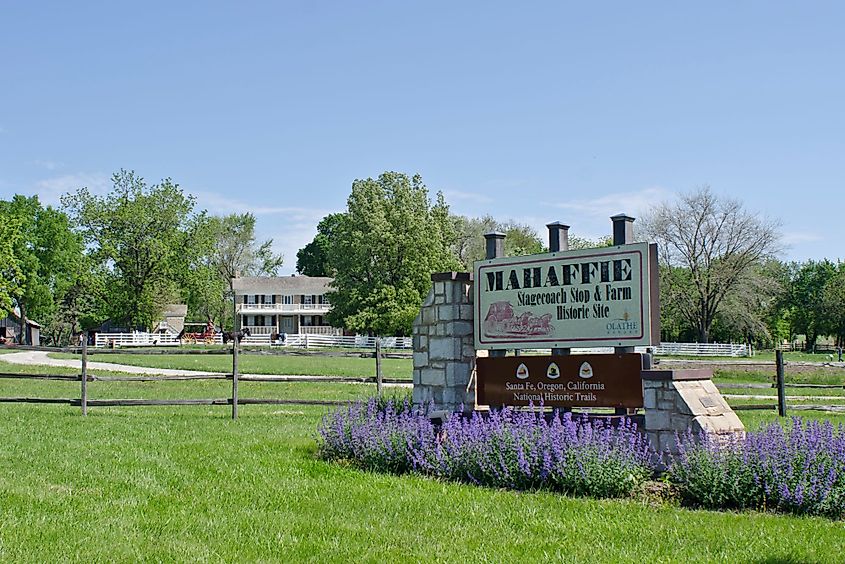 Olathe was established by Dr. John T. Barton in 1857, 11 years before Kansas became a state. Moreover, Olathe found itself in the middle of the Civil War conflict between the territory of Nebraska and the pro-slave state of Missouri. In 1861, Union soldiers set up a command post in Olathe. Furthermore, September 1862 saw Confederate soldiers enter the city, which resulted in heavy destruction and death. However, it didn't end there, with the Civil War conflict continuing for several years. The last reported skirmish occurred in 1865. After the war, Olathe was a popular stop along the Santa Fe, California, and Oregon Trails that saw gold miners and farming wagons pass through Olathe and head westwards. In 1863, James Beatty Mahaffie settled in Olathe with a 570-acre farm that served as the first stagecoach stop for resupplying. Presently, the Mahaffie Stagehouse Stop-Farm has been preserved and is open to the public as a Historic Place. By 1873, three railway lines were built in Olathe; it wasn't until 1881 that it would be connected to the Santa Fe depot. In the early 1900s, Strang Trolley Lines began operations between Kansas City and Olathe. Thus, this was the first gas-electric trolley in the US and proved to be a profitable intercity route. The 1950s saw a population boom with the addition of Highway 35. This led to increased urbanization over the next couple of decades with the development of suburbs outside the downtown area and businesses such as the Hyper Boot building, Ernie Miller building, and Hotel Olathe.
The Population And Economy Of Olathe
Olathe has a population of 142,906 inhabitants. Covering over 156.49 sq. km, Olathe has a population density of 870 people per sq. km. Within Kansas state, Olathe is the fourth-largest city, with Kansas City and Overland Park being more populous. The median household income is $105,256, and the gross monthly rent is $1,019. On the cost of living index, Olathe rates at 104.2, whereas the state of Kansas is 83.1. Yet, 5.83% of the population lives below the poverty line.
The unemployment rate is 2.9%, whereas the US unemployment rate is 6.0%. The largest industries that contribute to the economy of Olathe include healthcare and social assistance at 12.5% overall, retail trade at 10.6%, and educational services at 9.9%. Founded in 1866, Olathe is home to the Kansas State School for the Deaf. The school is the vision of Phillip A. Emery, whose neighbor had three deaf children. He discovered a deaf educator in his community but was stunned at the realization there were no educational services for the Deaf. Emery received a grant from the state after renting out an attic for the school, and the first students paid their fees via eggs, cheese, and corn as a barter system. In November 1866, the Kansas State for the Deaf opened its doors in Olathe. Today, the Kansas State School for the Deaf has 100 employees and generates a revenue of $8.5 million.
Attractions In Olathe
Ernie Miller Park and Nature Center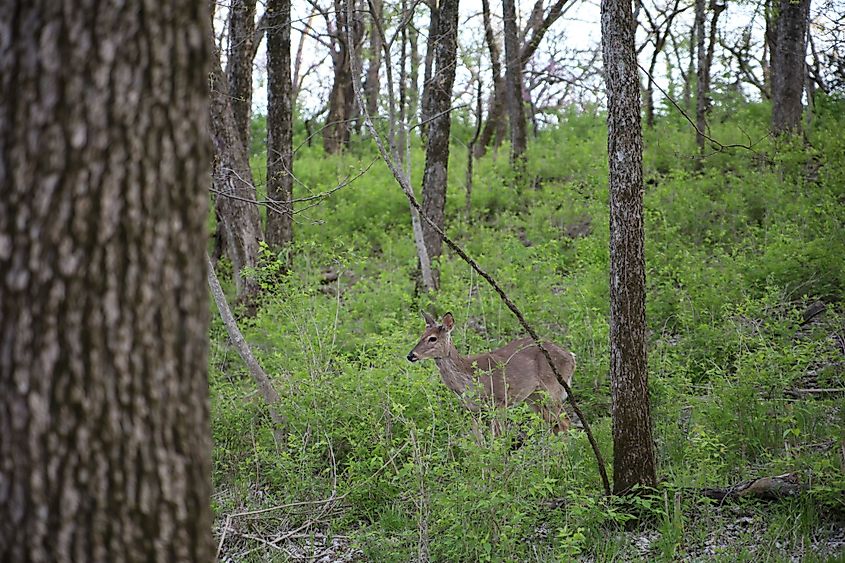 Ernie Miller Park and Nature Center is a 116-acre property that encompasses the natural landscape of the Osage Cuestas. The nature area features campsites, a sheltered picnic area, an amphitheater, and hosts many family-related events. Three hiking trails showcase the natural landscape of prairie grassland, woods, and Little Cedar Creek.
Lake Olathe Park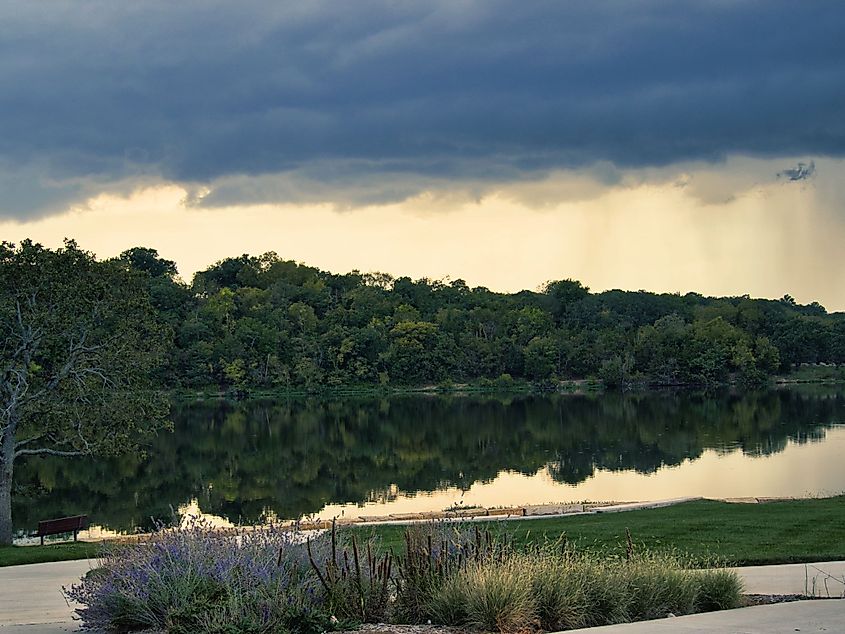 Lake Olathe Park is a popular summer destination for canoeing, kayaking, fishing, paddle boarding, and swimming at the sand beaches. It contains an outdoor water obstacle course and a spray ground with washrooms and change rooms. There is a marina for motorized watercraft with speed limits in place. Other activities include a disc golf course, playground, and eagle's landing that overlooks the lake.
Cedar Lake Falls
An outflow from the Cedar Lake Dam, Cedar Lake Falls is the second largest of four waterfalls found near Olathe. The spillway serves as a popular fishing area, and there is an unmaintained trail to access the falls from Cedar Lake Park. The waterfall can be found at the most western point of the park.