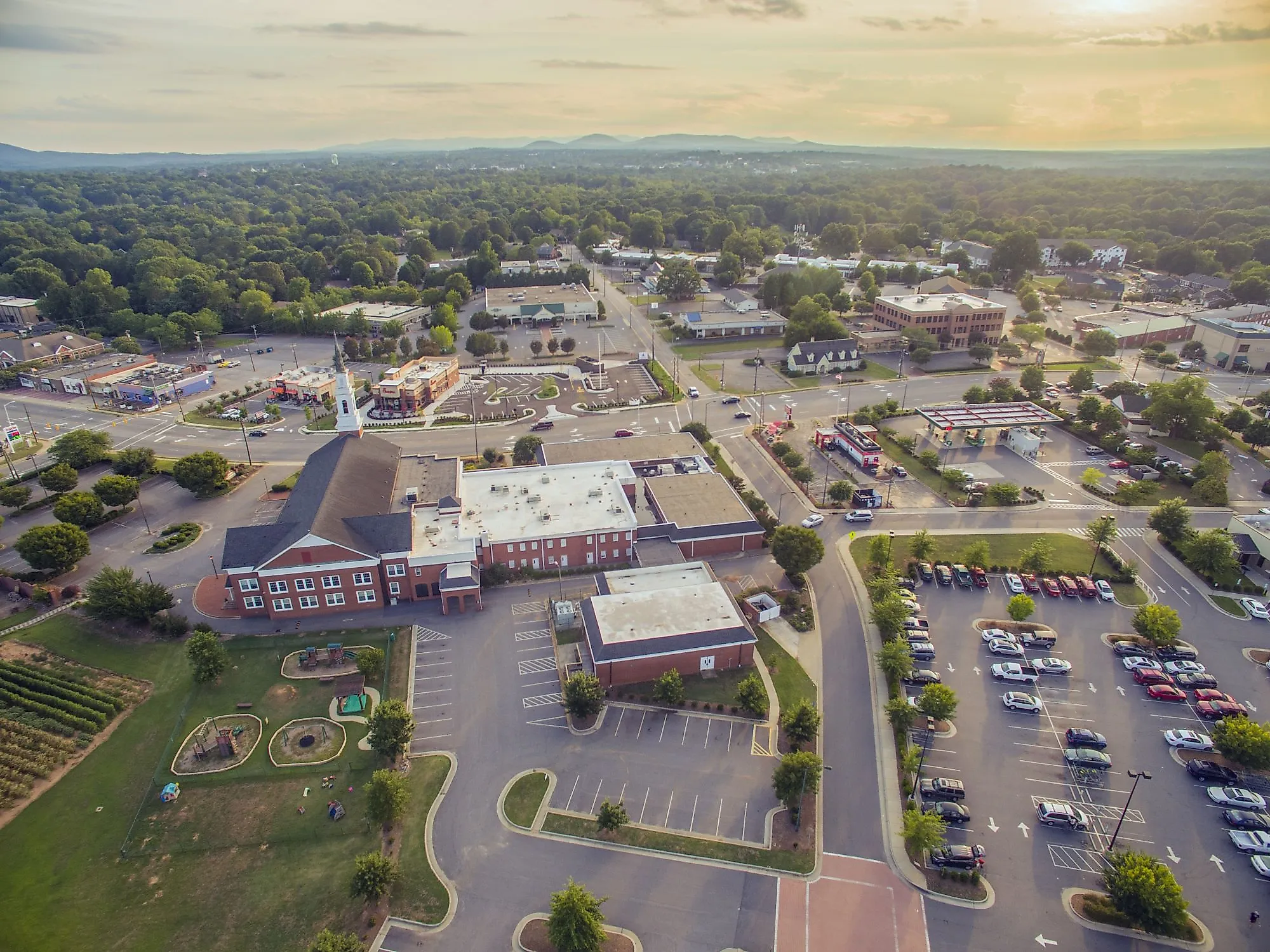 Hickory is a big city situated in the US state of North Carolina. It is located about 97km northwest of Charlotte, on the banks of the Catawba River. Hickory is a lively city serving as a home of the Lenoir-Rhyne University and a Class A minor league baseball team, Hickory Crawdads.
Geography And Climate Of Hickory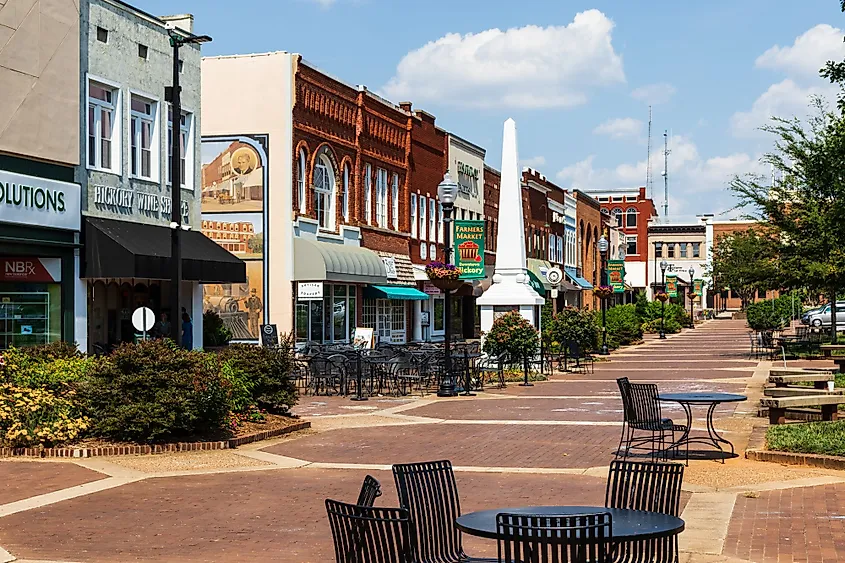 Hickory is situated about 97km northwest of Charlotte, 109km from Winston-Salem, and 121km from Asheville. Greensboro is 186km northwest of Hickory, while the state capital Raleigh is 281km directly to the west. Hickory is situated on the banks of the Catawba River, which was dammed in 1927 to form Lake Hickory, a reservoir with 169km of shoreline. Hickory is roughly equidistant from the borders of Tennessee, Virginia, and South Carolina. The city covers a total area of 77.52 sq. km, of which 77.27 sq. km is occupied by land and 0.25 sq. km is covered by water. 
As per the Köppen climate classification, Hickory experiences a humid subtropical climate. The annual average temperature is 56.5°F, ranging from average lows of 32°F in January to highs of 87°F in July. Humidity is at its highest in August and September, when it reaches 77.2%, and at its lowest in February with 59%. The city sees around 112 days and 46.3 inches of rainfall annually, compared to the contiguous US average annual precipitation of 30.28 inches in 2020. October and November are the driest months. The area sees 210 sunny days a year and an average of seven inches of snow, usually between December and March.
History Of Hickory
Among others, the Cherokee people initially settled in the area that is now known as North Carolina and lived there until the late 1700s. The Cherokee were forcibly removed from North Carolina by the US Government, sending them on the Trail of Tear. The few that remained in the state by 1868 were recognized as the Eastern Band of Cherokee Indians. In 1846, a store was established at the point where two stagecoach trails met. In the 1850s, Henry Robinson built a log tavern nearby, under a hickory tree. The railroad arrived soon after, and in 1863, the town of Hickory Tavern was established. In 1873, "Tavern" was dropped from the city name. A wagon manufacturing plant began operations in 1880, and Lenoir-Rhyne University, a private liberal arts university, opened in 1891. Catawba Valley Community College added to the city's educational opportunities in 1953. Hickory Motor Speedway, an important NASCAR short track, was built in 1951. Today Hickory is a regional hub for a population of around a third of a million people, with rich arts and cultural opportunities, farm-to-table restaurants, and a burgeoning craft beer scene.
The Population And Economy Of Hickory
As per the latest US Census, Hickory has a population of 43,490 inhabitants. Of these, 52% were female and 48% male, with 5% under five years of age, 22.6% under eighteen, and 16.2% over 65. The Census also reported that 66.3% of Hickory residents identify as White (not Hispanic or Latino), 6.9% as Asian, 12.1% as Black or African American, and 12.4% as Hispanic or Latino. Furthermore, 9.9% of the city's population were born outside the US, and 2,475 were identified as veterans. 
The median household income Of Hickory was $48,653, while the previous twelve months' per capita income was $30,197, placing Hickory significantly below the national US average of $69,560. The poverty rate was 16.9%. Between 2016 and 2020, 61.6% of those over 16 were in the civilian labor force.
Attractions In And Around Hickory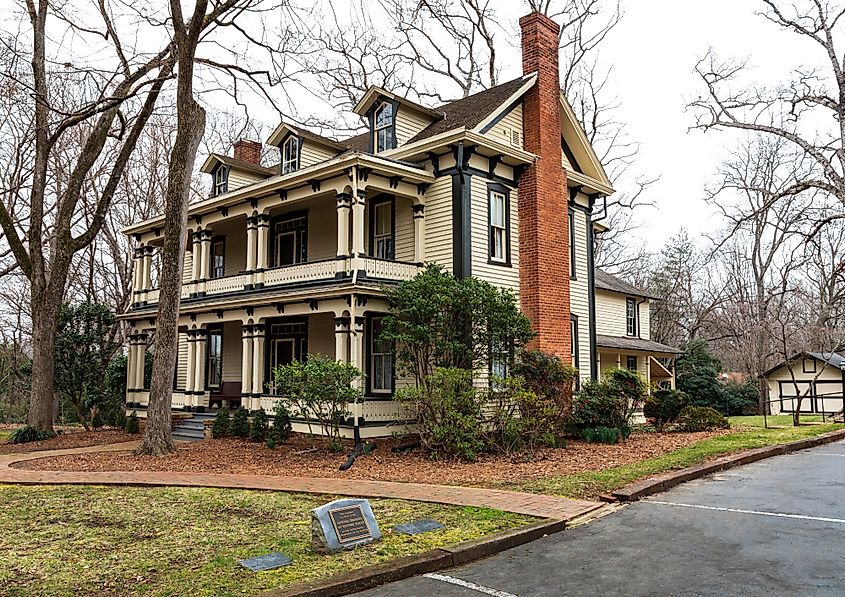 Hickory Museum of Art
Founded in 1944 and focussing on Southern Folkart, Hickory Museum of Art is in the center of Hickory, beside Catawba Science Center. Works featured include Southern Contemporary Folk Art, Hudson River School paintings, and those by North Carolina artists. Entry is by donation.
Catawba Science Center
Catawba Science Center is a three-in-one: a 35,000-square-foot science center, a salt and freshwater aquarium, and a planetarium. There are also "Gross Labs" for budding STEM enthusiasts, a tornado center, and a naturalist center where fossils and live insects can be observed. 
Hickory Aviation Museum
Boasting items that trace and track the history of aviation, Hickory Aviation Museum's artifacts and memorabilia trace how aircraft design has developed since its early days, with a particular focus on those that participated in WWII, the Korean, and Vietnam wars, Desert Storm, and Kuwait. Top Gun fans can even sit in the cockpit of an F-14 fighter.
Henry River Mill Village
Originally the source of cotton yarn in the early 1900s, visitors might find Henry River Mill Village's wooden homes and structures familiar from the Hunger Games movies, as the beautifully preserved 1905 mill town doubled as District 12. Although it has no running water and no sewer system, the last town residents only moved out around the turn of the century. 
Hickory is a great weekend destination from Charlotte and an ideal base for active pursuits on Lake Hickory and Catawba River and exploring the Blue Ridge Mountains. The city has rich cultural resources, historical attractions, and spectator sports. It is a city with an abundance of small-town charm, yet with the resources and amenities of a much larger city.