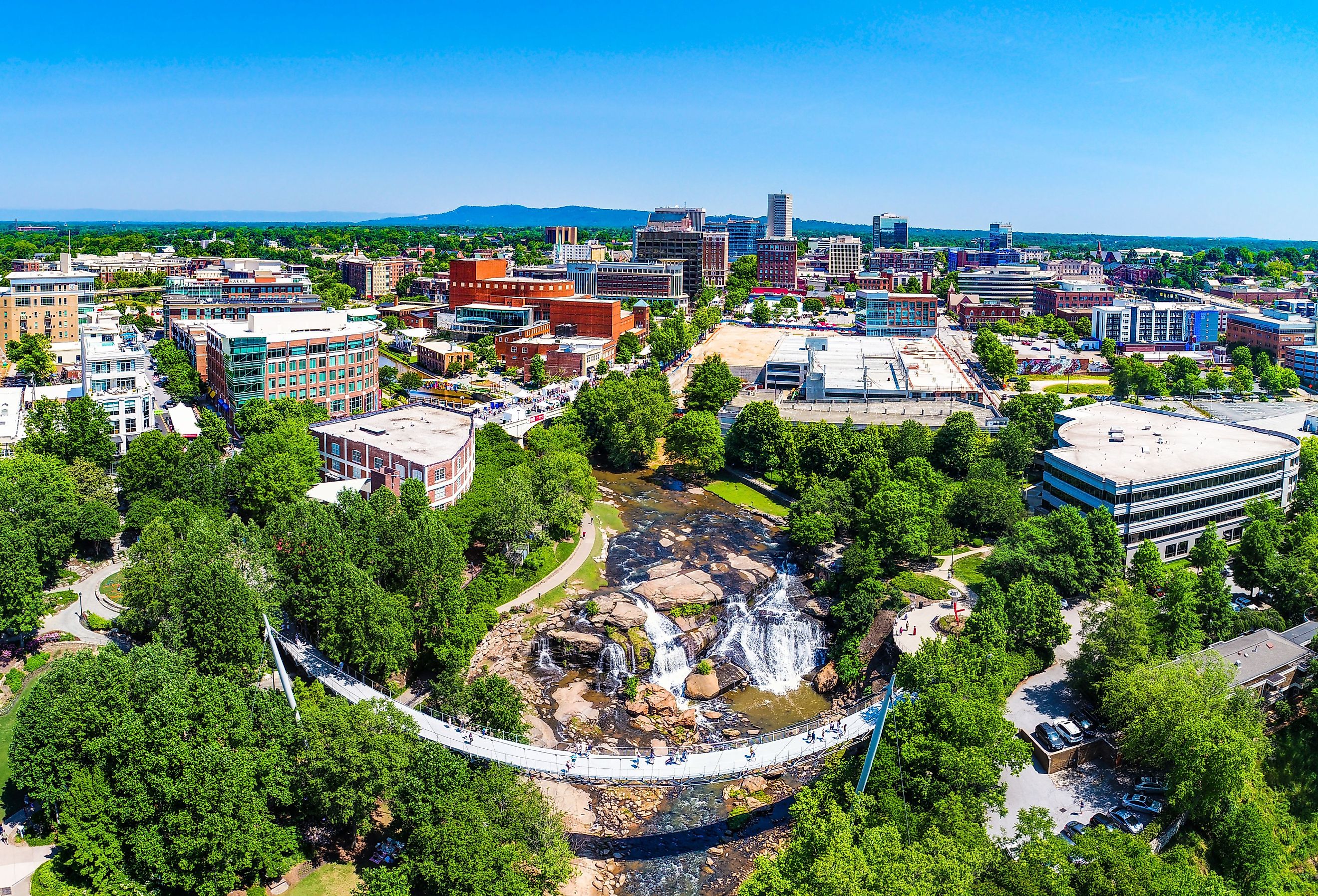 Greenville, South Carolina
Greenville, located in northwestern South Carolina, is a city brimming with charm and character. From its rich history and stunning natural beauty to its thriving economy and lively entertainment scene, Greenville offers something for everyone. Visitors can explore the city's beauty on foot or bike, visit historic landmarks and museums, or sample the local cuisine. With a bustling downtown and endless opportunities for adventure, Greenville has become a desirable destination in the southern United States. Whether you are looking for a quiet escape or an exciting city experience, this growing city promises a memorable and enriching visit.
Geography and Climate of Greenville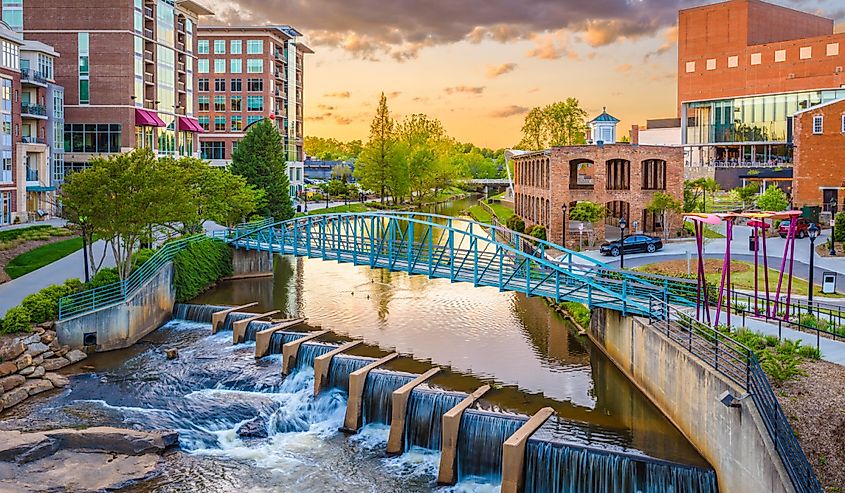 Greenville sits in the northwestern corner of South Carolina, near the North Carolina border, as part of the Upstate region. Known for its proximity to the Blue Ridge Mountains and its scenic parks and lakes, Greenville boasts natural beauty and is about halfway between Atlanta, Georgia, and Charlotte, North Carolina, making it a convenient destination for travelers. The stunning Reedy River, a tributary of the Saluda River, runs through the heart of the city and is an iconic and historical downtown attraction as well as an important natural resource in the area.
The city experiences a temperate climate with hot summers and mild winters, with temperatures averaging in the high 80s in summer and mid-30s in winter. Ample rainfall supports the growth of local vegetation and contributes to Greenville's lush, green surroundings. The varied topography, from rolling hills to mountain ridges, creates unique microclimates and enhances the area's beauty. Greenville experiences very little snow throughout the year, with the snowiest month being January with an average of 2.7 inches.
Brief History of Greenville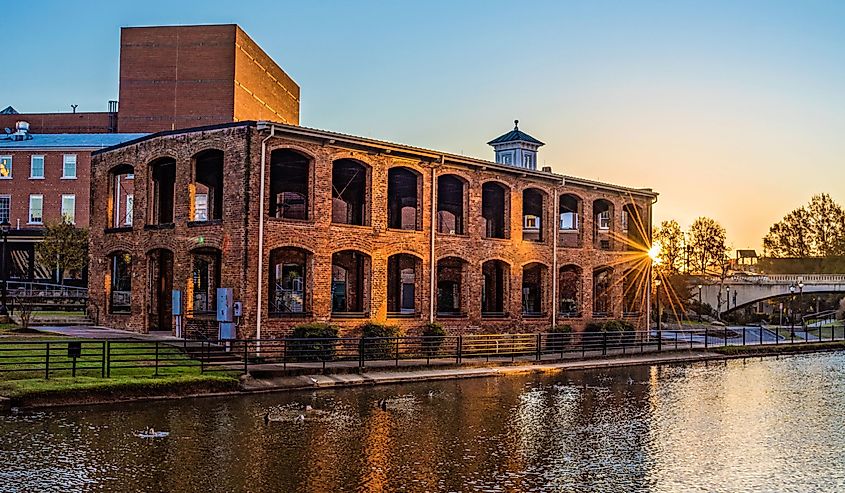 Greenville, South Carolina boasts a rich history dating back to the indigenous tribes, such as the Cherokee, who inhabited the region for thousands of years before the arrival of European settlers. Their legacy still influences the area today, as reflected in cultural traditions.
In the late 1700s, European settlers founded Greenville as a trading center, which soon grew into a crucial hub for the textile industry in the 19th century. Its location along the Reedy River and access to transportation routes made it a prime spot for cotton production. Throughout the 19th century, Greenville flourished in the textile industry and gained recognition for its high-quality cotton products, as demonstrated by the construction of iconic buildings such as the Poinsett Hotel and the Victorian-era West End Historic District.
In the late 19th and early 20th centuries, Greenville continued to thrive with the influx of new businesses and industries. Despite the diversification of its economy throughout the 20th century, the textile industry remained a core part of the city's heritage and identity. Today, Greenville honors its past through events, museums, and cultural institutions, such as the Greenville County Museum of Art and the Upcountry History Museum, while embracing its bright future.
Population and Economy of Greenville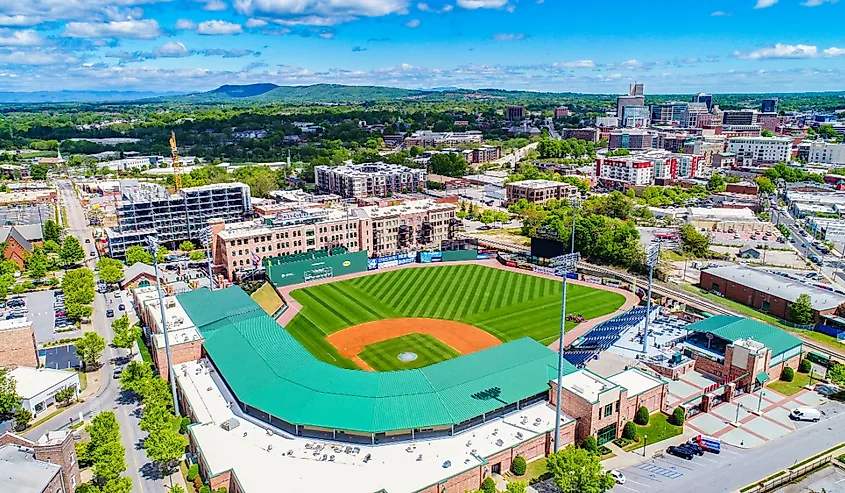 Greenville, South Carolina is a growing and dynamic city with a population of just over 72,000 residents. The city is home to a diverse mix of individuals, including families, young professionals, and retirees drawn to its strong economy, high quality of life, and rich cultural heritage. Greenville has experienced significant population growth in recent years, driven in part by the city's thriving economy.
Greenville, South Carolina has a strong and diversified economy that centers around several key industries. The city has a thriving manufacturing sector, with leading companies in industries such as automotive, aerospace, and advanced materials. For example, the automotive industry in Greenville includes well-known companies such as Michelin and BMW. Greenville is also home to a growing number of technology companies, particularly in the fields of software development and digital innovation. Additionally, healthcare and education are important drivers of the local economy, with several large healthcare systems and educational institutions located in the area. The city has also been successful in attracting a number of corporate headquarters, including those in the financial and professional services industries. Overall, Greenville's economy has been growing steadily in recent years, with a low unemployment rate and a stable housing market, making it an attractive place for both businesses and residents.
Attractions in Greenville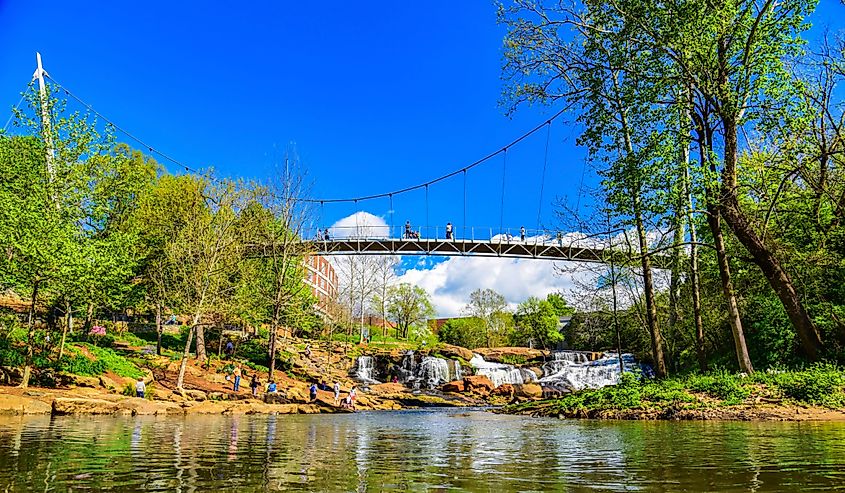 Greenville, South Carolina offers a wide range of attractions and activities that cater to different interests. Falls Park on the Reedy River, a peaceful haven in the heart of the city, is a must-visit destination for its picturesque views and tranquil atmosphere. The Peace Center, another notable attraction, provides locals and visitors with a diverse selection of performing arts shows, concerts, and events throughout the year. For families, The Children's Museum of the Upstate is a great place to explore and engage in educational activities.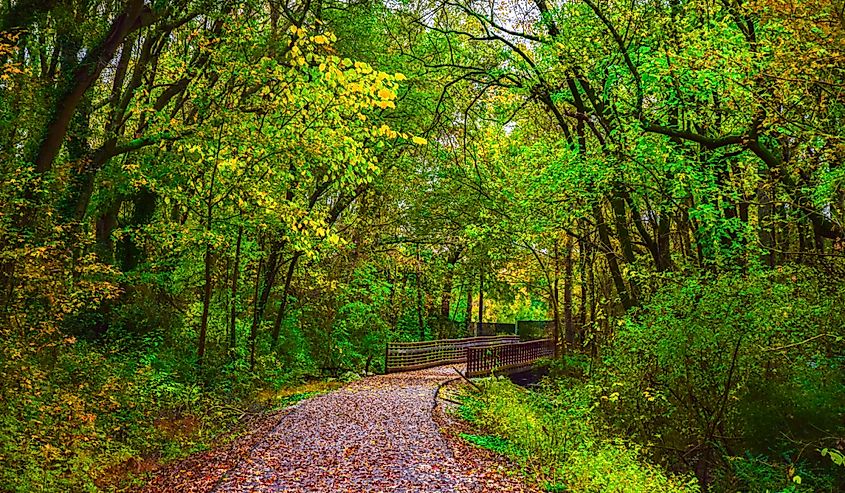 The city also boasts a range of outdoor experiences, including the Swamp Rabbit Trail, a multi-use trail that's perfect for walkers, runners, and cyclists, and the Greenville Zoo, home to over 150 species of animals from around the world. Cleveland Park, with its urban trails, picnic areas, and playgrounds, is a great place for a day out, while Roper Mountain Science Center offers programs in astronomy, physical science, and natural history, making it an ideal destination for those interested in learning something new while enjoying the city's natural beauty.
Greenville is a truly special city, with its bustling downtown full of life and entertainment. From the iconic Falls Park to the charming Main Street area lined with restaurants and shops, there is something for everyone in Greenville! The Bon Secours Wellness Arena provides plenty of options for sporting events and concerts. For those looking for outdoor recreation, the Swamp Rabbit Trail takes visitors through some of Greenville's most scenic areas, such as Cleveland Park or Paris Mountain State Park, allowing you to take in nature's beauty while also getting some exercise. And do not forget about all the cultural attractions like art galleries, museums (such as The Children's Museum of the Upstate), and performing arts centers that are available throughout town!